The Crosstab Weekly Newsletter 📊 October 7, 2018
Kavanaugh is confirmed. What happens next? + Democratic turnout and polarization of midterm issues
Welcome! I'm G. Elliott Morris, data journalist at The Economistand blogger of polls, elections, and political science. Happy Sunday! Here's my weekly newsletter with links to what I've been reading and writing that puts the news in context with public opinion polls, political science, other data (some "big," some small) and looks briefly at the week ahead. Let's jump right in! Feedback? Drop me a line or just respond to this email. 
This newsletter is made possible by supporters on Patreon. A special thanks to those who pledge the top two tiers is written in the endnotes. If you enjoy my personal newsletter and want it to continue, consider a monthly subscription for early access and regular blogging for just $2.

This Week's Big Question
How does the Kavanaugh confirmation impact the midterms?
With Brett Kavanaugh confirmed to the Supreme Court — and with it known that his presence on the bench will almost certainly make the high court more conservative than it is now — the big question this week changes from how his hearings impacted the midterms to how his confirmation does. I have no comprehensive answer for this yet (mostly due to a lack of data) but do have questions to which I am seeking answers over the next few weeks:
Republicans saw a surge in mobilization over the past few weeks. Now that they have succeeded in getting what they want, will that increase disappear?

Will the legitimate threat of a judicial reversal of the court's ruling in Roe v Wade catalyze a movement left among college-educated white women?

Will concerns over the court's legitimacy further motivation the #Resistance backlash to the GOP?
I'll be using public opinion polling to assess these questions, but if you have data to share do send it my way!

Politics and Election Data
Turnout in this year's U.S. House primaries rose sharply, especially on the Democratic side
Turnout in this year's primaries for the U.S. House of Representatives surged compared with the last midterms in 2014, particularly among Democrats, according to a Pew Research Center analysis of state election returns. Nearly a fifth (19.
The vote on Brett Kavanaugh is likely to be taken this weekend. But, the impact of the battle over his confirmation is likely to have short and long-term consequences.
Battle for the House Has a Wide Range of Possible Outcomes
The size of the Democratic advantage is unclear, polling shows, and the Kavanaugh controversy introduces an element of volatility.
Poll: Amid Kavanaugh Confirmation Battle, Democratic Enthusiasm Edge Evaporates
Just over a month away from critical elections across the country, the wide Democratic enthusiasm advantage that has defined the 2018 campaign up to this point has disappeared, according to a new NPR/PBS NewsHour/Marist poll.
Millennial Men And Women Are Divided On Race And Gender Issues, New Poll Finds
About a third of millennial men surveyed say they would prefer white political candidates, if everything else was equal. Nearly half of millennial Democrats identify as democratic socialists or socialists, according to a new poll of millennials in the US from BuzzFeed News and Maru/Blue.
The Meaning of "Socialism" to Americans Today
WASHINGTON, D.C. – When asked to explain their understanding of the term "socialism," 17% of Americans define it as government ownership of the means of production, half the number who defined it this way in 1949 when Gallup first asked about Americans' views of the term.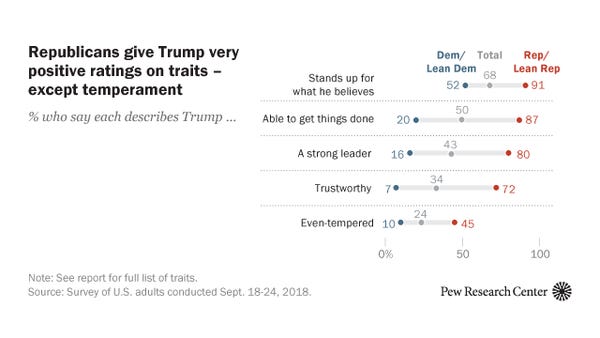 Trump Gets Negative Ratings for Many Personal Traits, but Most Say He Stands Up for His Beliefs
Donald Trump receives generally negative ratings from the public across a range of personal traits and characteristics. Just 24% of Americans say Trump is even-tempered, while nearly three times as many (70%) say that description does not apply to him.
How Kavanaugh Could Boost Turnout
It's hard to have a conversation about politics in recent weeks without it quickly turning to President Trump's nomination of federal Appeals Court Judge Brett Kavanaugh's nomination to the U.S. Supreme Court.

Other Data and Cool Work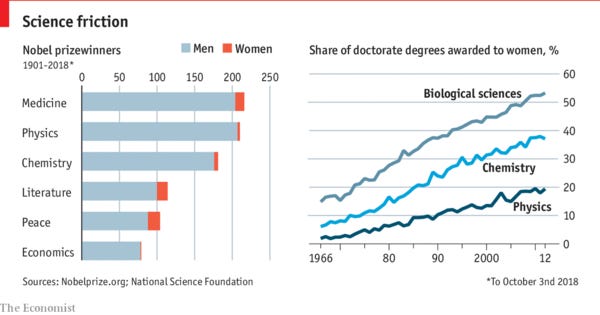 Gender parity in science is an uphill struggle
There is, alas, a nugget of insight in Dr Strumia's comment. Physics, and the rest of the physical sciences, started as all-male affairs and most sub-disciplines remain male-dominated even today.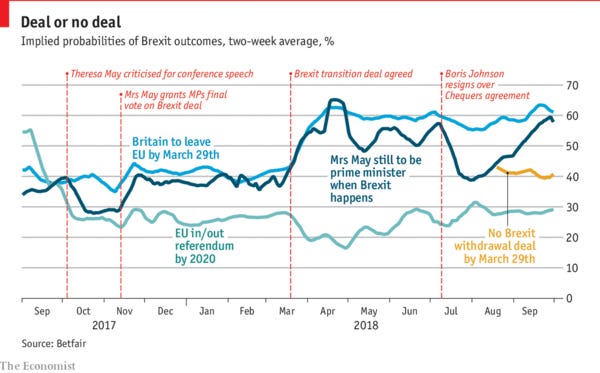 Gamblers give a 40% chance that Brexit's deadline arrives with no deal
IT HAS been a lurching, nauseating ride—and there are still a few twists to come. September 29th marked six months until the scheduled date for Brexit, when Britain's membership of the EU is set to expire.

Political Science
A sign of the times? Weak and strong polarization in the U.S. Congress, 1973–2016
We use cookies to help provide and enhance our service and tailor content and ads. By continuing you agree to the use of cookies. Copyright © 2018 Elsevier B.V. or its licensors or contributors. ScienceDirect ® is a registered trademark of Elsevier B.V.
What I'm Reading and Working On
I am, of course, reading Steve Kornacki's new The Red and The Blue: The 1990s and the Birth of Political Tribalism. If you want to know more about how Newt Gingrich ruined bipartisanship, read my former professor Sean Theriault's The Gingrich Senators: The Roots of Partisan Warfare in Congress.
Last week, I wrote about multiple states' ballot initiatives to put redistricting back into the hands of the voters.
Thanks!
Thanks for reading. I'll be back again next week! In the meantime, follow me online or reach out via email. I'd love to hear from you!

A Special Thank-you Note to Patrons
My weekly newsletter is supported by generous patrons who give monthly to my blog, including these individuals who have pledged especially charitable contributions:
Ellen, Christopher, Robert, Robert, Mark, laura, Katy, Joshua, Joshua, Edward, Ed, David, Daniel, Dan, Christina, Carol, Cameron, Calvin, Ben, Alden, and Walter
Uri, Tal, Sandeep, Nik, Mark, Malcolm, Krishan, Josh, Joseph, Jon, Hunter, Guillermo, Gail, Fred, Erik, Eric, David, Darren, Darcy, Daniel, Brett, Bob, Ben, and Andrew
Like the newsletter and want to help keep it going? Subscribe today on Patreon for access to private posts and other perks.