The Crosstab Weekly Newsletter 📊 March 17, 2019
The media has spoken: O'Rourke is their sweetheart. + Texas is closing in on battleground status, and Germany's nationalist roots.
Welcome! I'm G. Elliott Morris, data journalist for The Economist and blogger of polls, elections, and political science. Happy Sunday! Here's my weekly newsletter with links to what I've been reading and writing that puts the news in context with public opinion polls, political science, other data (some "big," some small) and looks briefly at the week ahead. Let's jump right in! Feedback? Drop me a line or just respond to this email. 
This newsletter is supported by subscribers on Patreon. A special thanks to those who pledge the top two tiers is written in the endnotes. If you enjoy my personal newsletter and want it to continue, consider supporting it on Patreon for just $2.
---
This Week's Big Question
The Democratic Field is Crowded, Yes, But Are Tiers Emerging?
Sanders, Harris and Warren have lead in the media's discussion. Beto starts out setting new records. But in polls, Biden looms large as the possible frontrunner.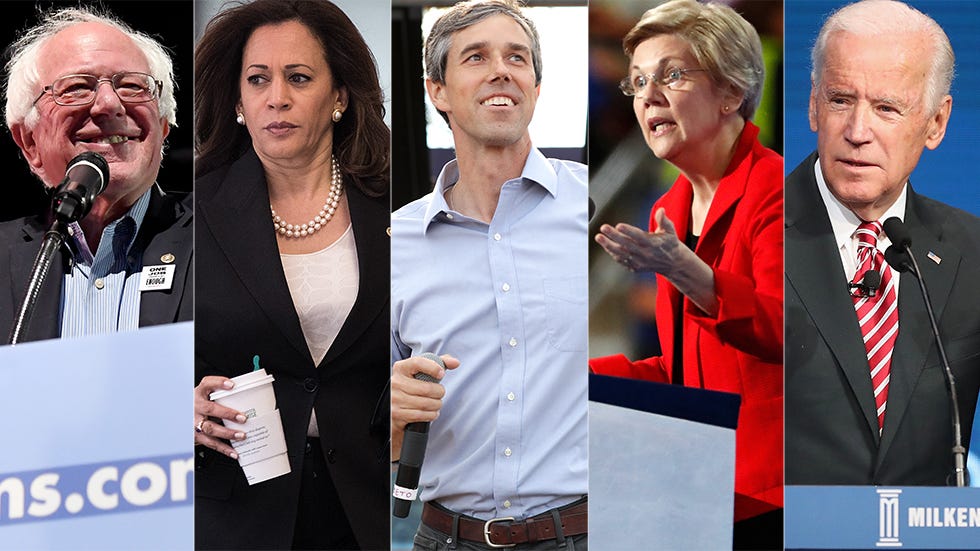 Image: The Hill
The field of Democratic candidates running in 2020 is now very crowded. Beto O'Rourke's announcement last week brings the number of officially declared candidates to 16, and still more are waiting in the wings. As past contests have shows, bigger fields mean more uncertainty about who we can say is "winning" the primary or "viable" down the road (when the states actually start holding their elections—just a friendly reminder that that's about 300 days away!). While this is true, not all candidates are created equal. It's one thing if a contest has one or two leading candidates each with about 20% of the vote, and the rest are in the upper single digits and low teens in national polling. This was the state of the race at this point in the 2016 Republican primary election, when the race for the nomination truly was "wide open." But it's another thing if two candidates alone enjoy the support of a majority of Democratic primary voters, and the rest are hanging out under 10% of the pledged vote, as in 2016, with many at 1% or less. That's what the race looks like this time around.
The lesson to be learned: if we are over-stating the number of viable candidates, we could be overstating the uncertainty in the race, and the chance for an upset. In many ways, Trump's upset in 2016 was a lesson in paying more attention to the polls. Let's try to do so now.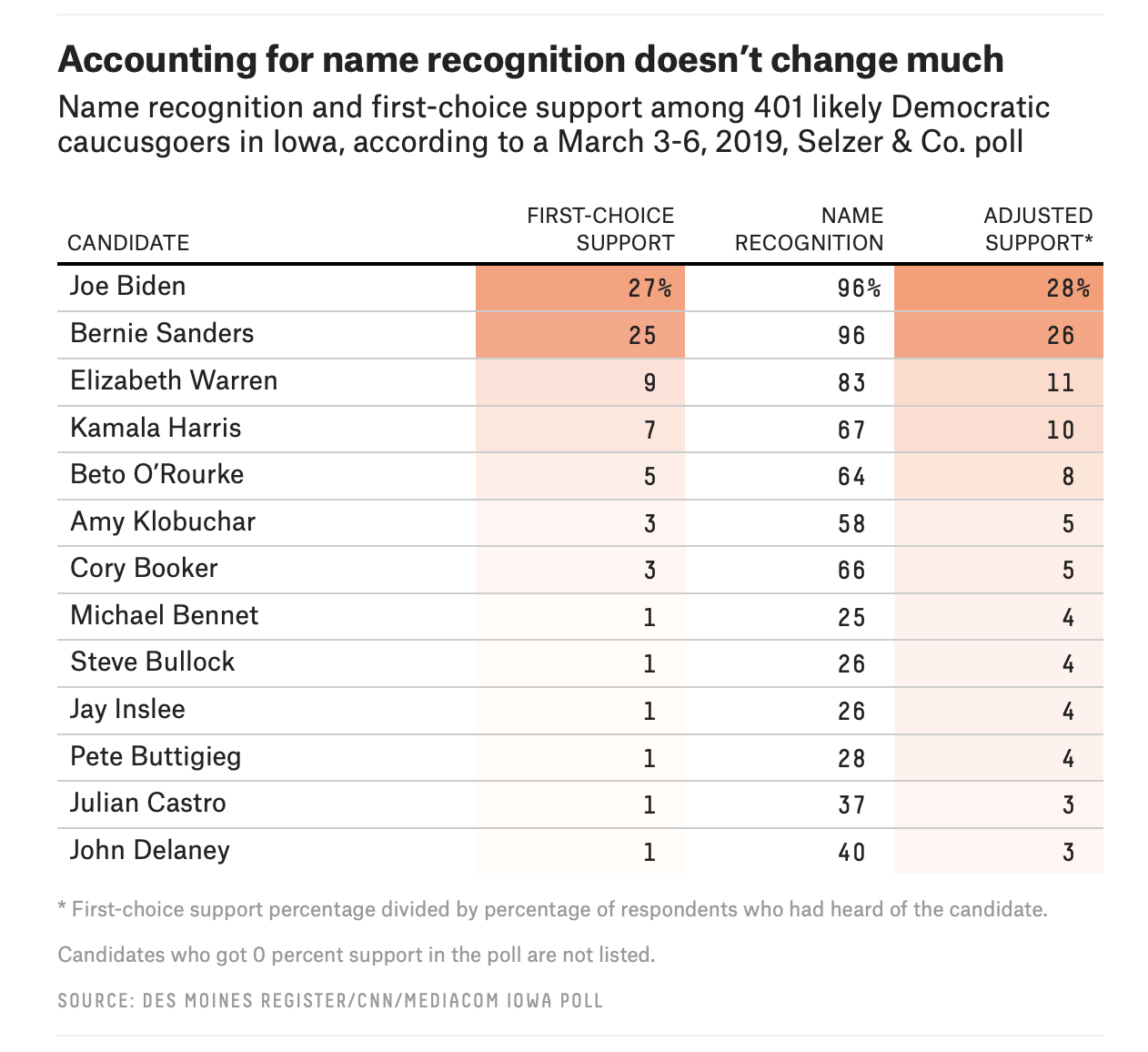 When there are clear tiers in the primary, like there are today, contests are actually less variable. In the case of the 2020 race so far, there have appeared to be two major tiers: one, with Biden, Sanders, Harris, Warren O'Rourke, Klobuchar, and Booker, and another, with Delaney, Castro, Buttigieg, Gabbard, Hickenlooper, Inslee and the others. Those in the second tier enjoy (a) less support in public polling, (b) less search traffic on Google, and less media attention. Above, again, is the public polling. Here is search traffic on Google, where 100 is equal to the max traffic for any of the subjects, in this case, the traffic on March 14th for Beto O'Rourke: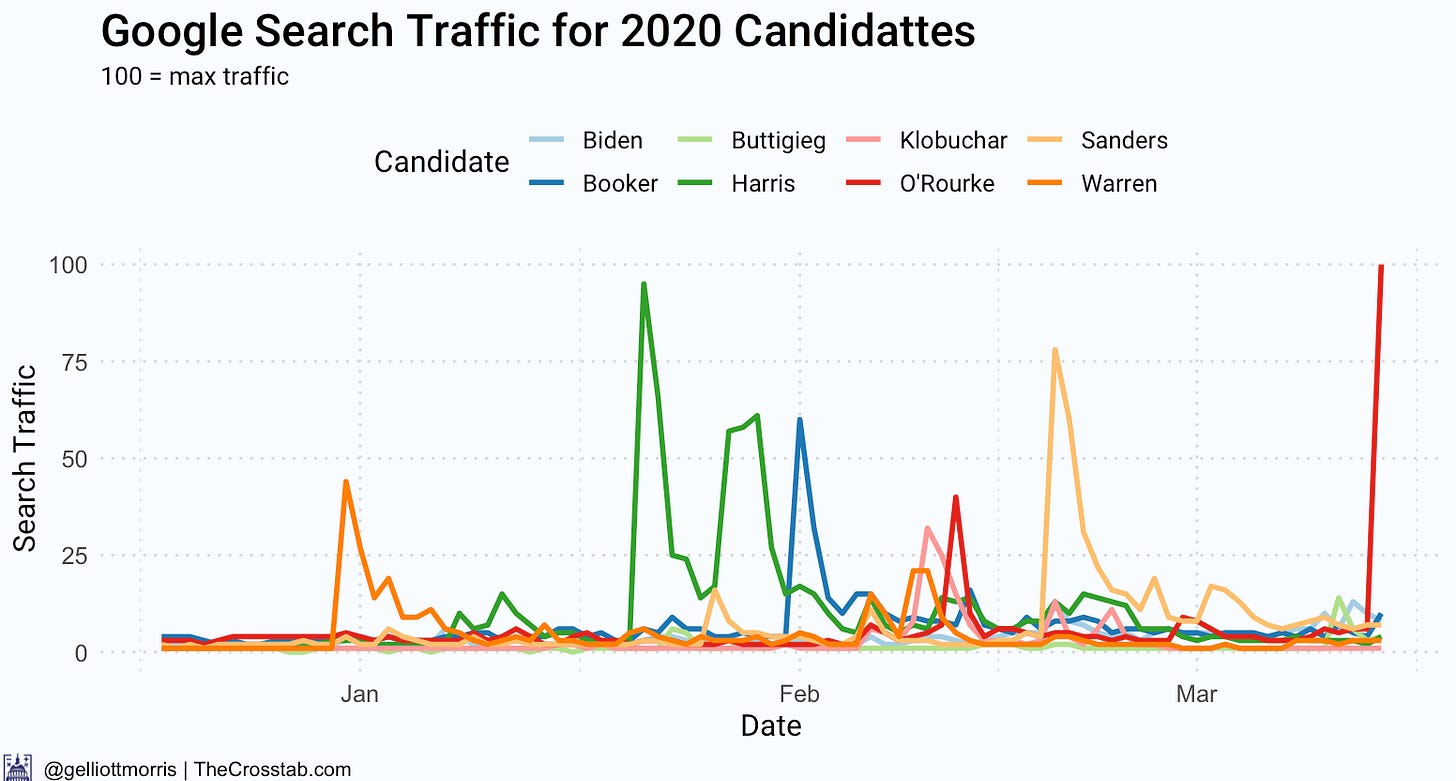 The only candidates to reach at least one-fourth of the search traffic addressed to O'Rourke are Warren, Harris, Booker, Klobuchar and Sanders. These are all the candidates in the top tier, according to the public polling today. These are the leaders; These are the candidates really fighting to be the nominee, at least right now. The presence of the others artificially increases uncertainty in the race. Don't get me wrong, there is absolutely still a shot that an unexpected candidate wins the nomination down the road—our number-crunching at The Economist says that only about half of polls at this point in past cycles have picked the right winner—but assertions that there are ~16 major or viable candidates in the race at this point is wrong-headed. It's more like 6-7.
For what it's worth, this theory finds evidence in media traffic, too. Below, I have graphed the share of attention that each candidate has received in cable news since December, when Castro announced his candidacy. Again there is a clear dividing line between the top tier of Democratic hopefuls—Harris, Sanders, Warren, O'Rourke, Klobuchar and Booker— and the rest.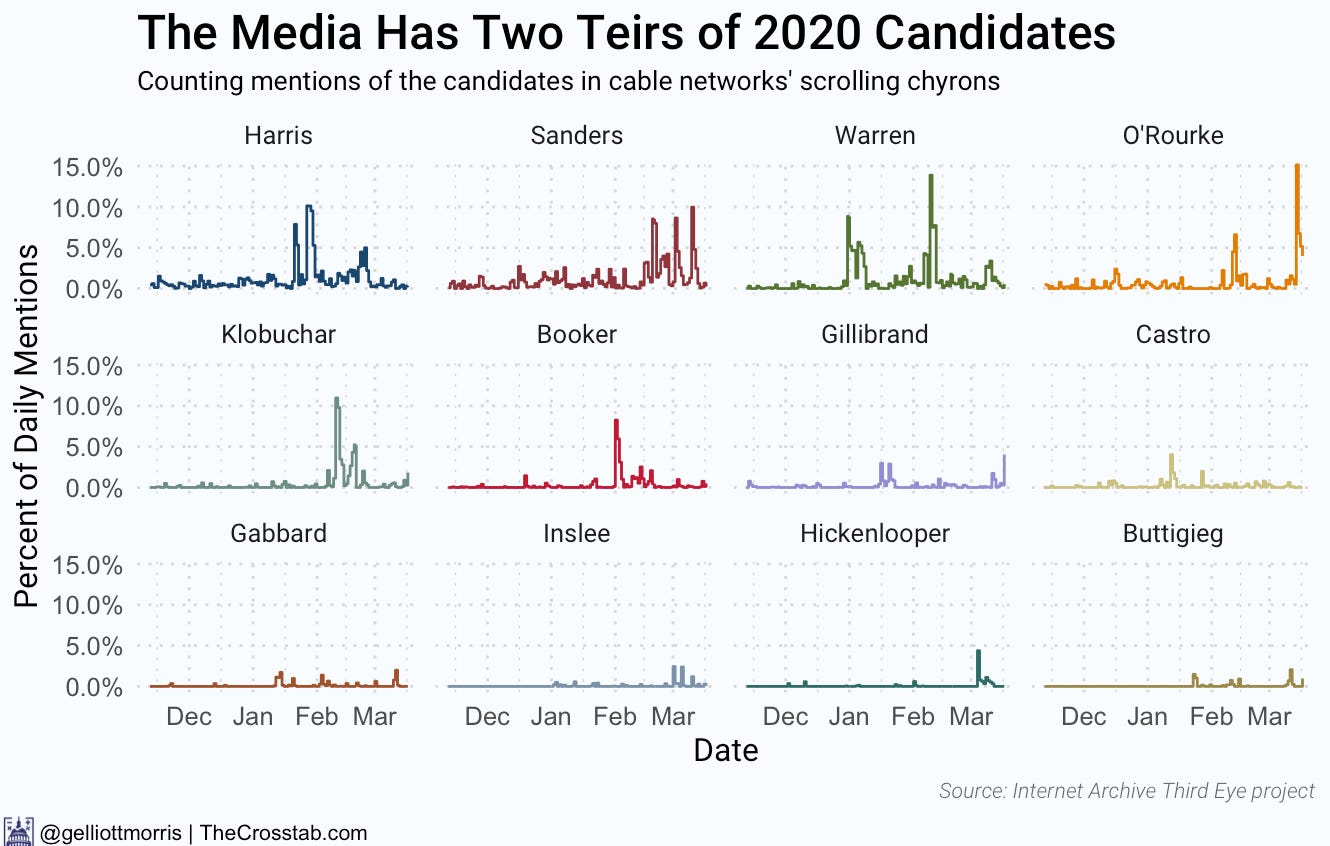 In these three measurements, it's very clear that the Democratic primary might have two fields, two tiers, each with 6-8 candidates fighting to be at the top.
As the primary season unfolds, some candidates may move up or down in the tiers, but those at the top hold a much larger share of hypothetical outcomes for the primary than the bottom. The race isn't split between 16 or so in an "open field." Indeed, America has seemed to close in on their favorites already. If we better calibrate our understanding of how many candidates are viable, we can have a better understanding of the uncertainty in the race.
---
And now, the best stuff I read and wrote last week:
---
Political Data
The president's approval rating in the two election surveys was basically the same in Texas as in Florida, Georgia and Arizona (there were no surveys in North Carolina, where there was no statewide contest). Democrats in Texas, including Mr. O'Rourke, fared worse in the major statewide contests, but it was also the only state where the Democrats all faced incumbents in such contests. It is also the state where the Democrats have the most obvious upside in terms of the mobilization of additional voters; the pace of demographic shifts; and the trend toward Democrats in the Trump era. Put it together, and Texas is on the cusp of being a true (if Republican-tilting) battleground state. It might not be immediately and vigorously contested, as Arizona or North Carolina will most likely be, given the greater expense of campaigning in Texas and the fact that it starts out to the right of those states. But if Democrats chose to contest it seriously in 2020, there wouldn't be anything crazy about that.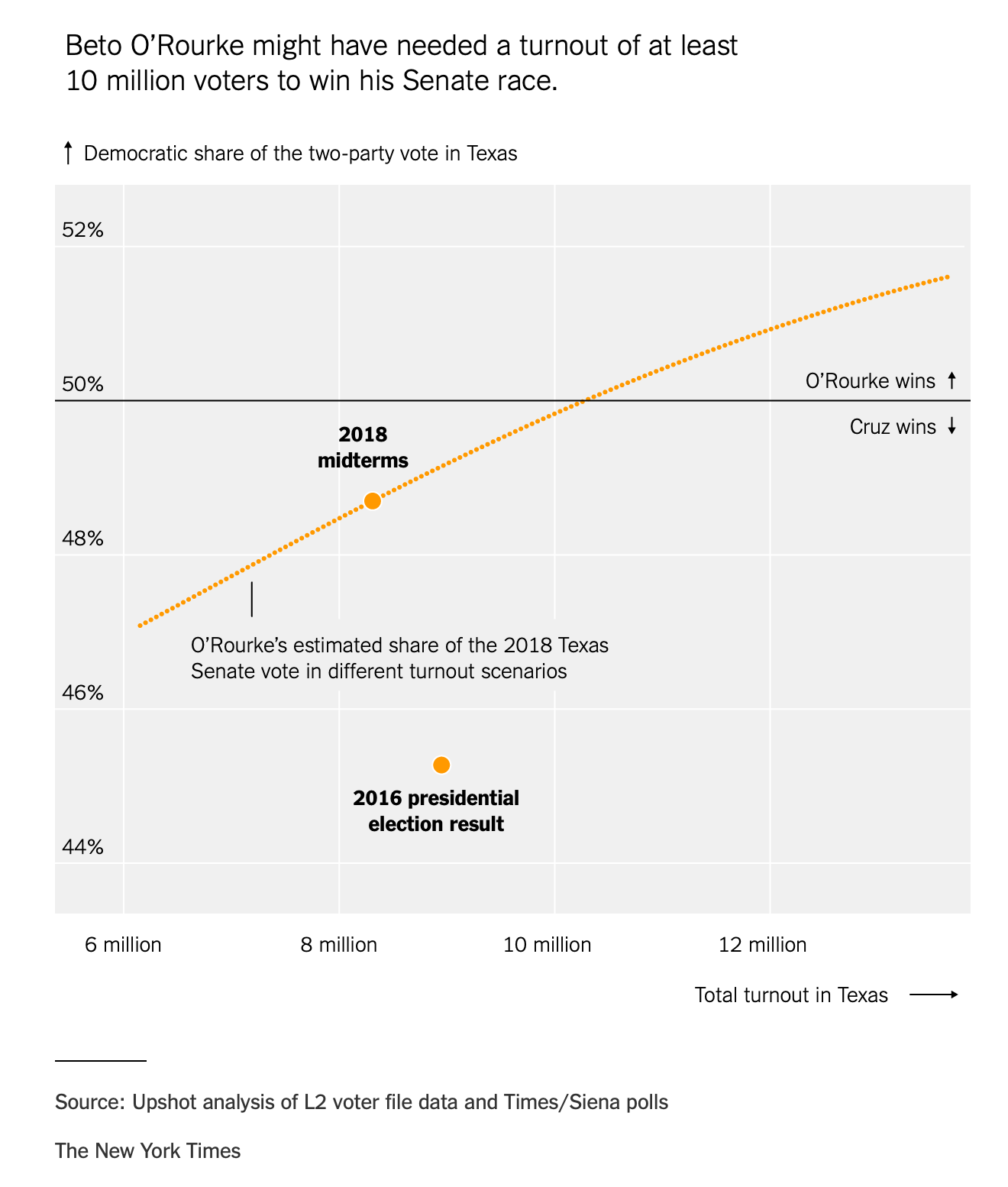 An overwhelming majority of independents (81%) continue to "lean" toward either the Republican Party or the Democratic Party. Among the public overall, 17% are Democratic-leaning independents, while 13% lean toward the Republican Party. Just 7% of Americans decline to lean toward a party, a share that has changed little in recent years. This is a long-standing dynamic that has been the subject of past analyses, both by Pew Research Center and others.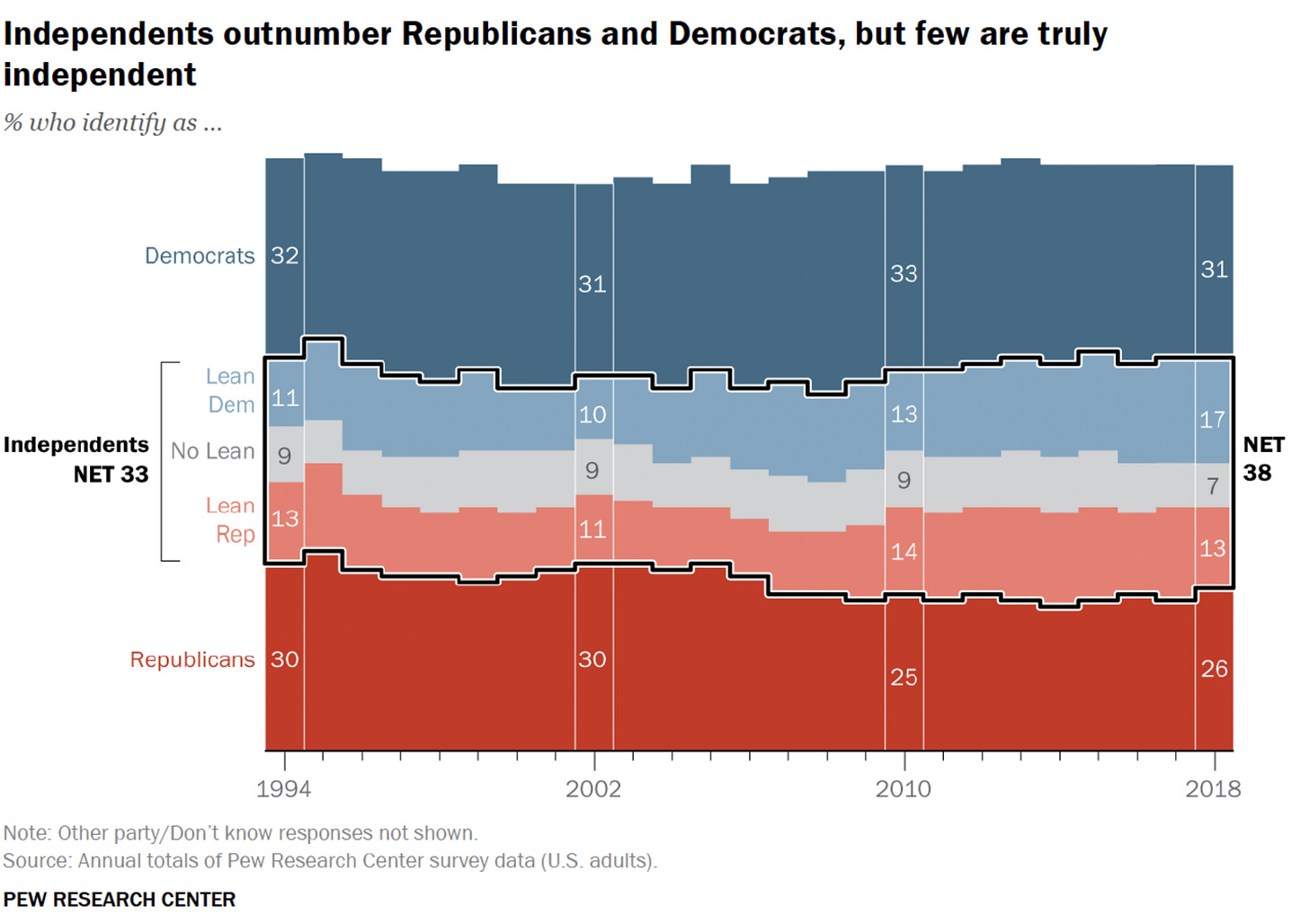 The modern Republican Party is perhaps harder to characterize, but when it was created in the 1850s with the purpose of curbing the expansion of slavery, it was the party in favor of stronger national government. This heritage lent itself to a relatively unified national message, while the Democrats were held together by process and compromise. The parties' positions and purposes have changed a great deal, but some vestiges of their organizational logics have remained. This fact further contributes to the problem of partisans not really feeling like their parties are representative or responsive. Still, parties have also changed a great deal. Much of the analysis in my project hinges on the fact that parties now choose their nominees through primaries, which cedes control to media, voters, and interest groups. This change on its own is not necessarily either good or bad. But it does highlight an unsettling fact for parties and for anyone concerned about the health of American democracy: as parties have reformed themselves over the years to be more democratic and open, they have continued to lose the public's trust.
From my colleagues:
Overall, the paper's authors found that among municipalities with average far-right support but few expellees, a 1% increase in the Nazis' vote share in 1933 was associated with an extra 0.3-0.5% gain for the AfD from 2013-17.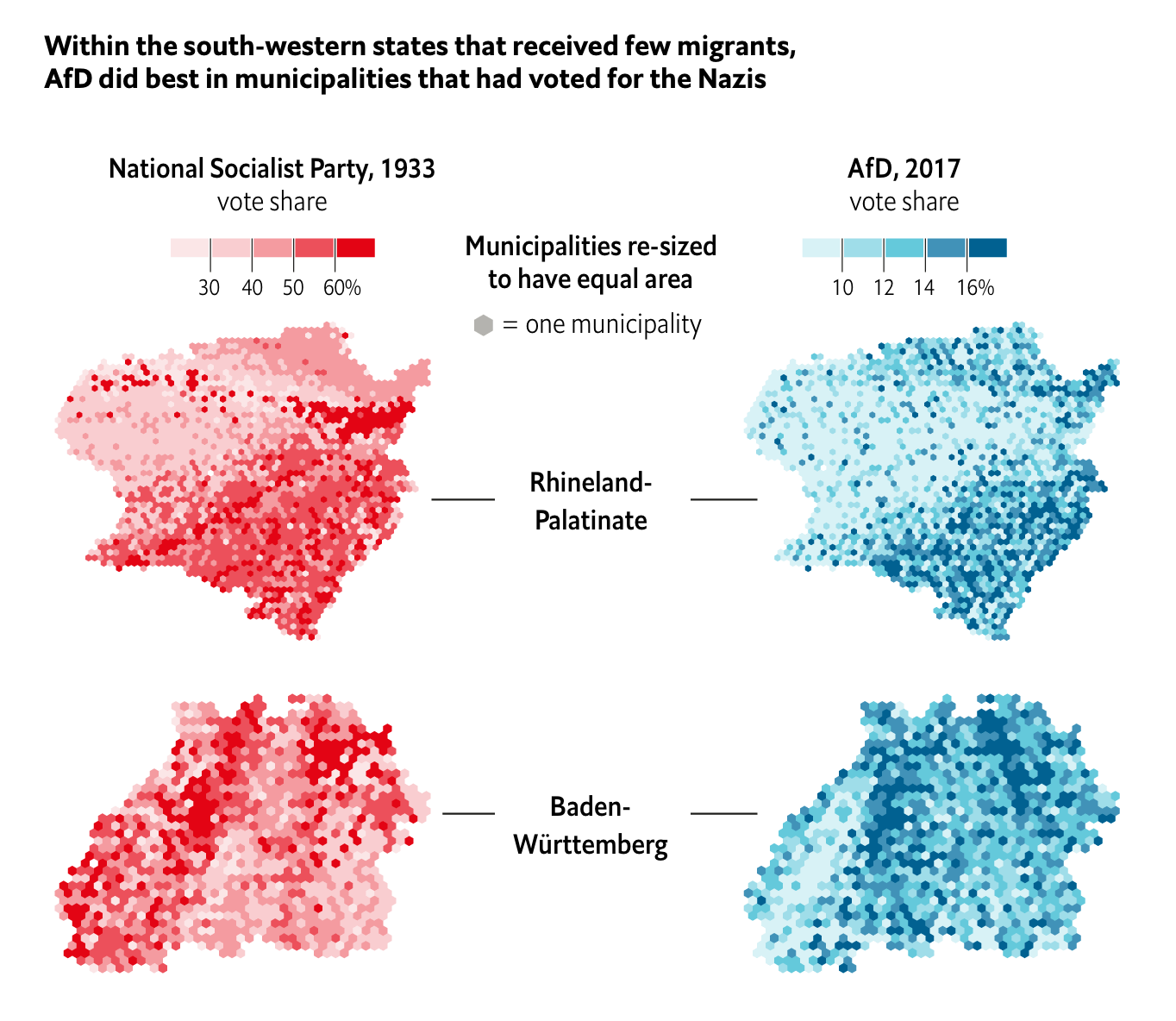 …the polls aren't reason to be dismissive of Sanders and Biden. If you think of a mental scale that spans the categories "bad," "meh," "pretty good," "good" and "great," Biden's polling qualifies as good2 even if you do count for name recognition, and Sanders's as pretty good (inching toward good in the most recent polls). Harris also belongs in the pretty good category on the basis of her strong favorability ratings, even though she doesn't have as much first-choice support. Otherwise, the candidates' polling is pretty underwhelming — O'Rourke is probably on the border of meh and pretty good, but the rest of the candidates are solidly into meh territory, or worse. Biden's and Sanders's positions aren't spectacular, but most candidates would gladly give up their own path to the nomination for one of theirs.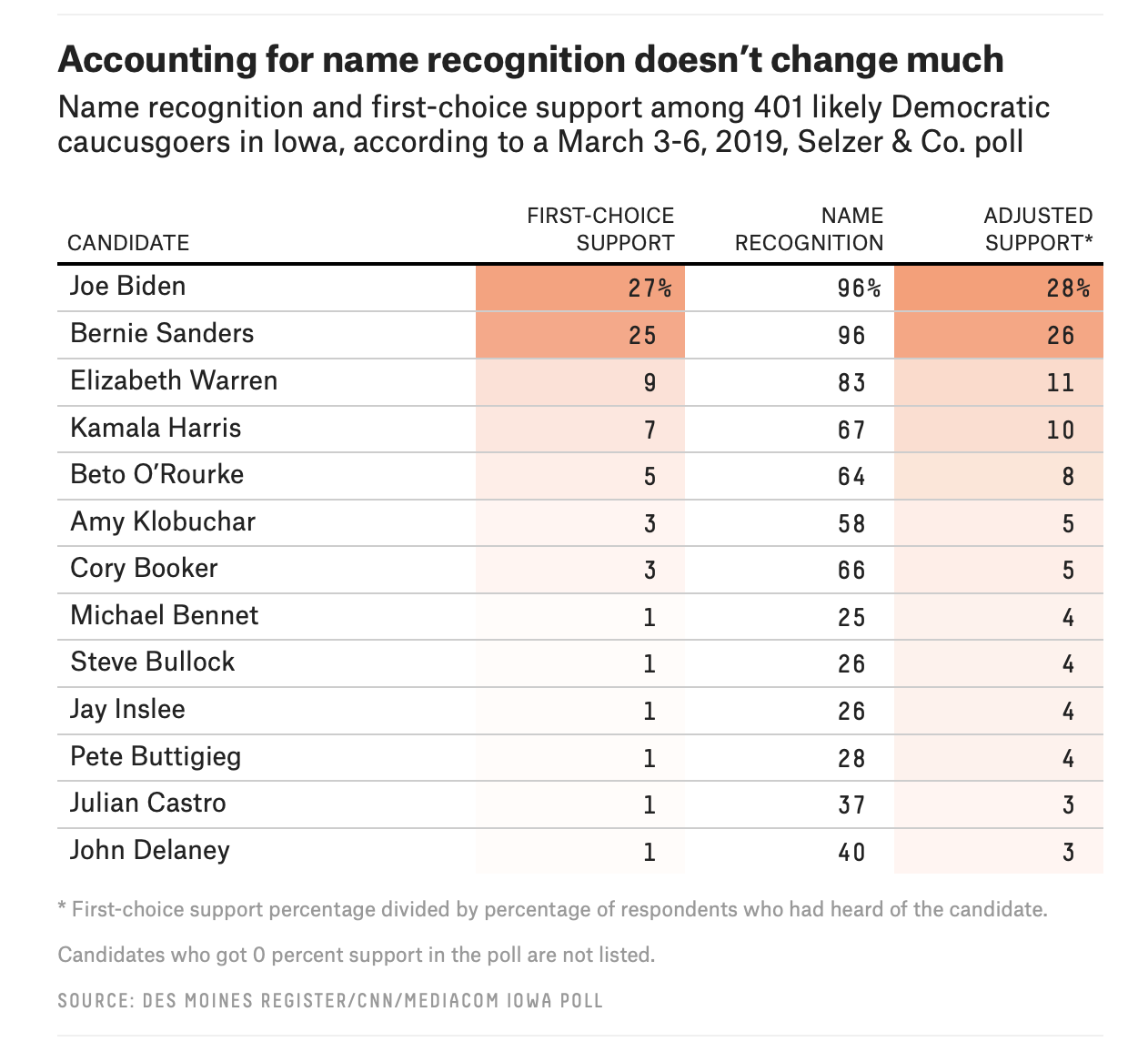 A larger field has tended to mean a greater chance of a nominee who wins with less than 50 percent of the vote. It has also tended to mean a greater chance of an upset. The crowd of candidates might in part be a reflection on Mr. Biden, who, unlike Mrs. Clinton, wasn't able to clear most of the field of viable challengers. Are the betting markets right that Mr. Biden is not the front-runner for the nomination? That conclusion could be justified based on serious reservations about his viability, but it is not a reasonable conclusion based on the data alone. If he goes on to win, a lot of analysis could look like a pretty serious overcorrection after 2016. But recent primary battles suggest we know less than the longer historical record of polling implies. If so, it's hard to know how much we really know at all.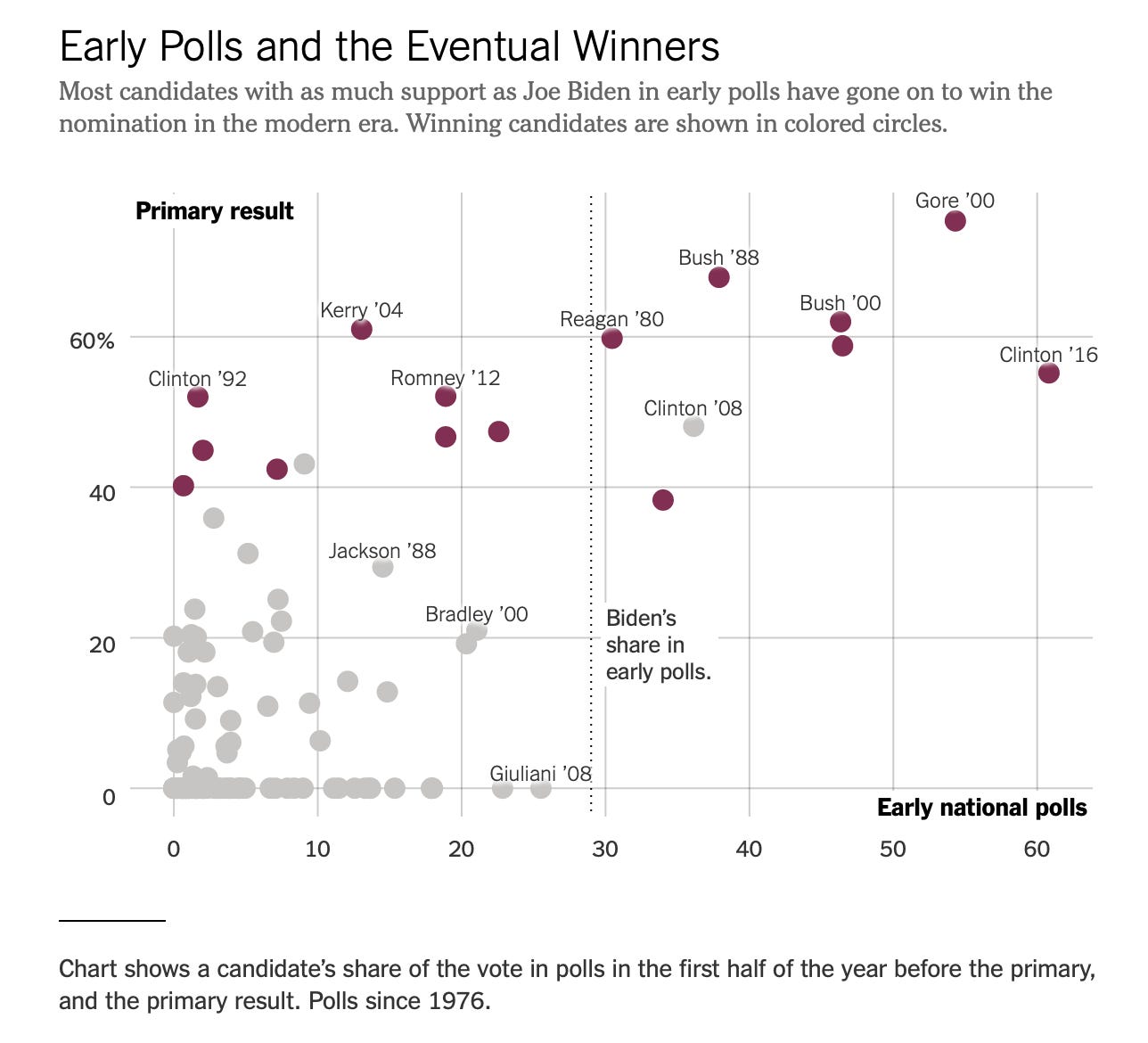 ---
Other Data and Cool Work
The major news programs on the broadcast networks aired a combined total of just 142 minutes of climate coverage in 2018, or less than two and a half hours. Almost three-quarters of that coverage aired in just the last three months of the year. The networks did a particularly poor job of explaining how climate change exacerbates extreme weather; none of the networks' news reports on the major hurricanes of 2018 even mentioned climate change. The networks' coverage was also lacking in diversity: Only 9 percent of the people featured in climate segments were people of color, and only 19 percent were women.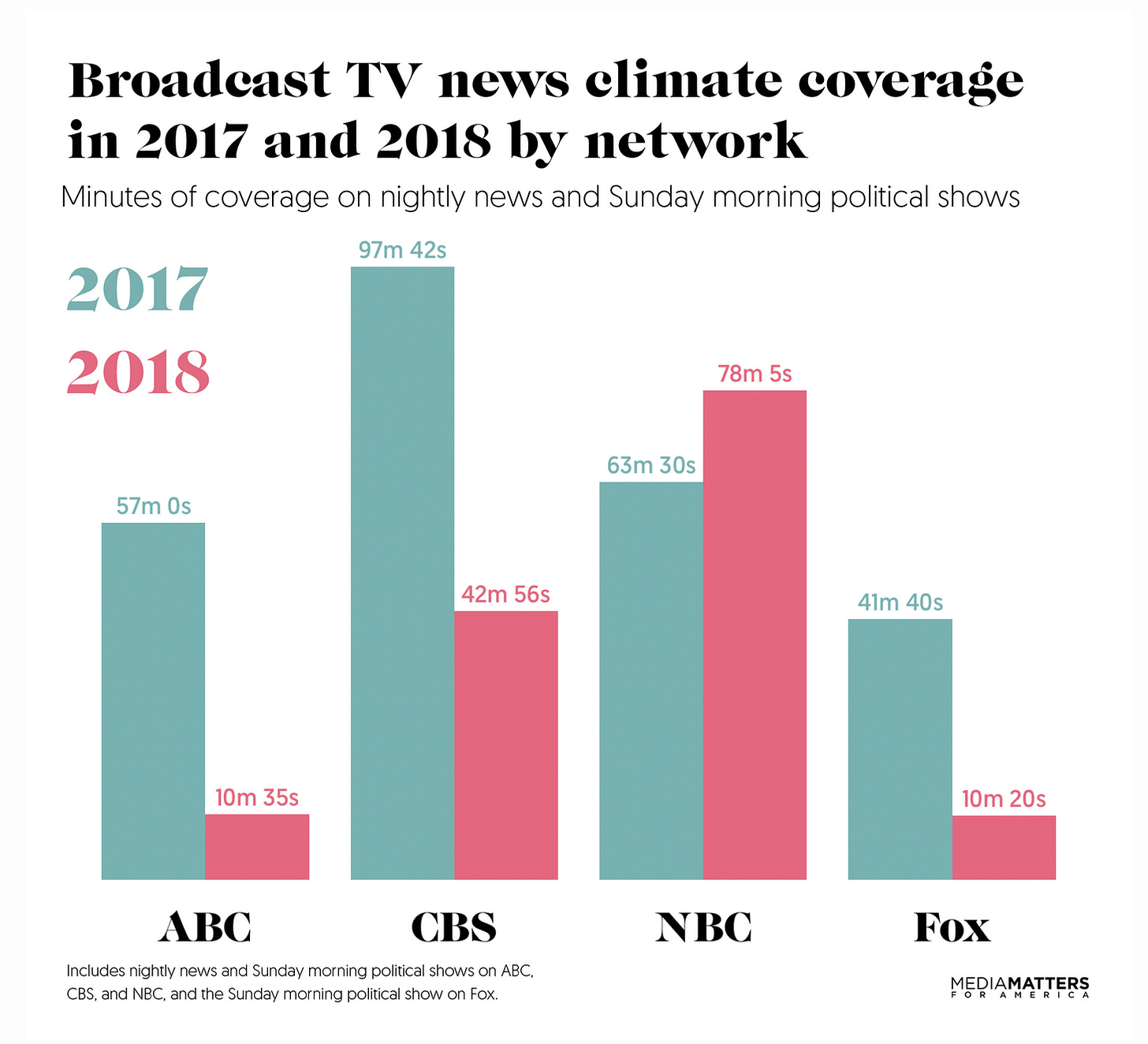 ---
Political Science, Survey Research, and Other Nerdy Things
A review of the research on rising animosity among Democrats and Republicans finds a lot of important and well-studied trends: negative views of the out-party are rising and they are increasingly manifesting in nonpolitical interactions. But the public presentation of this research (or its interpretation by journalists) seems to have oversold the notion of political tribalism. Evidence of ideological sorting and political disillusionment –– awareness of disagreement, lack of cross-cutting views shared with the other side, dislike of politicians, a general aversion to public conflict – is too often interpreted as evidence that Americans are disparaging of fellow citizens in the other party. Americans' social-group attitudes, ideological and policy predispositions, and partisan feelings interact and are increasingly lining up. We know we disagree, and we want our side to win. But most Americans are still capable of cross-partisan friendship and communication, and many are turned off by politics as a whole. Expect more heated discussions, but no impending civil war.
Alexander Agadjanian: Independent leaners toe the party line more than some self-described partisans (the "not very strong" ones)
---
What I'm Reading and Working On
I'm reading about white identity politics and the Republican Party in Dying of Whiteness: How the Politics of Racial Resentment Is Killing America's Heartland by Jonathan M. Metzl. It's an interesting look at the paradox of working class whites voting for Republicans.
---
Thanks!
Thanks for reading. I'll be back in your inbox next Sunday. In the meantime, follow me online or reach out via email. I'd love to hear from you!
---
A Special Thank-you Note to Patrons
My weekly newsletter is supported by generous patrons who give monthly on Patreon, including these individuals who have pledged especially charitable contributions:
Alden, Ben, Calvin, Christina, Daniel, David, Joshua, Joshua, Katy, Kevin, Laura, Robert, Robert, Thomas, Christopher
Ben, Bob, Brett, Charles, Charlie, Chelle, Darcy, Darren, David, Erik, Fred, Gail, Greg, Guillermo, Hunter, Jay, Jon, Malcolm, Mark, Nik, Nils, Sarah, Steven, Tal, Uri
Like the newsletter and want to help keep it going? Subscribe today on Patreon for access to private posts and other perks.