The Crosstab Weekly Newsletter 📊 January 6, 2019
Americans are Blaming Trump for the Government Shutdown. Focusing on his base hurts, not helps, his odds in 2020.
Welcome! I'm G. Elliott Morris, data journalist for The Economistand blogger of polls, elections, and political science. Happy Sunday! Here's my weekly newsletter with links to what I've been reading and writing that puts the news in context with public opinion polls, political science, other data (some "big," some small) and looks briefly at the week ahead. Let's jump right in! Feedback? Drop me a line or just respond to this email. 
This newsletter is made possible by supporters on Patreon. A special thanks to those who pledge the top two tiers is written in the endnotes. If you enjoy my personal newsletter and want it to continue, consider supporting it on Patreon for just $2.
This Week's Big Question
Who is losing the battle over the government shutdown?
President Trump is the biggest loser.
When we ask questions about political battles in Washington, there are a couple of things to consider (after deciding that it holds significance for people other than elites and DC insiders). First, we (or at least I, a public opinion nerd) want to know how the average American is reacting to the event. For this we typically rely on public opinion polling. We also want to read into the broader institutional consequences of different actions by different actors, deriving insights from our theory-based understanding of US politics. In the current battle over the government shutdown, both of these approaches bode poorly for Donald Trump.
Let's start off with the numbers, shall we? There have been a few polls released over the last week that show more voters blaming Trump for the lapse in federal funds than Democrats or Republicans. First up, a poll from YouGov/The Economist found that 46% of Americans say that Trump bears the most blame for the shutdown, 35% believe Democrats are most to blame and 6% think Congressional Republicans are at most fault. This roughly matches the toplines from a Reuters/Ipsos poll (47% blame Trump and 33% blame Democrats) and a Morning Consult poll (43% Trump, 31% Democrats), both taken at the onset of the shutdown.
The Morning Consult poll also showed Trump's approval dipping down to 39%, and the FiveThirtyEight average of his numbers has slipped from 42 to 41%.
So does this mean that Trump is turning voters against him with the shutdown? Not necessarily. In the YouGov polling, 78% of voters who approve of Trump's job performance blame Congressional Democrats for the budget impasse, and 84% of Trump disapprovers blame him for it. In other words, if you think Trump is doing a good job in office, you're very likely to think he's not at fault for the shutdown, and vice versa if you don't like him. Partisan groupthink, right?
Apart from the polling topline, then — that about 15% more Americans blame Trump or Republicans for the shutdown than Democrats — what else can we say? Let's talk about power.
There is a traditional argument in US politics that the president's strength comes from the power to persuade others and accomplish his goals: "The power of the president is the power to persuade," Richard Neustadt wrote in his seminal 1960 book Presidential Power. The Georgetown political scientist Matt Glassman frequently discusses why Trump fails this test, qualifying as a weak president. He wrote this week that Trump threatening to use emergency executive powers to build the wall — something he can probably do, by the way — is essentially a concession that any attempts to persuade congressional Rs or Ds to his side has failed.
Since the President can do very little to effect durable, long-standing public policy without buy-in from Congress, Trump's inability to win the shutdown fight — even after pulling out all of his media stops — is a big sign of weakness, and also shows why he is losing the fight over wall funding and the shutdown. (A note: this is by no means the end-all be-all take on Trump's power in office. There's a lot more to be said here and an entire section of political science devoted to studying how the president interacts with the legislature. However, I'll leave the discussion here for now, as it's suitable as an initial read on the situation.)
In other words, Trump is both losing the public opinion battle on the wall/shutdown and the political/institutional/powers battle over it. The only question is who makes concessions over the next week/few weeks to bring the funding impasse to a close.
One short, tangential thought:
Trump's relentless demand for $5B in wall funding is also demonstrative of something simple, yet important. He is banking on his base for reelection in 2020. He seems not to have performed a deep autopsy (or any autopsy at all) after his party's losses in the House this past November: if they show anything, it's that his base is not substantial enough to build a coalition nationwide. There is obviously some chance that a coalition based upon non-college whites can overwhelm minorities and educated voters in 2020, but the most recent evidence we have points to this being harder more hard than easy. Trump should not be doubling down on support from ~40% of voters right now; the way to another term is by expanding his coalition to disengaged degree-holders, hispanics, and moderate Democrats, possibly by bargaining with Nancy Pelosi on policies such as infrastructure, health care (especially pharmaceutical price negotiation), and campaign finance reform. In sum, deal-making is Trump's best shot at reelection. Shutting down the government over a border wall will likely not get him all the way there.
Political Data
Did you see our big piece on how GOP gerrymanders failed in 2018? You won't be disappointed. We dive deep into the precinct-level results in Michigan's 11th Congressional District to show how a swing left among college-educated voters and whites in the suburbs flanked GOP mapmakers and turned purple suburbs blue nationwide.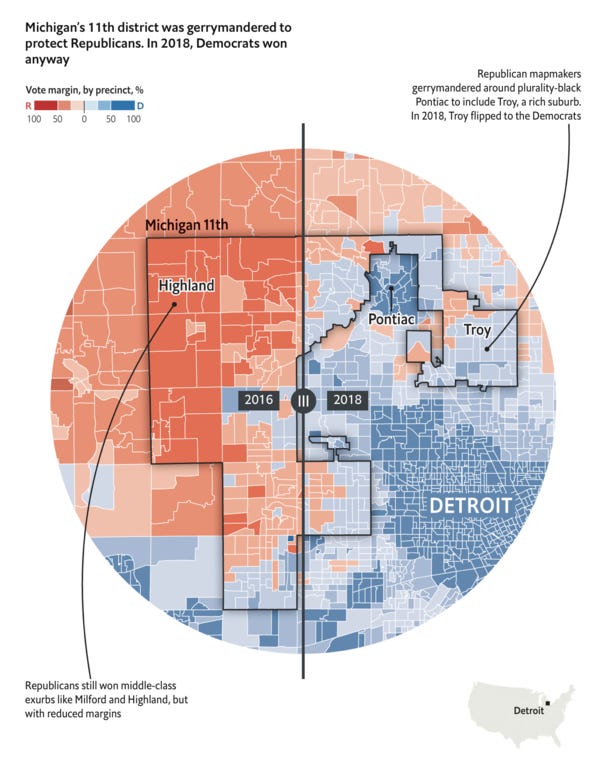 Each week in 2019, I'm writing a short blog post that answers a salient political question using techniques of data science with the R programming language. I hope you'll tune in! The first week: Polarization in the 115th Congress: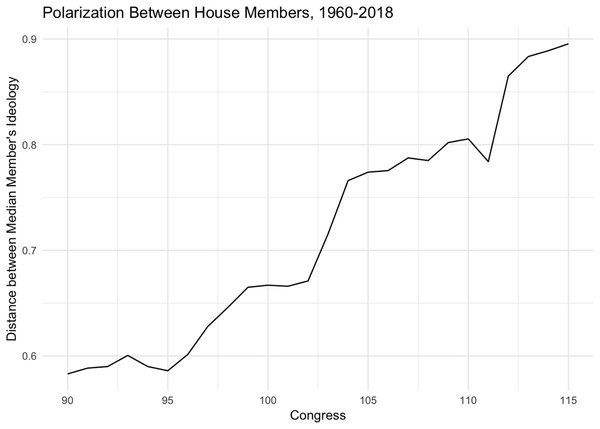 Each week this year, I'm writing a short blog post that answers a relevant political question and helps me practice my data skills. First up: The 115th Congress was the most "polarized" yet. Read: https://t.co/F0OhAD8ufB & get the data + code on GitHub: https://t.co/UuBXCr7Brghttps://t.co/A5hvBB4nCP
4:27 PM - 6 Jan 2019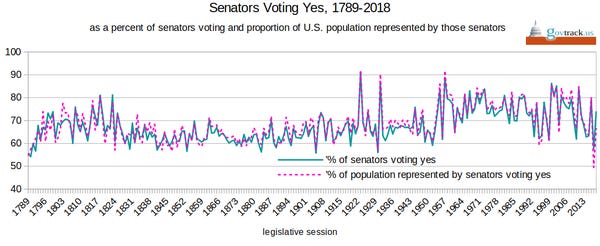 The Senate has never been as un-democratic as it was in 2017–2018, and minority rule could continue in 2019 for nominations
The U.S. Constitution created the United States Senate with equal representation — two senators — from each of the country's states, despite the wide variation in population from state to state.
Will Pelosi Open the Floor to Bipartisan Ideas? — ProPublica
Nancy Pelosi is returning as speaker of the House of Representatives amid a partisan standoff that has made it virtually impossible to move forward on major legislation requiring the support of both Democrats and Republicans. Now, she has a chance to fix at least part of the problem.
As Pelosi Takes Over, an Attempt to Revive the 'Lost Art' of Legislating
She has agreed to a more open process, but Democrats who pushed for it may come to regret it.
Explaining the 2016 Democratic Primary with Machine Learning.
What was the 2016 Democratic Part about? Based on the following survey analysis, the main distinguishing features between Clinton and Sanders supporters are age, party-id, TransPacific Partnership support, and Obama approval.
Greg Sargent on Twitter: "1) As Trump ends the year with a flood of lies about his wall, we need to recapture a core truth about this presidency. Trump isn't "twisting the truth" or "stubbornly refusing to admit error." Trump is engaged in *disinformation.* This is a different thing entirely. *THREAD*"
Other Data and Cool Work
Economic and other indicators are making it increasingly clear that Trump's economic dreams are unlikely to come true. Mr. Rattner was counselor to the Treasury secretary in the Obama administration.
Many central‐city residents label their community "suburban" or "rural," & many outlying residents label their community "urban." People use "urban" label when they perceive local schools to be bad & their neighborhood to be unsafe 
#SocSciResearch 
https://t.co/PnRPQIhGeF
10:22 PM - 4 Jan 2019
Political Science and Survey Research
An Asymmetrical "President-in-Power" Effect
Full text views reflects the number of PDF downloads, PDFs sent to Google Drive, Dropbox and Kindle and HTML full text views.
Does Party Trump Ideology? Disentangling Party and Ideology in America
Full text views reflects the number of PDF downloads, PDFs sent to Google Drive, Dropbox and Kindle and HTML full text views.
Matt Grossmann on Twitter: "New PS symposium of country reports details democratic declines tied to weakening legislatures (vs national executives), cites historical legacies, institutional design, economic factors, polarization, & personalization of politics #SocSciResearch https://t.co/PcZW8y7Ctf"
What I'm Reading and Working On
I'v got a few US history books on my "to read" shelf this/next week. The first is Jill Lepore's new single-volume history of the United States, These Truths, and Doris Kearns Goodwin's Leadership: In Turbulent Times. I'll be writing about Elizabeth Warren's policy chops and mainstream Democratic ideology, the history of government shutdowns, and offering a bit of foresight on gridlock in the new congress. (That sounds like a lot… I better get writing)
Thanks!
Thanks for reading. I'll be back in your inbox next Sunday. In the meantime, follow me online or reach out via email. I'd love to hear from you!
A Special Thank-you Note to Patrons
My weekly newsletter is supported by generous patrons who give monthly on Patreon, including these individuals who have pledged especially charitable contributions:
Alden, Ben, Calvin, Christina, Daniel, David, Joshua, Joshua, Katy, Kevin, Laura, Robert, Robert, Thomas, Christopher
Ben, Bob, Brett, Charles, Charlie, Chelle, Darcy, Darren, David, Erik, Fred, Gail, Greg, Guillermo, Hunter, Jay, Jon, Malcolm, Mark, Nik, Nils, Sarah, Steven, Tal, Uri
Like the newsletter and want to help keep it going? Subscribe today on Patreon for access to private posts and other perks.