The Crosstab Weekly Newsletter 📊 January 13, 2019
Full speed ahead in the 2020 primary
Welcome! I'm G. Elliott Morris, data journalist for The Economistand blogger of polls, elections, and political science. Happy Sunday! Here's my weekly newsletter with links to what I've been reading and writing that puts the news in context with public opinion polls, political science, other data (some "big," some small) and looks briefly at the week ahead. Let's jump right in! Feedback? Drop me a line or just respond to this email. 
This newsletter is made possible by supporters on Patreon. A special thanks to those who pledge the top two tiers is written in the endnotes. If you enjoy my personal newsletter and want it to continue, consider supporting it on Patreon for just $2.
This Week's Big Question
Primaries are second-order chaos events. That means that political predictions and media coverage of them have consequences. Let me explain.
Remember that meme "it's time for some game theory?" Well… IT'S TIME FOR SOME CHAOS THEORY. I joke, but really, let's do that.
Before the 2020 invisible primary gets fully underway it behooves me to simply raise the premise that our analyses of who is "winning" the 2020 Democratic primary will influence who actually will. Chaos Theory, which traces its modern roots to the birth of weather forecasting and differential equations, categorizes this type of event as a "second-order" event. Second-order chaos events are phenomena that are inherently unpredictable because they are influenced by the prediction of the event itself, whereas first-order chaos events are not. Weather is a first-order event, for example, because snow in Washington is not more likely just because the Post reports that 6" are forecast to fall. Compare this to politics, where Richard Ojeda is less likely to win the 2020 primary election if the Post makes a good argument that his chances are close to 0% than if they say he has a shot, or perhaps if they simply ignored him altogether (though this should not be the preferred strategy of his campaign manager!).
There is some controversy over whether our predictions actually impact politics. I would point someone with this view to a Financial Times article showing that the 2-year yield for the US Bond market increased dramatically on election night for the 2018 midterms when PredictIt, a popular betting site, flipped from predicting that Democrats would win control of the House to predicting that that Republicans would retain their majority. Then, the yield fell when it became clear (again) that Democrats would actually win. (Just to be clear, this is likely not because millions of Americans are staring at the PredictIt odds prices but because the PredictIt traders themselves were reacting to live forecasts at FiveThirtyEight, aired live on ABC News, and got coverage on social media sites.) 
For evidence, we can turn to experimental studies that have shown that voters are less likely to cast ballots in races that they view as uncompetitive, though I'm not totally convinced. What's clear is that political predictions have real-world consequences, and while it follows that they impact voters' behavior, we don't have authoritative evidence of that fact… yet. I of course lean closer to "yes" than "no," but also toward a smaller effect versus a large one.
Moving into 2020, the game changes. Perpetual coverage of the primary campaign, which likely will start within the next month, will begin by focusing largely on whether some candidates are actual contenders or not. If we say, for example, that John Delaney — who represented Maryland's 6th congressional district from 2013 to 2019 — is likely to win 5% of the vote in Iowa's 2020 Congress, those voters might abandon him in favor of someone who we think will win 50%. 
This piece is just to say be wary of that fact. We should cover the horse race, yes, but also the policies that candidates propose, the ground game and institutions that Democrats are building, among other interesting stories about the campaign. We must also acknowledge that it is hard to strike a balance between reporting thoroughly on a candidate's chances — which will require some modeling of data and resulting predictions — and curbing/inflating those chances ourselves. Reporters should be wary of the fact that, despite what POTUS might say, people do read the news, and that news does influence them. 
There's more to say on this, including a more thorough discussion of "tactical voting" and electability arguments, but I'll cut it off here for now.
Political Data
I wrote about the relationship between name recognition and popularity in my series of posts about using data science for political analysis:
R for Political Data Science Week 2: This Early Before 2020, It's All About Name Recognition | The Crosstab by G. Elliott Morris
Ahead of the 2020 Democratic primary, there's a very clear relationship between being better known and better liked.
Other links:
Most Democrats Now Identify As 'Liberal'
Welcome to Pollapalooza, our weekly polling roundup. In 2018, for the first time, a majority of Democrats said they considered themselves to be "liberal," according to Gallup.
The retreat of global democracy stopped in 2018 - Daily chart
DEMOCRACY stopped declining in 2018, according to the latest edition of The Economist Intelligence Unit's Democracy Index.
Too Tough on Crime? The Impact of Prosecutor Politics on Incarceration
Republican District Attorneys give harsher sentences that Democratic DAs.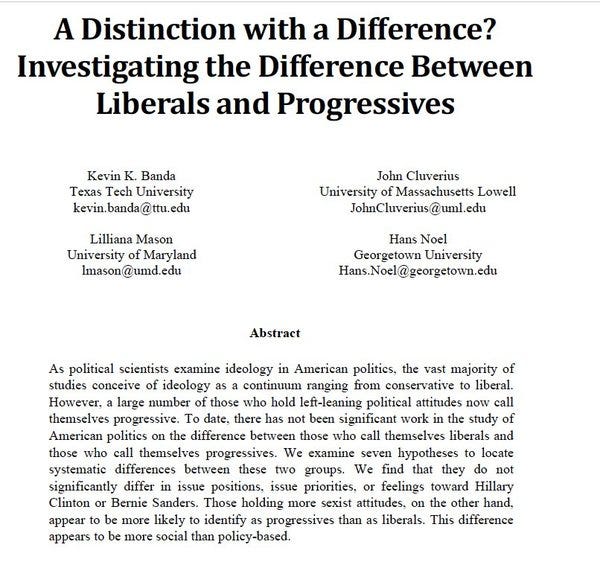 interesting study evaluating policy and social differences between self-identified liberals and progressives. issue-wise they are the same, evaluate Hillary and Bernie similarily, but "progressives" are more sexist. by @KevinKBanda @JohnCluverius @LilyMasonPhD and @ProfHansNoelhttps://t.co/WwXJnK2ykY
7:21 AM - 11 Jan 2019
Partisan violence: GOP voter says Trump is "not hurting the people he needs to be hurting" (Democrats)
In Florida's deeply conservative Panhandle, federal prison workers were already struggling after Hurricane Michael. Then came the government shutdown.
Spillovers from regulating corporate campaign contributions
Altonji, J. G., Elder, T. E., & Taber, C. R. (2005). Selection on observed and unobserved variables: Assessing the effectiveness of catholic schools. Journal of Political Economy, 113(1), 151.CrossRefGoogle ScholarBaker, R. (2006). Are our politicians for sale?; Focus—Political donations.
President Trump may declare a national emergency to build a border wall - Daily chart
AMERICA'S federal government shutdown is about to enter its 22nd day. President Donald Trump has refused to sign any spending bill that does not allocate $5.7bn to build a wall on the country's southern border.
Economic Analysis of Medicare for All
This study by PERI researchers Robert Pollin, James Heintz, Peter Arno, Jeannette Wicks-Lim and Michael Ash presents a comprehensive analysis of the prospects for a Medicare for All health care system in the United States.
The 5 Corners Of The 2020 Democratic Primary | FiveThirtyEight
Graphics by Rachael Dottle Over the long course of the Republican presidential nomination process in 2015 and 2016, we frequently featured a diagram called "The…
As Trump Sticks With His Wall, His Ratings Stay Stuck in Place - The New York Times
The border wall remains popular only with the president's base, and shutting down the government over the issue seems unlikely to win new fans.
Other Data and Cool Work
More Americans are using ride-hailing apps | Pew Research Center
Today, 36% of U.S. adults say they have ever used a ride-hailing service such as Uber or Lyft. Prominent urban-rural gaps in adoption exist.
How tax brackets actually work: A simple visual guide - The Washington Post
Half of Americans don't know this, apparently. Don't be one of them.
www.washingtonpost.com  •  Share
Political Science and Survey Research
What if Cities Are No Longer the Land of Opportunity for Low-Skilled Workers?
Dense cities like New York have long promised higher wages, but now that is primarily true for workers with more education, a new analysis finds.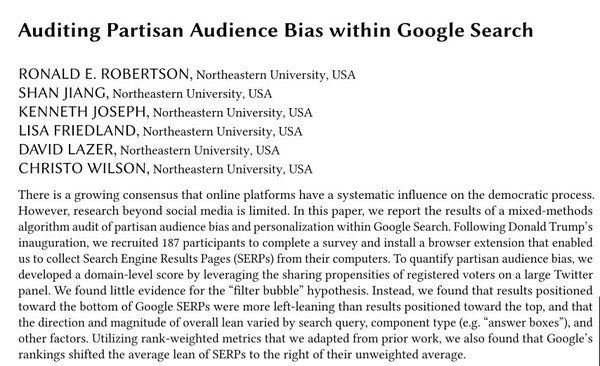 really phenomal study by @RERobertson, @davidlazer and others on partisan bias in google search. no evidence for filter bubble hypothesis, different components of search have different biases and vary by rank and query. items near bottom of page more left than items near top https://t.co/cqSSASnCTm
12:24 PM - 8 Jan 2019
I made some slides for my Introduction to American politics class on the logic of the government shutdown. Feel free to adapt what's useful for your classes. https://t.co/UW8Dr329t2
3:49 PM - 11 Jan 2019
What I'm Reading and Working On
I was busy this week, writing four articles and preparing a fifth. First, there was Elizabeth Warren kicking off her 2020 campaign in Iowa. Then, there was a piece on the length of the current government shutdown (which is now the longest in history). I wrote more about that with my colleague Jon Fasman in a print piece this week on how shutdowns are even possible, and in answering the question of why shutdowns seem unique to America. Next week, I'm writing about Apple and tariffs and working on evangelical Christians and the political right. I'll be in Austin for some reporting and the annual meeting of the Southern Political Science Association — if you're going, I'll see you there!
Thanks!
Thanks for reading. I'll be back in your inbox next Sunday. In the meantime, follow me online or reach out via email. I'd love to hear from you!
A Special Thank-you Note to Patrons
My weekly newsletter is supported by generous patrons who give monthly on Patreon, including these individuals who have pledged especially charitable contributions:
Alden, Ben, Calvin, Christina, Daniel, David, Joshua, Joshua, Katy, Kevin, Laura, Robert, Robert, Thomas, Christopher
Ben, Bob, Brett, Charles, Charlie, Chelle, Darcy, Darren, David, Erik, Fred, Gail, Greg, Guillermo, Hunter, Jay, Jon, Malcolm, Mark, Nik, Nils, Sarah, Steven, Tal, Uri
Like the newsletter and want to help keep it going? Subscribe today on Patreon for access to private posts and other perks.