The Crosstab Weekly Newsletter 📊 February 3, 2019
There's Actual Disunity on the Right, But Will it Topple Trump?
Welcome! I'm G. Elliott Morris, data journalist for The Economistand blogger of polls, elections, and political science. Happy Sunday! Here's my weekly newsletter with links to what I've been reading and writing that puts the news in context with public opinion polls, political science, other data (some "big," some small) and looks briefly at the week ahead. Let's jump right in! Feedback? Drop me a line or just respond to this email. 
This newsletter is made possible by supporters on Patreon. A special thanks to those who pledge the top two tiers is written in the endnotes. If you enjoy my personal newsletter and want it to continue, consider supporting it on Patreon for just $2.
A Quick Programming Note:
Please consider this an apology for missing last week's newsletter. I've compiled all the links I planned on sharing in this letter alongside the material from this week and expanded upon my usual This Week's Big Question such that it's about the length of a normal article. Thanks! 
This Week's Big Question
Is Trump Vulnerable to a Primary Challenger?
It depends.
On last week's episode of NBC's "Meet the Press," Chuck Todd previewed some polling numbers that showed young and old, college and non-college educated Democratic voters split in who they're looking for for a presidential candidate. While I talked briefly about Democratic disunity in my weekly blog post about data in politics last Friday — and while I opined that the focus on a divide among Democrats was misplaced when, the day before, Republican Senators voted against the President in a funding bill to re-open the government — I wanted to dive today into the actual cleavages in the Republican Party. Is there a real shot that Donald Trump faces a primary challenger in 2020?
There are a few big moving parts here. Primarily, we have to decipher (A) whether there is support for a challenge president within the GOP primary electorate and (B) whether the Republican National Committee would be open to hosting such a challenger in contests, debates, etc. Given that the RNC pledged their "undivided support" to President Trump last week — and more importantly, given that state leaders have even gone so far as to suggest they might cancel their caucuses and primaries — it's worth more to focus on (A) than (B). Since there is a wide availability of public opinion polling, quantifying support for a challenger to POTUS is also a much easier question to answer than whether or not the institutions of the RNC would be flexible enough to foster an anti-Trump candidate. So let's look at the polling data.
According to The Economist's most recent polling from YouGov, 85% of Republicans approve of the job that Trump is doing as president. From issues of the economy, to immigration, health care to taxes, GOP voters approve of his job performance. But maybe approval is just high among voters who admit they're Republicans to pollsters. Maybe the real number is higher. For various reasons — including a study from political scientists Pablo Montagnes, Zachary Peskowitz, and Joshua McCrain recently published in the Journal of Politics — we might expect Trump's real approval among the total pool of Republicans to be much smaller. In other words, his support among the caucus could be inflated in popular measurements and better measured by more specific questions. Indeed, by other measurements, there is a lot of resistance to the president among the GOP primary electorate.
According to the most recent ABC/Washington Post poll, 32% of Republicans and Independents who lean Republican say the primary electorate should nominate someone other than Trump.Illustrating the issues this might pose in the general election, only 70% of Republicans say they would "definitely" vote for him in the general election in 2020. So there's clearly room for another candidate, but their chances begin (much) lower than 1-in-4, maybe even 1-in-10. So what would that candidate look like?
According to the data from the 2018 VOTER survey from the Democracy Fund's Voter Study Group, the 2016 Republican primary was decided largely along the lines of opposition to elites, feelings toward Muslims and minorities, and attitudes about same-sex marriage and abortion. In the following, you can see how most voters who opted for someone other than Trump were "socially" liberal. It's likely that a 2020 challenger would have to emerge from the same two quadrants of the graph. But would they find success? At least according to this plot, there aren't very many Republican primary voters occupying socially liberal space.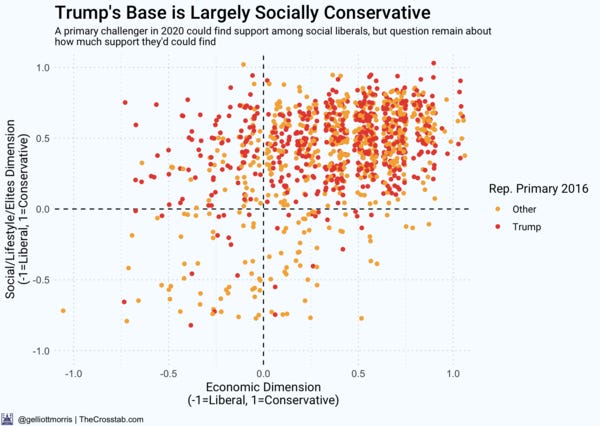 Though it's even further unclear who the candidate would be, the bigger issue is probably the size of the pool of voters. The (unweighted) VSG data puts the number of 2016 GOP primary voters who are also socially liberal at about 1-in-10. That's not nearly enough to contest a primary, let alone win one.
Instead of making issue-based ideological arguments, A Republican primary challenge to Trump would likely have to bill themself as a superior candidate along electability and institutional grounds, or say they're a "real" Republican. The #NeverTrump movement has largely been opposed to POTUS for his anti-democratic (small-"d") values, such as rhetoric that characterizes the press as the "enemies of the people." Perhaps among Washington elites, a challenge to the president could thrive. Bu the number of #NeverTrump average voters is comparatively tiny. Unless economic or other such catastrophe breaks out, it's hard to see a Republican electorate that approves of him ~80% to ~20% opposing the president in their various primaries and caucuses. And that's if and only if — a huge"if," to be sure — the party apparatus actually allows it. Odds are that Trump is in for the race in 2020.
Political Data
For the nerds: I've put together a collection of political data that you can download straight to your computer. See here:
GitHub - elliottmorris/politicaldata: 🗳📊An R package for acquiring and analyzing political data — including polls, election results, legislator information, and demographic data.
🗳📊An R package for acquiring and analyzing political data — including polls, election results, legislator information, and demographic data. - elliottmorris/politicaldata
American government workers are feeling the shutdown's financial impact
AS AMERICA'S partial government shutdown enters its 33rd day, the roughly 800,000 federal workers affected by the closure are facing growing financial pressures. Some are looking for temporary work or applying for unemployment insurance.
The 2020 Democratic field is the most diverse ever
The 2020 Democratic presidential field is still developing, but it's already the most diverse in modern political history.
2020 Democrats are ready to talk about racial inequality
After the 2016 election, Democrats focused on winning back white working-class voters who supported Donald Trump. The 2020 target voter is already different.
Why have Venezuelans turned against Nicolás Maduro?
On January 23rd Juan Guaidó, the leader of Venezuela's national assembly, proclaimed himself the country's acting president.
Many Americans think that climate-change deniers 'get what they deserve' when disasters strike
Earlier this month, President Trump raised eyebrows when he tweeted that Californians and their state government were to blame for the devastating fires that left 76 people dead and thousands of others injured. Democrats and fire management experts quickly condemned the president's comment.
www.washingtonpost.com  •  Share
The political scientist Donald Trump should read
It's not often I run across political science that genuinely changes my understanding of how American politics works. But Frances Lee's research has done exactly that. Twice.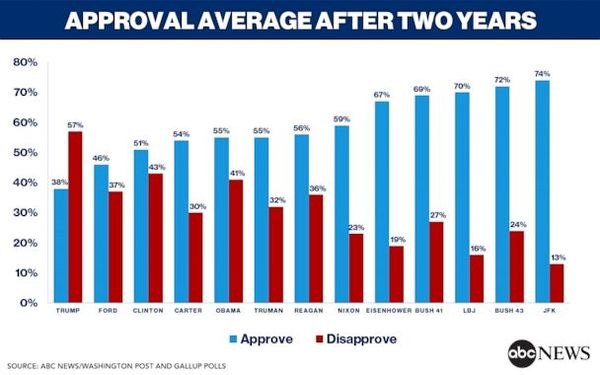 Pres. Trump's overall job approval rating is the lowest on record for any president after two years in office, new @ABC News/WaPo poll finds. https://t.co/5u0W6aX1Ow https://t.co/SDKuV1mfIp
1:29 PM - 26 Jan 2019
Kamala Harris is winning the 2020 Democratic digital spending primary
Ronald Klain on Twitter: "Fascinating facts from @taraemcg & team at @anotheracronym – plus this week's "FWIW" newsletter has a deep dive on the A+ @KamalaHarris digital roll out. If you want to understand what's going on in digital politics, subscribe to the newsletter here: https://t.co/1EotE491uv… https://t.co/jSRPIosGmG"
Trump facing historically bad numbers for re-election in 2020 - CNNPolitics
President Donald Trump is no stranger to bad poll numbers.
Other Data and Cool Work
The cost of studying the arts at Oxbridge
Upgrade your inbox and get our Daily Dispatch and Editor's Picks. SCEPTICS OF HIGHER education often complain that universities offer too many frivolous degrees with little value in the workplace.
Political Science, Survey Research, & Other Nerdy Things
A Public Opinion syllabus from Paul Kellsdedt
POLS 671: Seminar in American Political Behavior
Fake news on Twitter during the 2016 U.S. presidential election
There was a proliferation of fake news during the 2016 election cycle. Grinberg et al. analyzed Twitter data by matching Twitter accounts to specific voters to determine who was exposed to fake news, who spread fake news, and how fake news interacted with factual news (see the Perspective by Ruths).
science.sciencemag.org  •  Share
Identity politics is not an invention of the left that has been co-opted by the right
E Pluribus Unum? The Fight Over Identity Politics
www.foreignaffairs.com  •  Share
Facebook deactivation reduces online activity and attention to news
According to a new study from political scientists Hunt Allcott, Luca Braghieri, Sarah Eichmeyer, and Matthew Gentzkow.
Democrats are more in tune with identifying fake news
Matt Grossmann on Twitter: laypeople across the political spectrum rated mainstream sources as far more trustworthy than either hyperpartisan or fake news sources, but the difference was larger for Democrats than Republicans
ASKurz/Doing-Bayesian-Data-Analysis-in-brms-and-the-tidyverse
Kruschke began his text with "This book explains how to actually do Bayesian data analysis, by real people (like you), for realistic data (like yours)." Agreed. Similarly, this project is designed to help those real people do Bayesian data analysis.
What I'm Reading and Working On
I've been reading Kevin M. Kruse and Julian E. Zelizer's Fault Lines: A History of the United States Since 1974 and really enjoying it. On deck I've a few more political science books, but I can tell that my pace of reading has already slowed this year. Probably because I've been programming so much recently. Back in D.C. next week, I'll be writing for y'all about evangelical voters.
Thanks!
Thanks for reading. I'll be back in your inbox next Sunday. In the meantime, follow me online or reach out via email. I'd love to hear from you!
A Special Thank-you Note to Patrons
My weekly newsletter is supported by generous patrons who give monthly on Patreon, including these individuals who have pledged especially charitable contributions:
Alden, Ben, Calvin, Christina, Daniel, David, Joshua, Joshua, Katy, Kevin, Laura, Robert, Robert, Thomas, Christopher
Ben, Bob, Brett, Charles, Charlie, Chelle, Darcy, Darren, David, Erik, Fred, Gail, Greg, Guillermo, Hunter, Jay, Jon, Malcolm, Mark, Nik, Nils, Sarah, Steven, Tal, Uri
Like the newsletter and want to help keep it going? Subscribe today on Patreon for access to private posts and other perks.