The Crosstab Weekly Newsletter 📊 December 23, 2018
What we learned in 2018. + turnout in the midterms, the shutdown, 2020 looms
Welcome! I'm G. Elliott Morris, data journalist for The Economistand blogger of polls, elections, and political science. Happy Sunday! Here's my weekly newsletter with links to what I've been reading and writing that puts the news in context with public opinion polls, political science, other data (some "big," some small) and looks briefly at the week ahead. Let's jump right in! Feedback? Drop me a line or just respond to this email. 
This newsletter is made possible by supporters on Patreon. A special thanks to those who pledge the top two tiers is written in the endnotes. If you enjoy my personal newsletter and want it to continue, consider supporting it on Patreon for just $2.
This Week's Big Question
What did I learn in 2018? The best books I read:
You can read this on my blog, too.
Last winter, I wrote a quick blog post of the best books I read in 2017, a short list that really was inclusive only of the best texts from that year. This time, I'm writing you a longer list — about 30 books that I read this year and would recommend, excluding only those unnamed books which I wouldn't. Take your pick, they're all fantastic.
This year was a hectic year, to say the least. As I tweeted recently, it was a good year "to turn off cable news and open a book." With the 24-hour news cycle ballooning into a never-ending stream of "POTUS just did X" and "here's what so-and-so believes about Y," it's easy to get caught up in the events that don't inform us and those that don't matter at all. Books can help steer us back on course. Tangentially, I'd argue that the crisis of US political punditry is probably due to a lack of political science and history knowledge, and (good) books offer a great remedy. So too have I found solace in longform journalism and magazines, but I might be biased to the latter.
I enjoyed many books this year, from those about identity politics to political revolutions to LSD and psychedelics. Perhaps my humble recommendations can serve you well also. Here's a list of the 30 books I read this year that I recommend to you all, and a few sentences about each.
(US) Politics (and political science)
History
Data
Other nonfiction
…
There you have it, the 30 books that I read this year and would recommend you to read as well. Upon reflecting further while writing this post (which has now gone on far too long, I fear, at 3000 words), I could only come to realize that I read much about US political science and history while lacking in other areas. What books would you recommend in other subjects? Note that I only really read non-fiction, and will probably keep it that way, though have recently made an exception for Tolstoy's War and Peace. Do let me know — I'd love to hear from you!
Political Data
Who will Americans blame if the government shuts down?
With hours to go before a potential federal government shutdown Friday night over funding to build a wall along the U.S.-Mexico border, President Trump and Democrats are blaming each other for the gridlock.
www.washingtonpost.com  •  Share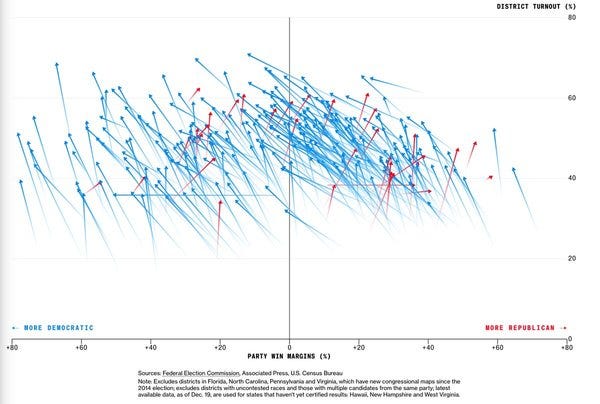 Voter turnout increased in House races across the country from 2014 to 2018, and the vast majority shifted left https://t.co/NUzgyYTX0L
10:08 AM - 20 Dec 2018
America's Electoral Map Is Changing
Today's political landscape is often dismissed as a partisan deadlock in which the vast majority of voters have already made up their minds and will only dig their feet in further with each passing news cycle.
A record number of women will be serving in the new Congress
When the 116th Congress convenes next month, women will make up nearly a quarter of both the House and the Senate – the highest percentage in U.S. history, and a considerable increase from where things stood not too long ago.
It's the populism, stupid. Young or old? Female or male? White, black or Latino? The first stage of the 2020 presidential campaign — the jockeying stage — is underway, and Democrats are trying to figure out who the ideal candidate is.
Donald Trump learned nothing from midterms. Exhibit A: the shutdown. - CNNPolitics
The shutdown may please the base. It looks like a political loser overall, however. Perhaps more worrisome for Republicans, it doesn't look like Trump learned a single thing from Republicans losing in the midterms.
Other Data and Cool Work
Why 536 was 'the worst year to be alive'
Ask medieval historian Michael McCormick what year was the worst to be alive, and he's got an answer: "536." Not 1349, when the Black Death wiped out half of Europe. Not 1918, when the flu killed 50 million to 100 million people, mostly young adults. But 536.
Political Science and Survey Research
Newly-published paper inquires about the consequences of Donald Trump's unique propensity to flip-flop, finds that his supporters are more attached to his label than conservatism; will adopt policy preferences if told that he supports them, even liberal ones. https://t.co/b47KzwSDdT
10:16 AM - 19 Dec 2018
In top read paper @tiffanydbarnes and @ErinCassese evaluate how party and gender intersect to shape policy attitudes. Gender differences are more pronounced in the Republican Party than in the Democratic Party https://t.co/08dgoS47t6. Check @LSEUSAblog https://t.co/NMHMXf6iwl
12:00 PM - 18 Dec 2018
What I'm Reading and Working On
I'm taking a break from reading this week to spend time with family for Christmas, though I just put down Ronan Farrow's War on Peace. I'm working on an exciting project about gerrymandering, the midterms, and the 116th congress… stay tuned.
Thanks!
Thanks for reading. I'll be back again next week! In the meantime, follow me online or reach out via email. I'd love to hear from you!
A Special Thank-you Note to Patrons
My weekly newsletter is supported by generous patrons who give monthly on Patreon, including these individuals who have pledged especially charitable contributions:
Alden, Ben, Calvin, Christina, Daniel, David, Joshua, Joshua, Katy, Kevin, Laura, Robert, Robert, Thomas, Christopher
Ben, Bob, Brett, Charles, Charlie, Chelle, Darcy, Darren, David, Erik, Fred, Gail, Greg, Guillermo, Hunter, Jay, Jon, Malcolm, Mark, Nik, Nils, Sarah, Steven, Tal, Uri
Like the newsletter and want to help keep it going? Subscribe today on Patreon for access to private posts and other perks.