September 8, 2019 📊 Do Republican retirements predict a "blue wave" for 2020?
Plus, Americans' sinking confidence in the economy, and the attitudinal correlates of 2020 primary preferences
Welcome! I'm G. Elliott Morris, data journalist for The Economist and blogger of polls, elections, and political science. Happy Sunday! Welcome to my weekly email with links to what I've been reading and writing that puts the news in context with public opinion polls, political science, other data (some "big," some small) and looks briefly at the week ahead. Feedback? Drop me a line or just respond to this email. 
---
Dear Reader,
This week's main read: Republicans are leaving the US House at nearly the same pace as they did in 2018. To some, this might indicate that another "blue wave" is in store for 2020. But a glimpse at the data may indicate otherwise.
Plus, this week I did some work on declining economic sentiment in America and the upcoming special election in North Carolina's ninth congressional district. I also have links to some good content on voter psychology in the 2020 primary and how to read hurricane forecasts.
Thanks for reading my weekly email. Please consider sharing online and/or forwarding to a friend. If you'd like to read more of my writing, I publish subscribers-only content 1-3x a week on this platform. Click the button below to subscribe for $5/month (or $50 annually). You also get the ability to leave comments on posts and join in on private threads, which are fun places for discussion!
My best!
—Elliott
---
This Week's Big Question
Do Republican retirements predict a "blue wave" for 2020? Are they a signal of things to come, or just noise?
They are coming disproportionately in uncompetitive districts, a departure from the blue wave-inducing pattern of 2018, and are less predictive in presidential years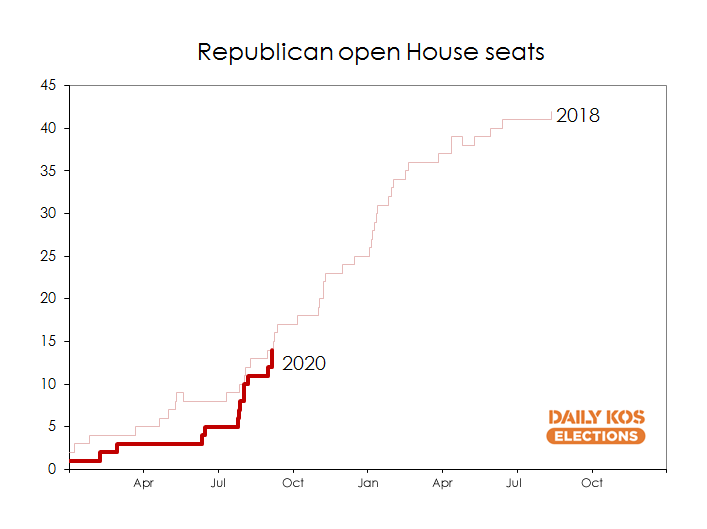 Image: Daniel Donner; Daily Kos Elections
Last Wednesday, September 4th, two Republican members of the US House of Representatives announced that they would not be running for re-election. Their addition to the ranks of retirees amounts to 15 total GOP representatives who are leaving the lower chamber before the 2020 elections. These retirements have been covered as a sign of coming electoral misfortune for the Republican Party. For a few reasons, I'm not sure about that.
First, the districts are not all that competitive. The 15 GOP House retirees mostly represent congressional seats they won decisively last year. According to some number-crunching from Bradley Wascher, a blogger of political data, just five retirements came in districts Republicans won by less than 10% in 2018. He put this table up on his blog: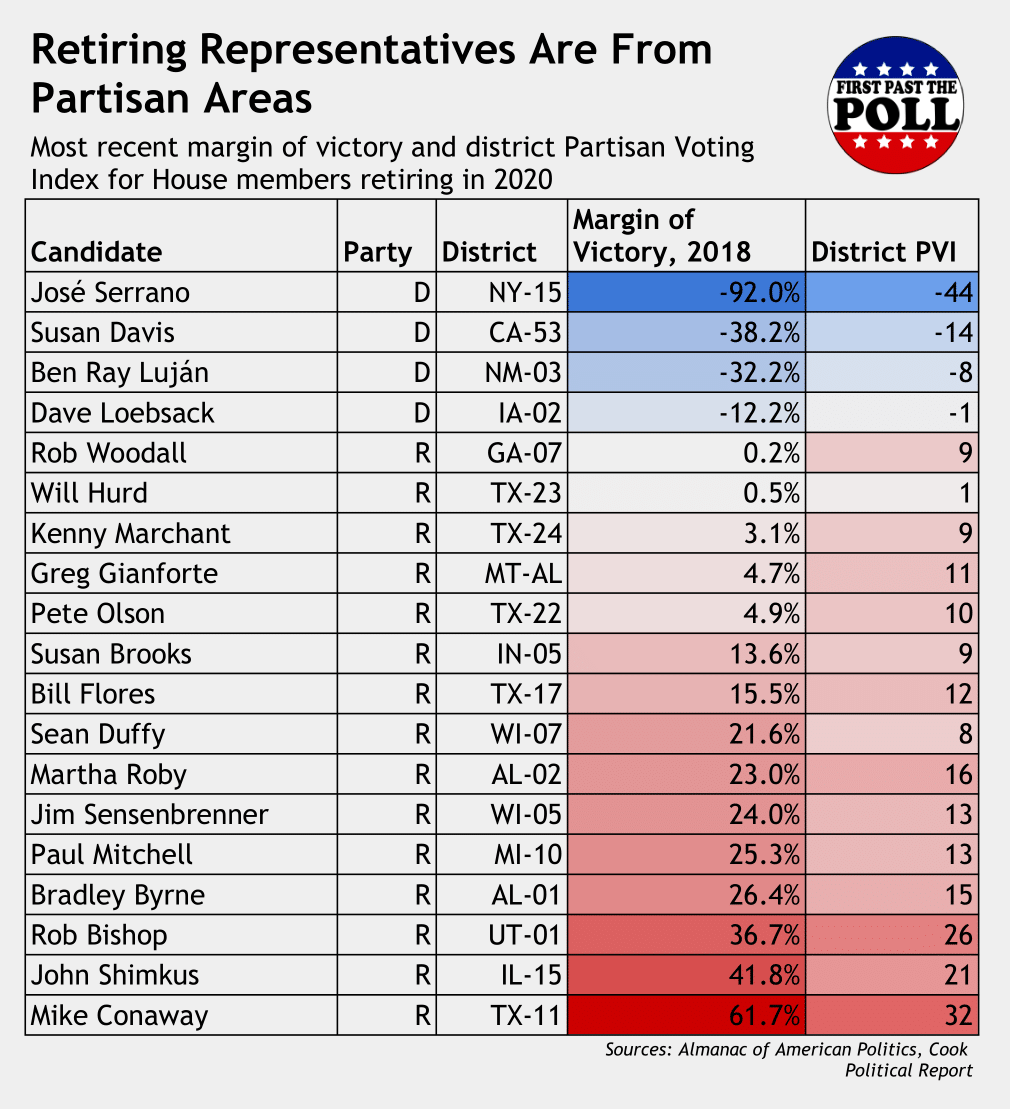 To be sure, when a representative retires, their district typically reverts to the traditional partisan lean of the seat. That means the ones that look competitive based on past margin might not be the ones that actually end up competitive. But there are still only a handful of districts with a Cook PVI of less than 10.
Another reason we should be skeptical of the predictive power of retirements is the weak historical relationship between them and net Republican losses in the House during presidential elections. Political scientist Peter H. Lemieux shows this weak relationship in a scatterplot he published on his blog last January:
This is a departure from mid-term years. Then, retirements are indeed quite predictive of net seat loss, as Mr Lemieux shows with this graph: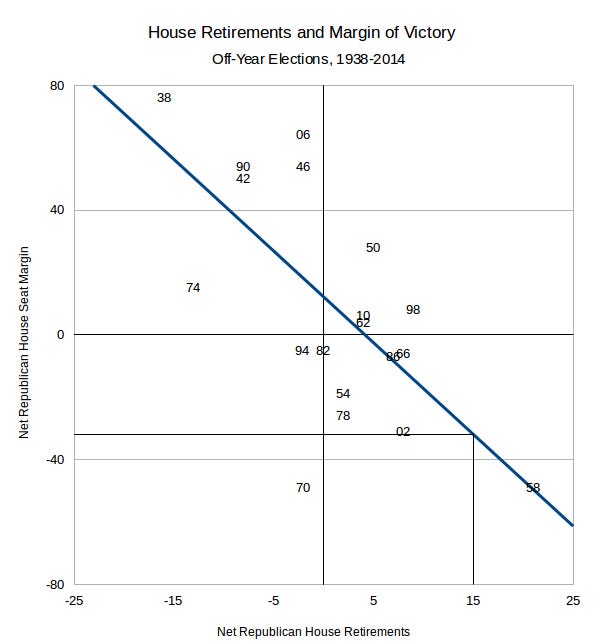 To sum up, I do think it's still possible that the recent spate of Republican retirements could be predictive of a poor showing for them next year. However, the evidence indicates that anyone predicting that outright is probably not taking a proper account of the data.
---
And now, some of the stuff that I read (and wrote) over the last week.
---
Posts for subscribers:
---
Political Data
As the economic outlook has dimmed, Americans have become gloomier. According to an analysis of data provided by YouGov, a polling firm, public opinion on the country's economic health is markedly more negative today than when Mr Trump took office. On January 21st, 2017, the day after his inauguration, 23% of Americans said they believed the economy was "getting worse", 27% thought it was "getting better" and 35% thought it was "staying the same". On August 31st, the most recent date for which figures are available, 31% of respondents said the economy was headed downhill, 28% said it was on the up and 26% said it was on a steady course. This is the first time in the president's tenure when pessimists have clearly outnumbered optimists.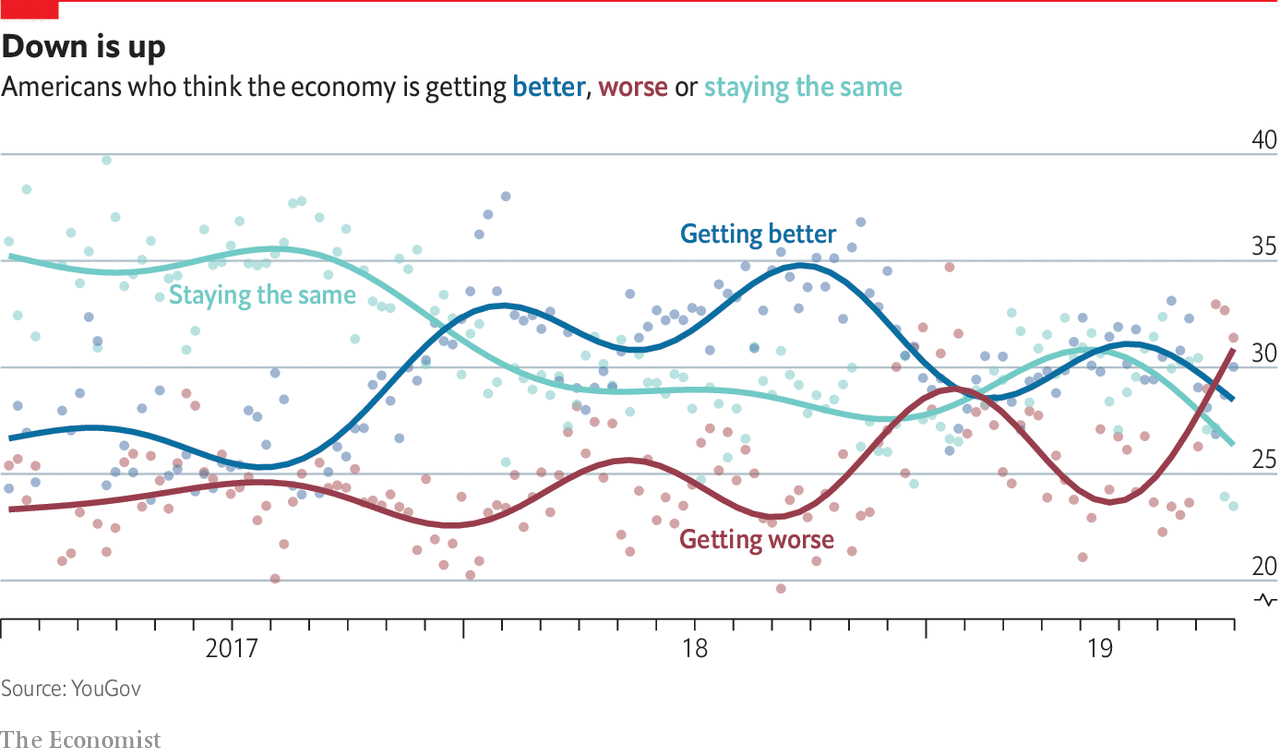 Until this month, the United States had in place a 25 percent tariff on $250 billion worth of Chinese products. In addition to the round on Sunday, further increases and tariffs are expected in October and December, in the end amounting to levies on nearly everything that comes to the United States from China.
But the administration's trade policy hasn't been limited to China. And with tariffs that touch Mexican, Canadian, European and other imports, the cost for the typical American household so far is estimated at $250.
That number may double if all of the proposed tariffs go into effect this fall. This is a far cry from the average annual cost of $60 when the researchers did a similar analysis over a year ago.
These figures should be considered rough estimates, because a number of factors complicate determining what the true costs may be. Other estimates, which did not include the upcoming tariffs, ranged from $400 to $1,000 per household annually.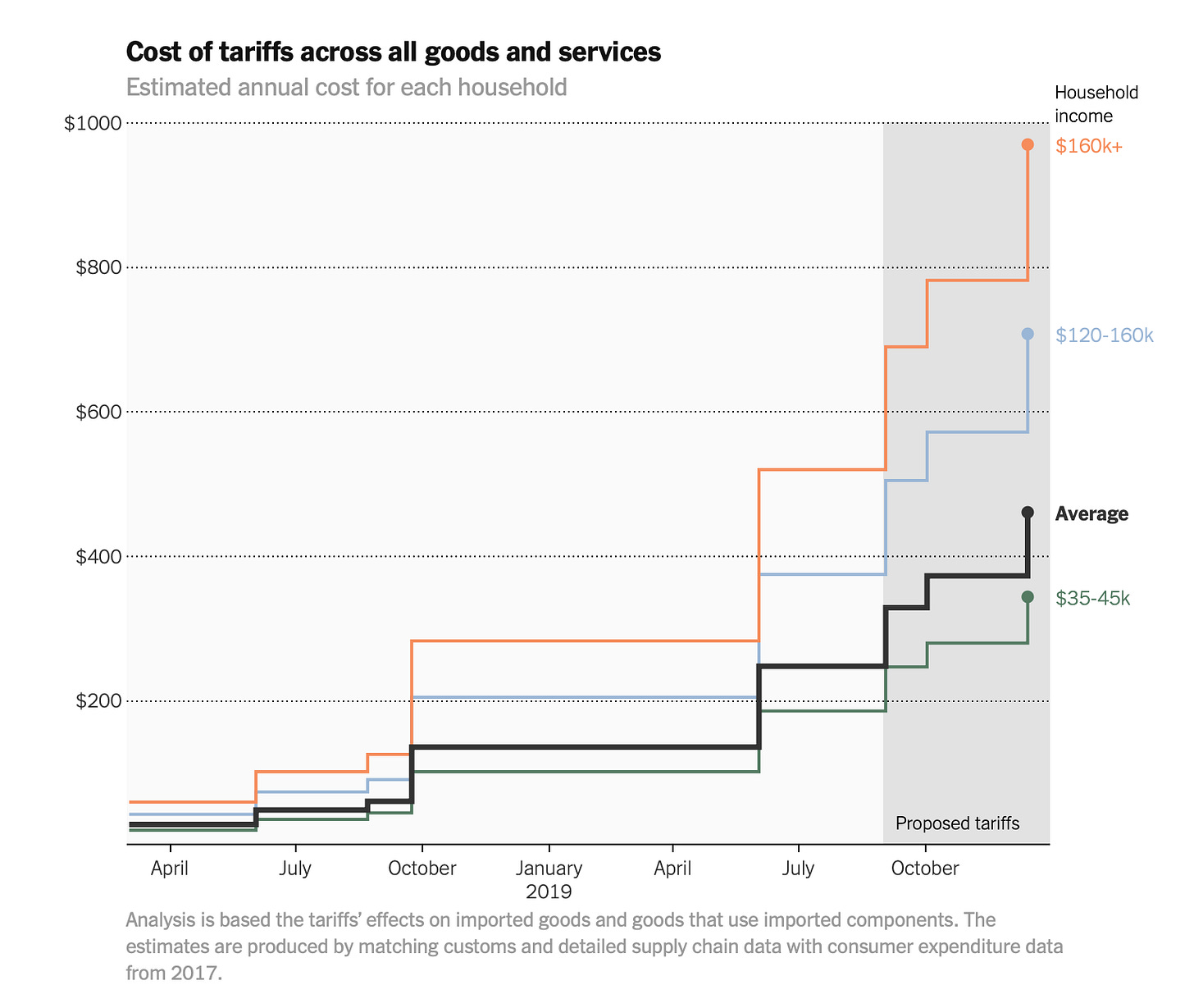 ---
Other Data and Cool Stuff
The United States has enough water to satisfy the demand, but newly released data from the World Resources Institute shows some areas are out of balance.
The WRI's Aqueduct Water Risk Atlas researchers used hydrological models and more than 50 years of data to estimate the typical water supply of 189 countries compared to their demand. The result was a scale of "water stress" — how close a country comes to draining its annual water stores in a typical year.
Of course, many years are not typical, and unpredictable weather patterns of a changing climate can have drastic consequences. In areas of high or extremely high water stress, said Betsy Otto, director of WRI's Global Water Program, "if you then hit a drought ... you're really in trouble, because you're already using most of what you have."
The United States ranked 71st of 189 countries, and low-medium on the stress scale, meaning we are pulling out just under 20 percent of our available water.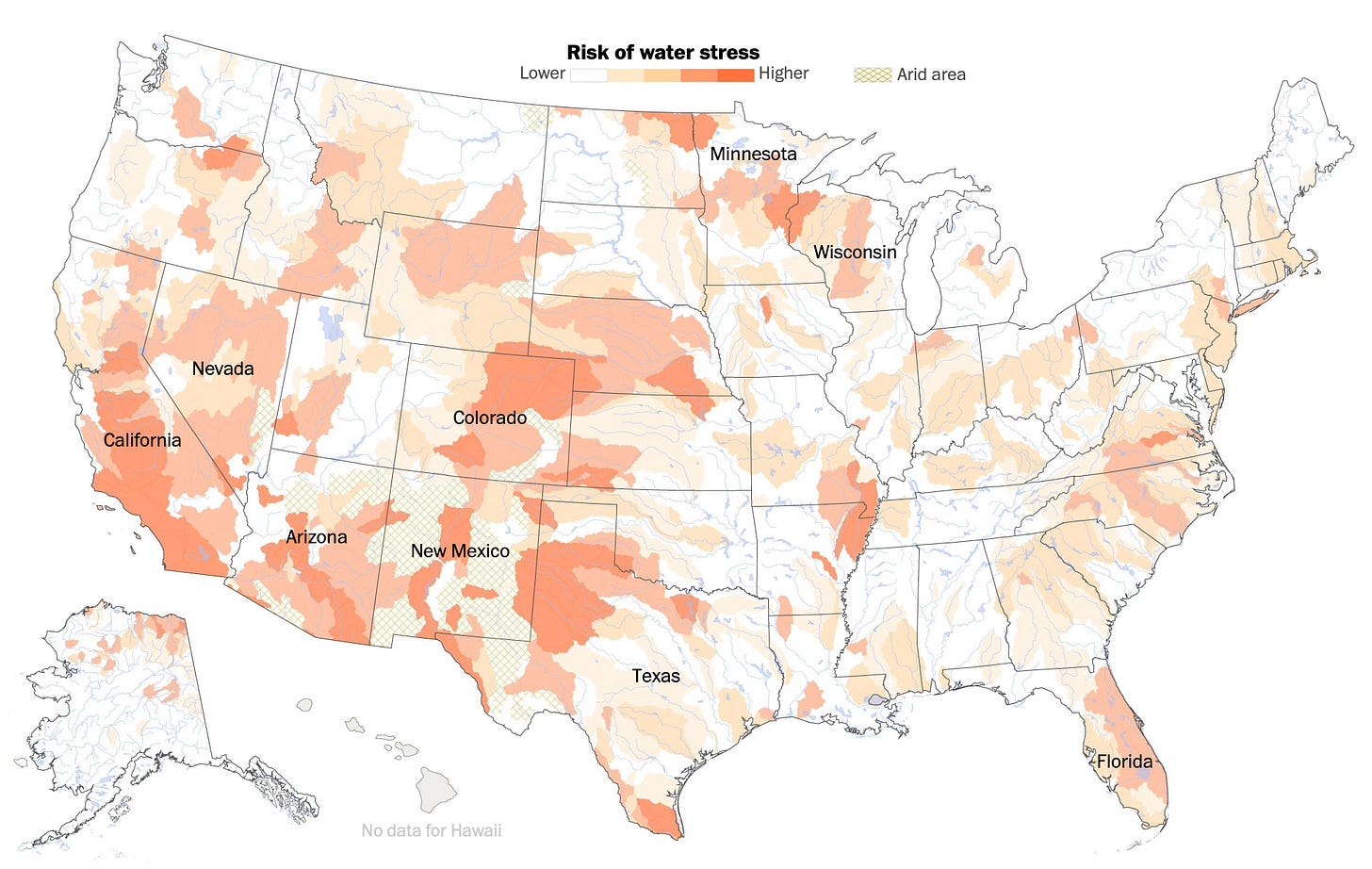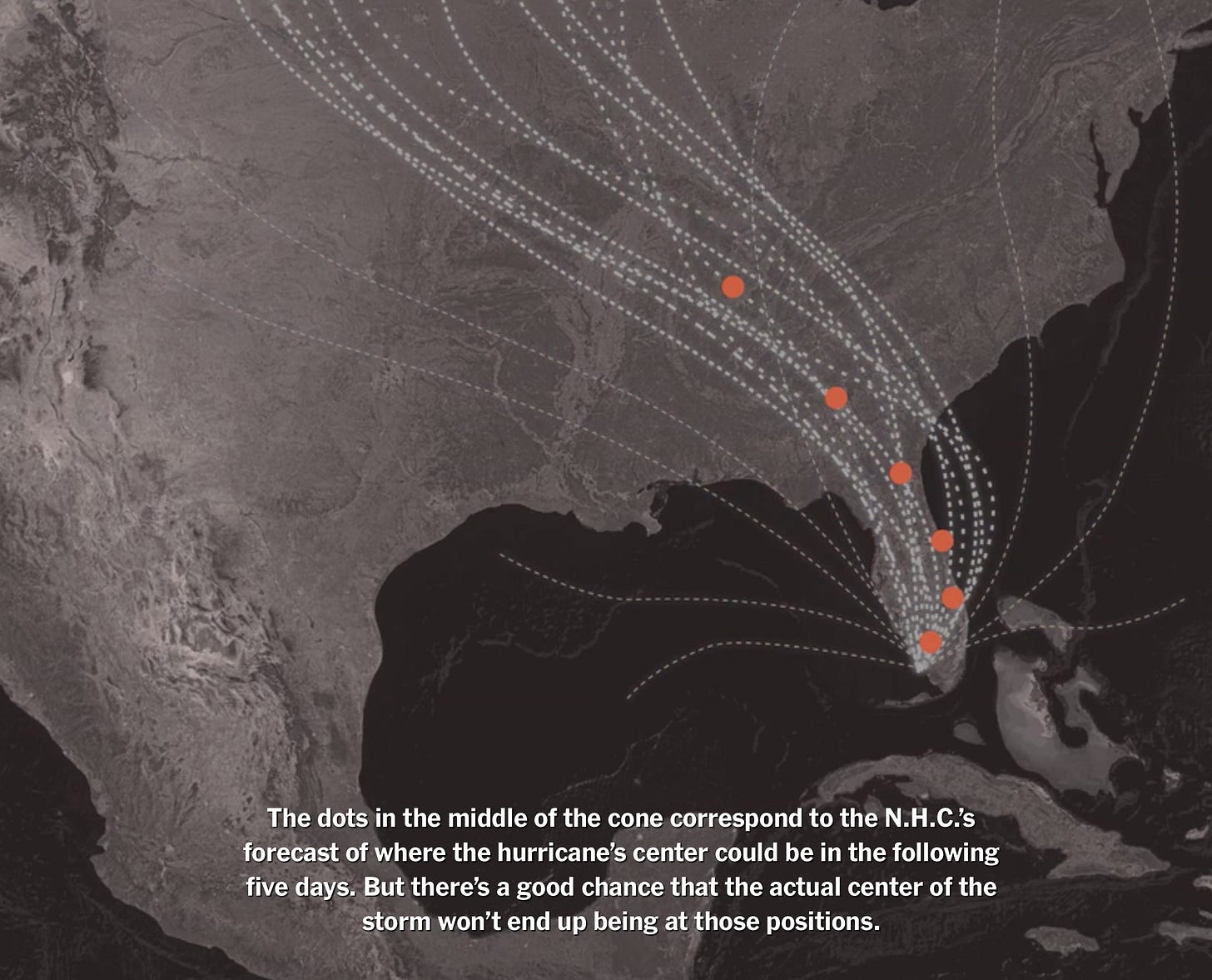 ---
Political Science, Survey Research, and Other Nerdy Things
Democratic voters who score high on a scale that measures sexism, for example, gravitate toward Biden and Sanders and away from Warren and Harris — which is not shocking. But another Biden metric is more surprising and even paradoxical: He attracts the largest proportion of voters who score high on a scale that measures anti-black prejudice, while also garnering the most support, by far, among black voters.
Indeed, racial resentment and sexism more strongly predict support for the former vice president than many other demographics and policy views do — more than voters' gender, for example, or their stances on Medicare-for-all or on abolishing the Immigration and Customs Enforcement agency. Race and gender views often play a larger role than policy preferences in shaping opinions of the other candidates, too.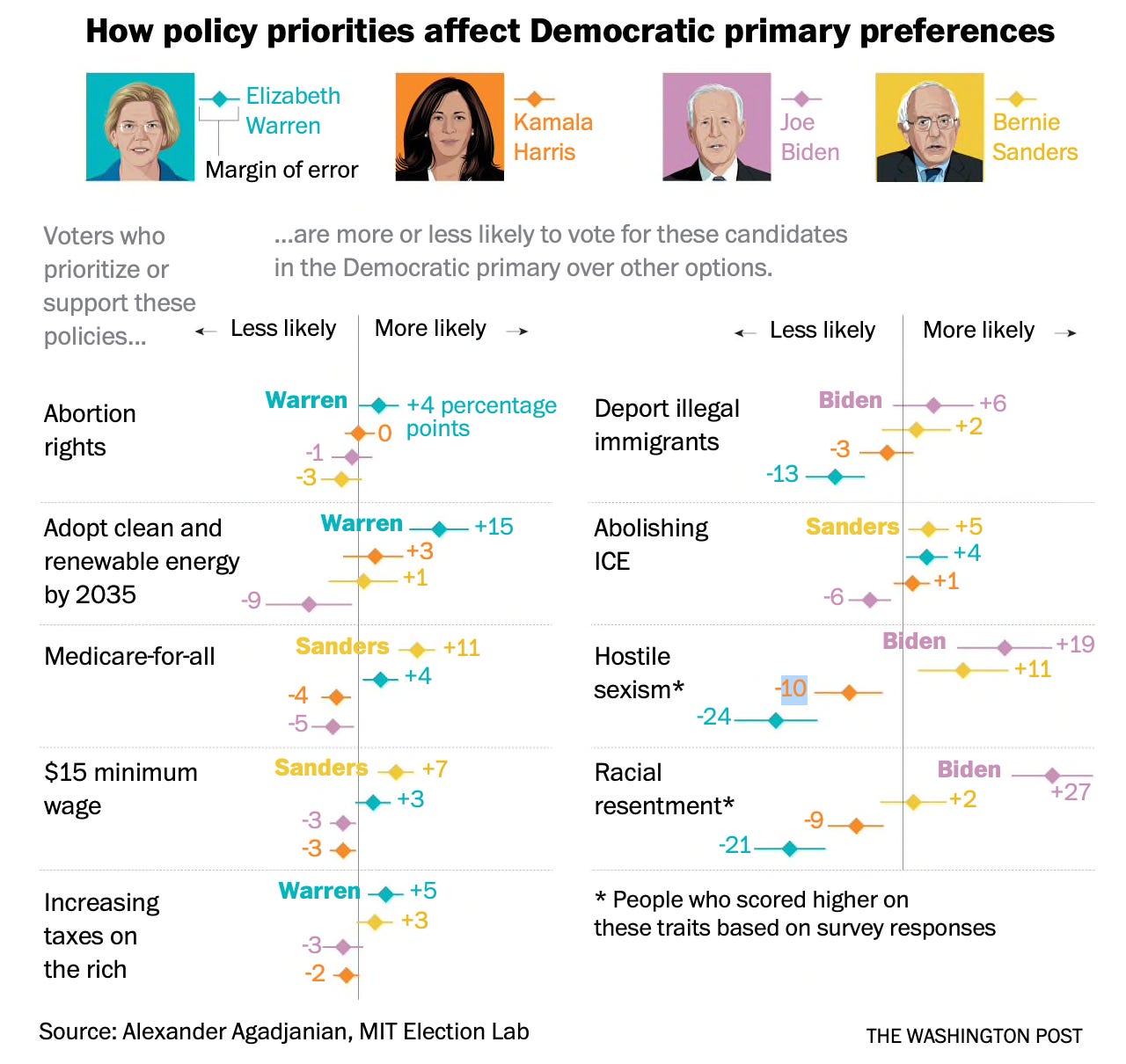 ---
What I'm Reading and Working On
I'm reading an advanced copy of Matt Grossmann's "Red State Blues: How the Conservative Revolution Stalled in the States", due out in late October. It's worth reading and I'm learning a lot about state politics. Federalism is so cool.
I'm exploring a few topics to write about while preparing for this week's special election in North Carolina's 9th congressional district, which might end up being a long read. Per usual, I'm thinking about forecasting and preparing for a piece on political prediction in journalism.
---
Something Fun
I laughed at this political cartoon: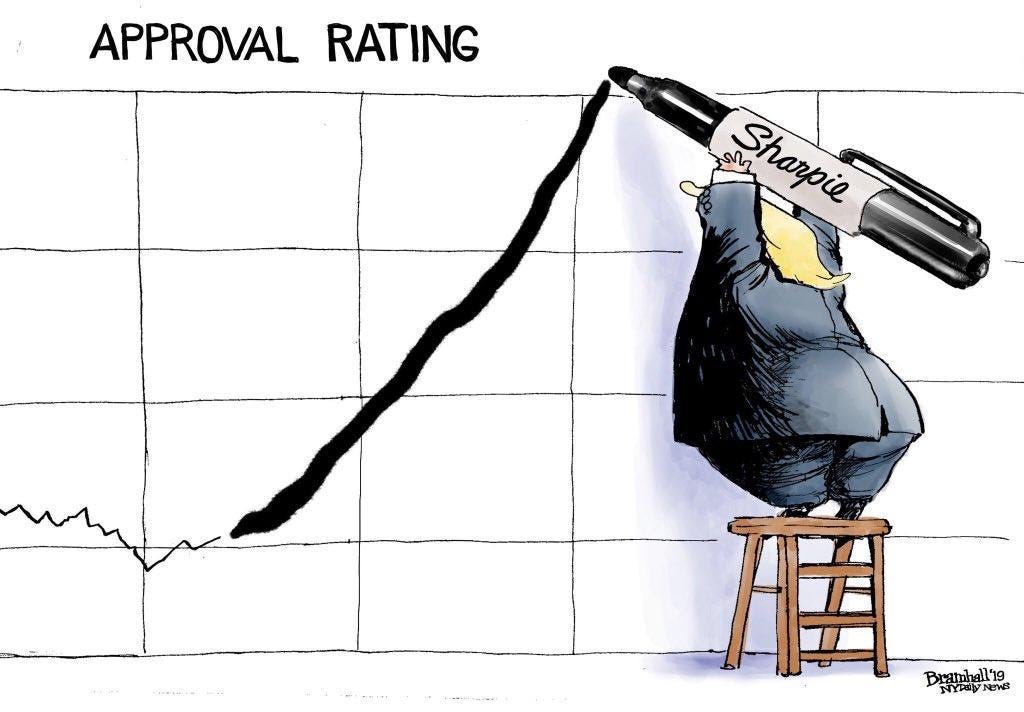 And also at this UK politics meme: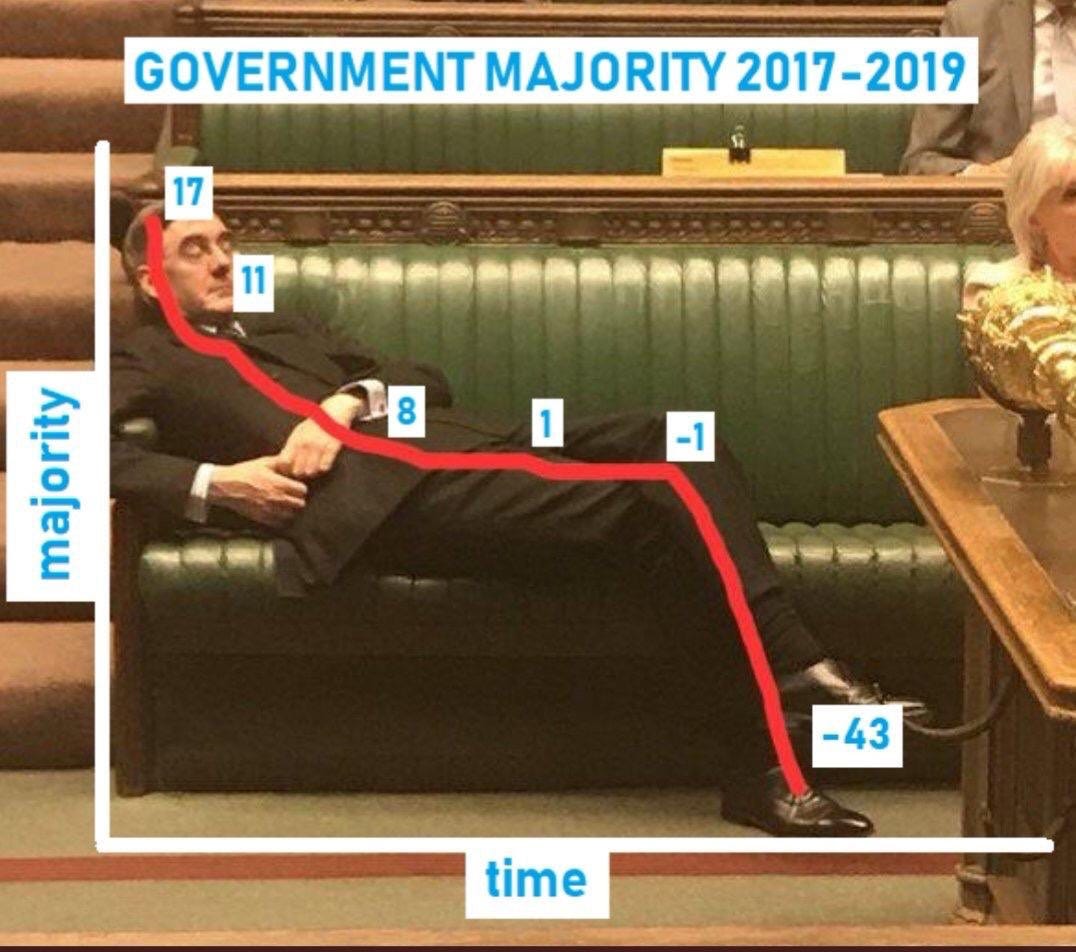 ---
Thanks for reading!
Thanks for reading. I'll be back in your inbox next Sunday. In the meantime, follow me online or reach out via email. I'd love to hear from you!
If you want more content from me, I publish subscribers-only posts on Substack 1-3 times each week. Sign up today for $5/month (or $50/year) by clicking on the following button. Even if you don't want the extra posts, the funds go toward supporting the time spent writing this free, weekly letter. Your support makes this all possible!