September 29, 2019 📊 How many Americans actually support impeachment?
Plus, "moderate" voters are mostly a myth.
Welcome! I'm G. Elliott Morris, data journalist for The Economist and blogger of polls, elections, and political science. Happy Sunday! This is my weekly email where I write about politics using data and share links to what I've been reading and writing. Thoughts? Drop me a line (or just respond to this email). 
---
Dear Reader,
This week's email will be shorter than usual to accommodate extra time I need to prepare a guest lecture I'm delivering at the University of Texas at Austin tomorrow.
This week's main read: The public appears ready to impeach the president. Or does it? It largely depends on how you ask them. That might tell us something about how the impeachment inquiry could play out.
Plus, Lee Drutman has published an excellent piece on what makes "moderate America" a myth, which I feature here and recommend.
The full weekly email will resume next week.
Thanks all for reading my weekly email. Please consider sharing online and/or forwarding to a friend. The more readers, the merrier!
If you'd like to read more of my writing, I publish subscribers-only content 1-3x a week on this platform. Click the button below to subscribe for $5/month (or $50 annually). Subscribers can leave comments on posts and join in on private threads, which are fun places for discussion!
My best!
—Elliott
---
This Week's Big Question
How many Americans actually support impeachment?
Whether or not the public wants to impeach the president largely depends on how we ask the question.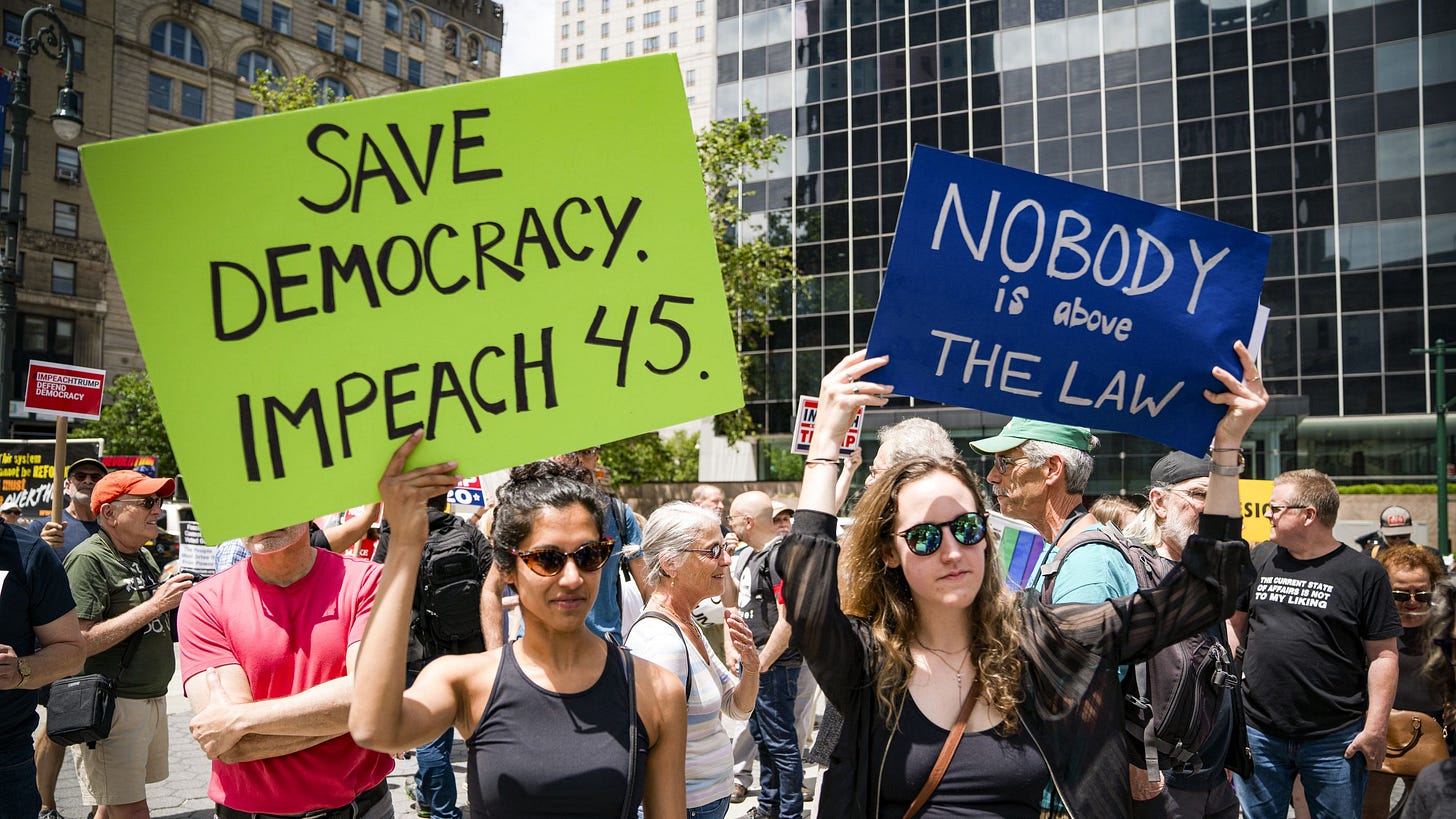 Image: David Dee Delgado/Getty Images; Vox.com
Support for an impeachment inquiry appears to have increased over the past week. We can tell this is the case because we can compare polls that have been fielded after the Trump-Ukraine scandal broke with those that came before it:
Yet it's hard to tell precisely by how much support for impeachment/an inquiry has increased or decreased. The pre/post-scandal chance ranges from -1 in Ipsos's data to +10 in YouGov's.
It's hard even to tell what percentage support impeachment, as the numbers range from about 40 to 50% in total.
All this disagreement seems due in part to question wording; people respond to question differently depending on how we word them. I'll just run through some examples and then state my points at the end.
The first poll, and most basic approach, is Civiqs, which simply asks "Would you support or oppose impeaching Donald Trump?"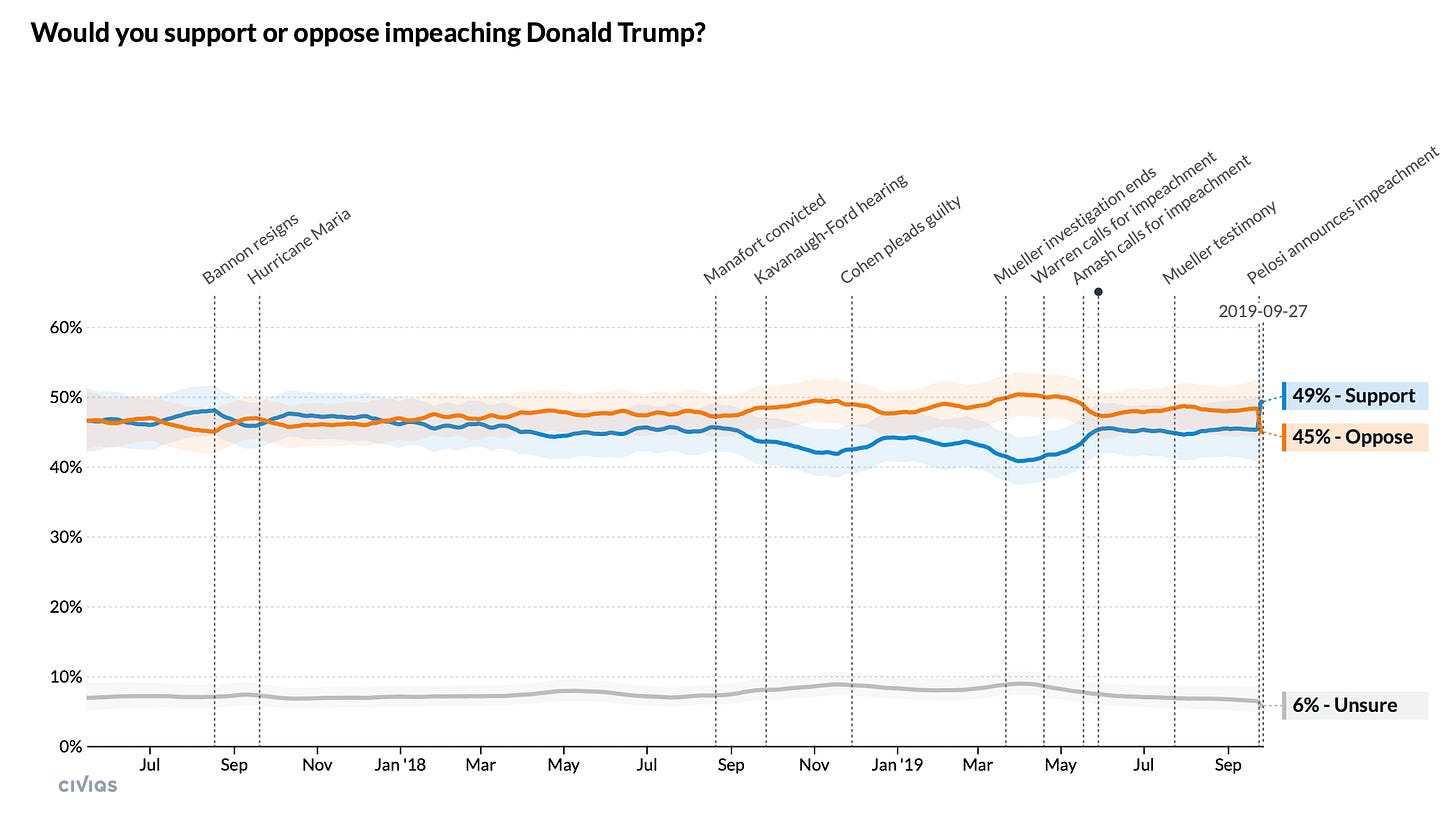 This is simple enough, and note the uptick from 45 to 49 recently.
Then there's HuffPost/YouGov, which asks "Do you think the president should be impeached and removed from office, or not?"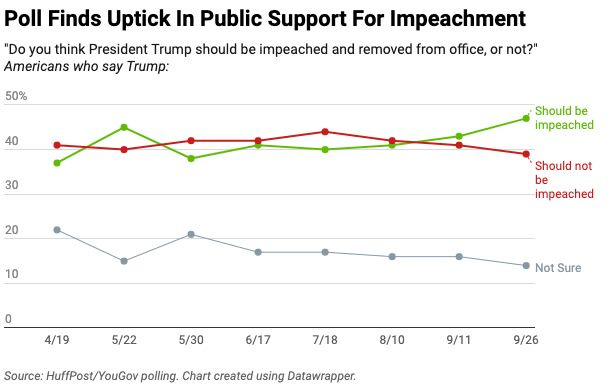 This wording adds "and removed" to the question, which usually has the side-effect of decreasing the share of respondents who answer "yes".
What about more details? YouGov asks: "If President Donald Trump suspended military aid to Ukraine in order to incentivize the country's officials to investigate his political rival, Joe Biden, and his son, would you support or oppose impeachment?"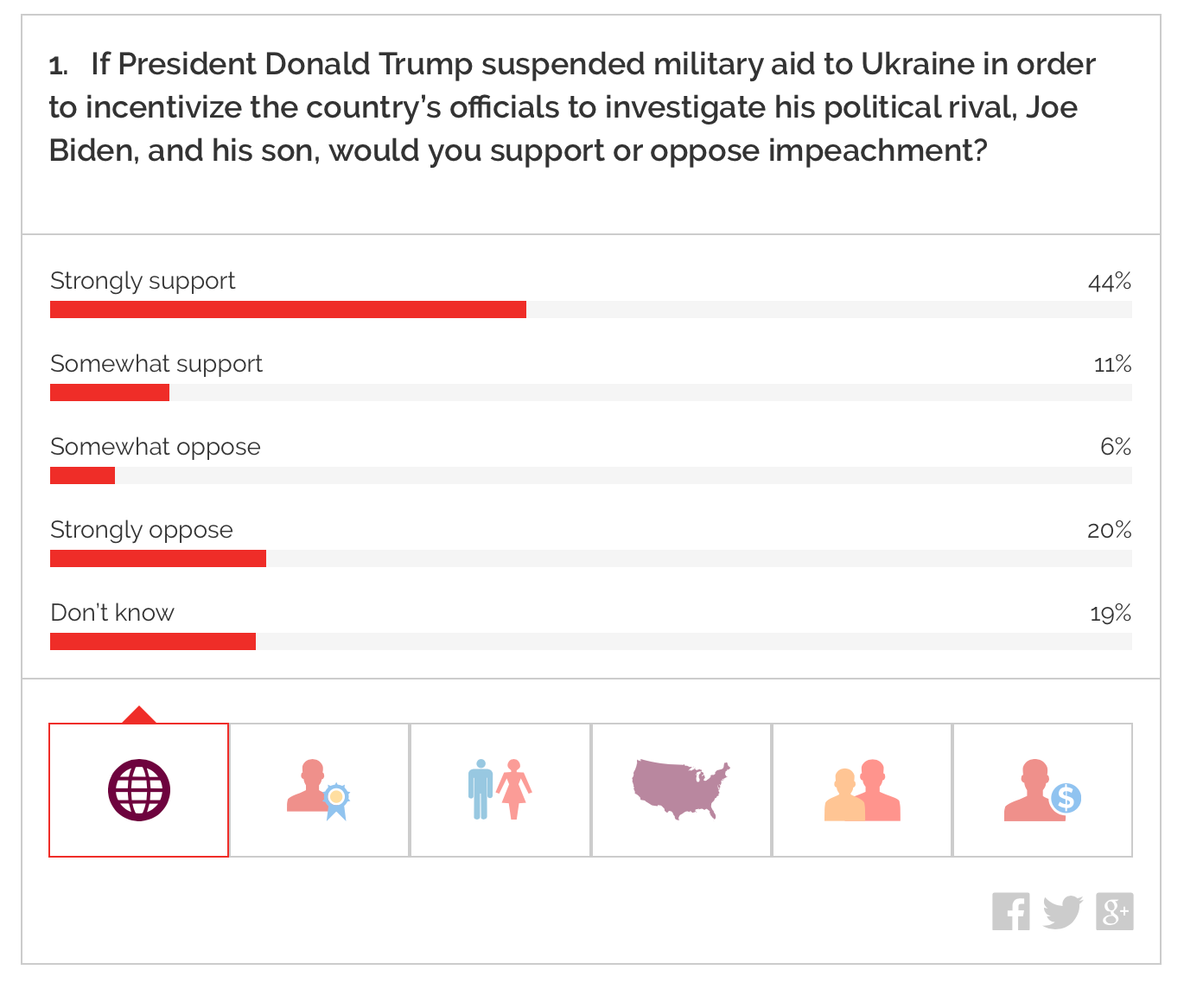 When prompted with such damning details, support for impeachment rises to 55%.
See what I mean about wording?
From a survey perspective, this tells us that the precise share of Americans who actually support impeaching the president is fuzzy, though probably around 45%-50% of adults.
But from a political standpoint, the disagreement tells me something else pretty clearly: if Democrats make the investigation about uncovering and proving a quid pro quo, they probably have more of the public to work with. If not, support for impeach the president declines. It declines even further if the question becomes about impeachment and removal, which have so far been pretty different issues to voters.
We will probably see Nancy Pelosi and the White House trying for these angles in the coming weeks.
---
And now, some of the stuff that I read (and wrote) over the last week.
---
Posts for subscribers:
---
Political Data
You see just that if you look only at topline polling numbers, which show 40-plus percent of voters refusing to identify with a party, or close to 40 percent of voters calling themselves moderates.1 But topline polling numbers mask an underlying diversity of political thought that is far more complicated.

Moderate, independent and undecided voters are not the same, and none of these groups are reliably centrist. They are ideologically diverse, so there is no simple policy solution that will appeal to all of them.

To better understand the unbearable incoherence of moderates, independents and undecideds, let's start by visualizing them. Drawing on data from the Democracy Fund Voter Study Group,2 a research consortium that works with YouGov to conduct large-scale surveys, I pulled voters who3…

Identified as "moderate"

Identified as "independent," even when pressed to pick a party4

Said they were undecided on how they would vote in a 2020 match-up between President Trump and a generic Democrat.

Here's how big each group is in the electorate overall, and how much they overlap: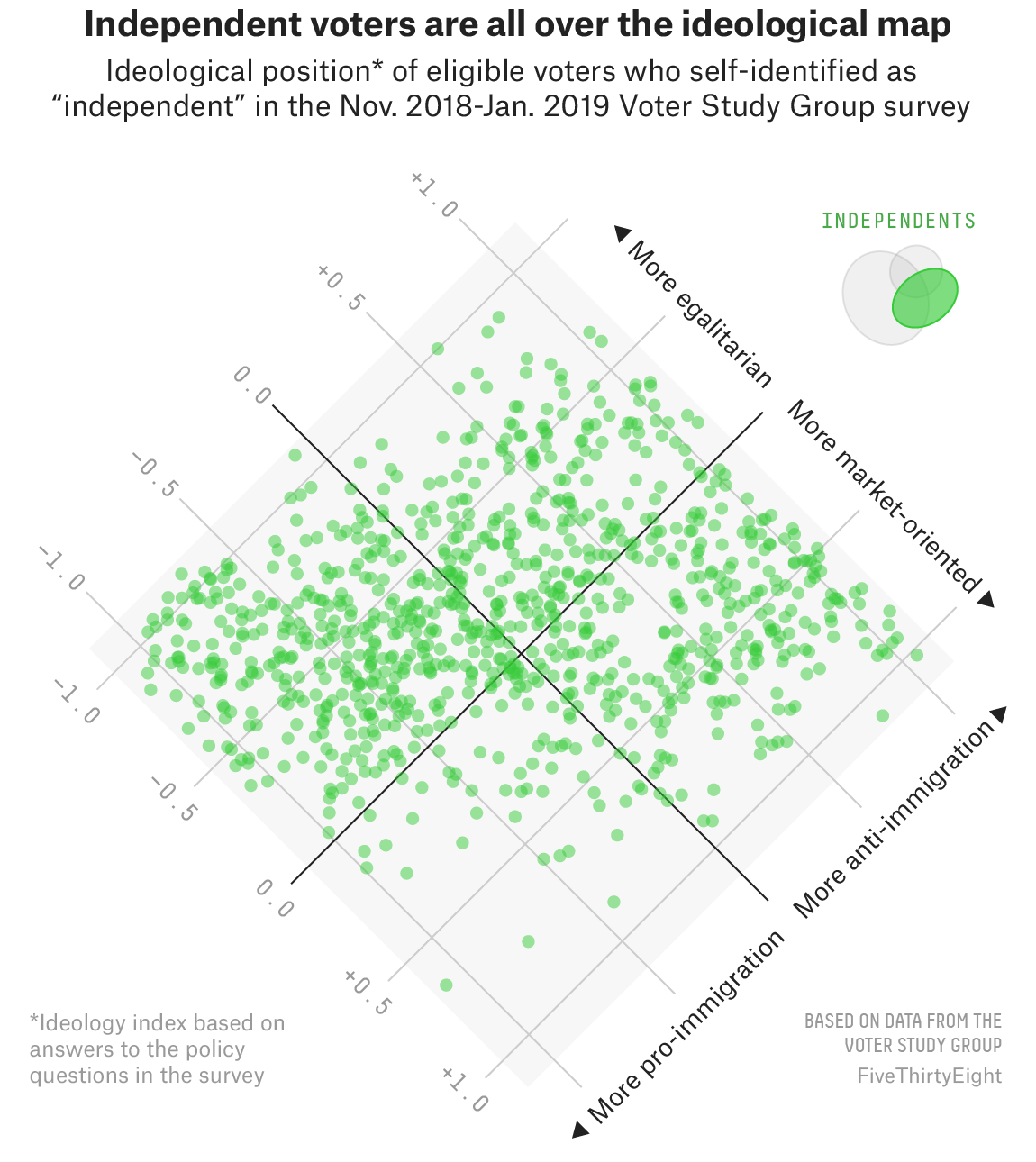 ---
Thanks for reading!
Thanks for reading. I'll be back in your inbox next Sunday. In the meantime, follow me online or reach out via email. I'd love to hear from you!
If you want more content, I publish subscribers-only posts on Substack 1-3 times each week. Sign up today for $5/month (or $50/year) by clicking on the following button. Even if you don't want the extra posts, the funds go toward supporting the time spent writing this free, weekly letter. Your support makes this all possible!