Partisanship is killing us 📊 April 5, 2020
Republican officials ignored covid-19 early on. That has had severe downstream effects
Welcome! I'm G. Elliott Morris, a data journalist at The Economist and blogger of polls, elections, and political science. Happy Sunday! This is my weekly email where I write about politics using data and share links to what I've been reading and writing. 
Thoughts? Drop me a line (or just respond to this email). Like what you're reading? Tap the ❤️ below the title and share with your friends! If you want more content, I publish subscriber-only posts 1-2x a week.
---
Dear reader,
I began last week thinking a lot about how we, a public with a common interest (surviving covid-19), relate to each other during a pandemic. It seemed to me that our best chance at beating this thing is to band together, sharing kindness and resources with those in need—and there are plenty in desperate, dire need.
But it later occurred to me that our interests, and at the very least our attitudes and behaviors, are not all that shared right now. Aside from agreeing that the pandemic of covid-19 is dangerous, Americans are divided—along partisan, class and geographic lines. Specifically, I want to write today about how Republicans have tended to downplay the disease—and about how our partisan divisions are getting people killed.
Stay strong, friends. These are frightening and dangerous times. We may not have a lot in common—differences that are strikingly apparent during a pandemic—but we can at least act as neighbors with one real, overarching enemy. Email me if you need a neighbor.
---
Partisanship is killing us
Republican officials ignored covid-19 early on. That has had severe downstream effects
Republicans have for a long time dismissed conclusions from the medical and scientific community. Climate change is a notable example. Whereas 99% of scientists believe in human-caused climate change, only 14% of conservative Republicans believe we play a "great deal" of a role in the warming of the planet. And despite the mountain of evidence of a short timeline for reversing course, few believe the government should provide more resources for combatting the concentration of greenhouse gasses in the atmosphere (or for preparing for a significantly warmed world).
Similarly, Republicans were more likely to believe the outbreak of covid-19 was a hoax (or similarly exaggerated) early on. I wrote in early March that GOP voters were less willing than Democrats to adapt their behaviors in light of the virus's exponential spread and deadly effects. They weren't changing travel plans. They were commuting. They thought most restrictions were exaggerations. Here's the graph from that piece: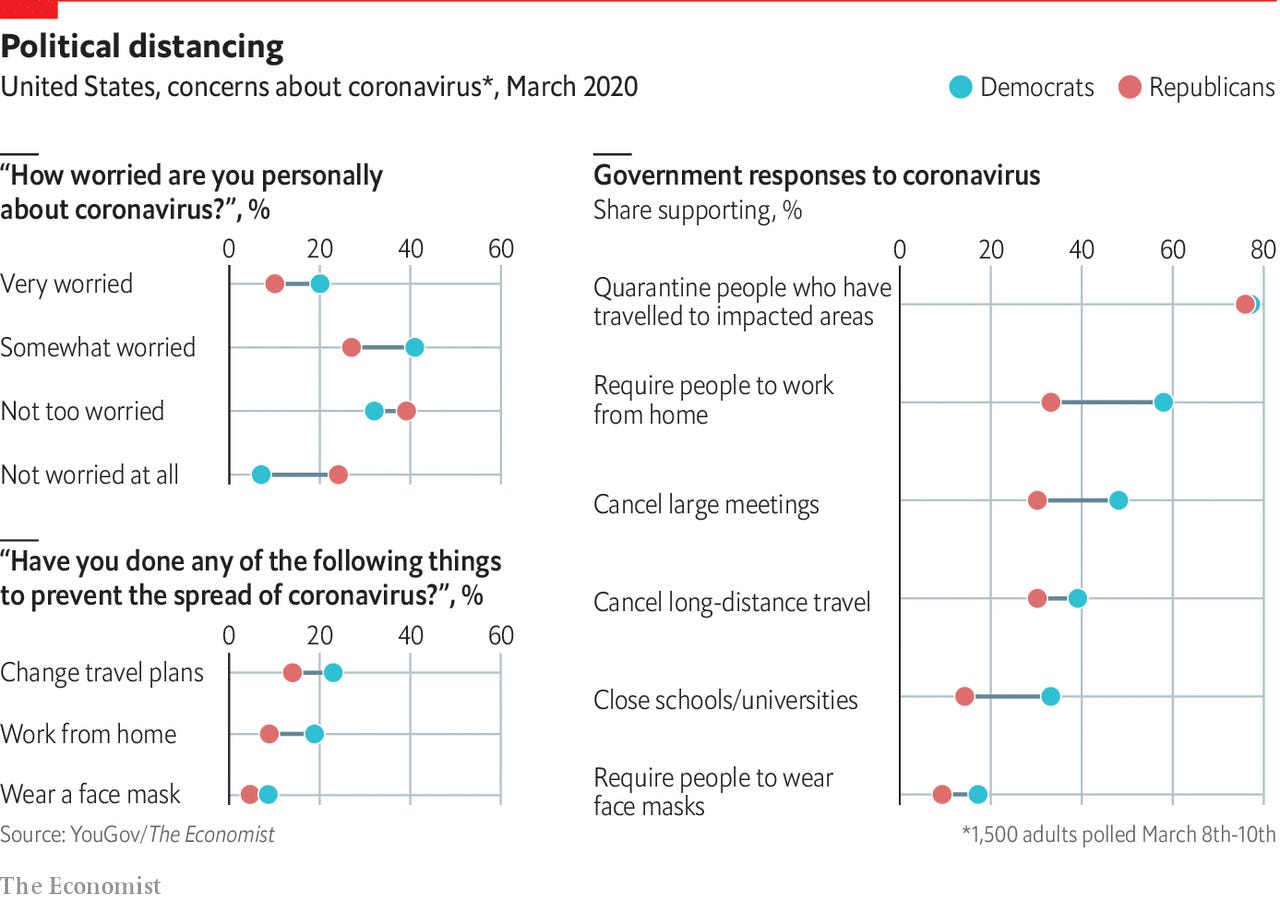 In that piece, I wrote:
Why are liberals so fearful of covid-19, and conservatives so blasé? Past studies have found that Democrats are more likely than Republicans to trust scientists, who have sounded various alarms over the coronavirus. Meanwhile President Donald Trump and Fox News, the most polarising sources of information on the right, had until recently characterised the virus as no more serious than the common flu. That changed on March 11th when the president announced sweeping measures to deal with the pandemic, including suspending travel from much of Europe for 30 days. It will be interesting to see whether his fellow Republicans now have a similar change of heart.
Frankly, it does not seem like such a change of heart has occurred. A study of Americans' attitudes by political scientists Shana Kushner Gadarian, Sara Wallace Goodman and Thomas Pepinsky in late March found that partisanship was the number one driver of one's attitudes about the coronavirus: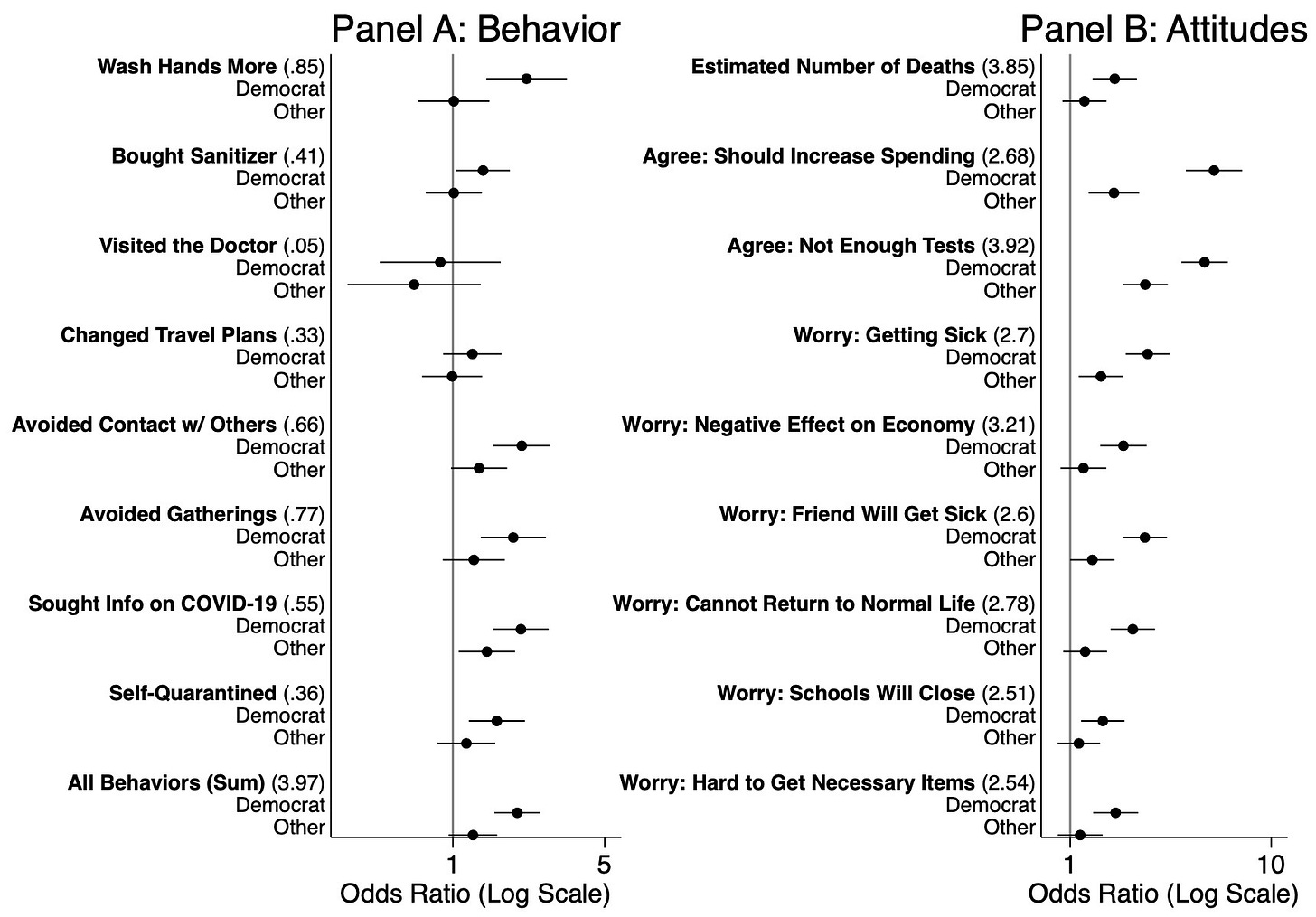 A change of heart has also not come among governors, Mr Trump's allies or the president himself. On Friday I wrote about a study from researchers at the University of Washington who have found that Republican governors are still less likely than Democratic ones to enact life-saving social distancing policies. Here are the two charts from that piece: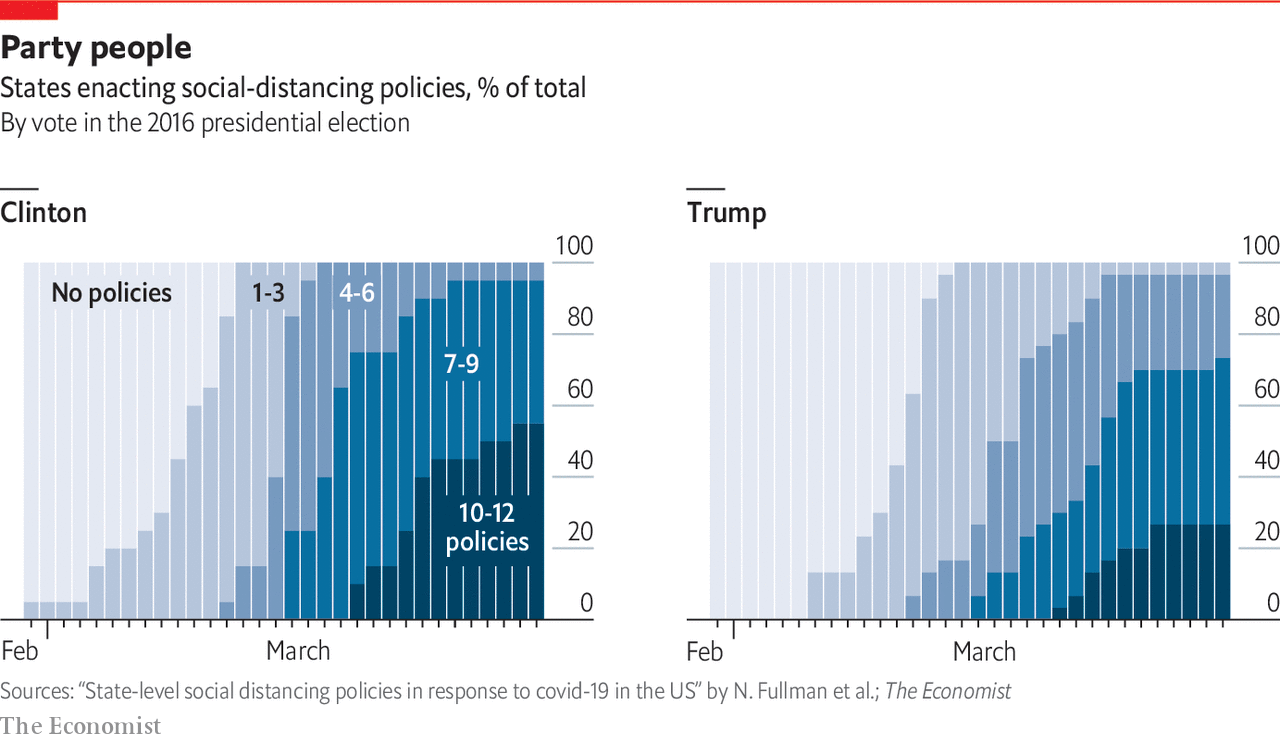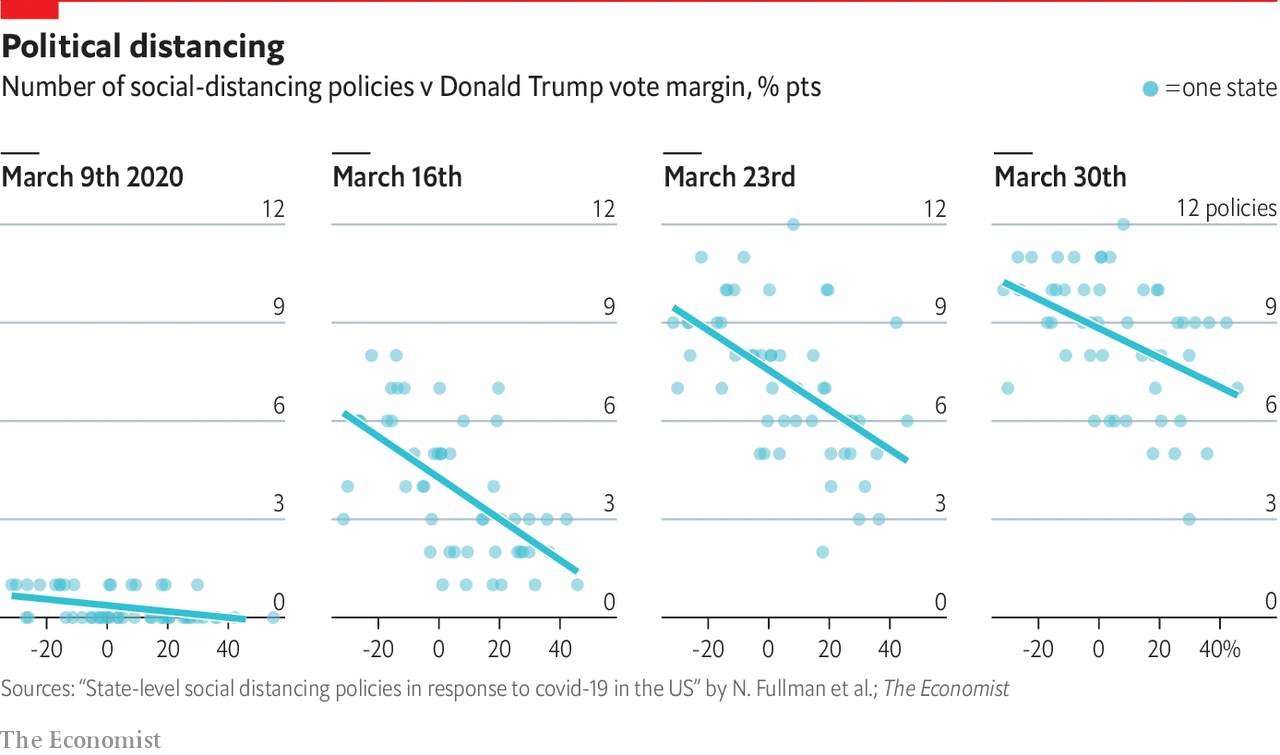 I write all of this now to make the point that people in power are still looking at coronavirus through their partisan lenses. And that's dangerous.
Take some simple arithmetic for state-level infections. If we think that social distancing efforts reduce the doubling time for the virus from 2 and a half to three days—a simple guess here to illustrate a point—then, over a month-long pandemic, staying at home could shrink the number of infections to one-fourth of the amount with no restrictions. The authors of that paper have done similar math, writing:
Barring positive developments in the fight against COVID-19, the public health impact of this delay is likely to be massive: in a state where coronavirus infections are doubling every seven days, this would raise the peak caseload by 30.6%. In a state where infections are doubling every three days, Republican partisanship might raise the peak level of cases by 86.6%.
Partisanship is causing leaders to delay—for whatever reason, be it theories about the economy or direction from the president—enacting life-saving policies. In this very real, literal sense, partisanship is killing us.
The examples discussed so far represent some indirect consequences of our tribal identities. But there are other, more toxic, directly harmful sides to partisanship, too.
Take this bit of reporting from the Associated Press, shared by Washington Post's Greg Sargent on my timeline today. Evidently, President Trump has been responding to the coronavirus in ways that shore up confidence among his supporters. He has considered quarantining parts of the Democratic-leaning Northeast to "signal to supporters elsewhere that he was walling off a virus hot zone comprised of three Democratic states."
President Trump has also said that governors have to "treat us well" if they want to receive help combating the virus from the federal government. Such comments were made when he was asked about how much Democratic governors can rely on him and his administration for help, adding "they shouldn't be hitting us." And when asked what he could do specifically for New York, the president said: "He's supposed to be buying his own ventilators."
It has become increasingly obvious that the president only considers his co-partisans and supporters as worthy of coronavirus help. The rest of Americans are just statistics—just a few of 200,000 of the White House's projected deaths, a toll they have cheered on in recent days.
In this sense, too, partisanship is killing us—actually killing us. Particularly because of those partisans on the right side of the aisle.
---
Posts for subscribers
---
Links and Other Stuff
Read this piece
on why the death toll from coronavirus is in all likelihood much higher than reported:
And that's the only link I've got for you today. Sorry, I'm tired.
---
What I'm Reading and Working On
In a sentence fragment: the 2020 election and the rally-around-the-flag effect. More later.
---
Thanks for reading!
Thanks for reading. I'll be back in your inbox next Sunday. In the meantime, follow me online or reach out via email if you'd like to engage. I'd love to hear from you!
If you want more content, I publish subscribers-only posts on Substack 1-3 times each week. Sign up today for $5/month (or $50/year) by clicking on the following button. Even if you don't want the extra posts, the funds go toward supporting the time spent writing this free, weekly letter. Your support makes this all possible!