October 20, 2019 📊 Are 2020 general election polls actually good right now?
Plus, third-quarter Democratic fund-raising and finding puppies forever homes
Welcome! I'm G. Elliott Morris, data journalist for The Economist and blogger of polls, elections, and political science. Happy Sunday! This is my weekly email where I write about politics using data and share links to what I've been reading and writing. Thoughts? Drop me a line (or just respond to this email). Like what you're reading? Tap the ❤️ below the title and share with your friends!
---
Dear Reader,
This week's main read: I've spent a lot of time arguing that general election polling is meaningless this far away from the 2020 election. But this may not be as foregone a conclusion as it sounds. Although presidential election polls going back to the 80s do a poor job at predicting elections more than a few months out, they have gotten better over time. In 2016, they were shockingly accurate even a year before the election.
Plus, Democrats released their final third-quarter fundraising numbers this week. The Pudding finds that there is a surprising amount of inter-state (and inter-national) commerce in importing and exporting puppies.
Thanks all for reading my weekly email. Please consider sharing online and/or forwarding to a friend. The more readers, the merrier! If you're shy, the best way you can support my newsletter is to press the heart button below the title (this makes it rank higher in Substack's curation).
If you'd like to read more of my writing, I publish subscribers-only content 1-3x a week on this platform. Click the button below to subscribe for $5/month (or $50 annually). Subscribers can leave comments on posts and join in on private threads, which are fun places for discussion!
My best!
—Elliott
---
PS! I'm giving away free trials to the paid content in my newsletter from now until November 1st. I'd love if you shared it with your friends. Click the button below or follow this link: https://thecrosstab.substack.com/subfriends
---
This Week's Main Read
Are 2020 general election polls actually good right now?
Over time, election polls have gotten more predictive earlier in the election cycle.
I have routinely argued, even on this newsletter, that election polling is not reliable when we're far away from the relevant contest. But there is some nuance to this take that I have not espoused before.
Robert Griffin, research director for the Democracy Fund Voter Study Group, released a blog post this week on this very topic. He writes up some research I did with Alexander Agadjanian, a friend and researcher at MIT, in December 2016:
In their analysis of polls since the 1980 presidential election, George Elliott Morris and Alexander Agadjanian found that early polling has been notably better at predicting final election results in recent elections. For example, they report that polls fielded 300 days before the 2016 presidential election were off from the final result by about four points.

In fact, if we look at the accuracy of polls conducted over the course of the 2016 election, early polling was only marginally worse than polls conducted during the final stretch of the race. Early polls in 2012 performed similarly well.
And Griffin re-publishes this graph from our original study, which shows the absolute error in the Democratic margin in pre-election polls from a year out up to election day: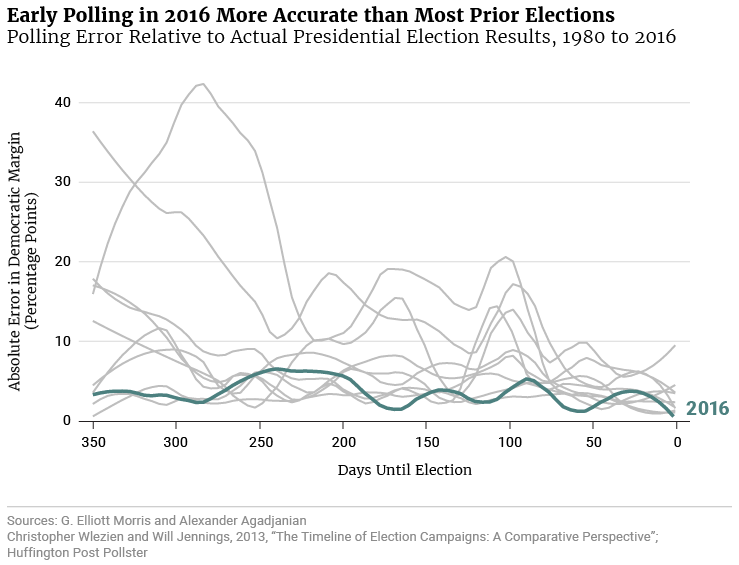 Griffin hammers home the point that absolute error has decreased over time, which is true, especially early in the campaign. He has some other evidence too, and I think it's really cool. I have edited his paragraph, below, for clarity:
In July 2017, Americans were asked who they were going to vote for in the 2018 congressional race in their district. Respondents were interviewed after the election and reported how they voted in those races. Of those who eventually voted in 2018, almost nine in 10 (88 percent) were stable voters. Relative to 2012, there was an 11-percentage-point increase in the number of stable voters. Compared to the 2012 election cycle, about half as many respondents were swing voters (4 percent) or uncertain how they were going to vote prior to the election (8 percent).
The following graph corresponds to the above text: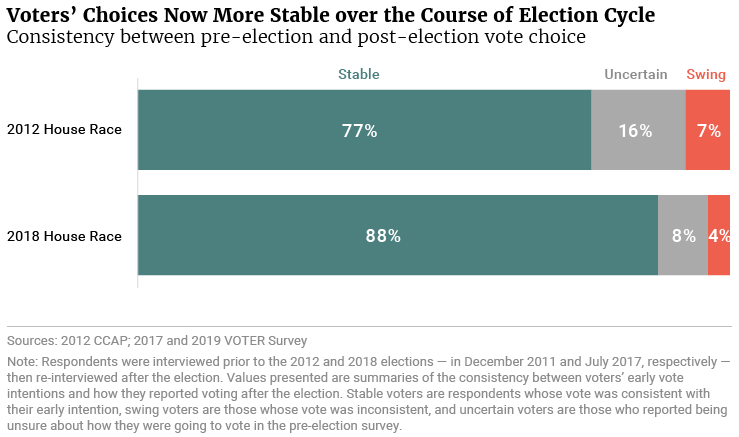 All of this is really important. If we see the same pattern in 2020 as we saw in 2016, the result next November should come within 5 points of what polls say today. The latest data from Fox News, puts Joe Biden and Elizabeth Warren up 10 points against president Trump next year, with Bernie Sanders doing about the same at +9. While I don't think we should cherry-pick an election year and say "polls are going to be accurate!", it's worth noting that the margin of error in election polls conducted 400 days before an election since 204 is just 7 points (according to RealClearPolitics).
Whether or not you believe Trump is a goner next November depends on whether you take a margin of error for polls going back to the 80s (or even 40s!), or if you look at just the recent elections instead. I won't pretend to know the answer, but for what it's worse I would lean toward the latter instead of the former.
---
And now, some of the stuff that I read (and wrote) over the last week.
---
Posts for subscribers:
---
Political Data
What's more, Americans' views of immigration have become more important to the choices that they make at the ballot box. This was true in the 2016 presidential election, for example. And it was also true in the 2018 congressional election.

Attitudes toward immigration did become more strongly linked to voting for the U.S. House. In 2012, a hypothetical shift from the most favorable view of immigration to the least favorable view was associated with a 27-percentage-point shift in the chance of voting for the Republican House candidate. In 2018, it was associated with a 59-percentage-point shift.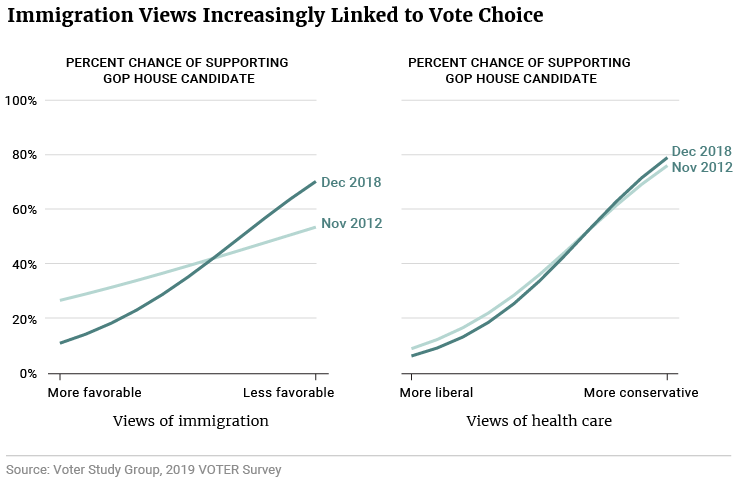 Take Iowa. Yes, Warren now has a slim polling lead over Biden, with everyone else far behind. But a quick check of the historical record suggests things could still change radically. Four years ago, Donald Trump and Ben Carson were locked in a tie in Iowa. Ted Cruz and Marco Rubio were in third and fourth. Four months later, Cruz rose from 9% to 27% to take first place in the caucuses; Rubio went from 8% to 23%, with Trump narrowly edging him out for second place. On the Democratic side, Hillary Clinton's numbers didn't change much from October to February – but Bernie Sanders gained about 16 percentage points and almost beat her.

What about 2012? Early October polling had Mitt Romney on top, followed by three candidate – Herman Cain, Michele Bachmann and Rick Perry – who never went anywhere. Rick Santorum was in seventh place in the polls at 4%. He eventually surged to narrowly beat Romney in Iowa with almost 25% of the vote.
There's lots of really good stuff in here: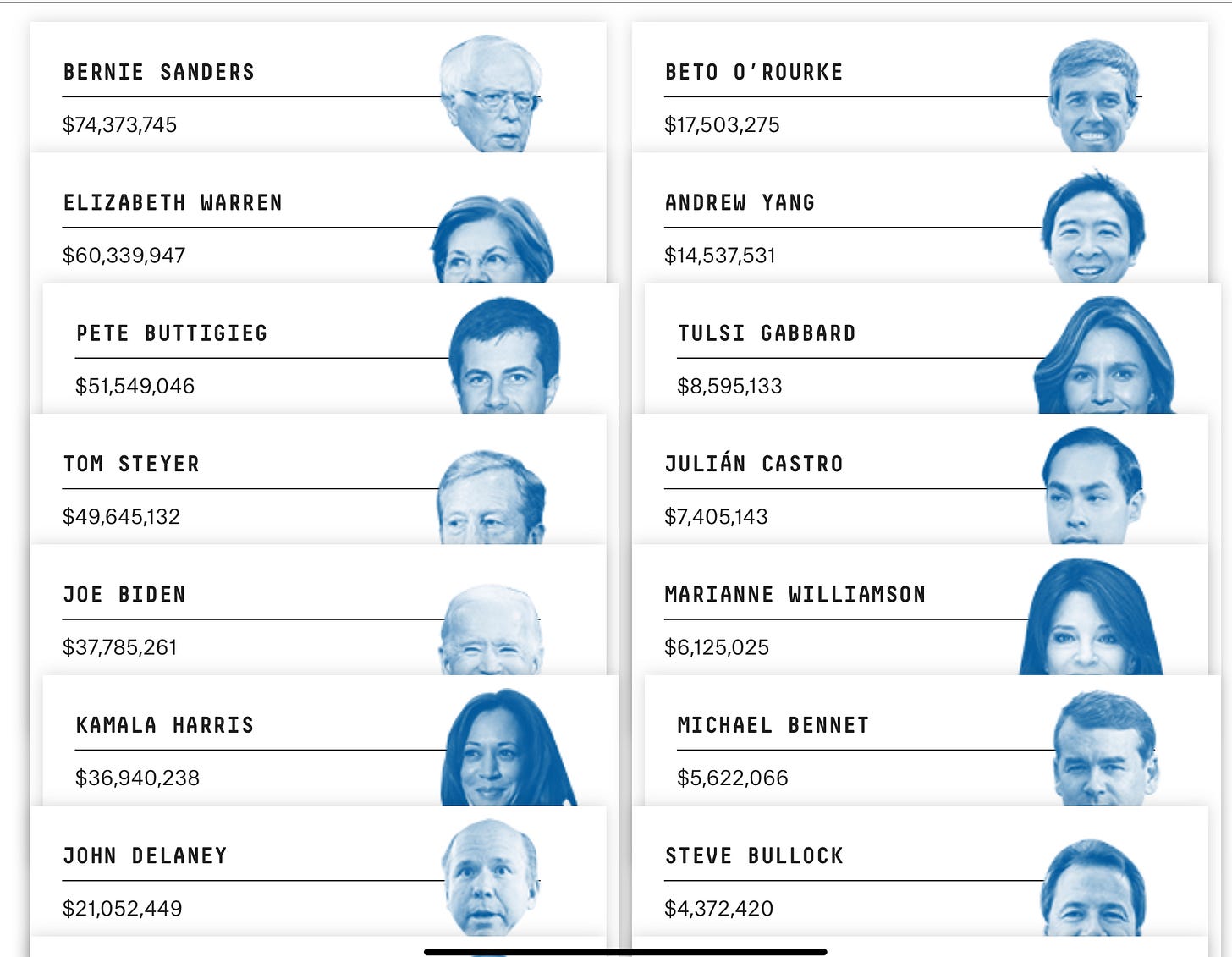 The vast majority of those who now either approve or disapprove of the House conducting an impeachment inquiry (85%) held similar views in early September.

Overall, 45% approve of the impeachment inquiry today and favored the House starting impeachment proceedings then; this group largely consists of Democrats (89% are Democrats or Democratic leaners). Nearly as many (40%) disapprove of the impeachment inquiry now and opposed impeachment proceedings in early September; the vast majority of this group (90%) are Republicans and Republican leaners.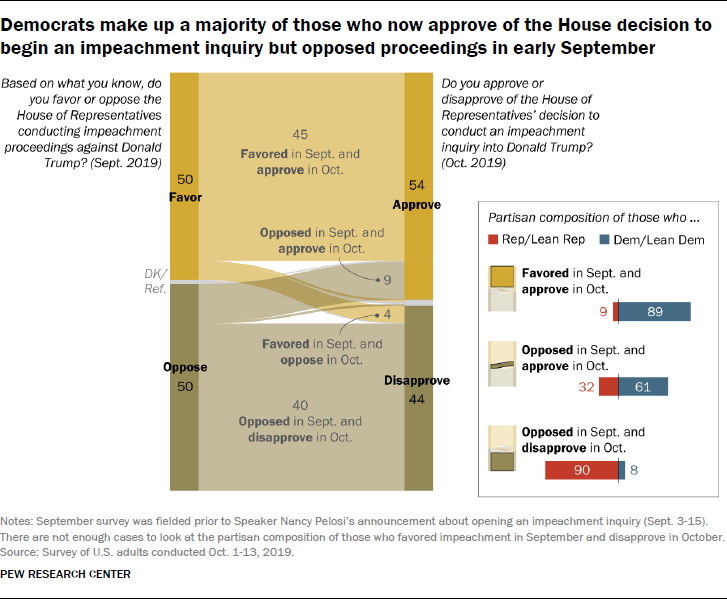 ---
Other Data and Cool Stuff
In Britain more than 100 producers and retailers have signed a "responsibility deal" and promised to "help people to drink within guidelines", mostly by buying ads promoting moderation. However, if these campaigns were effective, they would ruin their sponsors' finances. According to researchers from the Institute of Alcohol Studies, a think-tank, and the University of Sheffield, some two-fifths of alcohol consumed in Britain is in excess of the recommended weekly maximum of 14 units (about one glass of wine per day). Industry executives say they want the public to "drink less, but drink better", meaning fewer, fancier tipples. But people would need to pay 22-98% more per drink to make up for the revenue loss that such a steep drop in consumption would cause.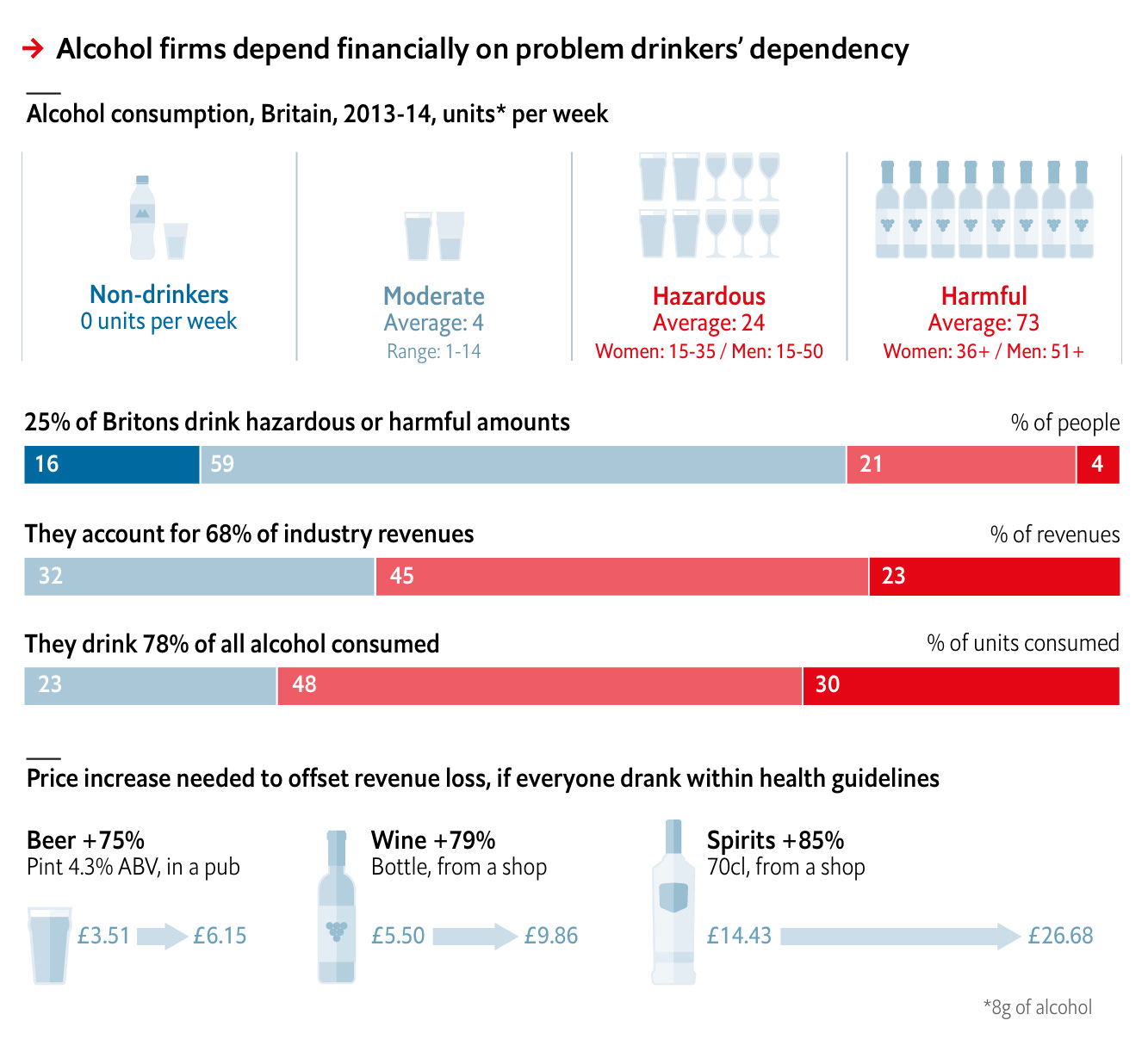 ---
Political Science, Survey Research, and Other Nerdy Things
A data analysis of their follower networks on Twitter reveals their digital relationships are just as partisan as those displayed in parliament.

We also found that almost half of MPs on Twitter only follow 10 colleagues or fewer from other parties.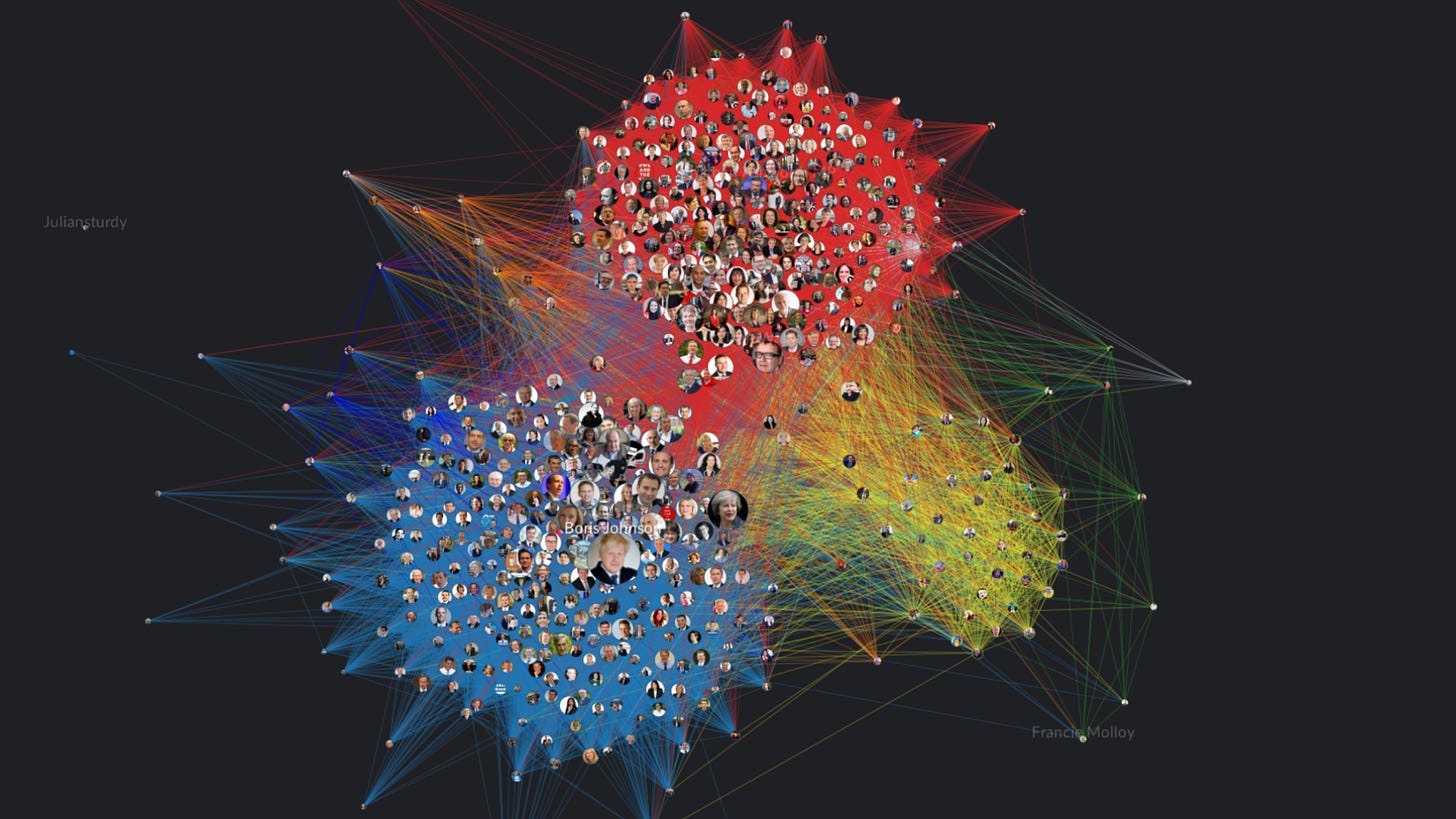 ---
What I'm Reading and Working On
I'm working on all things impeachment. (That's all I can say without giving anything away.)
---
Something Fun
This made me happy: Texas sends a lot of dogs to their forever homes.
---
Thanks for reading!
Thanks for reading. I'll be back in your inbox next Sunday. In the meantime, follow me online or reach out via email. I'd love to hear from you!
If you want more content, I publish subscribers-only posts on Substack 1-3 times each week. Sign up today for $5/month (or $50/year) by clicking on the following button. Even if you don't want the extra posts, the funds go toward supporting the time spent writing this free, weekly letter. Your support makes this all possible!=