53% of Democrats think impeachment should be a top priority for Congress
That the 2020 Democrats differ from Nancy Pelosi brings up the question of the electoral connection
---
Note: This post is a sample of subscribers-only content. It is free until next Sunday while I promote the paid version of my newsletter. If you want to receive emails like this 1-3 times each week, sign up for $5/month here:
---
This is a list of Democrats who seem to definitely support impeaching president Donald Trump:
This is a list of Democrats who seem to kinda support impeachment:
This is a list of Democrats who do not seem to support impeachment:
Okay…
3… 2… 1… FIGHT.
Prominent Democratic leaders clearly disagree about the need for impeaching the president. The question is why? Separately, what tension does that cause?
Elizabeth Warren has led the calls for impeaching Donald Trump. Soon after the Muller Report was released to the public last month, she made that more than clear, tweeting:
The Mueller report lays out facts showing that a hostile foreign government attacked our 2016 election to help Donald Trump and Donald Trump welcomed that help. Once elected, Donald Trump obstructed the investigation into that attack.

The severity of this misconduct demands that elected officials in both parties set aside political considerations and do their constitutional duty. That means the House should initiate impeachment proceedings against the President of the United States.
The argument about Congress's responsibility to finish considering what Mueller was not free to is, I believe, a pretty strong one.
Nancy Pelosi doesn't agree.
As recent as last Thursday, the Speaker didn't believe that Trump had yet reached the threshold for an impeachable offense. The Washington Post reported an interview with her:
"We're not at that place," Pelosi said at a Thursday news conference, when the question of impeachment came up. That caution came after she noted that the investigations underway in the House could lead to "a place that is unavoidable in terms of impeachment." She also asserted that the White House "is just crying out" for impeachment, which she probably sees as a trap.
Besides personal beliefs, there could be another reason for the difference of opinion: voters. Morning Consult polling finds that a majority (53%) of Democrats say that impeachment should be a "top priority" for Congress, reaching a post-Mueller Report high (and early rebounding to higher levels this spring).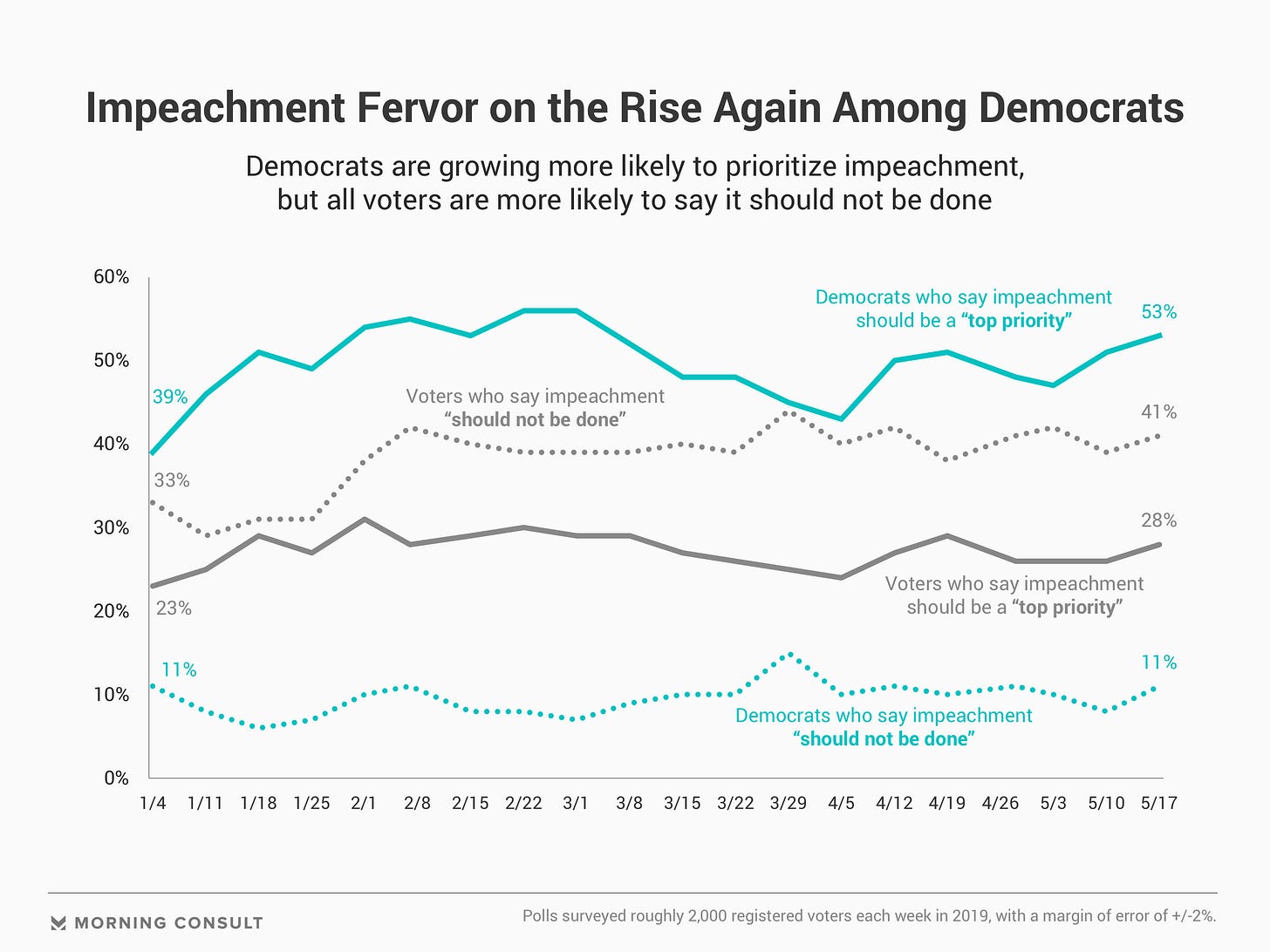 Consider that, for candidates, there's probably a correlation between the competitiveness of your upcoming election and caring about what your voters think. Politicians like Warren and Buttigieg are fighting for the election of their lives right now. Not to mention the that Democratic activists, who have even more pro-impeachment views (and are louder on Twitter), are playing an outsized role in conversations with those candidates. Posturing for media attention may also be a factor.
Pelosi is not influenced by these factors nearly in the same way that the 2020 Democratic candidates are, hence it's easier for her to differ from the opinions of a majority of the voters her House majority primarily represents. But we also have to consider the art of politics; it's hardly believable that Pelosi isn't on the impeachment train (choo choo!) just because believes she has the freedom to ignore what the majority of Democrats think. As Speaker, Pelosi has to play a game of swampy political chess (that the 2020 candidates do not). To hold Trump to proper account, Pelosi might think she cannot come on too strong to the impeachment issue too early.
Political science says that members of Congress are "single-minded seekers of re-election". But perhaps, in polarized politics, MC's are really single-minded seekers of re-nomination. Of course, this only matters if you accept the assumption that Pelosi is vulnerable to a primary challenger, which hardly seems plausible to me today—but it's probably further from impossible than people think. She also has her Speaker's gavel to consider. To the extent that this is true, we will see whether Pelosi bows to the pressures of Democratic voters and activists and goes forward with impeachment proceedings, or if she feels free to continue making political arguments about how Congress ought not to do so (even if her ultimate goal is, in fact, to impeach).
---
Editor's note:
Thanks for reading my thoughts on this subject. If you want more of them, consider a paid subscription. About 1-3x each week, I send out posts like these to people who are generous enough to fork over $5/month. Of course, you don't have to read them; some people pay just to support the free version!
If you want to go the extra mile, please consider sharing online; people can't subscribe if they don't see it!
As always, send me your tips about what you'd like to see covered in the next post. I'm elliott@thecrosstab.com or @gelliottmorris on Twitter.
Many thanks,
—Elliott