May 19, 2019 📊 Should Democrats go after Trump voters or non-voters?
Plus, laws and polling on abortion and what makes beer good.
Welcome! I'm G. Elliott Morris, data journalist for The Economist and blogger of polls, elections, and political science. Happy Sunday! Here's my weekly email with links to what I've been reading and writing that puts the news in context with public opinion polls, political science, other data (some "big," some small) and looks briefly at the week ahead. Let's jump right in! Feedback? Drop me a line or just respond to this email. 
This newsletter is supported by subscribers on Patreon. A special thanks to those who pledge the top two tiers is written in the endnotes. If you enjoy my personal newsletter and want it to continue, consider supporting it on Patreon for just $2.
---
Dear Reader,
There are now 23 candidates running for the Democratic nomination for 2020. That's… a lot. I do think that it's generally right that some of the candidates' talents are put to better use elsewhere. I probably think this about most candidates, in fact—but especially about Democrats who have a track record of winning in deep red states. But that's not my primary take today: Let's talk a bit about Steve Bullock 2020 and a lot more about what polls say Democrats should prioritize: courting Obama-Trump voters or non-voters?
Thanks for reading my weekly email. If you like it, please consider sharing online and forwarding to a friend. The more readers the merrier!
Elliott
---
This Week's Big Question
Which voters should Democrats go after: Trump voters or non-voters?
On the question of courting Trump voters or non-voters, some Democratic candidates seem to have reached an expensive conclusion.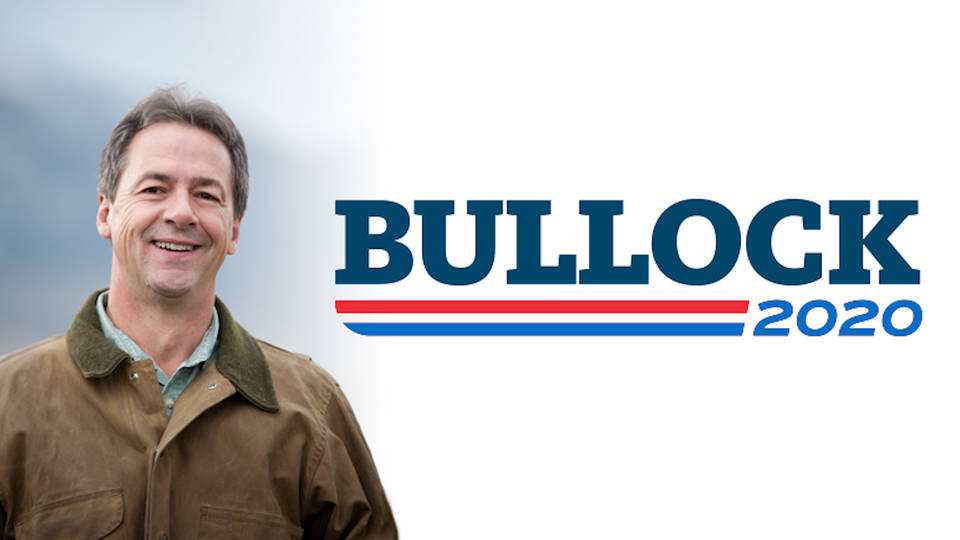 Image: SteveBullock.com
I've been thinking for a while that Democratic strategists are simply missing a few big points of political science and the 2016 election: (1) efforts to increase turnout are vastly more effective (and cost-efficient) than persuasion, (2) Obama-Trump voters were largely motivated by factors other than policy issues (namely racial resentment and status threat), making their votes even harder for Democrats to win back and (3) non-voters were just as (if not more) decisive in Trump's 2016 victory than Obama voters who switched sides for the now-president. Steve Bullock's newly-announced 2020 campaign offers us a good jumping-off point for this discussion. (Steve Bullock is the current Democratic governor from Montana, for the uninitiated.)
In many respects, Joe Biden—whose WWC-focused strategy we are familiar with—and Steve Bullock (also John Hickenlooper) are running on similar messages. Both have put a premium on (mythical) bipartisanship and cooperation in Washington. "If only I, the ultimate negotiator, was elected president to bring both sides together," they might sum-up their pitch, "then the government could get something done." Sure—if only Mitch McConnell agreed. I'd rather not get into all the reasons why the "I alone can fix it" approach is doomed for failure in DC; if you pay any mind to US politics, you know them. Let us instead talk about how Biden and Bullock et. al.'s focus on finding middle ground introduces a huge inefficiency in their campaign operations.
In some ways this is a spin-off take on the persuasion-vs-turnout false-choice that has been a staple of Trump-era political op-eds, but I instead ask the question of where Democrats can find better luck: among Obama-Trump voters or non-voters? Steve Bullock told CNN's Jake Tapper today that he is Democrats' best hope in 2020 because he can "win back some of the places [they] have lost," can "bridge divides" and can make Washington work again. In other words, he's seeking to stake a claim for the classic moderate ground of the Democratic primary—and in doing so, he puts the premium on Trump voters over non-voters. To his credit, Bullock is the Democratic governor of a state that Donald Trump won by 20 percentage points (fun-fact: that's when he beat Republican and now-congressman Greg Gianforte by 3 points) and he has seen success pushing a semi-progressive agenda. However, even if he has a proven ability to win some Obama-Trump voters in Montana, the money he will have to allocate in more diverse states—he is aiming to win a national campaign—is spent elsewhere.
So let's introduce a few numbers. Among voters that cast ballots for Obama in 2012, 53.2 million voted for Hillary Clinton in 2016; 6 million voted for Trump; 2.3 million voted third party and 4.4 million didn't vote at all. This is according to numbers crunched by Sean McElwee (a progressive activist) and political scientists Jesse Rhodes, Brian Schaffner and Bernard Fraga. They include the following graphic in their Op-Ed for The Times to make the case that Obama-to-non-voters are much more like Clinton voters than Trump voters or third-party voters, at least in terms of Demographics.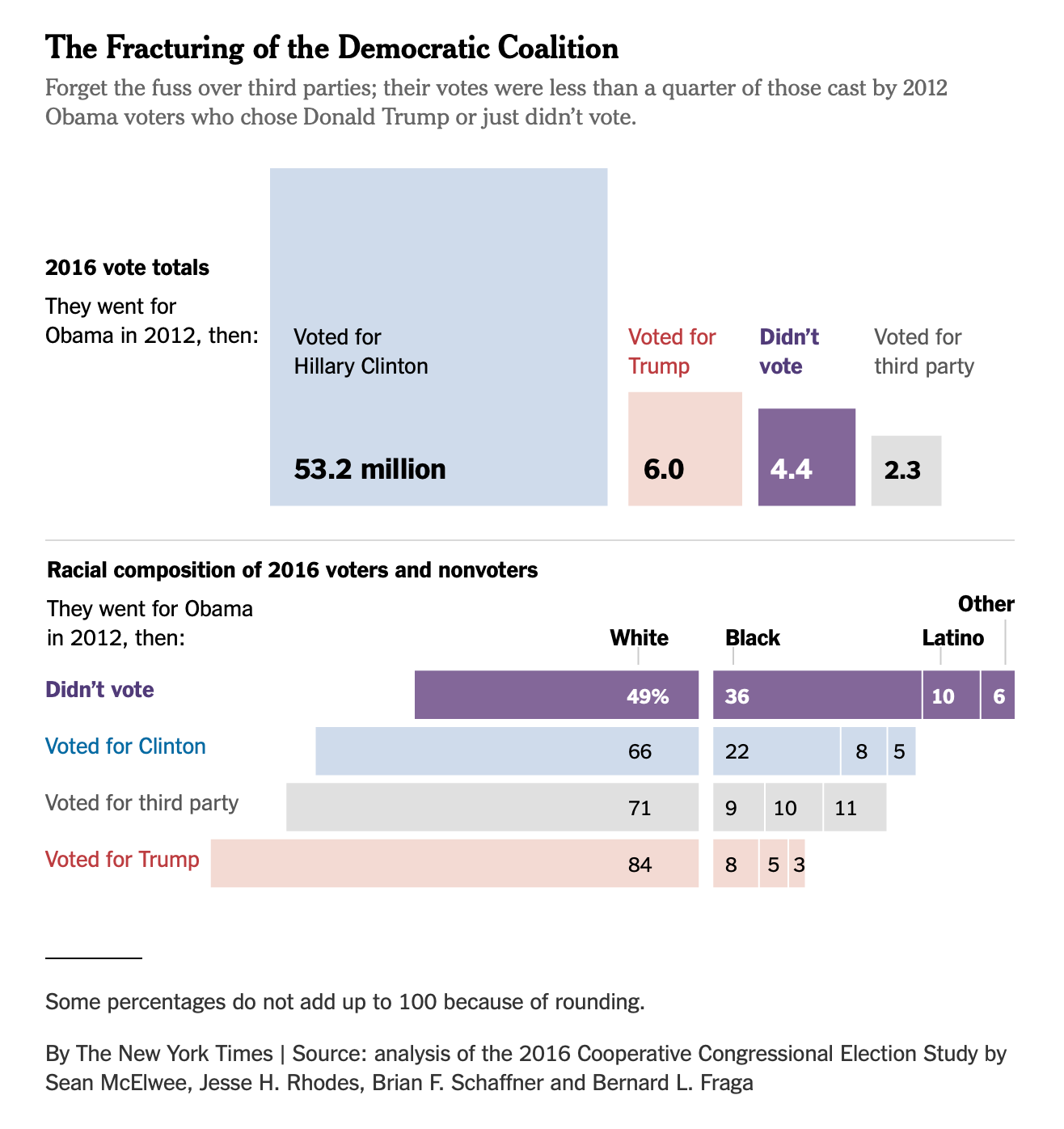 But they also found that these voters occupied a middle ground between Trump and Clinton voters in a few key policy areas—and were almost always closer to the Democratic position than the Republican one: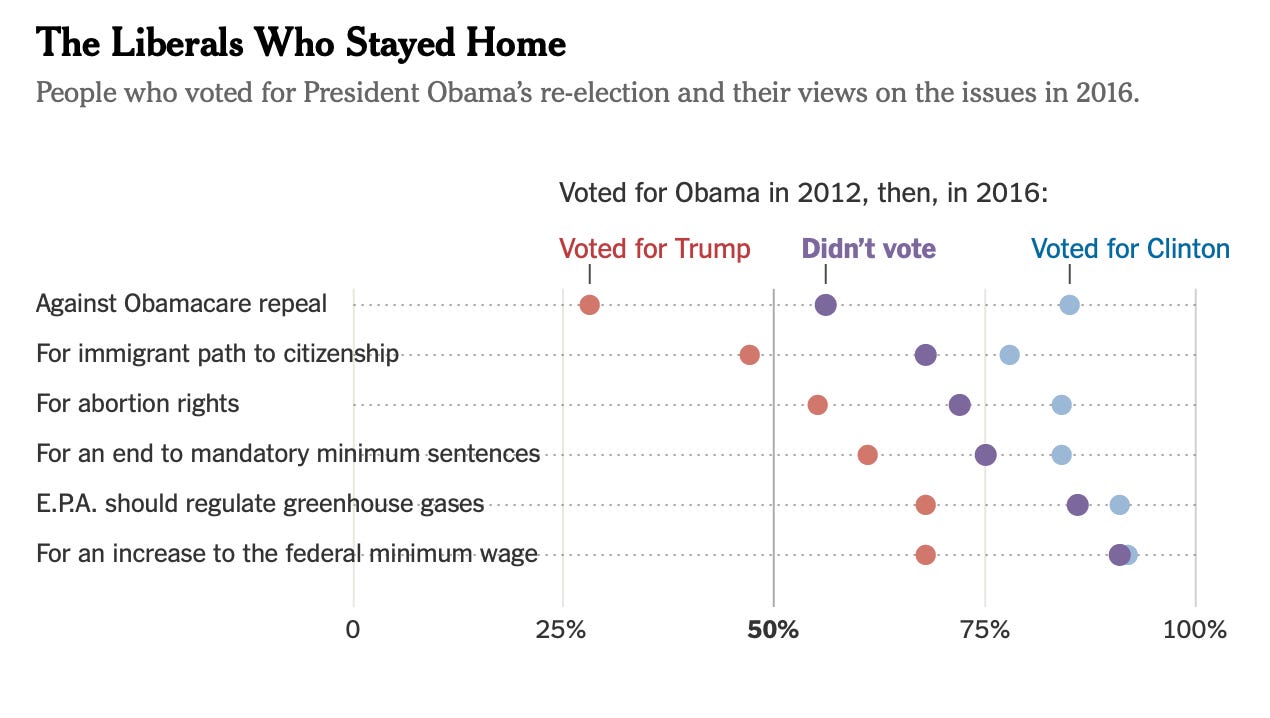 Obama-non-voters look especially similar to Democrats on questions of the minimum wage, a path to citizenship for immigrants and climate change. They're more torn on repealing the Affordable Care Act and abortion rights. All of these are salient issues, but which ones are more so?
According to a Pew Research Center poll from January, the public's leading issues are health care and the environment; more than 60% of voters from both parties say it is their top priority for Trump and Congress. Fewer voters (42%) say that immigration is their top priority. Here's Pew's chart: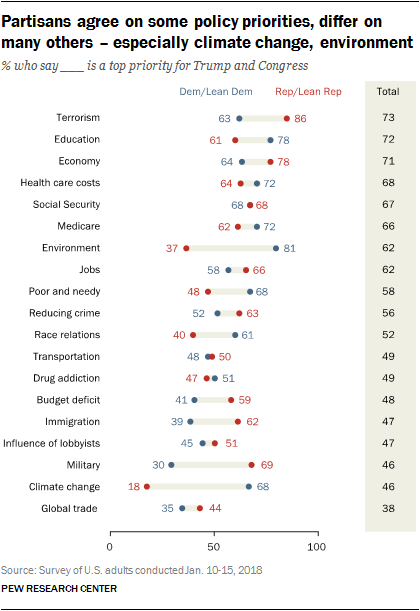 Because the more important issues are also the ones where non-voters are more similar to Democrats than Republicans, I am going to make the claim that Obama-to-non-voters are more inclined to vote for the Democratic nominee in 2020 than for Donald Trump. Of course, one could take the fact that they voted for Obama as evidence of this, but we want to be sure. Pew's own study on non-voters (and voters) in 2016 also supports the claim (although their data differ from the numbers above in that at first we were looking at Obama-non-voters and now we're looking at all non-voters). Pew shows that non-voters are younger and more non-white—two correlates of voting for Democrats—than voters.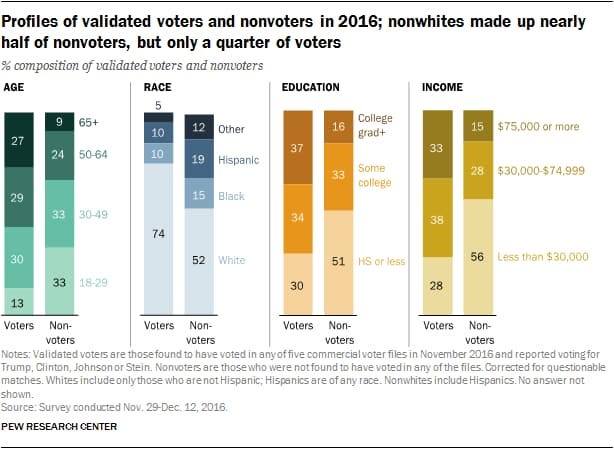 Compare these numbers to the demographic compositions of Clinton and Trump voters: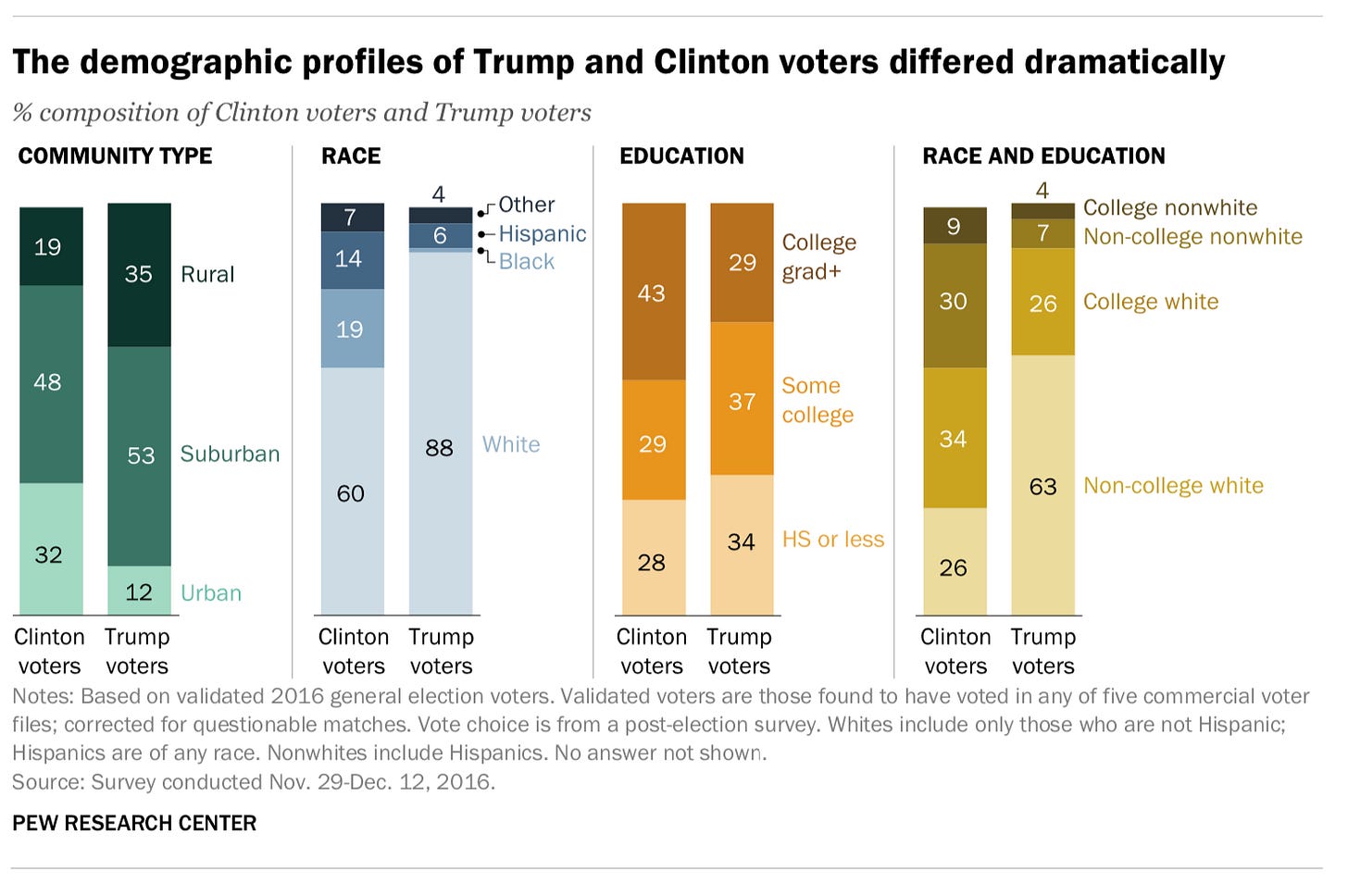 Their survey results cut more to the chase:
Among members of the panel who were categorized as nonvoters, 37% expressed a preference for Hillary Clinton, 30% for Donald Trump and 9% for Gary Johnson or Jill Stein; 14% preferred another candidate or declined to express a preference. Party affiliation among nonvoters skewed even more Democratic than did candidate preferences. Democrats and Democratic-leaning independents made up a 55% majority of nonvoters; about four-in-ten (41%) nonvoters were Republicans and Republican leaners. Voters were split almost evenly between Democrats and Democratic leaners (51%) and Republicans and Republican leaners (48%).
All of this is to say that non-voters look a lot like Democrats (especially the ones that previously voted for Obama), the issues they think are important are the ones that Democrats have an advantage on and they express a more-than-slight lean toward Hillary Clinton and the Democratic Party.
But the question remains: what of Obama-Trump voters? Are they coming back into the fold? Results from a recent survey from the Voter Study Group show that Obama-Trump voters have become much less approving of the president since they voted for him three and a half years ago. The VSG's Robert Griffin writes:
Only Obama-Trump voters have had a significant change in their view of President Trump over the last two years. In the 2016 VOTER Survey, more than 8 in 10 (85 percent) Obama-Trump voters held a "favorable" view of the president — 19 percentage points higher than in 2019 (66 percent). Even small movement among these voters — who represented 5 percent of voters in 2016 — may prove significant heading into the 2020 presidential election.
And he includes this graphic: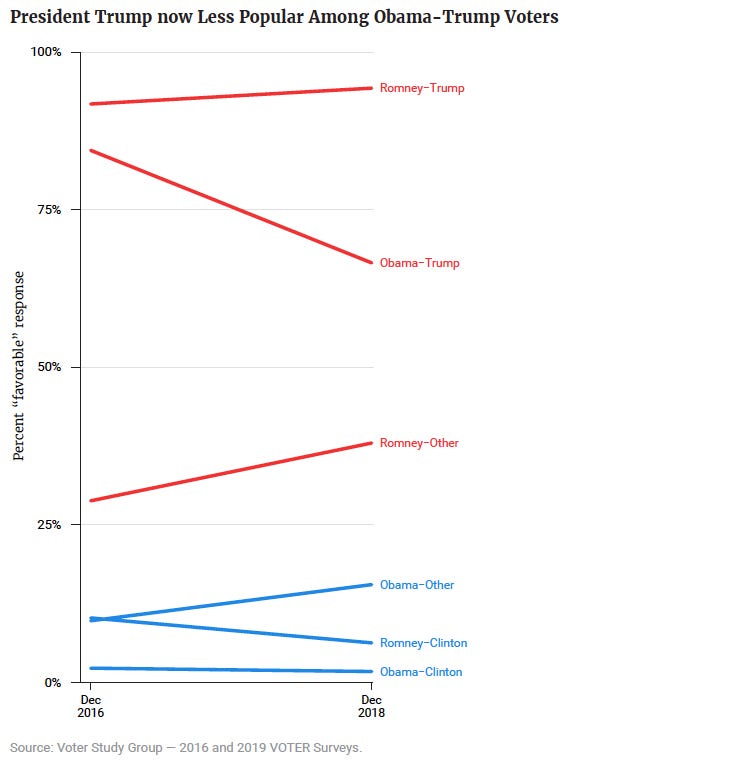 So, who's the better target?
These numbers help us make a pretty good model of voters' propensities to vote for the Democrat or Trump next November, though we have to make some brash assumptions. Let's first assume that non-voters, based on their voting and partisan preferences, are about 85% likely to vote for the Democrat next year—that share is a conservative happy medium between Pew's 55% Democratic-leaning share for all non-voters and the 99% of Obama-non-voters who reported voting for Democrats in the 2018 Voter Study Group data et. al.'s data. Let's also assume that vote choice will correlate 100% with Trump approval (probably not true, but close) and so 34% ( 100-66 ) of Obama-Trump voters are likely to vote for the Democrat. (We're not talking about turnout yet, so put that out of your mind for now.)
Multiplying the size of each voting bloc per McElwee et. al.'s NYT op-ed times the share who might be inclined against Trump, the expected size of pro-Democratic voters in each is 2.04 million in the Obama-Trump group (out of 6 million total) and 3.74 million in the non-voter group (out of 4.4 million). So to start off with, Democrats have a bigger upside with the size of potential voters in the non-voter group that among Obama-Trump voters.
But what about their propensities to actually vote? And can Democrats hope for more Obama-Trump after efforts to persuade them?
These are harder questions. Let's turn first to the political science evidence on campaign contact in persuasion, which is easier to sum up. In their paper on the subject, professors Joshua Kalla and David Broockman put it quite bluntly:
Significant theories of democratic accountability hinge on how political campaigns affect Americans' candidate choices. We argue that the best estimate of the effects of campaign contact and advertising on Americans' candidates choices in general elections is zero. 
That's not so reassuring, at least for Democrats who want moar. So let's say the expected return on Obama-Trump voters, regardless of investment, is 2 million voters and move on.
For non-voters, we have a harder job. We have to first estimate how likely they'll be to vote and then estimate the costs of contacting them. If we have no more information about them than their past habits—that they voted for Obama and then no one—then their estimated turnout is 50%. If we believe that turnout will be inflated in 2020, as it was in 2018 (by about 10% above average) then roughly 70% will cast a ballot.
Then, there's the targeting: the same study from Kalla and Broockman found that canvassing efforts could increase turnout by 2.5%. So let's add that too. If 73% of the Obama-non-voters vote next year, Democrats will pick up an additional 2.7 million voters over 2016. This is relative to the 2 million they'll get from Obama-Trump voters.
(I think that's good enough for the numbers. You can play around with them if you'd like.)
Of course, much of this is guesswork. It's impossible to know what will change between now and November. But the lesson is this: don't discount non-voters. Democrats should be investing a lot of their resources into turning out the Obama voters who no-showed in 2016. By my estimate, nearly 3 million of them should be pretty easy gets, and campaign resources can only improve numbers from there. Funds spent on courting additional Obama-Trump voters, on the other hand, might be comparatively fruitless.
…
There's also the separate point about valuing good Democratic state-level politicians, but that's not among my primary thought (it only occurred to me to note this after I wrote the headline). Not anyone can be president—and not anyone should. The Democratic Party also needs to win governors mansions, state legislatures, and Senate seats. Perhaps Sherrod Brown, Democratic Senator for Ohio (which Donald Trump won by 8 points), properly assessed the value of down-ballot strength when deciding not to run for the presidency this year. If he decides the same, Steve Bullock could make a good challenger to incumbent Republican Senator from Montana Steve Daines. The state already has Democrat Jon Tester—another testament to its inclination toward splitting tickets. But then again, maybe Bullock's hopes for state-level representation will have been dashed after 8 years as governor (and a 16-year, 2-term limit) and so he's moving on.
Despite what Bullock decides, Democrats still have to choose where to allocate their resources, preferably (for them) in a fashion that is most efficient. Which path do they think is right? I think know where I'd put my money—at least where I'd allocate more of it.
---
And now, the most notable stuff I read and wrote over the last week.
---
Political Data
Alabama has created the nation's strictest abortion ban, the latest attempt to prompt the Supreme Court to reconsider Roe v. Wade. Gov. Kay Ivey (R) signed the bill that makes performing virtually all abortions a crime.

…

The new laws fit the trend over the past two decades of tightening restrictions where abortions were already most limited. That trend is increasing the gap between abortion rights in different regions of the country.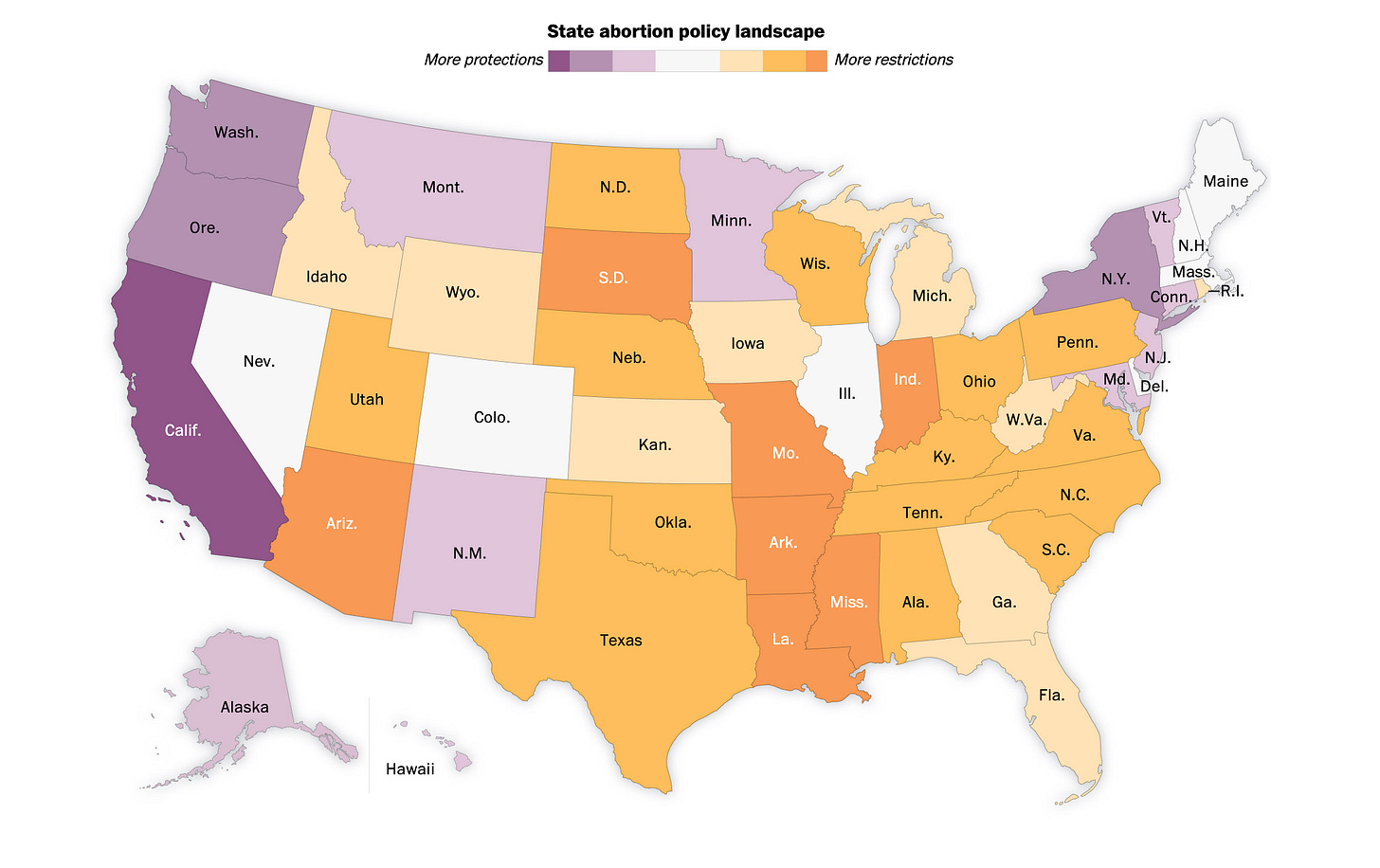 According to the 2018 statewide poll, conducted by Anzalone Liszt Grove Research on behalf of Planned Parenthood, only 31 percent of Alabamians were in favor of an abortion ban that lacks a rape/incest exception.

…

A minority of respondents said they believe in bans that go further than Alabama's current law; 15 percent responded that abortion should be illegal in all cases, including in cases in which a pregnancy would threaten the pregnant woman's life. Slightly more — 16 percent — said abortion should be banned in all cases, except for when a pregnant woman's life is in danger.

…

While Alabamians may disapprove of the severity of the new abortion ban, it's clear many still disapprove of abortion in general, as both the survey and the Amendment 2 results show 60 percent think access to abortion should be, at most, limited.

They're not alone. A new YouGov-Cambridge Globalism survey revealed the US has a more negative view of abortion than any other developed country, the Guardian reported.
(I'm including this as an update to my story two weeks back about a possible surge in Trump's approval rating).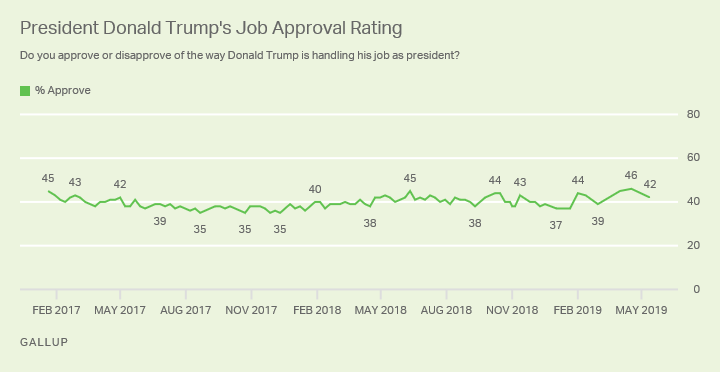 ---
Other Data and Cool Work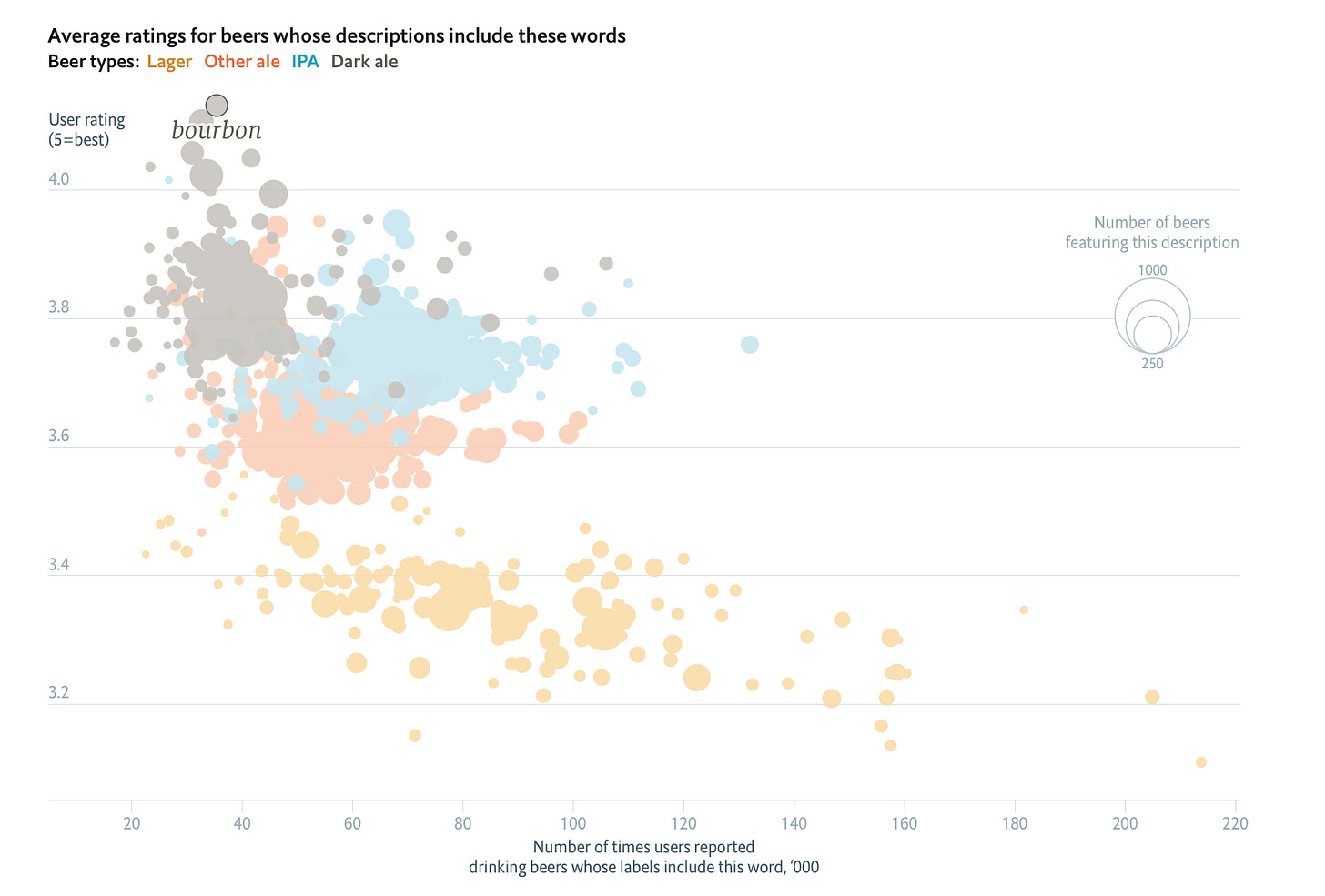 ---
Political Science, Survey Research, and Other Nerdy Things
I will defer to the hive-mind's coverage of this year's annual AAPOR meeting and recommend you just
peruse the corresponding Twitter hashtag
. Some of my favorites:
---
What I'm Reading and Working On
I'm finishing a months-long project about climate change and reading The Uninhabitable Earth: Life After Warming by David Wallace-Wells. Boy, has this whole project spooked me. This week you will find a print piece from me about how even proposed measures to solve warming don't go far enough. You'll also get to read the culmination of my months-long ranting on economic voting.
---
Thanks!
Thanks for reading. I'll be back in your inbox next Sunday. In the meantime, follow me online or reach out via email. I'd love to hear from you!
---
A Special Thank-you Note to Patrons
My weekly newsletter is supported by generous patrons who give monthly on Patreon, including these individuals who have pledged especially charitable contributions:
Alden, Ben, Calvin, Christina, Daniel, David, Ed, Joshua, Joshua, Katy, Kevin, Laura, Robert, Robert, Thomas, Christopher
Ben, Bob, Brett, Charles, Charlie, Chelle, Darcy, Darren, David, Erik, Fred, Gail, Greg, Guillermo, Hunter, Jay, Jon, Malcolm, Mark, Nik, Nils, Sarah, Steven, Tal, Uri
Like the newsletter and want to help keep it going? Subscribe today on Patreon.