May 12, 2019 📊 What makes 2020 different than 2016?
Plus, Republicans supported the Green New Deal until Fox News said "no," and Middle America's brain drain.
Welcome! I'm G. Elliott Morris, data journalist for The Economist and blogger of polls, elections, and political science. Happy Sunday! Here's my weekly email with links to what I've been reading and writing that puts the news in context with public opinion polls, political science, other data (some "big," some small) and looks briefly at the week ahead. Let's jump right in! Feedback? Drop me a line or just respond to this email. 
This newsletter is supported by subscribers on Patreon. A special thanks to those who pledge the top two tiers is written in the endnotes. If you enjoy my personal newsletter and want it to continue, consider supporting it on Patreon for just $2.
---
Dear Reader,
To be quite honest, when I sat down to write this newsletter this week I couldn't focus on one single event that happened in politics. Too many things came coming to my mind. It also didn't help that spent almost all of Monday, Tuesday and Wednesday huddled in front of my computer crunching data on climbing Mount Everest. But I've settled on one question that compiles some evidence from a few studies and the news: how is 2020 different from 2016? Let's talk policy and presidential politics, among other anecdotes. Plus, new polling on the Green New Deal and a piece from me on educated adult leaving Middle America.
Thanks for reading my weekly email. If you like it, please consider sharing online and forwarding to a friend. The more readers the merrier!
Elliott
---
This Week's Big Question
What makes 2020 different than 2016?
Trump has been president for three years. That has fundamentally changed how we view the stakes of the presidency. But how?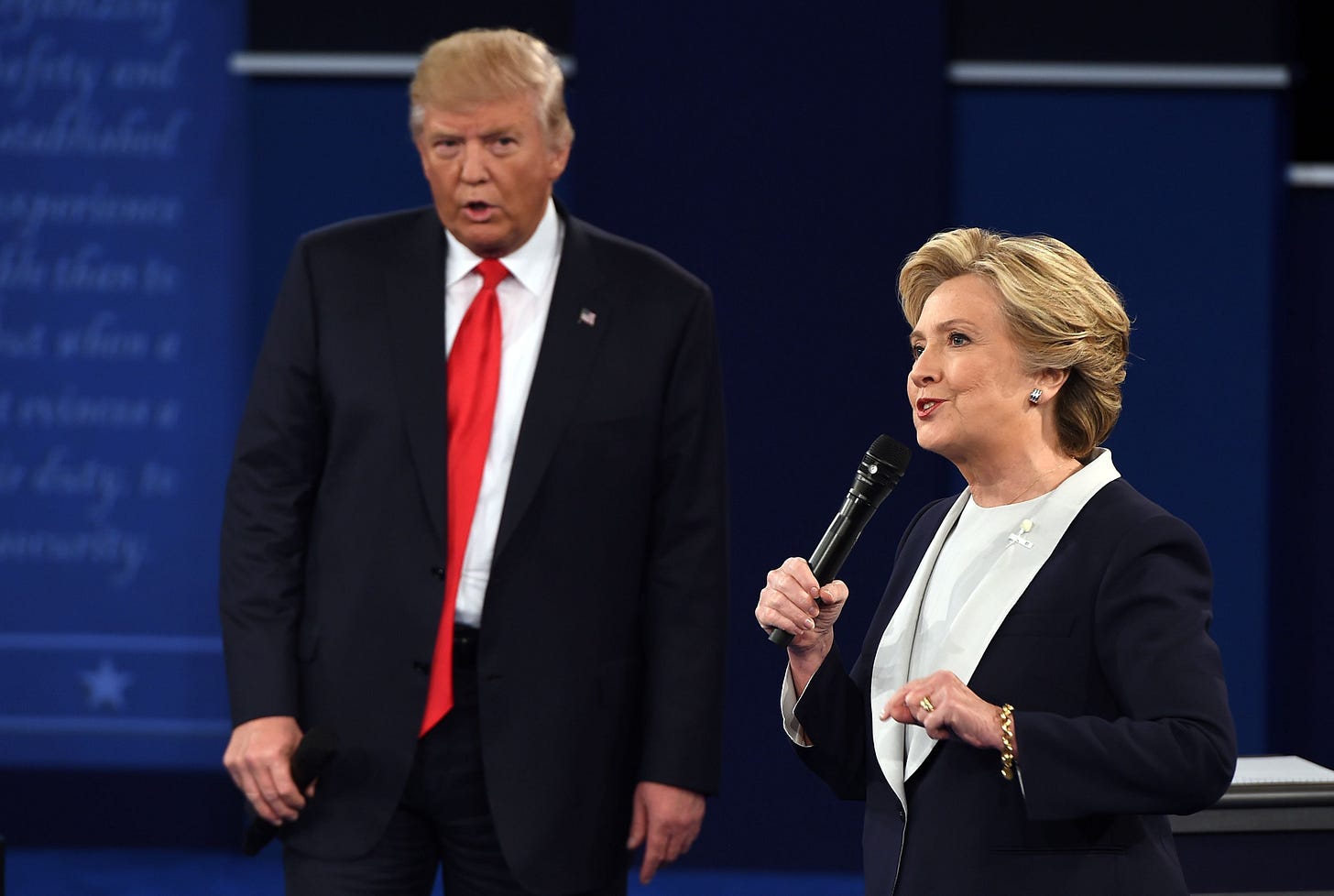 Image: Time Magazine; Robyn Beck—AFP/Getty Images
The 2020 election won't be about Trump versus Clinton, and that makes all the difference.
When presidential elections are a contest between personalities—as they often are, but was especially true in 2016—our perception about why politics matters changes. Sometimes this is bad. Perhaps pundits should reexamine our romanticized ideas of public debate; the last presidential election was much less about a contest of ideas and much more about the personal shortcomings of candidates—specifically, one candidate: Donald Trump. And before you jump down my throat upon my assertion that Hillary Clinton ran TV ads with a higher personal attacks-to-policy ratio than any modern presidential candidate, see this study for the real data on the matter: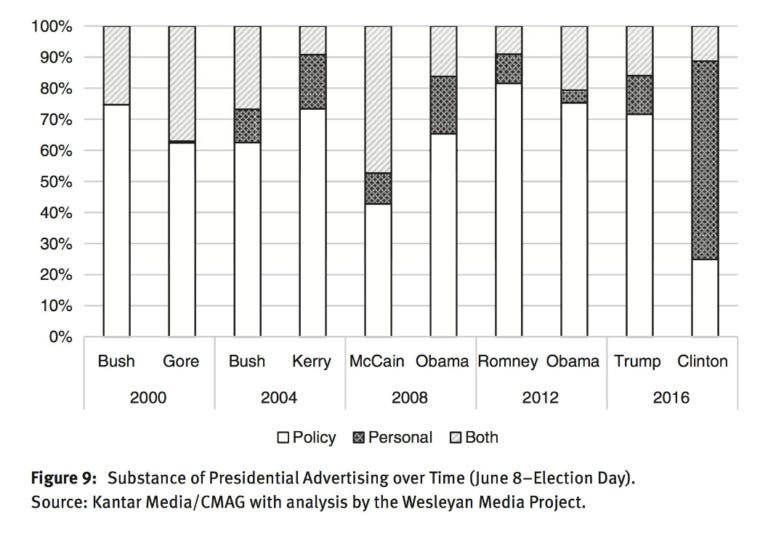 Frankly, contests like last cycle's are bad. They hurt the public's faith in their politicians—and each other. They don't tell the president anything about a mandate for their governance-to-come (to the extent that mandates still exists). At most, they might tell you what qualities the public wants in a leader. In 2016, America's voters said unequivocally that they wanted a female candidate with extensive government experience and a broad policy agenda to run their country for the next four to eight years. Or, they said they didn't want the reality TV star with an admitted habit of sexual assault running their country. Either way it doesn't matter. In 2016 the electoral college decided on the latter.
Our (temporally-dependent) understanding of why elections matter will be different come 2020. Yes, Joe Biden—who is certainly the front-runner for the Democratic nomination, if just for today—has centered his campaign launch on the idea that Donald Trump presents normative consequences for the country that Americans should not be willing to accept for four (or six?) more years. And we could be in store for another campaign rich in personal attacks. But so far, I've seen two things that Joe Biden does differently than Hillary Clinton in this regard—one of which several of the other twenty Democrats running for president do a much better job at.
One thing Biden does differently is showing why Trump is bad for Americans—something he has the luxury of doing because primarily, the difference between 2020 and 2016 is four years of Donald Trump. Contrast Biden's announcement video with Hillary Clinton's viral campaign ad of kids watching Trump on TV. Biden's shows footage of white nationalists killing a person in Charlottesville, painting Trump as emboldening a dangerous sect of the country's racists. Clinton's, on the other hand, just shows that Trump is a bad role model, especially for how men should treat women. Which is more powerful?
But Biden can also draw examples from the real problems that Trump's domestic and foreign policy agendas have posed to the country, whereas Clinton only had the power of speculation. Trump's attacks on the Affordable Care Act have increased the rate of uninsured Americans, for example. Biden can also use the stellar example of the 2017 tax cuts to say that trickle-down economics disproportionately helps the wealthy and hurts the poor. Again, primarily, the difference between 2020 and 2016 is Trump: Clinton's argument was the same thing, but she couldn't show people the real harms of a Trump presidency because they hadn't happened yet. Of course, this is not her fault—but it remains her weakness (one that doesn't matter anymore).
Biden is not the only Democrat who benefits from this difference. Those who can make more eloquent policy-based attacks on the president draw quite a contrast from the 2016 campaign. Elizabeth Warren is perhaps the best example of this. She has run on a host of policies—anti-corruption, fiscal welfare and health care among them—that can collectively be described as "economic populism." Last time around, the pitch would have been an improvement over the status quo. This time around, it's a needed reversal of bad policies.
Should I go on?
The primary difference between the 2020 and 2016 election is Donald Trump. There is no "economic" voting thesis this time around; no referendum on Democratic rule; no issue of Benghazi vs Russia. The 2020 election is all about Trump and the real harms he has introduced to the American political system, rather than the hypothetical harms he posed in 2020 "if he gets elected."
That makes all the difference.
---
And now, the most notable stuff I read and wrote over the last week.
---
Political Data
Updated for 2017, new data from Congress's Joint Economic Committee show that most states in the Rust Belt, Southeast and Plains regions are losing their educated residents to coastal states, as well as to Texas and Illinois. For example, people who move to California are 20 percentage points more likely to be among the most educated third of Americans than people who leave it are. Conversely, people relocating to Pennsylvania were ten percentage points less likely to be in the top third than those moving out.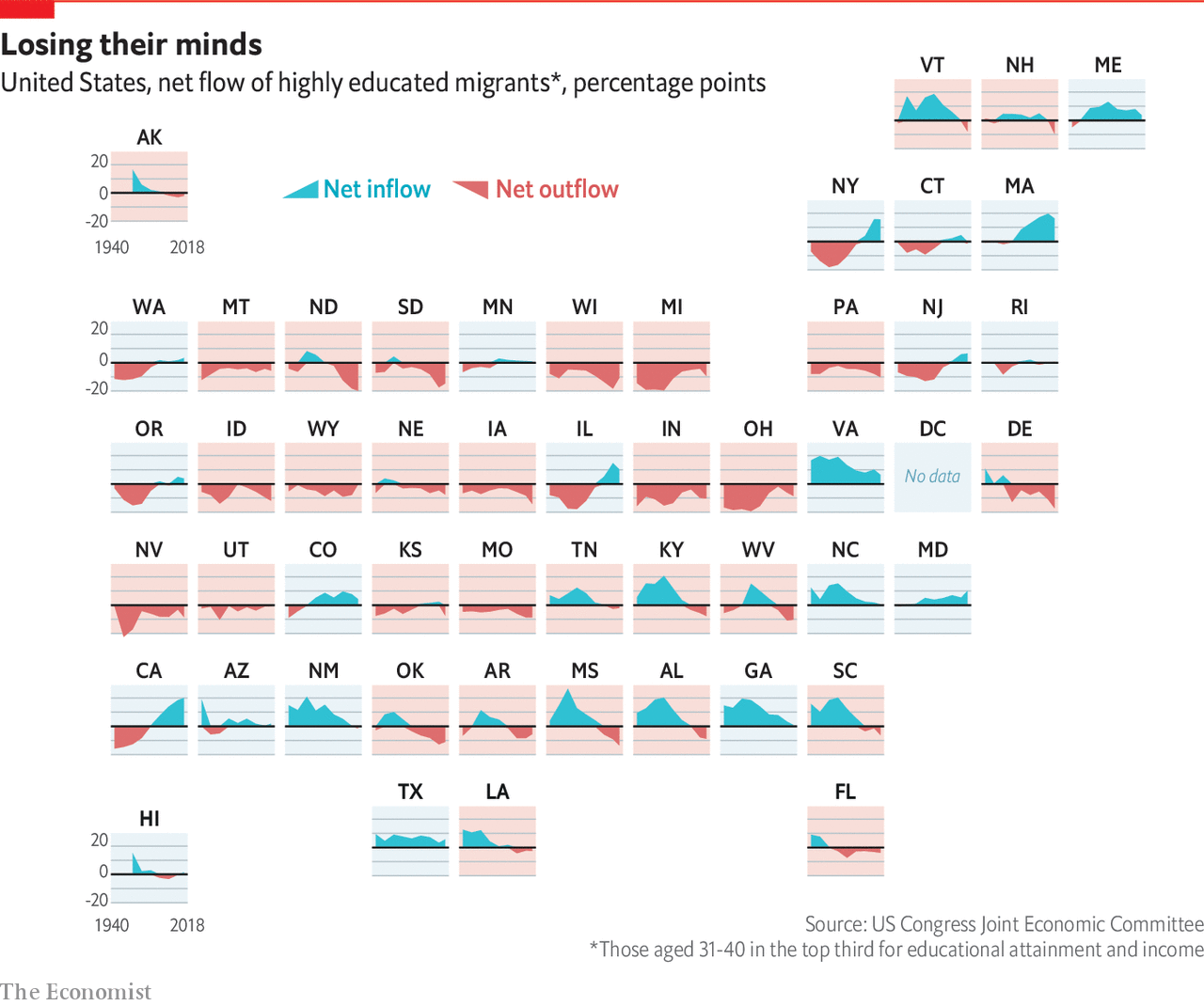 Similarly, support for the Green New Deal is lower among Republicans who watch Fox News more frequently than it is among Republicans who watch it less often. In our April survey, of those Republicans who watch Fox News more than once per week, only about one in five (22%) support the Green New Deal – a drop of 32 points from December. By contrast, of those Republicans who watch Fox News once per week or less, over half (56%) supported the Green New Deal in April – a relatively smaller drop of 15 points since December.

This pattern of greater awareness of and less support for the Green New Deal among frequent Fox News-watching Republicans may be due to what has previously been called "The Fox News Effect"—the contention that Fox News is a driving force of political polarization in America. It is also possible, however, that Republicans who watch Fox News more frequently are more politically engaged than other Republicans, and thus are also more exposed to other sources of information that may have influenced their opinions about the Green New Deal.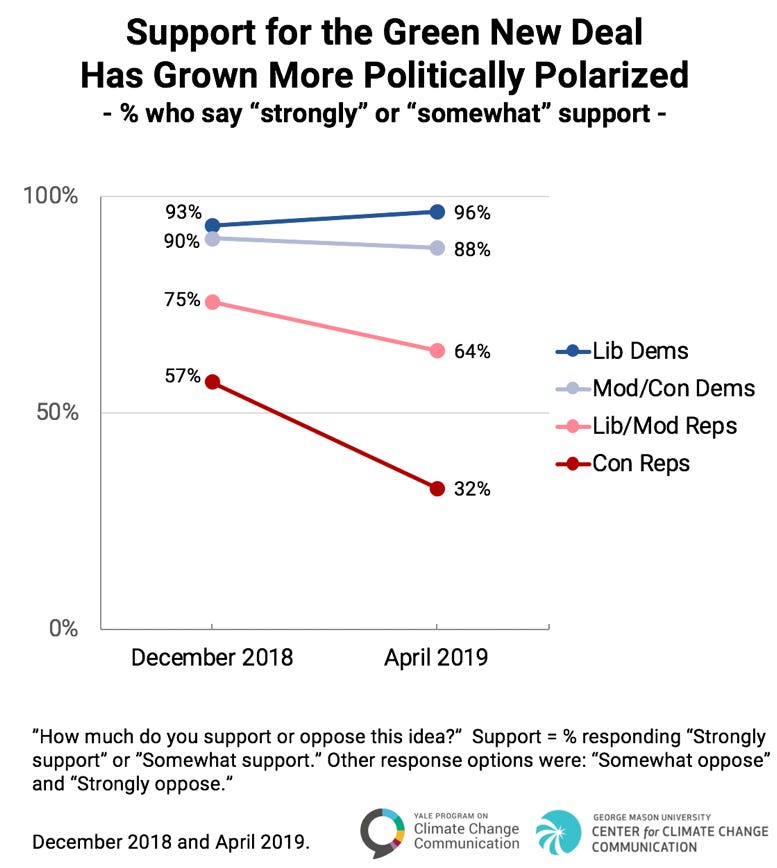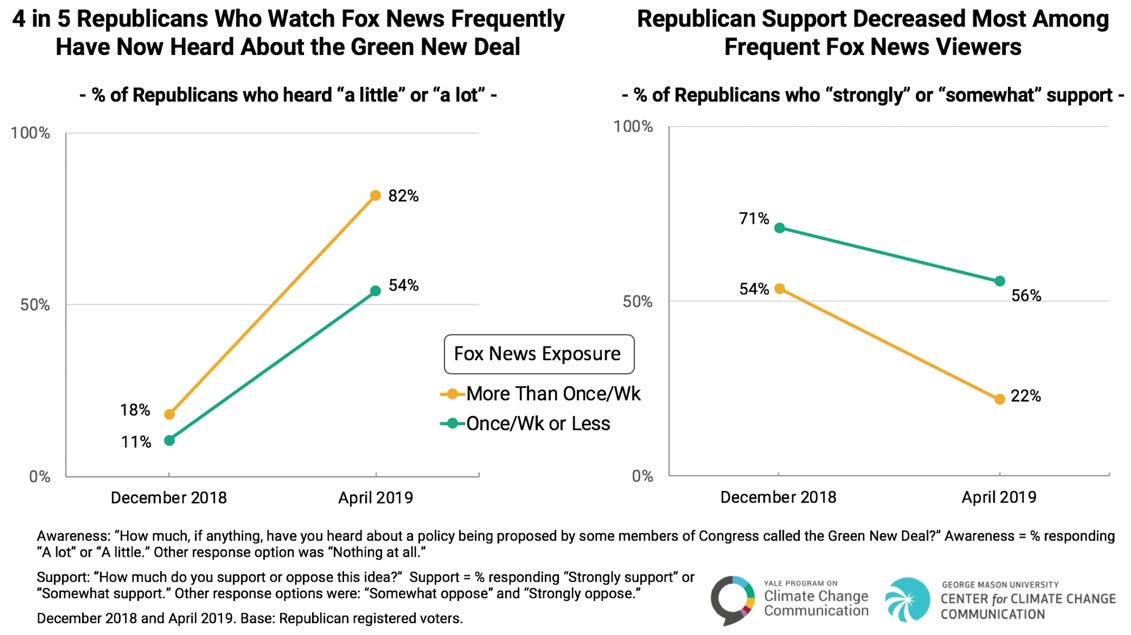 ---
Other Data and Cool Work
But since the 1990s, the pinnacle of mountaineering has become accessible. In 1994-2003, 24% of Everest climbers got to the top, double the rate in the previous decade. The share doubled again, to 51%, in 2004-13. In the past three complete climbing seasons, 66% have made it. The first summit attempts of 2019 are due this week.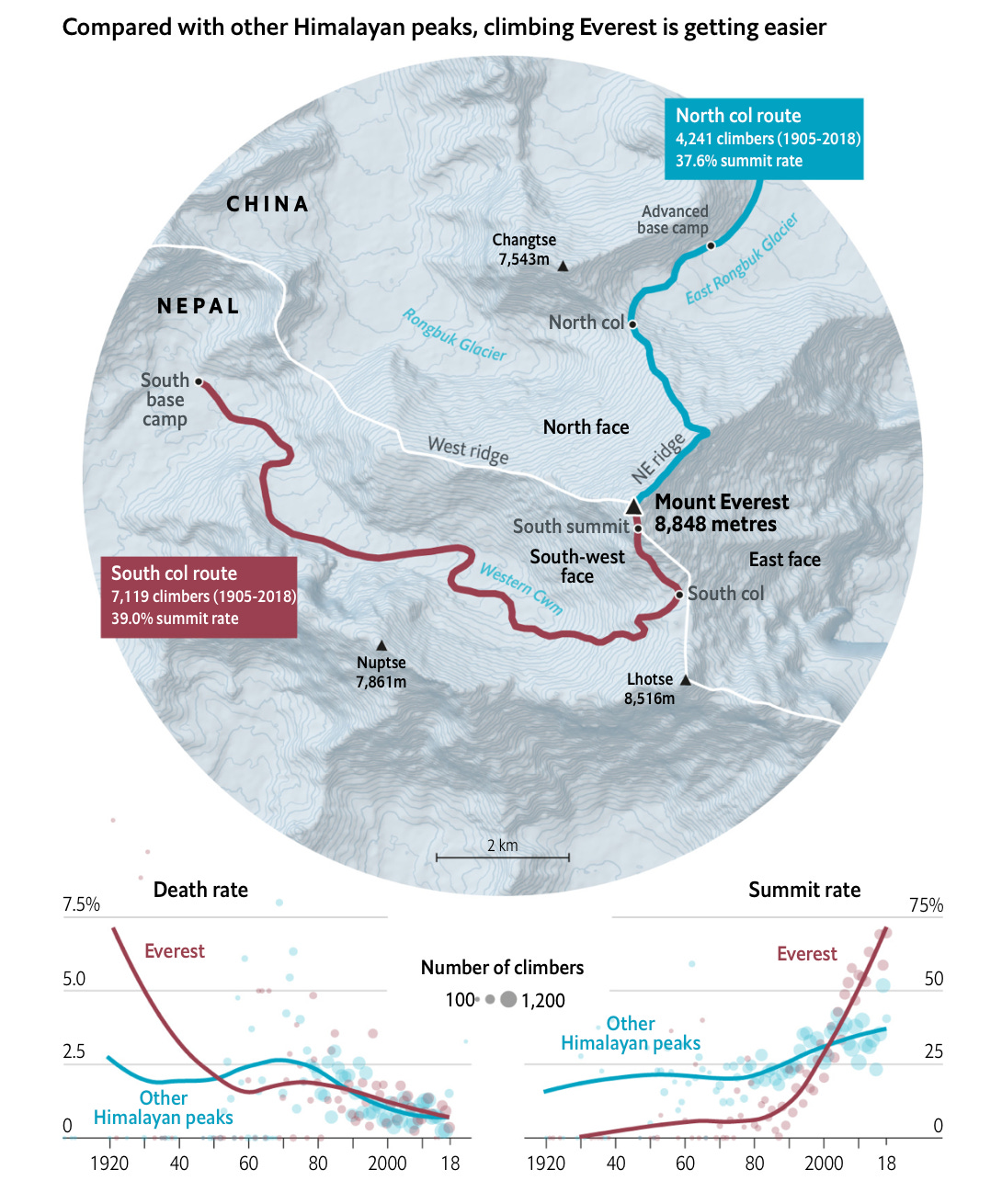 I just thought this was fun: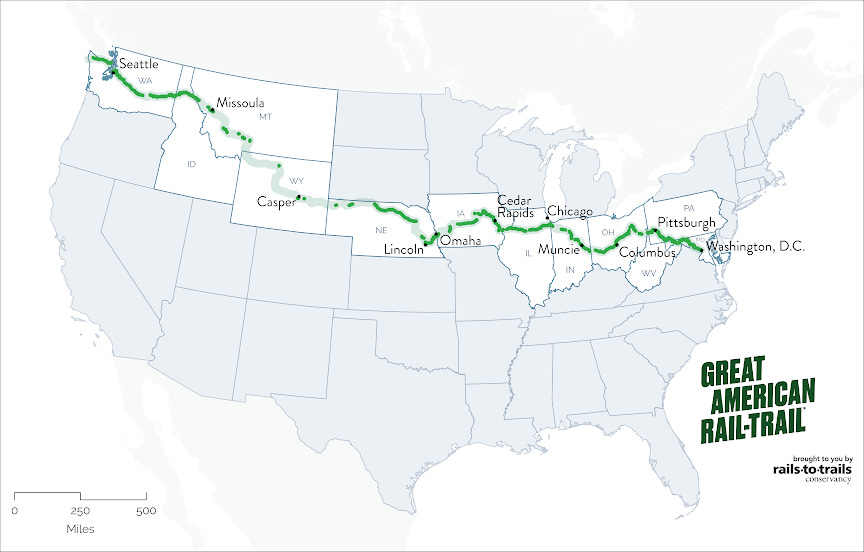 ---
Political Science, Survey Research, and Other Nerdy Things
Only Obama-Trump voters have had a significant change in their view of President Trump over the last two years. In the 2016 VOTER Survey, more than 8 in 10 (85 percent) Obama-Trump voters held a "favorable" view of the president — 19 percentage points higher than in 2019 (66 percent). Even small movement among these voters — who represented 5 percent of voters in 2016 — may prove significant heading into the 2020 presidential election.(iv) Obama-Trump voters are also disproportionately white, non-college educated and, as a result, are likely to be well distributed geographically for the purpose of electoral impact.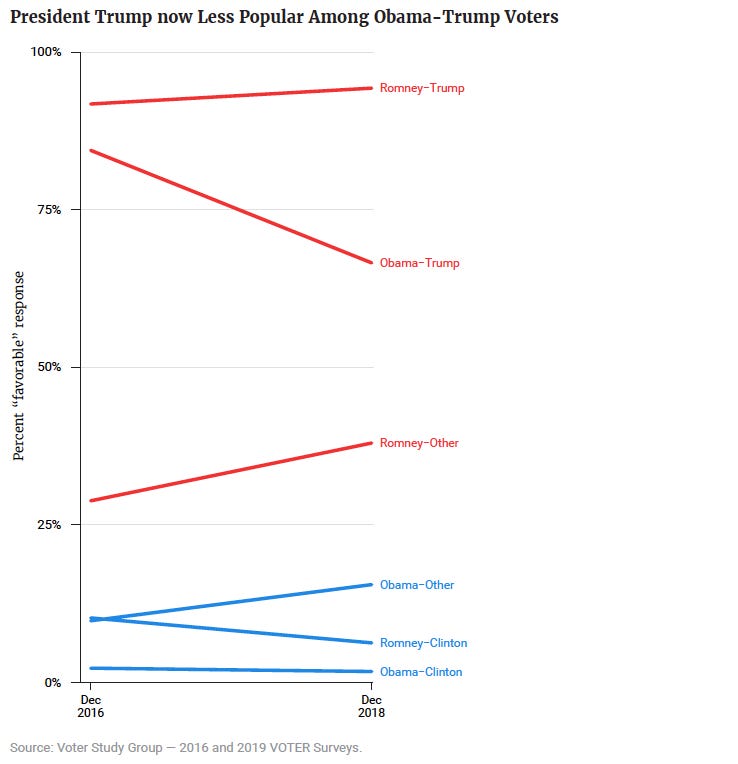 ---
What I'm Reading and Working On
I'm reading about climate change this week so I can finish a months-long project on carbon emissions. Frankly, I'm terrified of the consequences of a warming plane. I also really hate hot weather. Stay tuned. Oh, and I'm also reading Lord of the Rings for the first time ever. I was motivated by the question of whether the battle of Helm's Deep is better than the battle of Winterfell.
---
Thanks!
Thanks for reading. I'll be back in your inbox next Sunday. In the meantime, follow me online or reach out via email. I'd love to hear from you!
---
A Special Thank-you Note to Patrons
My weekly newsletter is supported by generous patrons who give monthly on Patreon, including these individuals who have pledged especially charitable contributions:
Alden, Ben, Calvin, Christina, Daniel, David, Ed, Joshua, Joshua, Katy, Kevin, Laura, Robert, Robert, Thomas, Christopher
Ben, Bob, Brett, Charles, Charlie, Chelle, Darcy, Darren, David, Erik, Fred, Gail, Greg, Guillermo, Hunter, Jay, Jon, Malcolm, Mark, Nik, Nils, Sarah, Steven, Tal, Uri
Like the newsletter and want to help keep it going? Subscribe today on Patreon.