Good news and also yeah some bad news
I'm headed home today! Which means I won't be circulating an email this week
Friends,
I am traveling from London back to Washington, DC today. I enjoyed my stint in one of the West's five best cities but am frankly overjoyed to be coming home.
As I'm hopping between airports (and the WiFi in the Dublin airport is rather subpar) I won't be sending a full newsletter today. Instead, enjoy this post that I sent out to subscribers yesterday. I think the angle is important enough to share with everyone.
Oh, and be sure you check out The Economist's new polling interactive for the 2020 Democratic primary! I've been developing the project with our graphics team for months and I'm very proud of what we produced. Feedback welcome.
It feels so good to be coming home, not least because I imagine I'll see many of you all soon.
—GEM
---
---
"Electability" is a function of your opponent, too.
According to the most recent polling from Fox News (the numbers come from a bipartisan team of researchers from Democratic polling house Beacon Research and Republican firm Shaw & Company Research), Donald Trump faces a steep uphill battle for re-election. The president trails Joe Biden in a hypothetical 2020 match-up by 12 percentage points (50-38%). He fares slightly better, but still poorly overall, against Bernie Sanders (48-39), Elizabeth Warren (46-39) and Kamala Harris (45-39).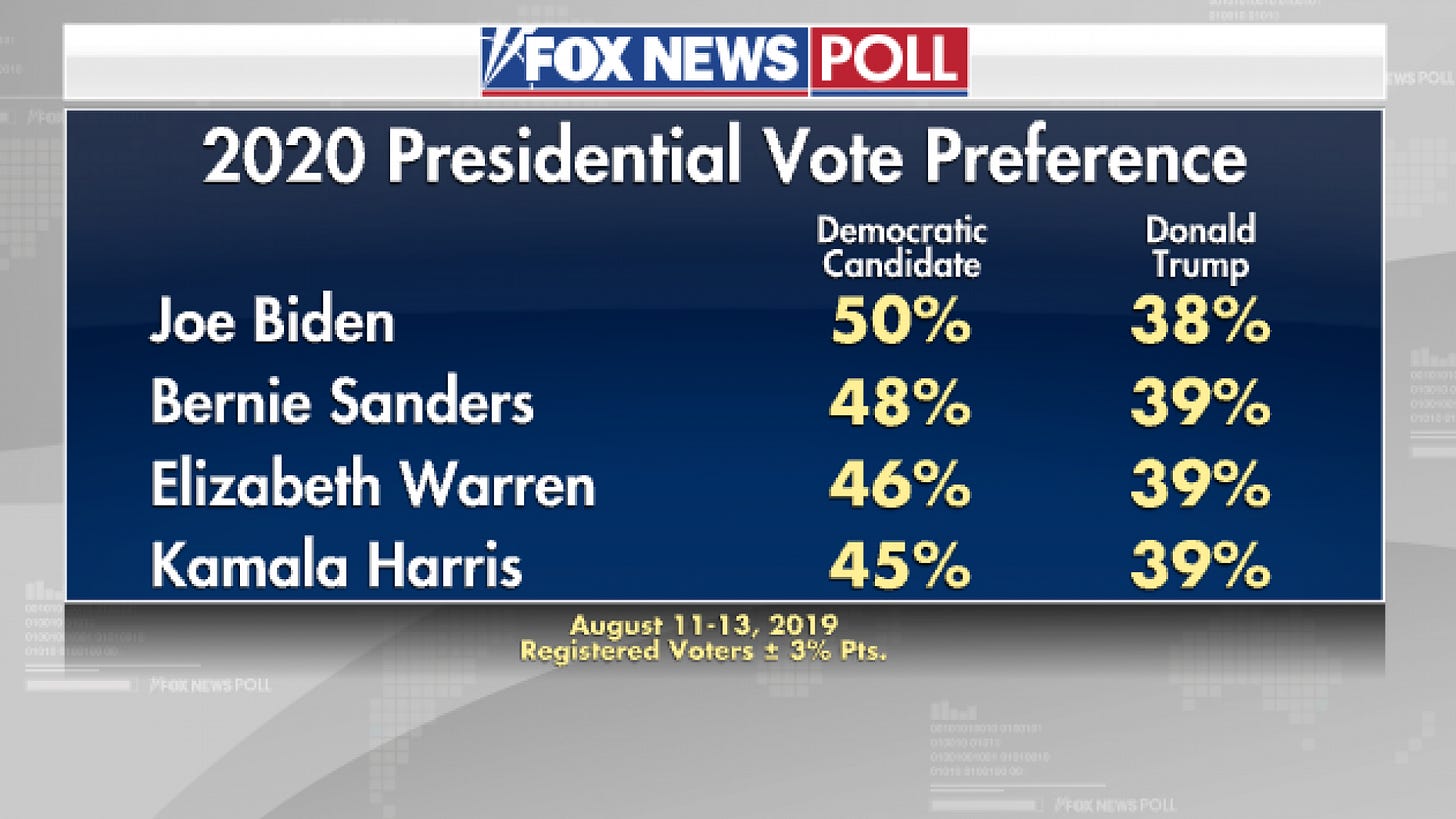 But I'm not viewing these numbers as projections of behavior for the election next November (and neither should you). Instead, here's the story:
Although Mr Trump's general election deficit changes depending on his opponent, he is held below 40% in all polled match-ups against mainstream 2020 Democrats. This fact got me thinking: electability might be about the quality of one candidate, but it is equally (or perhaps even more) about the quality of their opponent. Although polling says that voters think Joe Biden is more "electable" than, say, Warren or Sanders, they still run far ahead of Trump when it comes to vote intention.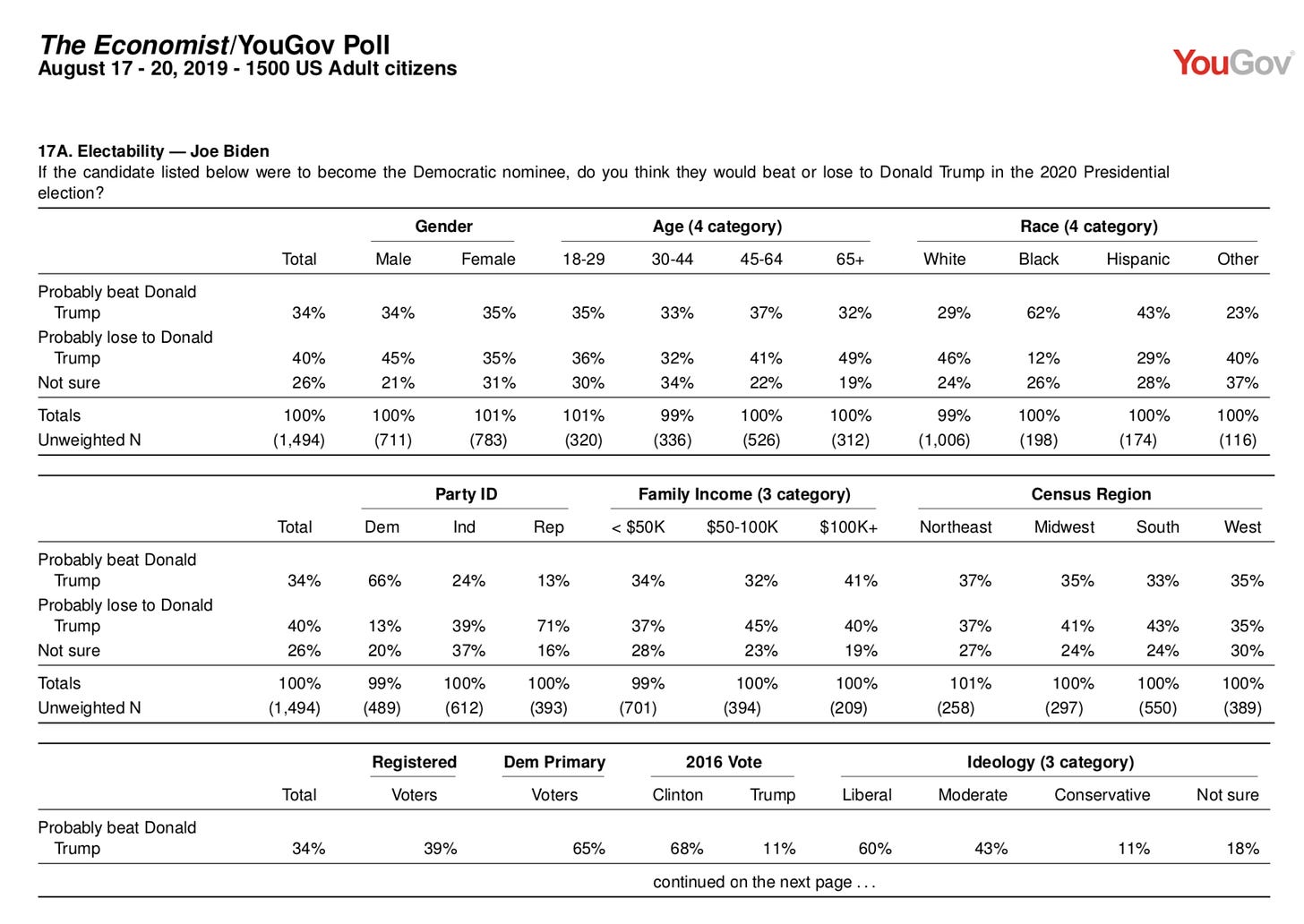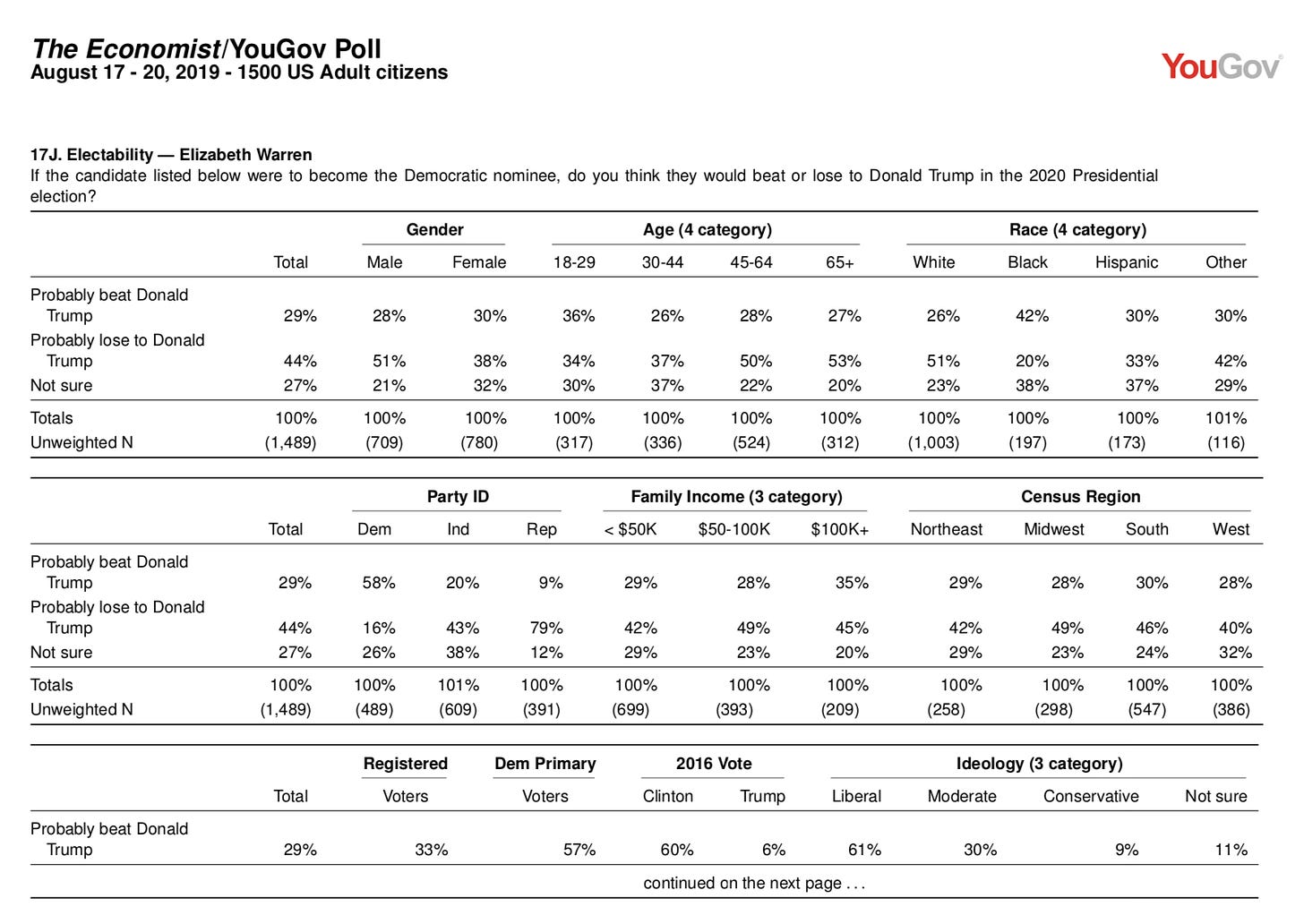 And here's another point: it doesn't actually matter which 2020 Democratic candidates we think are electable if their opponent is polling under 40% against all of them. The facts are the facts; the data are the data. The probability of victory for a Democrat polling 12 points ahead of Trump is only marginally higher than their probability of victory if they are 6 points ahead. If their opponent is polling below 40%, almost anyone could beat them. 
So if our question is "who can beat Trump?" instead of "who has the highest probability of beating Trump?"—and usually I would caution against such binary thinking, but I think it's apt here—perhaps the conversation about electability should not be about how Biden or Warren can fare in the general election, but about how Donald Trump will.