April 7, 2019 📊 The Buttigieg Email: What Is with the "Mayor Pete" Hype?
Plus, trust in the press is at an all-time low, Biden is winning the age and ideology debate, and how Trump is shaping generation Z's politics.
Welcome! I'm G. Elliott Morris, data journalist for The Economist and blogger of polls, elections, and political science. Happy Sunday! Here's my weekly email with links to what I've been reading and writing that puts the news in context with public opinion polls, political science, other data (some "big," some small) and looks briefly at the week ahead. Let's jump right in! Feedback? Drop me a line or just respond to this email. 
This newsletter is supported by subscribers on Patreon. A special thanks to those who pledge the top two tiers is written in the endnotes. If you enjoy my personal newsletter and want it to continue, consider supporting it on Patreon for just $2.
---
Dear Reader,
This week's email is fueled by decaf green tea and gyoza from Trader Joe's. I eat them at least once a week. Now you know my dirty little secret.
I had some fleeting thoughts about Pete Buttigieg earlier this week that I was reminded of this morning. I'll elaborate on them here. I'll also review the Democratic 2020 candidates' first quarter fundraising numbers, white racial liberalism, and the impacts of Trumpism on millennials' politics.
Thanks for reading my weekly email. If you like it, please do forward to a friend. The more readers the merrier!
Elliott
---
This Week's Big Question
What Is with the "Mayor Pete" Hype? Will It Last?
The mayor of South Bend, Indiana has been rising in polls, fundraising, and media attention recently. It's worth taking a first stab at answering why and if it'll last.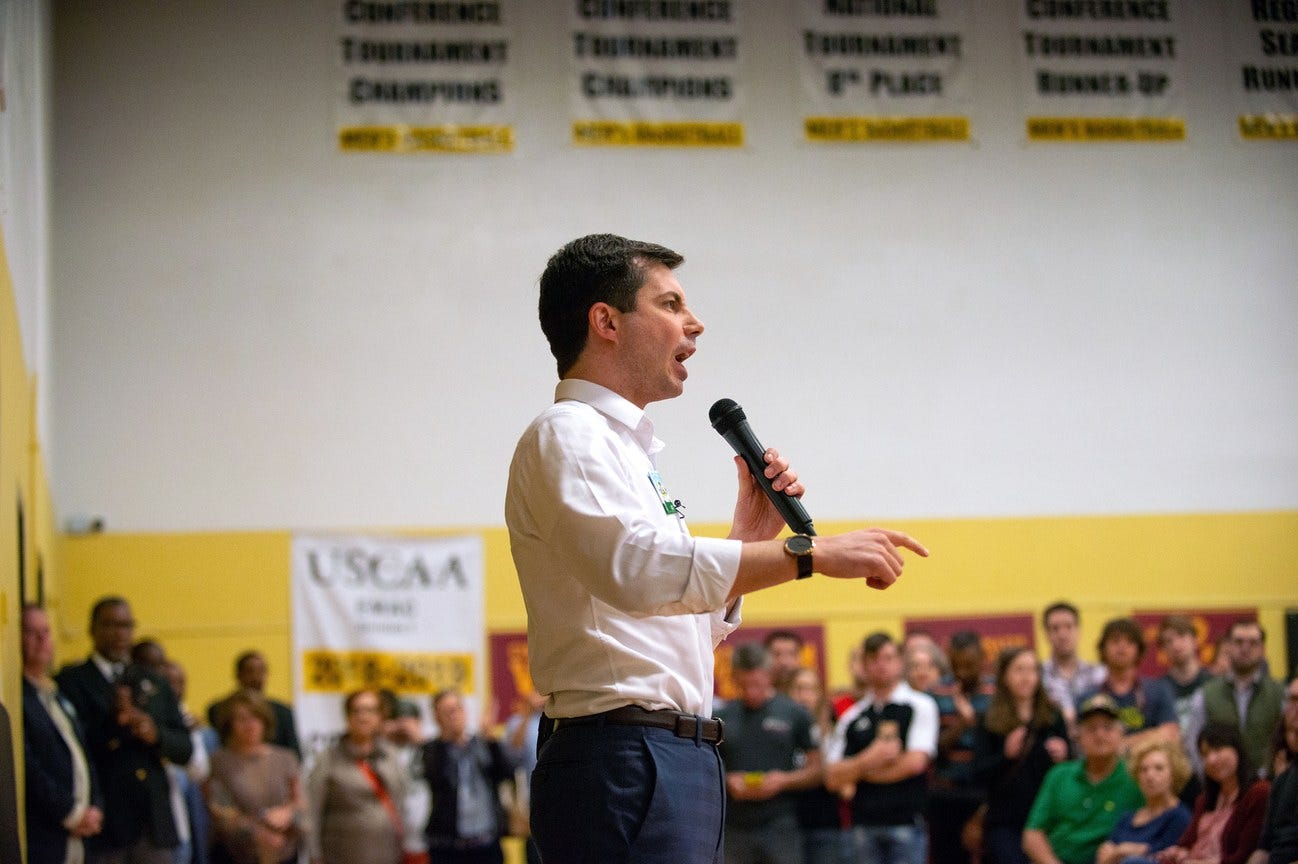 Image: Swikar Patel / NYT / Redux
Pete Buttigieg, the mayor of a medium-sized city in a red midwestern state, has been popping up on my radar more and more recently. At first I simply thought that the channels I tune in to — academics and political practitioners, national and Texan journalists, and some millennial friends — are just more excited about him than they were when he announced his campaign in January. However, the objective indicators have also been showing that voters are paying increased attention to Buttigieg.
"Mayor Pete," as his supporters call him, has steadily gained ground in various public polling over the last few months. In The Economist's numbers from YouGov, his name recognition among all Americans has increased from 25% to 40% from the end of January to April 2nd. Although the questions YouGov runs don't show vote intention (they aren't asking yet for quality reasons) they do show that 22% of Democrats are considering voting for Buttigieg in their primary or caucus next year. That's on par with Cory Booker's numbers and about 10% shy of the shares considering Beto O'Rourke or Elizabeth Warren.
So Buttigieg's appeal seems real. Moreover, he could really be in this thing. His overall net favorability rating among all Americans is higher than that for every other declared candidate (it's slightly lower than Joe Biden's, but he has yet to announce that he's running). At +3, Buttigieg is not exactly crashing through the top of the charts, but it's better e.g. than Bernie Sanders's -4. The mayor also hauled in 7 million dollars last quarter—just 2m shy of Beto O'Rourke's fundraising total. This is impressive, of course, given that O'Rourke has an enormous donor email list leftover from his 2018 US Senate candidacy.
So, what's with the hype? Given that the mayor has never held higher office, isn't as well-known as some of his competition and is a rather young 37 years old, that attention is certainly surprising on its face and definitely worth investigating.
The Buttigieg buzz all seemed to start after a successful break-out CNN town hall last month. Buttigieg laid on the charm about he and his husband's relationship, voiced educated opinions on an array of issues, and engaged with audience members in an energetic, clear, and competent manner. I even tweeted after his performance that I thought he was underrated at the time. Since, I've been convinced that he has potential to be a bigger candidate than we currently think. The data show a clear upward trajectory.
The mayor's strength comes from primarily his messaging, I think, and the clearly studious nature of his political ideas. His energy and progressive, academic political prose remind some people of Obama's early days (though Buttigieg has failed to garner equivalent traction in polls and fundraising). To use Ezra Klein's term, Buttigieg has a bold "theory of change" for how to fix US politics.
Frankly, Buttigieg impresses, especially given his background. He says the types of thing you'd expect to hear from a US Senator. But does he say the types of things we expect from a president? I'm not sure I know the answer, but it's this expectations game that candidates have to play to win. The two questions are, what are (or aren't) those expectations, and does Buttigieg meet them?
In the past, foreign policy experience tended to frame a lot of the conversation about a candidate's qualification for office. Recently, their ability to handle economic issues has also seemed to matter. Of course, after Trump's success in 2016 we have to acknowledge that a person's experience does not matter much any more. I would say that it may matter less in elections where voters simply are looking for change. In 2020 — what appears to be shaping up to be a closely contested change election — we may have to direct our attention elsewhere. What makes someone seem like they could be the president?
When candidates don't fit into our preconceived mold of what an elected leader should be they run into hurdles when trying to win over voters. Things other than policy positions matter for this mold, such as personality traits and demographic characteristics. It took 220 years for America to elect a black man as president, for example (and minorities do still encounter plenty of biases in politics). Women haven't been descriptively represented by a president yet and face their own challenges; Elizabeth Warren is leading the charge in the policy primary, for example, but faces a lot of criticism for a supposed lack of "likability." And an (out) gay man, like Buttigieg, has also never occupied the nation's highest office. While Buttigieg has an appearance that is not entirely dominated by his sexuality, it still matters.
I can easily re-state the point about molds as a point about the importance of identity. Democrats have for a while been very willing to play the game of identity, but the entire country is not 100% on board. The good news for Buttigieg Americans do seem to care less about homosexuality than they used to. But make no mistake, they don't all embrace it. A February NBC/WSJ poll found that 30% of Americans would feel "very uncomfortable" or have "some reservations" if they voted for an openly gay politician. That is a hurdle that straight candidates don't face. This could raise legitimate, if potentially over-blown, questions about Buttigieg's electability in the general election.
Gay candidates also face a hurdle in the media that is akin to the one that the women in the primary face: often our non-intentionally-discriminatory opinions are driven by stereotypes and subconscious justification. The evidence of this is in the commentary about different candidates; ambitious women are often described as "shrill" and conniving. Gay men are often characterized as effeminate and weak. (Allow me to go off on one tangent here, related to a tweet I sent this morning: From a normative, socially progressive standpoint, attempts to combat these stereotypes are what makes it worth clarifying veiled criticisms of candidates that can be otherwise interpreted as stereotype-reinforcing. If we're to be allies to marginalized groups, we have to ensure that criticisms of them aren't biased by negative stereotypes that unfairly disadvantage them. A lot of the time, what can be seen as calling out an innocent, but unclear, comment from a particular person is actually a calling out of the environment that produces similar-looking discriminatory statement.. OK, back to Buttigieg:)
In the primary, the question is not being posed primarily to all Americans or the media, but to Democratic voters. The party has to answer the hard question of whether or not their mold for a president is inclusive of gay men. According to a 2017 Pew Research Center poll, 73% of Democrats support gay marriage. That should help Buttigieg's prospects. But 14% of Democrats told Gallup in 2015 that they wouldn't vote for a "well-qualified" politician if they were homosexual. Democrats are likely even more accepting of gay candidates today, but it is still legitimate to wonder whether all the voters Buttigieg needs to win the nomination are on board. Lucky for him in 2019, they probably are.
…
It's easy to see what has got Buttigieg supporters all fired up recently. I do still think he's a bit underrated; his upward trajectory is clear in the data. But the challenges he faces — while not as severe as those that a gay man or inexperienced politician would have faced just a decade ago — are real. We can only see what happens over the next 10 months.
---
And now, the most notable stuff I read and wrote last week:
---
Political Data
According to figures from the General Social Survey (GSS), a long-running poll run by the University of Chicago, trust in the press fell sharply from 84% in 1973 to just 54% last year. Both Republicans and Democrats lost faith in the media at roughly similar rates until the mid-1990s. But since then—when Newt Gingrich pushed the Republican Party to the right, and shock radio and ideological cable TV were born—a partisan gap has opened ever wider. Today trust in the press is closely linked to political preference.

According to newly released data from the GSS, less than a third of Republicans reported having "a great deal of" or "only some" confidence in the press last year, a record low. After seeing very little change from 2000 to 2010, that share dipped 19 percentage points in the past nine years.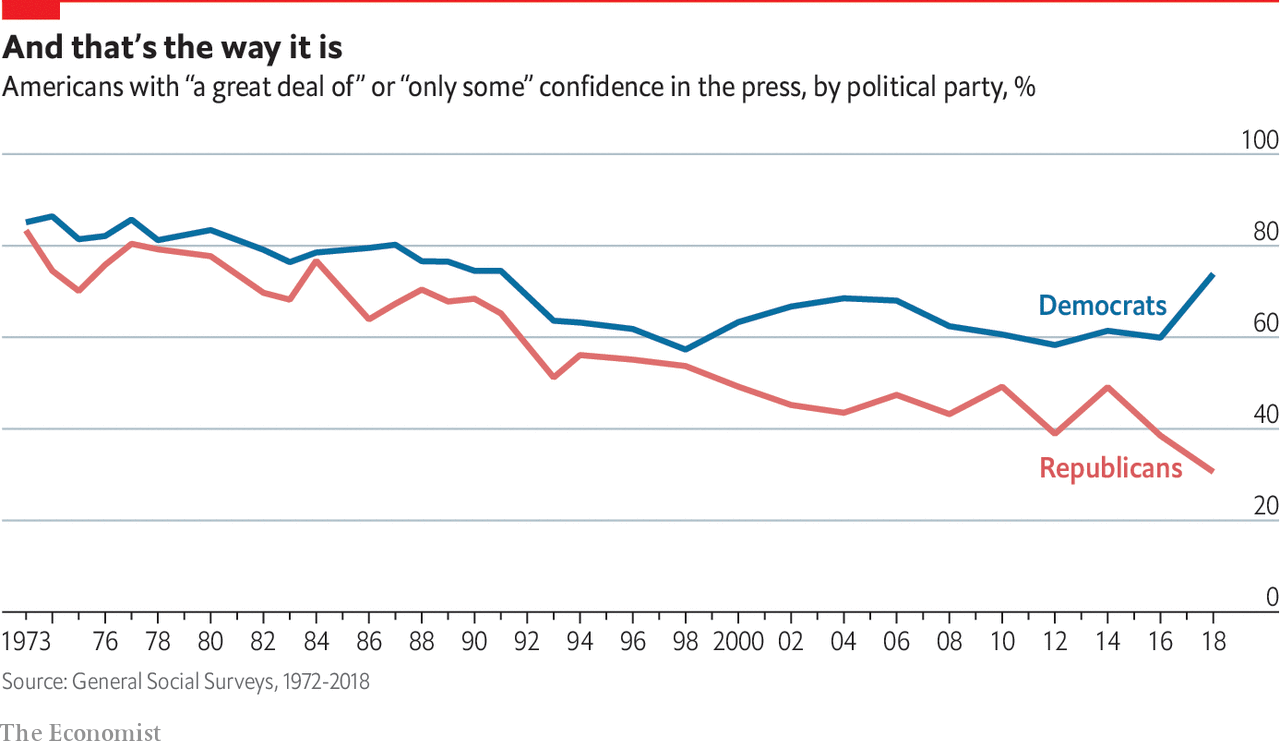 The biggest change in attitudes on race has been most pronounced among white Democrats.

Opinion leaders often miss the scale and recency of these changes because progressive elites have espoused racial liberalism for a long time. Sean McElwee, of the left-wing policy organization Data for Progress, did an analysis of General Social Survey data, which shows that throughout the 1980s, '90s, and 2000s, most white Democrats thought African Americans' lack of individual initiative was the main source of racial inequality in America.

The notion that Obama's ascension to the presidency would usher in a "post-racial" era of American life, of course, proved false. And not just because of a white backlash to his administration or to the growing diversity of the American population, but because white Democrats dramatically shifted their views of the centrality of racial discrimination in American life after the election of a black man to the highest office in the land.

Some of this is a compositional effect. As Obama pushed racially conservative whites out of the Democratic Party, the remaining Democrats are more racially liberal. But using Voter Study Group data, McElwee is able to show that people who consistently self-identified as Democrats changed their views between 2011 and 2016.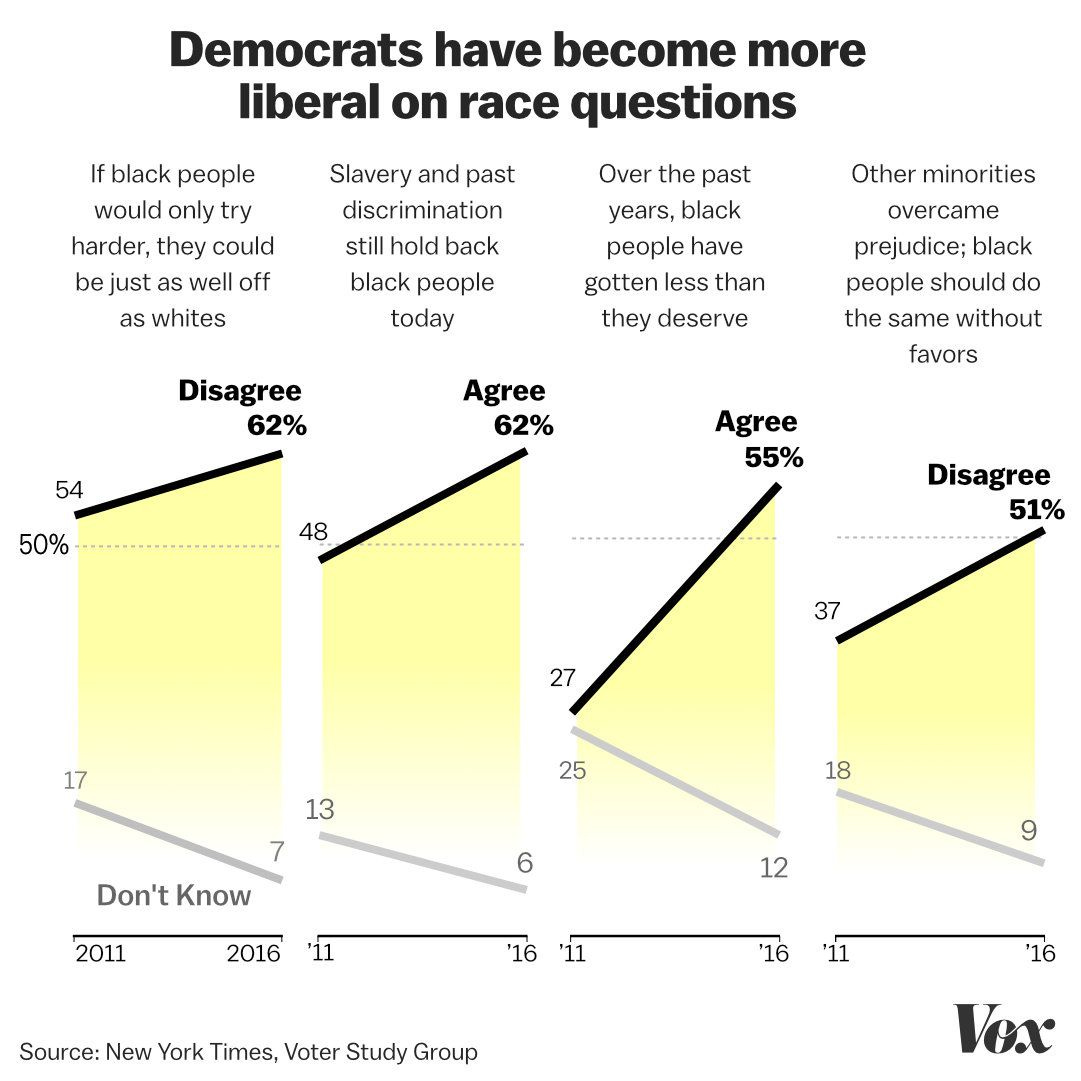 OpenSecrets.org: 2020 contenders' fundraising vs 2008 hauls
Over all, 59 percent of people 18 to 24 say they're Democrats, compared with 33 percent who say they're Republicans, according to an Upshot analysis of Pew Research Center data over the last year. Even young people who self-identify as Republicans, another Pew survey found, say they hold more liberal views than older Republicans on a wide range of issues — including race relations, the causes of climate change and the involvement of government in people's lives. The youngest Republican voters who supported Mitt Romney in 2012 were the most likely to abandon Mr. Trump in 2016.

The youngest white voters are more evenly split between parties. About half of whites ages 18 to 24 say they're Republicans. They favored Mr. Trump in the presidential election, but those who turned out in the midterm elections very narrowly backed Democrats, according to preliminary data from Catalist, a Democratic data firm. And only 39 percent of 18-to-24-year-old whites approve of Mr. Trump's job performance, the Pew data shows.
More than three in 10 Democrats (31 percent) said they agree that the 76-year-old is out of touch with the challenges that younger Americans face today, compared to 52 percent who disagree. And a third of Democrats (33 percent) agree that Biden is not progressive enough to make the changes Democrats need, compared to 48 percent who disagree.

The poll was conducted March 29-April 1, amid an invigorated controversy surrounding Biden's history of physical contact with women, started by an account by former Nevada assemblywoman Lucy Flores on Friday about an unwanted kiss and touching on the shoulders from the former vice president. It tested both sides of the sentiments about his age and ideology.

Nearly three in four Democrats (73 percent) said his decades of political experience make him an effective leader, and about six in 10 Democrats (59 percent) agreed that Biden can keep the Democratic Party from moving too far to the left on the political spectrum. There were little differences between Democratic men and women.
Female candidates running for president are consistently being described in the media more negatively than their male counterparts. That's what we've concluded after an analysis of 130 articles from mainstream news outlets. It's a disconcerting trend in the 2020 election coverage.

We pointed this out in our first Storybench 2020 Election Coverage Tracker update last month. But with the addition of 70 more articles to our database, the picture has become even clearer. Sanders and Booker maintain their perch on the top of the overall sentiment rankings with O'Rourke right behind them. Warren, Klobuchar, Harris, and Gillibrand all place under them. Again, these findings need to be taken with a grain of salt. The sentiment scoring is imperfect, and despite doubling our dataset, it is still too small to draw any certain conclusions. But the findings beg the question: What exactly is causing this disparity in media portrayal?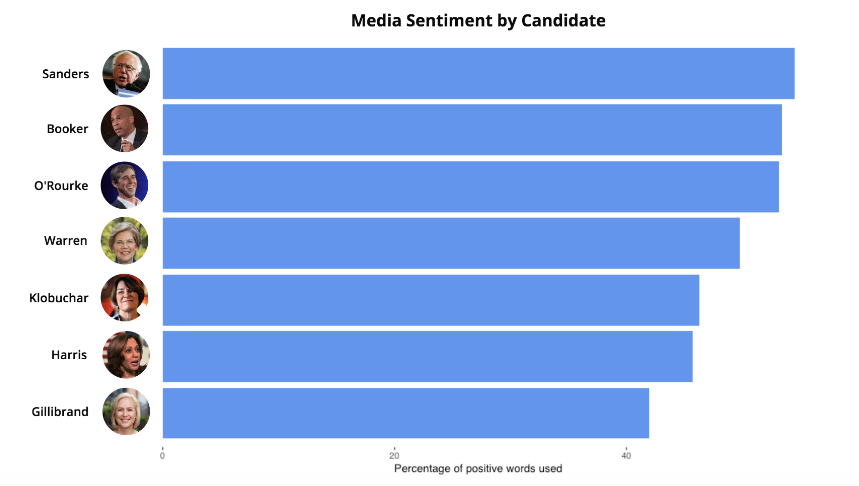 ---
Other Data and Cool Work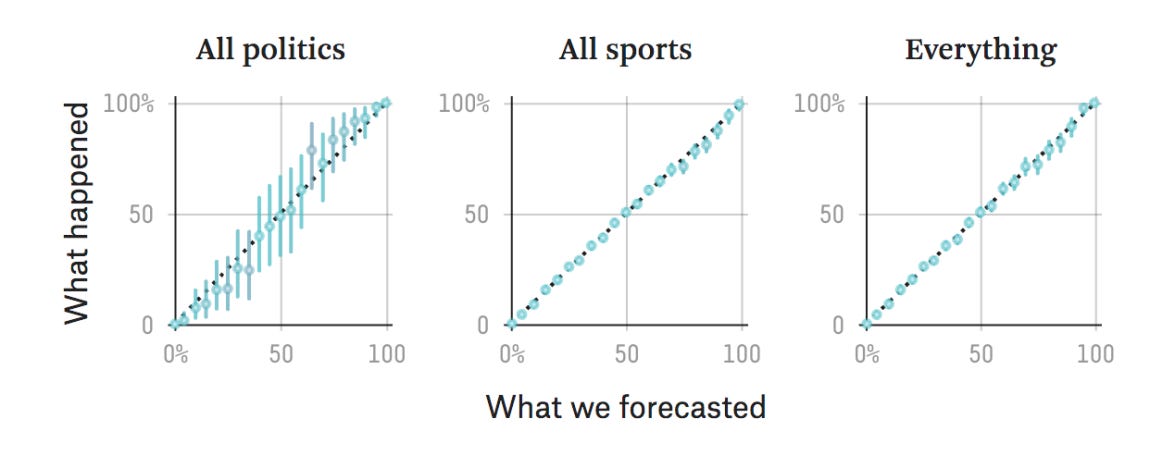 ---
Political Science, Survey Research, and Other Nerdy Things
The big spring political science conference is this week. There's loads of good papers and memes under the Twitter hashtag #MPSA19. I recommend:
Also, this paper finds that Libertarian views are associated with Machiavellianism, and that economic liberalism is associated with Narcissism.
---
What I'm Reading and Working On
I'm writing about GOP efforts to reverse ballot initiatives this week. It'll be in the print edition of The Economist on Friday. I'm still reading Philip Ball's Critical Mass: How One Thing Leads To Another.
---
Thanks!
Thanks for reading. I'll be back in your inbox next Sunday. In the meantime, follow me online or reach out via email. I'd love to hear from you!
---
A Special Thank-you Note to Patrons
My weekly newsletter is supported by generous patrons who give monthly on Patreon, including these individuals who have pledged especially charitable contributions:
Alden, Ben, Calvin, Christina, Daniel, David, Ed, Joshua, Joshua, Katy, Kevin, Laura, Robert, Robert, Thomas, Christopher
Ben, Bob, Brett, Charles, Charlie, Chelle, Darcy, Darren, David, Erik, Fred, Gail, Greg, Guillermo, Hunter, Jay, Jon, Malcolm, Mark, Nik, Nils, Sarah, Steven, Tal, Uri
Like the newsletter and want to help keep it going? Subscribe today on Patreon for access to private posts and other perks.