Discover more from Elliott's notebook
Data-driven writing on politics, public opinion, and elections.
Over 6,000 subscribers
April 28, 2019 📊 Biden is out front, but for how long?
A mid-week email updating my take on Biden 2020. Plus, new Census Bureau data shows that winter might be coming for older, whiter voters.
Welcome! I'm G. Elliott Morris, data journalist for The Economist and blogger of polls, elections, and political science. Happy Sunday! Here's my weekly email with links to what I've been reading and writing that puts the news in context with public opinion polls, political science, other data (some "big," some small) and looks briefly at the week ahead. Let's jump right in! Feedback? Drop me a line or just respond to this email. 
This newsletter is supported by subscribers on Patreon. A special thanks to those who pledge the top two tiers is written in the endnotes. If you enjoy my personal newsletter and want it to continue, consider supporting it on Patreon for just $2.
---
Dear Reader,
This edition comes to you later in the week than has been typical as I wanted to wait for good post-announcement polling data on Joe Biden before crafting my initial take. Now that we have good numbers from multiple pollsters, what once was suggested is now clear: he's the clear front-runner. More on that below. I've got links to new data on voting in 2018, the extents of political polarization and neighborhood re-integration.
Thanks for reading my weekly email. If you like it, please do share online and forward to a friend. The more readers the merrier!
Elliott
---
This Week's Big Question
Biden is way out front, but for how long?
New polling data make clear that Joe Biden is our 2020 front-runner, but there are a range of unknowns that make his prospects uncertain.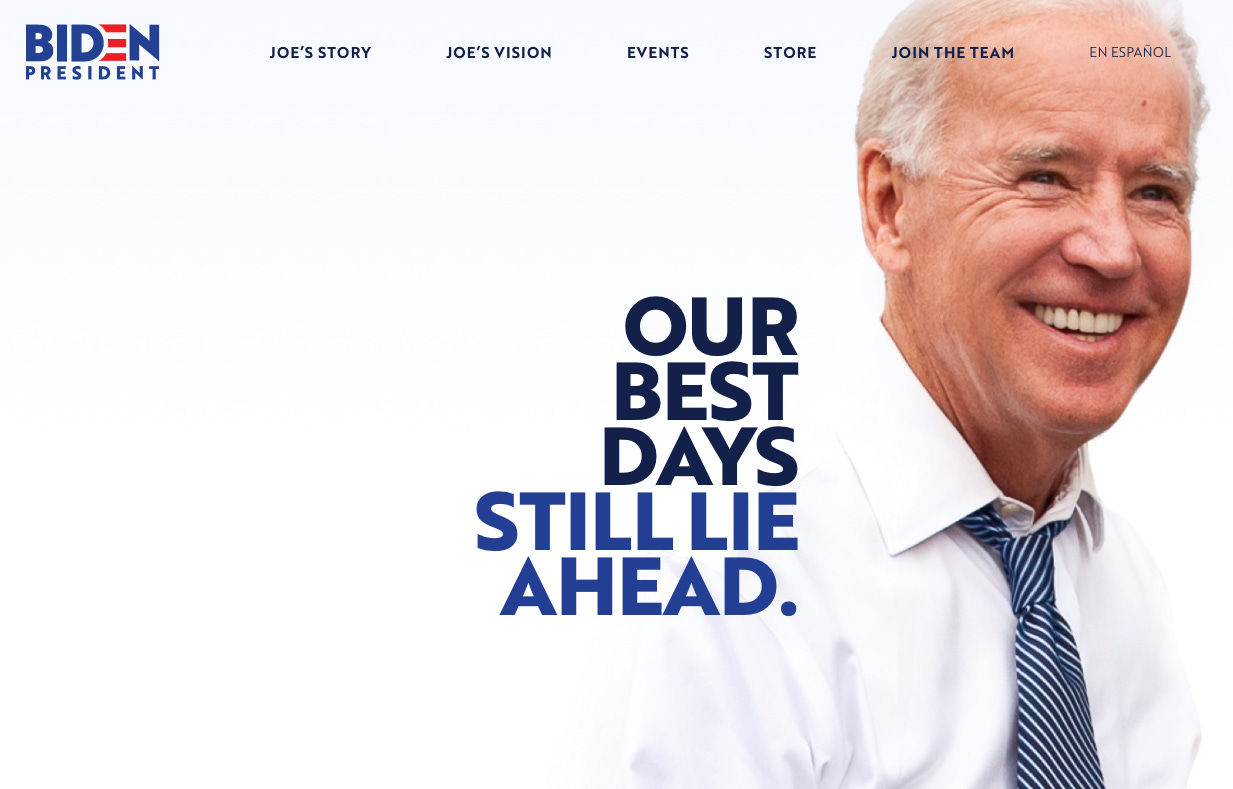 Image: joebiden.com
Joe Biden has been running for president since 1987. That year, he dropped out of the race after revelations that he plagiarized portions of a speech delivered by British Labour Party leader Neil Kinnock. In 2008 he ran again, but dropped out after winning a measly 1% of voters in the Iowa Caucuses. Maybe, just maybe, third time's the charm?
I submit that Joe Biden is currently, and has been, the clear Democratic front-runner for months. He has led in polls of the 2020 primary since the year began. I put emphasis on "currently," as you may think that a secret underdog candidate like Kamala Harris or Elizabeth Warren will be better able to consolidate support after the likely winnowing in the fall and winter—that's fine, but for now it's clear to me that Biden is the top dog. He does look set to keep that position.
Since announcing a week ago, Biden's prospects have only improved. In the current polling aggregate at RealClearPolitics his advantage over second-place contender Bernie Sanders has surpassed 14 percentage points. His share of endorsements from party members, a good indicator of who is ahead and who is behind, has also surged past that of the other candidates, though there's still no clear leader. Time will tell.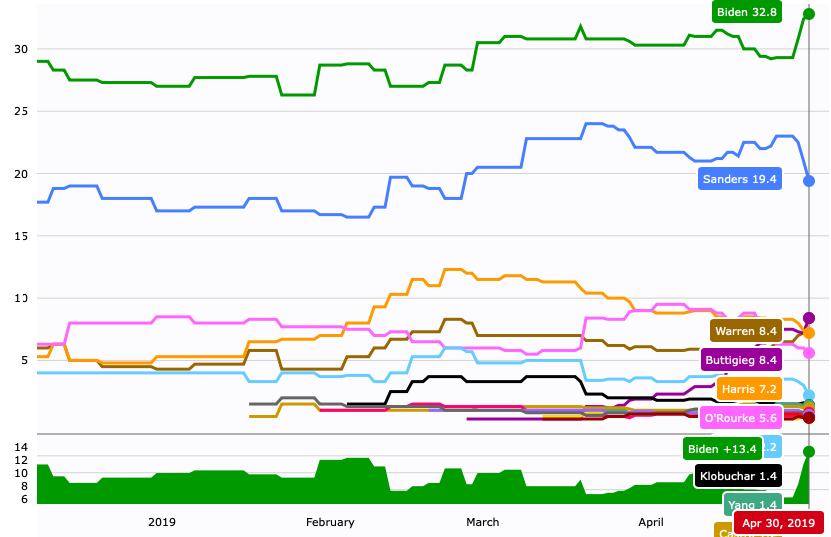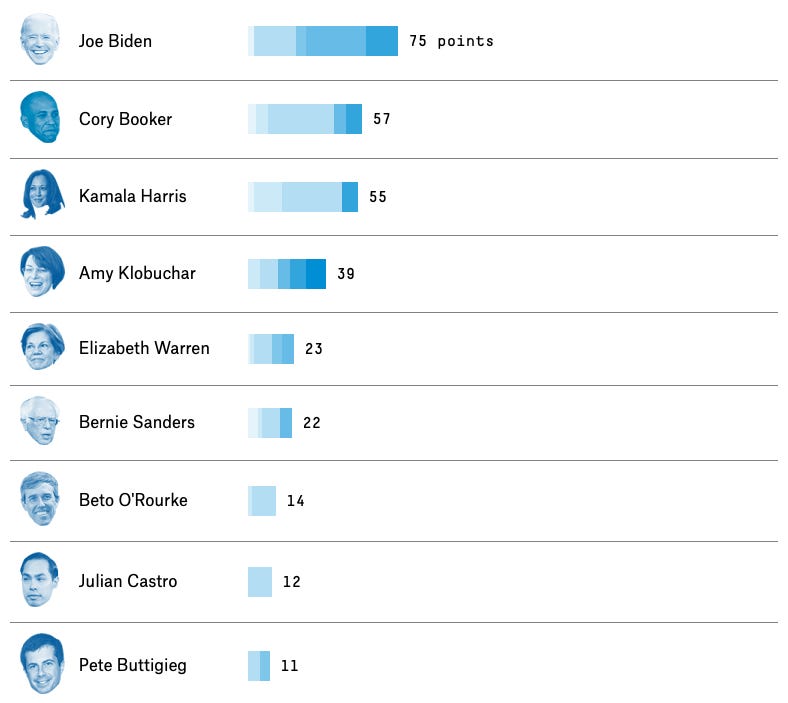 Who does Biden remind analysts of? Jonathan Bernstein says Uncle Joe is akin to Walter Mondale, who barely won the 1984 Democratic nomination. Makes sense to me. Mondale appeared strong early but not a foregone conclusion. That manifest itself in his closer-than-expected victory to an insurgent challenger at the conventions. Kinda sounds like a closer version of the 2016 primary, of which one candidate is again running in 2020, doesn't it? Are we in for a repeat? In other words, Biden looks like a front-runner, but not a conclusion, and there are parallels to the past that make his position appear precarious. Markets put his odds between 1/4th and 1/3rd, which seems right, if not a bit low.
What explains why Biden's odds aren't higher? It might have something to do with what we don't know about 2020. I could say "it's early," but it might serve us better to understand why the earliness matters. First off, polls today are a noisy indicator. We might have a hint at what the signal in them may be, but it's hard to know exactly. My constantly-updating article on the Democratic primary (sidebar: why did we decide to write a blurb for every major 2020 candidate? there are 21 of them now!) suggests that polling at this stage in the primary picks the eventual winner at best about 55% of the time and at worst about 15%. That they put Biden ahead by about 15% ahead is a good sign, but the conclusion is a long way from settled.
We also don't know how the field is going to change after the debates, or frankly, if many candidates at all will drop prior to Iowa. It used to be that a candidate failing to gain traction in the fall was pretty likely to drop out of the race, but the fact that so many candidates are starting off from a place of little to no traction pours a bit of cold water on this theory. And winnowing is important! Fewer candidates means more more opportunities there are to win delegates, as the Democrats' rules of proportional allocation with thresholds means that if ~7 candidates are all hovering around 15-30%, no single one can run away with the nomination. (Then again, if there are 20 candidates and most are under 15%, it actually becomes easier for someone to win with smaller shares of support.)
Biden does have some liabilities though. While polling shows that voters don't much care for his controversial position-taking in the late 20th century (though they might grow to care during the primary process — we'll see!), NBC/WSJ found last month that 47% of voters don't want a president who is over the age of 75. But then again, Trump would be 75 by the time his second term would be over. And who's to say that more skeletons don't fall out of Biden's closer along the way?
---
And now, the most notable stuff I read and wrote over the last week.
---
Political Data
Turnout among Americans between the ages of 18 and 29, Hispanics and those who began or completed a college degree increased 13, 16 and 13 percentage points since the last mid-terms in 2014. Whites and Americans without a college degree—groups that tend to be more loyal than not to Mr Trump—increased their turnout by 11 and 7 percentage points.
In general, the researchers found broad bipartisan support for policies aimed at business investment, especially policies that use taxes and subsidies to incentivize investment. In addition, higher education proposals like investment in community colleges, technical training, and student grant programs garnered support across the aisle. 

There are just two clusters of local issues where the researchers identified consistent partisan differences—labor issues about unionization and union power, and education policies toward school vouchers, charter schools, and free preschool.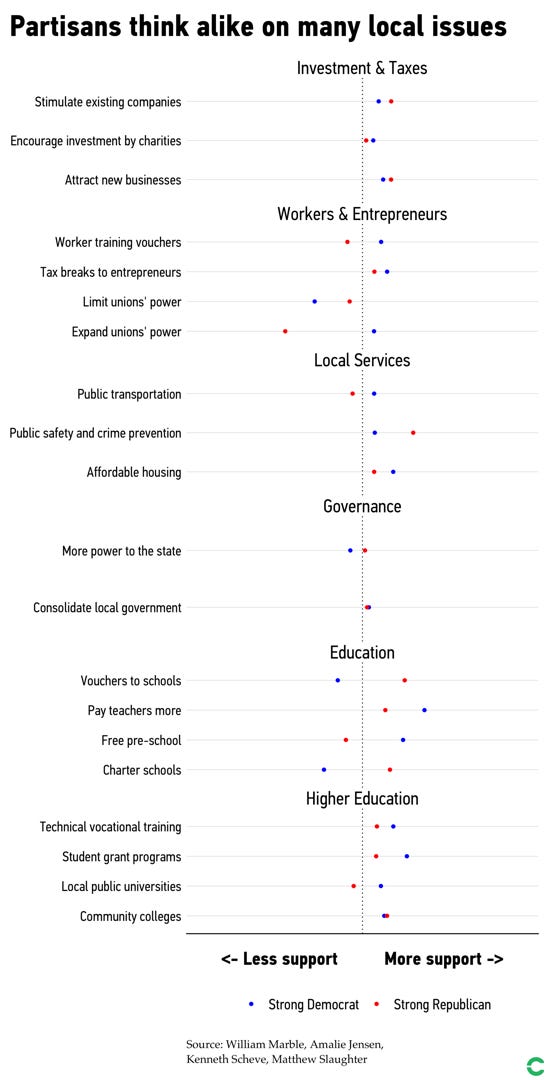 Today, the Democratic Party is in transition. Over all, it is roughly divided between its past and its future, and split about evenly between white voters with and without a college degree, between voters older or younger than age 50, between self-identified liberal and moderate/conservative voters. And the nonwhite share of voters isn't too far from even, at 42 percent.

The fairly even splits make it hard to argue that any particular kind of factional candidate, whether a moderate or a democratic socialist, has an inside path to the nomination.

As much as the Democratic Party has changed, there's still a group of Democrats who hold fairly conservative views on some issues, like the nearly 30 percent who oppose marijuana legalization or say same-sex sexual relations are almost always or always wrong. Beyond them, there's a broader group of voters who hold progressive or liberal views but aren't exactly progressive activists. A majority of Democrats say political correctness is a problem, for example, according to data from the Hidden Tribes project.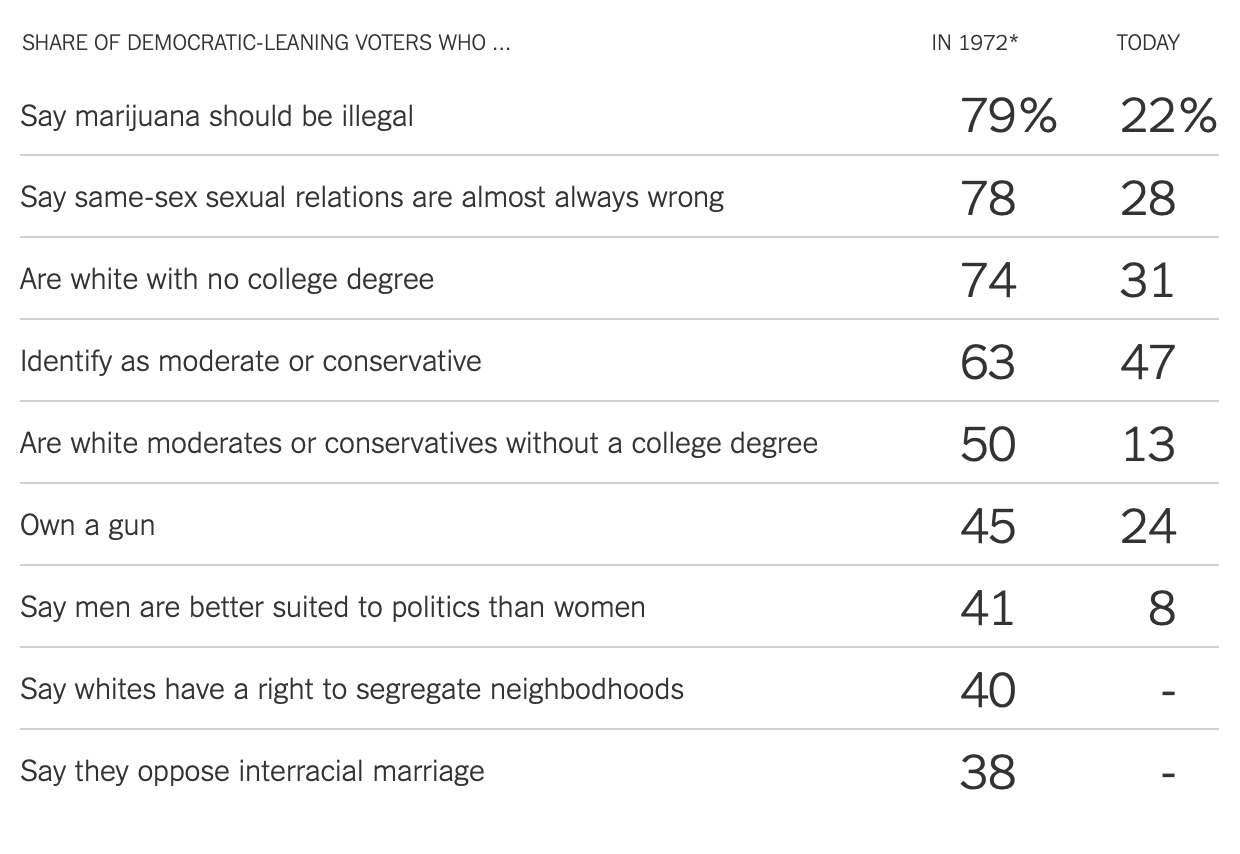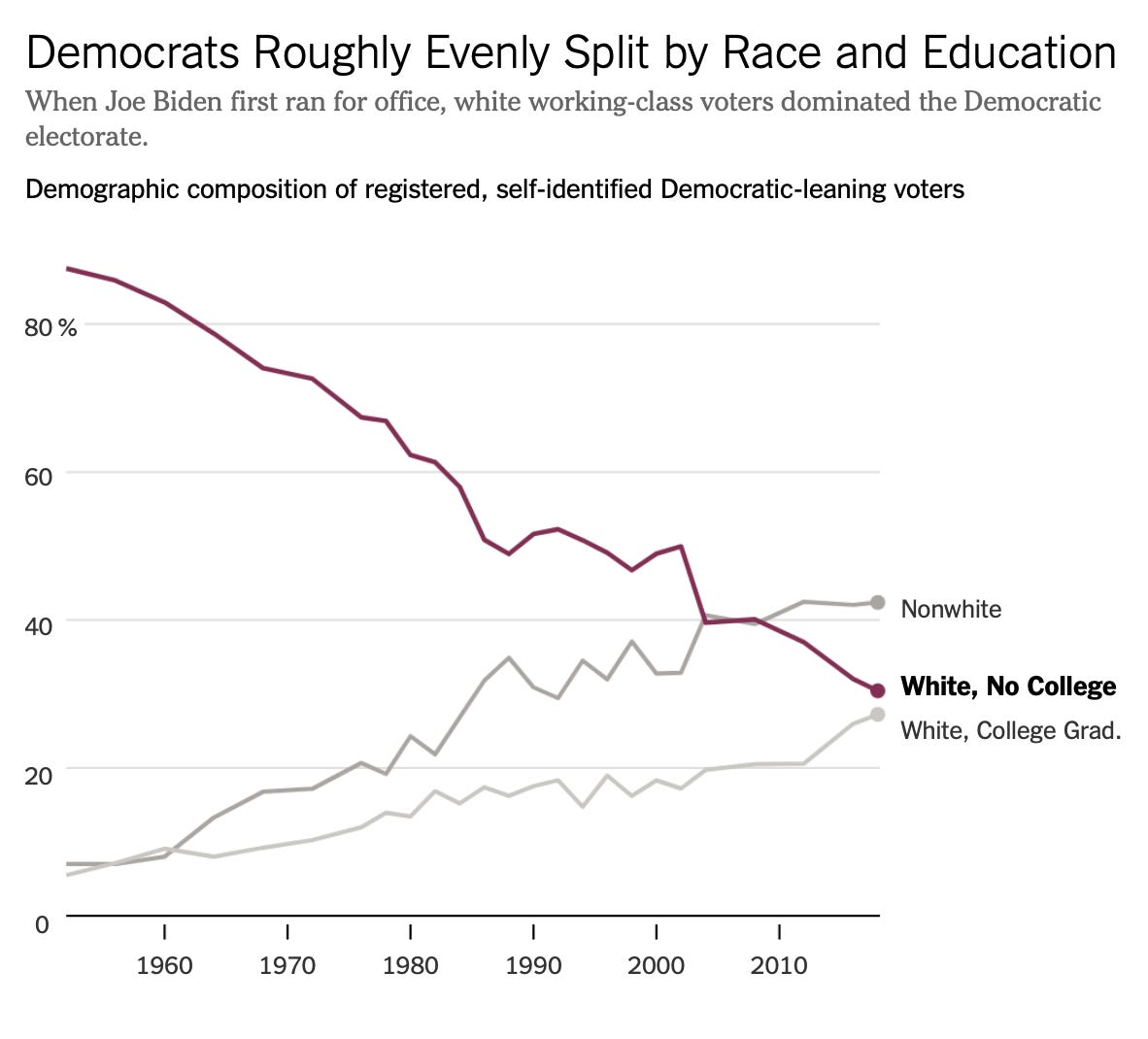 ---
Other Data and Cool Work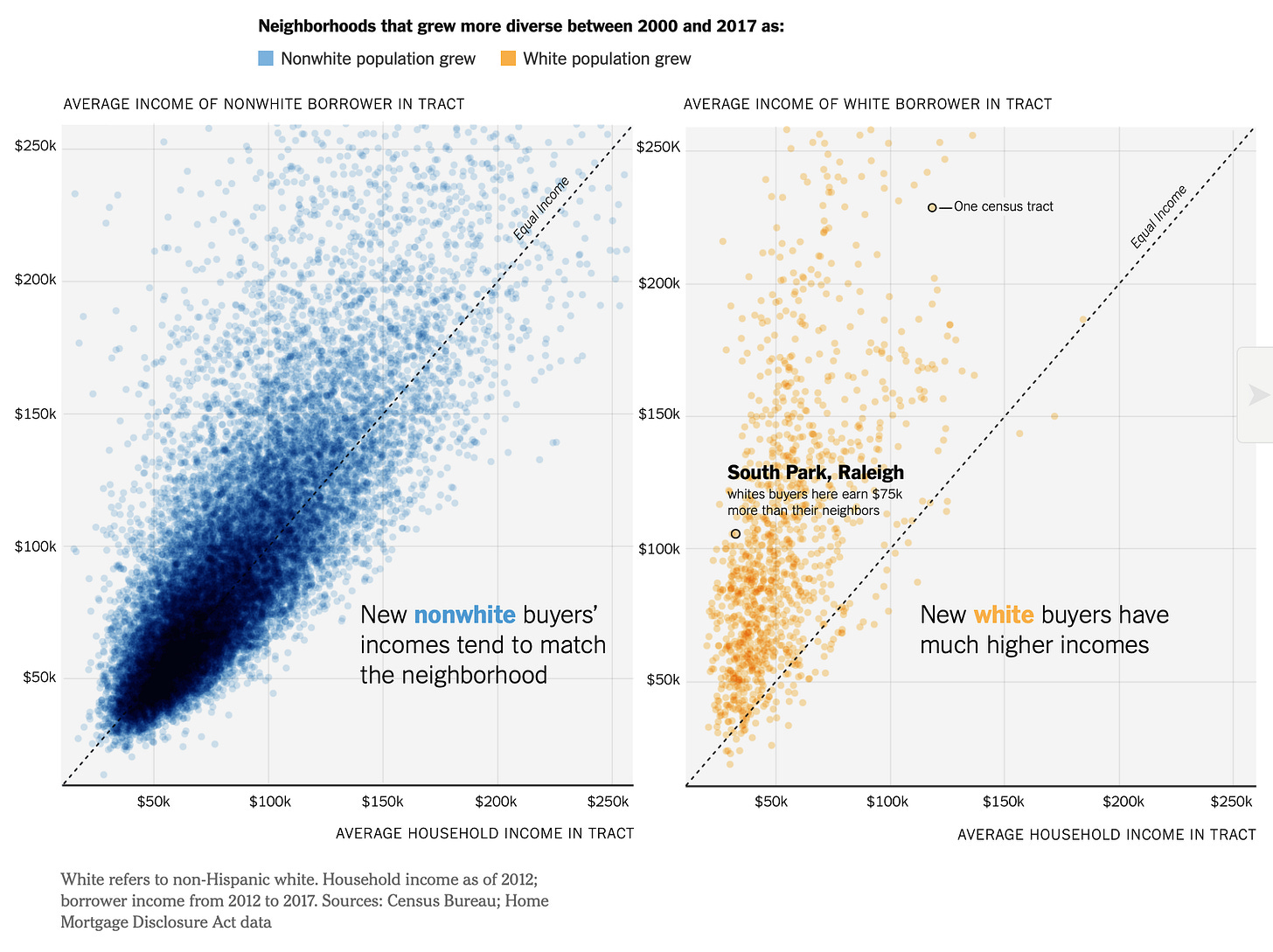 ---
Political Science, Survey Research, and Other Nerdy Things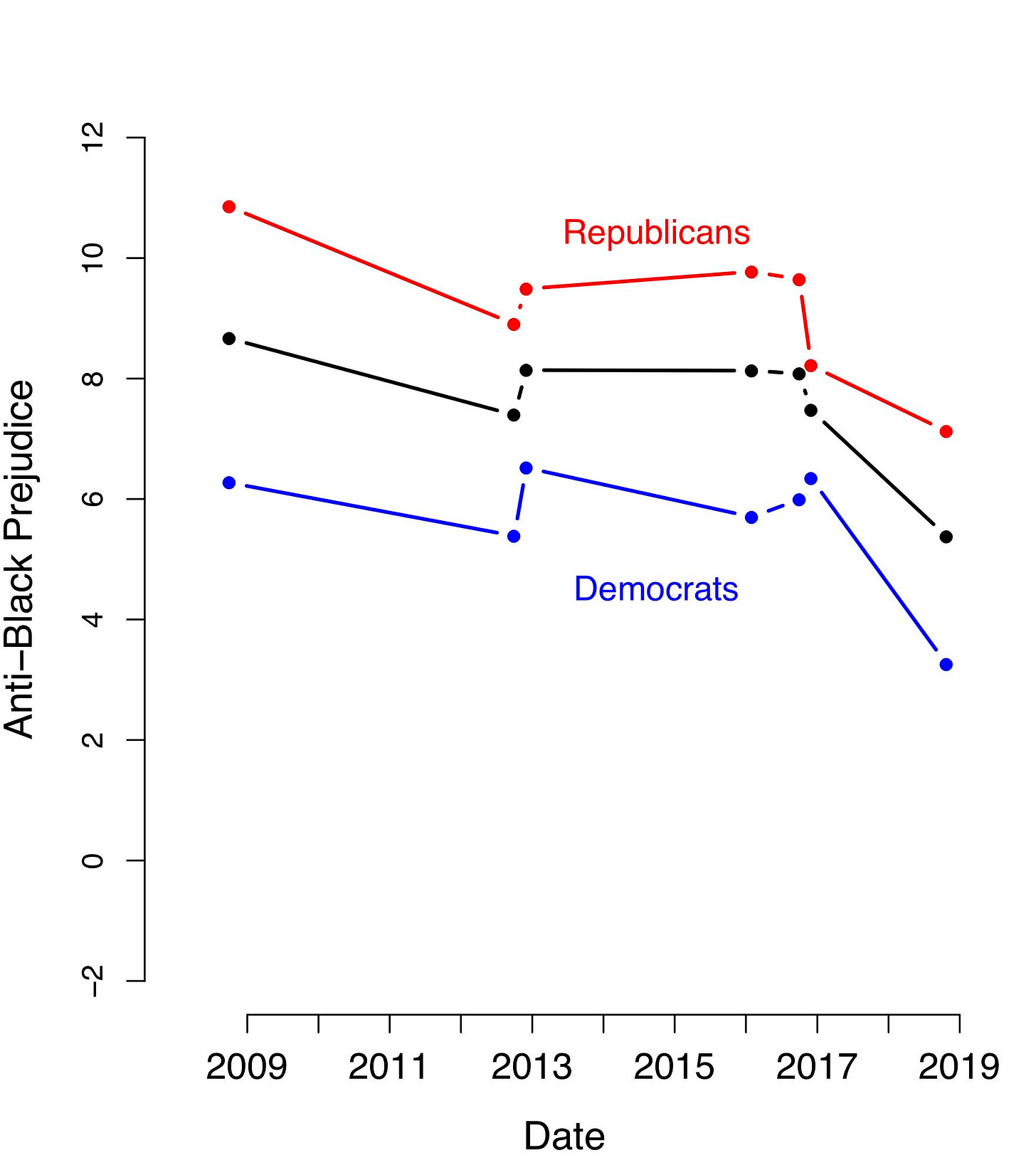 ---
What I'm Reading and Working On
Related to the above, I'm writing about the (falling) interplay between racial bias and white identity. I think you'll be interested to read what I report out next week!
---
Thanks!
Thanks for reading. I'll be back in your inbox next Sunday. In the meantime, follow me online or reach out via email. I'd love to hear from you!
---
A Special Thank-you Note to Patrons
My weekly newsletter is supported by generous patrons who give monthly on Patreon, including these individuals who have pledged especially charitable contributions:
Alden, Ben, Calvin, Christina, Daniel, David, Ed, Joshua, Joshua, Katy, Kevin, Laura, Robert, Robert, Thomas, Christopher
Ben, Bob, Brett, Charles, Charlie, Chelle, Darcy, Darren, David, Erik, Fred, Gail, Greg, Guillermo, Hunter, Jay, Jon, Malcolm, Mark, Nik, Nils, Sarah, Steven, Tal, Uri
Like the newsletter and want to help keep it going? Subscribe today on Patreon.