April 21, 2019 📊 What comes after the Mueller report?
Plus, the funniest Supreme Court justice, the socio-politics of Trump Republicans and when to pay attention to 2020 polling
Welcome! I'm G. Elliott Morris, data journalist for The Economist and blogger of polls, elections, and political science. Happy Sunday! Here's my weekly email with links to what I've been reading and writing that puts the news in context with public opinion polls, political science, other data (some "big," some small) and looks briefly at the week ahead. Let's jump right in! Feedback? Drop me a line or just respond to this email. 
This newsletter is supported by subscribers on Patreon. A special thanks to those who pledge the top two tiers is written in the endnotes. If you enjoy my personal newsletter and want it to continue, consider supporting it on Patreon for just $2.
---
Dear Reader,
I am typing up this week's email as I sit in the airport in Austin, Texas, heading back from a week's vacation that I thoroughly enjoyed (final breakfast taco count: 12). A lot happened while I was taking a break from work (including the fact that I wrote 3 articles for the paper this week!) and I'm drafting my first thoughts about it all to you folks here today.
The big news of last week was, of course, the release of Robert Mueller's (redacted) report summarizing his investigation into Russian interference in the 2016 US presidential election. The headlines have largely focused on the extent of President Trump's efforts to obstruct that investigation. I want to shy away from the squabbling over impeachment and criminal conspiracy (non-existent, according to Mueller, though collusion is a different question than conspiracy) that has ensued over the past four days, answering the question of what this all matters politically. 
I also have included the usual list of goodies at the end of my thoughts about the report, and since I did not issue an email last week due to being on vacation, that section is a bit extra long today. Enjoy!
Thanks for reading my weekly email. If you like it, please do forward to a friend. The more readers the merrier!
Elliott
---
This Week's Big Question
What does the Mueller Report matter?
The conclusions that voters draw will largely be a reflection of their prior opinions about the president. But that doesn't make the seriousness of Trump's actions — principally concerning obstruction of justice — any less important.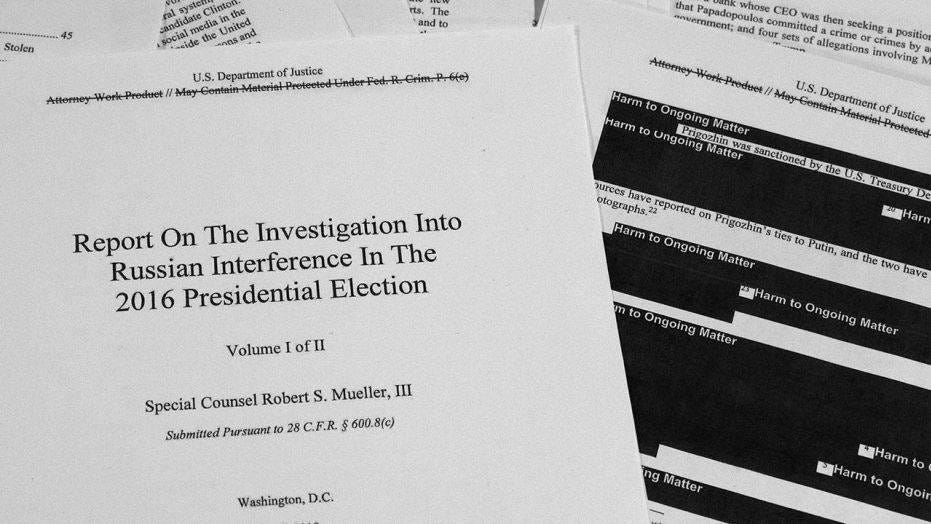 Image: Fox News
Seth Abramson, the prominent (and a bit nutty) left-wing theorist, issued more than 400 tweets about the Mueller Report on Thursday. This is a silly way to start a piece, but it speaks to one thing in particular: the release of Mueller's (redacted) findings has been quite a large deal. You wouldn't know that, however, based on voters' opinions of Mr Mueller, his report and whether or not they think Trump is guilty of a crime. Their opinions are largely unchanged and driven by partisanship. 
The earliest polling done on the post-Mueller political environment has come from HuffPost/YouGov and Morning Consult, which both conduct their polls via online non-probability samples (making them wicked-fast to field, but often different than the live-caller phone polls from the likes of Monmouth and Quinnipiac Universities, Pew Research Center, and the media pollsters — so keep your eyes out for more numbers later this week). The HuffPost numbers show "lots of polarization" and "little consensus" on what comes next: to impeach or not to impeach? 37% of Americans say that President Trump should be removed from office and 41% disagree. While Americans are split roughly equally on removing the president, and many are still unsure about whether to do so, polarization is nevertheless high. Democrats are split 69%-11% in favor of impeachment while Republicans are united 91%-4% against it. The Mueller Report has also changed few minds over the past week. The 2018 VOTER survey found that 44% of Americans favored impeachment. If anything, the Mueller Report has decreased support for removing the president. But again, this is just one poll. (Though we can have two: In the poll I discuss next, 34% supported impeachment.)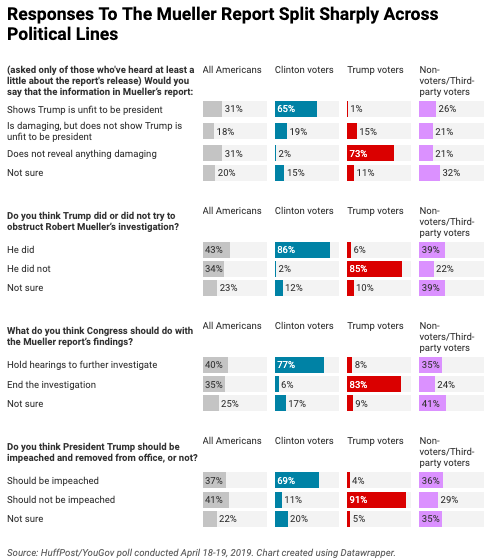 On the other hand, data released on Monday from the polling firm Morning Consult (MC) found Trump's net approval rating to be "at a record low" of -18 percentage points (39% approve to 57% disapprove). But let me pour some cold water on that headline.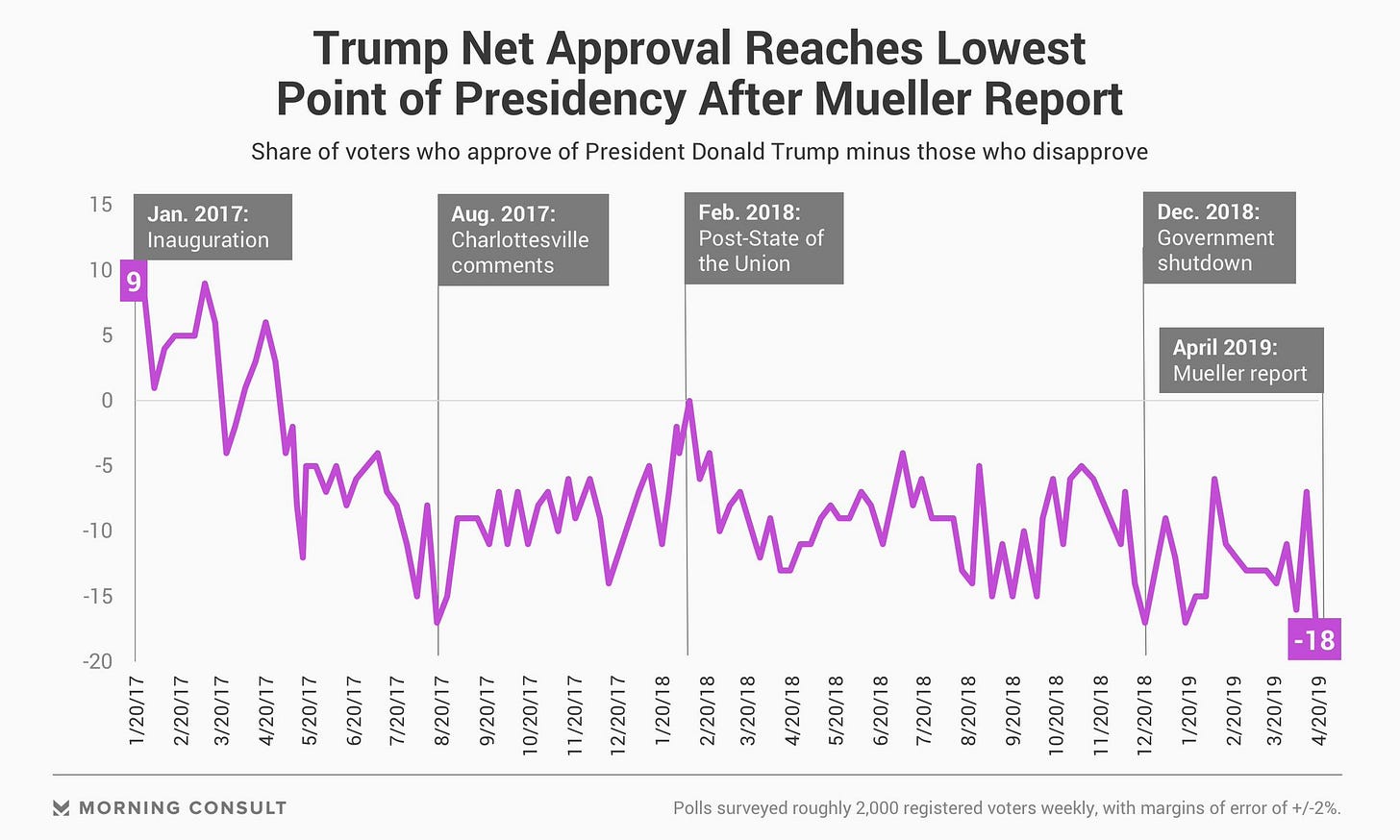 It's likely that the estimate from MC is over-stating movement in Trump's net approval rating. There are two reasons for this. First, MC's polling is rather noisy. They show a 10+ percentage point change in Trump's net approval over the last week, which certainly doesn't pass my gut-check. The trend line looks closer to -13. Secondly, the decrease looks to be driven mostly by partisan non-response bias, a type of survey bias whereby members of one party are less likely to respond to a poll. This tendency is typically motivated by an event that paints a figure in a particularly good/bad light. That seems to be the case with the Mueller Report. Assessing the partisan composition of Morning Consult's interviewees reveals this pattern. In their April 14th poll, MC respondents said by a 3-point margin that they voted for Democrats in last year's House mid-terms. In today's poll, they said so by an 11-point margin. 
Obviously, the results from last year's mid-terms didn't change. Instead, this reveals that their sample was more Democratic this week. More Democratic means more anti-Trump. Of note: this is not a new phenomenon with Trump approval polling. (Note that it may be the case that this week's poll is closer to the truth, as its 2018 Democratic margin is closer to the actual +9.5-point result last November. The argument is that the poll is largely over-stating a swing away from the president.)
We need to wait for more polling to really assess the Mueller Report's impacts on public opinion. That being said, these two data sources align with our priors that the changes will likely be small. I'm open to changing my opinions after seeing new evidence but have yet to find it.
That voters have appeared to match their evaluations of the Mueller Report's implications to their prior opinions about president Trump is not a surprise to me. Our social and political identities in 2019 are so rigid and influential that they determine our attitudes on most issues. We should expect extremely political issues about a polarizing national figure to be the quintessence of this rule, not the exception. But if we're asking how voters have (not) changed their minds about impeachment, Trump, etc. in the wake of the Mueller Report, we might be missing the point about what it really means.
I came away from last Thursday with three takes in addition to "polarization is really bad y'all:" (1) that the US government is not set up with the proper institutions to quickly check and balance a White House that has run amok, either because they weren't set up or because Congress has not set them up; (2) that Trump is a historically weak president; and (3) that any real consequences will come later, if/when Democrats subpoena a cast of characters from the report and the media runs clips from oversight hearings obsessively over the next 18 months.
Our democratic institutions were simply not set up for a time when the government was as paralyzed and without leadership as it is today. The Framers crafted a system in which members were much more likely to reach consensus on issues of constitutional governance than they are today. In the executive branch and in Congress, a lack of consensus had fueled an inability to check the president. As Attorney General Barr's reporting of Mueller's report — which was largely contrary to the contents of the report and evidenced a clear pro-Trump, anti-norms bias — showed, the man in charge of bringing justice in the executive branch certainly is not going to do so. This largely makes "sense," as he was appointed by the very subject of his investigation. But rules from the Justice Department — chief among them that no one can indict a sitting president — means that the power of independent investigators to hold the president accountable can be corrupted as well.
As a result of his inability to indict Trump, Mr Mueller was forced to leave Congress to its own devices in deciding whether to impeach the president for obstruction of justice. But partisanship and polarization have crippled the legislature's ability to engage in a relatively normal investigative process. Not until Democrats took over the House 24 months into the Trump administration did those hearings begin in earnest — and they still face internal pressure from the Trump-loyal GOP minority. Further, since the report's release Democratic House leadership has made clear that impeachment proceedings are hardly on the table. Even if they did start, it seems hardly likely that any GOP members will sign on to support impeachment, making up for any losses among Democrats in swing seats. Thus the question is: Who in the government today is in charge and capable of holding to account a president who, as Mueller has documented, has at least attempted to obstruct justice and at worst, as his own actions have shown, possesses a contempt for the rule of law and constraints of the Constitution? That the answer is unclear is a large reason why the public has lost a lot of faith in their government since the 70s, and why since 2017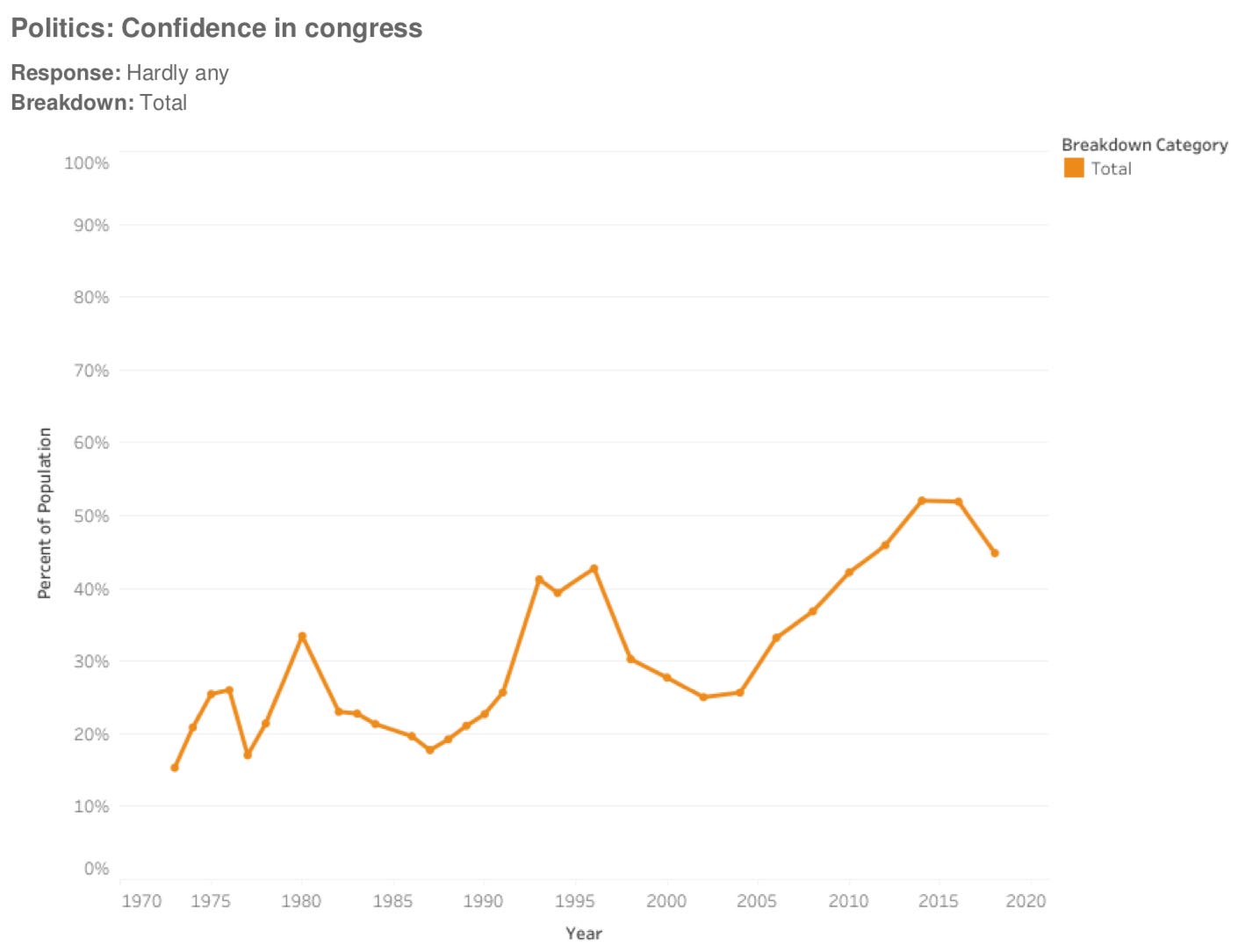 The Mueller Report also lays bare Trump's weakness as an executive. The chief defense of Trump from the wrongdoings in the report — that he didn't know what he was doing and was too weak to get his subordinates to follow his directions to, for example, fire Robert Mueller — is itself an indictment of his presidency. As Matt Glassman, a senior fellow at Georgetown, has written, Trump is a "dangerously weak" president who "holds remarkably little clout in Washington." He meets the traditional Neustadtian criteria for a nearly powerless president. All the while it remains true that a weak executive is a non-partisan problem for the nation. Will Trump's successor inspire trust and respect for the office again?
Finally, I must add that the real fallout from the Mueller report could be yet to come. If Democrats take seriously Mr Mueller's referral for action (or as Yale law professor Samuel Moyn has called it, "democracy promotion"), they may embark on a more serious investigation into the president. Such could entail public hearings and testimony from White House officials, past and present, that hand a microphone to figures such as ex-White House lawyer Don McGahn who testified that Trump commanded him to get Robert Mueller fired in the early days of his appointment to his role as Special Counsel. Clips from these hearings could be damning, especially if aired over the year and a half remaining before the 2020 presidential election. But then again, that is determined almost entirely by which media source you tune into. That should put down most of Democrats' hopes that Republican voters might ever hold the president accountable and might reassure Republicans that Democrats will have a hard time shoring up support for impeachment if the status quo of US politics holds.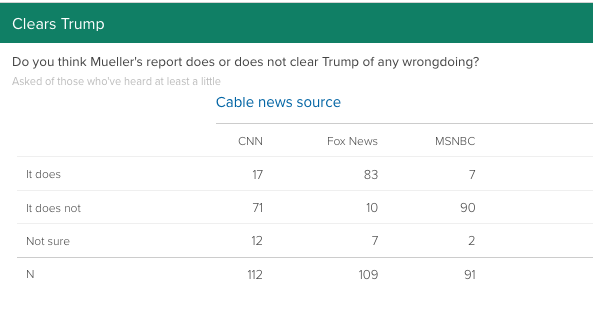 ---
And now, the most notable stuff I read and wrote over the last two weeks. (Due to the length of the list, I haven't included the usual excerpts and graphics. That will return next week, of course!)
---
Political Data
---
Other Data and Cool Work
---
Political Science, Survey Research, and Other Nerdy Things
---
What I'm Reading and Working On
I'm reading Jake Sherman and Anna Palmer's new book The Hill to Die On: The Battle for Congress and the Future of Trump's America.
---
Thanks!
Thanks for reading. I'll be back in your inbox next Sunday. In the meantime, follow me online or reach out via email. I'd love to hear from you!
---
A Special Thank-you Note to Patrons
My weekly newsletter is supported by generous patrons who give monthly on Patreon, including these individuals who have pledged especially charitable contributions:
Alden, Ben, Calvin, Christina, Daniel, David, Ed, Joshua, Joshua, Katy, Kevin, Laura, Robert, Robert, Thomas, Christopher
Ben, Bob, Brett, Charles, Charlie, Chelle, Darcy, Darren, David, Erik, Fred, Gail, Greg, Guillermo, Hunter, Jay, Jon, Malcolm, Mark, Nik, Nils, Sarah, Steven, Tal, Uri
Like the newsletter and want to help keep it going? Subscribe today on Patreon for access to private posts and other perks.