The Crosstab Weekly Newsletter 📊 February 17, 2019
Which 2020 Candidates are Actually More/Less Popular Than Expected? + The GOP is in Trouble With the Young Voters & Primary Polling Predictiveness.
Welcome! I'm G. Elliott Morris, data journalist for The Economistand blogger of polls, elections, and political science. Happy Sunday! Here's my weekly newsletter with links to what I've been reading and writing that puts the news in context with public opinion polls, political science, other data (some "big," some small) and looks briefly at the week ahead. Let's jump right in! Feedback? Drop me a line or just respond to this email. 
This newsletter is made possible by supporters on Patreon. A special thanks to those who pledge the top two tiers is written in the endnotes. If you enjoy my personal newsletter and want it to continue, consider supporting it on Patreon for just $2.
This Week's Big Question
Who is the most popular 2020 candidate?
Harris and Warren lead the field.
In the 2020 nomination cycle, it's really far too early for us to be using polls to predict who is going to win the most votes. After all, the Iowa Caucuses are more than eleven months away and the Democratic National Convention is roughly a year and a half away. As I wrote for The Economist last week, polls at this point in past cycles have predicted the eventual winner about 1/5th of the time, and polls are significantly worse in crowded fields even if you control for name recognition (more on this in a jiffy). 
What instead we may do is rely upon a helpful heuristic: candidates that are better liked are more likely to win. Of course, we still cannot pick a winner this way, but it may give us insight into the hierarchy of the 2020 field thus far.
Looking then at the polling data from The Economist/YouGov, it appears that Elizabeth Warren is the declared candidate with the highest net favorability rating among Democrats, at about 48 points more favorable than unfavorable. Great. Then it's settled. She must be the top-tier candidate, right?
Not so fast.
Warren has high a net favorability partly because a lot of people know who she is; when 80% of Democrats have an opinion of you, it's easier to have a higher net fav than if only 20% know of you. Indeed, in the former scenario, your max net fave is +80, but only +20 in the latter. 
What we should instead do is predict what each candidate's favorability would be if every Democrat had an opinion of them. We can use a simple regression model to adjust net favorability for a candidates' name recognition — in graphical terms, plotting each candidate's name recognition and favorability on a graph and drawing a line through it, then compare each candidate's net fav to the line at their level of name recognition. That's what Nathaniel Rakich did for FiveThirtyEight last week. Though he had a slightly larger sample of candidates and polling the I do, his findings were roughly the same as I've demonstrated so far: Warren and Harris (as well as Bernie Sanders and Joe Biden) have the highest net favs. Compared to what he would have predicted at their level of name recognition, Harris was out-performing the competition.
This is a great exercise, but I think there's something missing: the individual effects of a candidate. Tulsi Gabbard is not well liked, for example, so it's unfair to think that her favorability at 15% name recognition should be the same as that of Cory Booker who is pretty well liked. To adjust for this, I'm going to run a model that predicts net favorability with a candidate's name recognition and that accounts their own candidacy. This way, we can account for a candidate's under/over-performance while running the model. (For those curious, I'm running this as a group-effects model in the Stan programming language).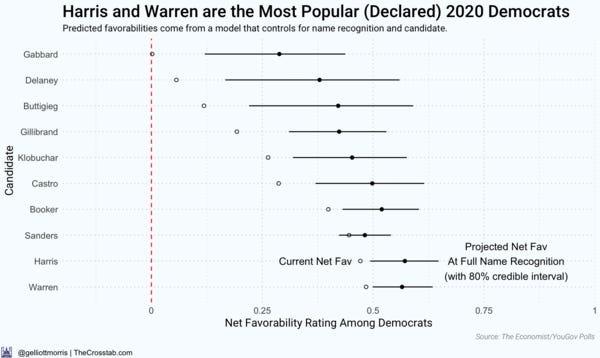 This gives us an accurate prediction of everyone's net favorability at full name recognition that is conditional on their over-underperformance at their current name recognition. It shows, for example, that Kirsten Gillibrand is poised to be pretty popular if we all knew who she was, but lags behind now because she is not well known. Similarly, Tulsi Gabbard may have an upside if everyone gets to know her, but will remain comparatively unpopular. Interestingly, because Bernie Sanders is the best-known candidate (88% have an opinion of him), the model is spitting out predicted net favorability for him at his current level of name recognition. The fact that his current net fav is lower than the predicted (though not significantly so) suggests he may be in for some trouble.
We're less interested in these predictions — which have huge margins of error, as shown — and more interested in how much each candidate is beating expectations. I can extract each candidate's impact on their predicted net favorability as maximum name recognition, and figure this out.  (Note: The black lines here represent a 95% credible interval, whereas in the previous plot they were just the 80% interval.) 
Again, Harris comes out on top and Gabbard lags far, far behind. But please bear this in mind: there is significant uncertainty in these estimates. It's hard to know who is actually beating expectations. The true values will become clearer over time as we get more data. 
Speaking of time, there's something else to address: what if some candidates are getting more/less popular over time? Unfortunately, we don't have enough data to this yet — It looks as if we need 5 or so weeks of polling for each announced candidate to be able to tell if there are lasting trends in the relationship between their name recognition and net favorability. I'll check back in on this later. For now, I've run the model to assume that everyone will convert "don't know" Democrats to the favorable/unfavorable columns at equal rates (which again is not a great assumption) and predicted net favorability (a) at maximum name recognition (b) 6 weeks from now. The differences between this model and the original model are thus: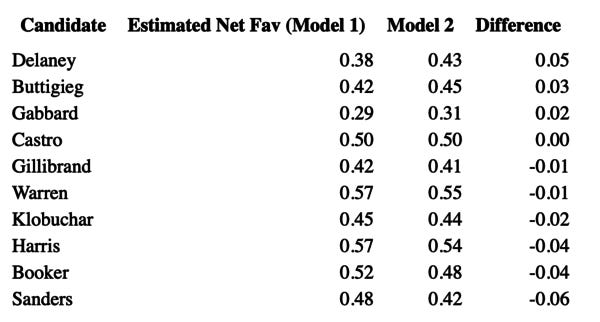 With the recalibrated candidate group effects, Sanders gets about 5% more unpopular in his projected full-name recognition net favorability, and John Delaney moves up 5 percent. But all of these differences are still within the margin of error. What we *really* want is the candidate-specific trend lines, which, again, we simply need more data to analyze.
…
So, what can we conclude from this? First, among declared candidates, it's clear why some people are considering Kamala Harris the favorite. Indeed, betting markets have her at a 23% chance of winning the nomination, higher than any other declared candidate. Notably, that's still a relatively low chance; in English, it'd classify as "unlikely" or "probably not." Tangentially, though I argued the following on Twitter, it bears repeating: I do think markets are undervaluing Joe Biden's odds of winning only because they are uncertain of his actual propensity to run for POTUS. But that's not the broader point of this short piece. Instead, it's that Harris and Warren are indeed beating expectations for popularity, and Gabbard is lagging behind. Everyone else is sort of in a mixed bag in the middle of the pack. This is the important lesson we learn by accounting for name recognition.
Political Data
The Democratic presidential field already looks crowded
AS A BLIZZARD bore down on Minneapolis on February 10th, Amy Klobuchar, a senator from Minnesota, announced before a shivering crowd that she would run for president.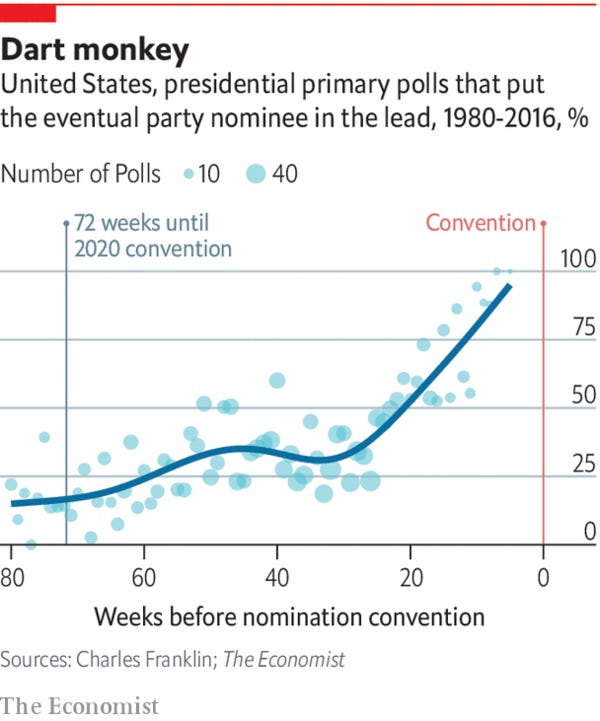 Trump Is Driving Out Precious Republican Voters
The young in particular are slipping away. The authors are political data experts.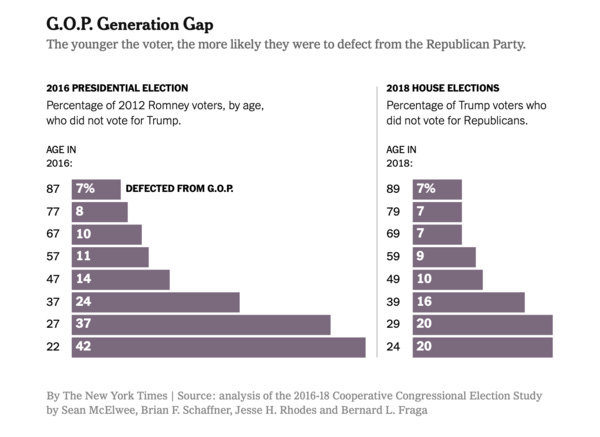 Only About A Tenth Of Americans Think Both Parties Are Too Extreme
Just over a tenth of Americans think that both the Democratic and Republican parties are too extreme, a new HuffPost/YouGov survey finds. Overall, Americans say, 50 percent to 33 percent, that President Donald Trump is too extreme.
www.huffingtonpost.com  •  Share
Kyle Kondik: Incumbent primary losses are not becoming more common overall in the House, but the ones who HAVE lost (Eric Cantor, Joe Crowley) are so prominent that they may make it seem like such losses are becoming more common.
Yes, It Is Really Early for So Many Democrats to Have Joined the 2020 Race
The Democratic presidential field for 2020 is more crowded than typical for this early in an election cycle. Here is the count of candidates each week before Election Day, since 1972. "I'm used to the fact that people get in early, but this is much earlier than usual," said William G.
Trump Keeps Doubling Down On The Same Failed Strategy
President Trump will declare a national emergency and seek money to build a border wall, Senate Majority Leader Mitch McConnell said on Thursday, moments before the U.S. Senate passed a compromise spending bill that didn't include wall funding.
Pew Research Center: 51% of Democrats say blackface as part of a Halloween costume is never acceptable, compared with 21% of Republicans https://pewrsr.
51% of Democrats say blackface as part of a Halloween costume is never acceptable, compared with 21% of Republicans https://pewrsr.
Other Data and Cool Work
Matt O'Brien: "The distribution of wealth in the United States more closely resembles the situation in Russia and China than in other advanced democracies such as the United Kingdom and France." https://www.washingtonpost.
Labor Market Is Doing Fine With Higher Minimum Wages
Almost three years ago, we got a chance to watch a real-time experiment of the impact higher minimum wages would have on job creation after some localities passed laws to raise pay floors.
Political Science, Survey Research, & Other Nerdy Things
Jay Van Bavel: There are ideological asymmetries in the sharing of fake news—much more sharing of fake news on the right (@GordPennycook) But it's unclear exactly why this is the case and how this influences belief in fake news.
Brian Schaffner: New piece w/ @davidjbarney, "Reexamining the Effect of Mass Shootings on Public Support for Gun Control" @BJPolS. We find no evidence that people living near mass shootings become more supportive of gun control, though some evidence of polarizing effects. https://www.cambridge.
What I'm Reading and Working On
It now seems as though I'm stuck in the perennial 2020 poll-crunching news cycle, which should keep generating lots of content over the [*checks notes*] next 625 days. In the meantime, I have a few things on the docket, including writing about global warming and vaccines and finishing up my copy of Fault Lines: A History of the United States Since 1974 from Kevin Kruse and Julian E. Zelizer,
Thanks!
Thanks for reading. I'll be back in your inbox next Sunday. In the meantime, follow me online or reach out via email. I'd love to hear from you!
A Special Thank-you Note to Patrons
My weekly newsletter is supported by generous patrons who give monthly on Patreon, including these individuals who have pledged especially charitable contributions:
Alden, Ben, Calvin, Christina, Daniel, David, Joshua, Joshua, Katy, Kevin, Laura, Robert, Robert, Thomas, Christopher
Ben, Bob, Brett, Charles, Charlie, Chelle, Darcy, Darren, David, Erik, Fred, Gail, Greg, Guillermo, Hunter, Jay, Jon, Malcolm, Mark, Nik, Nils, Sarah, Steven, Tal, Uri
Like the newsletter and want to help keep it going? Subscribe today on Patreon for access to private posts and other perks.