March 24, 2019 📊 Reactions to the End of Mueller's Investigation
Plus, what are the real issues with the Electoral College? Who's in and who's out in the 2020 Democratic primary?
Welcome! I'm G. Elliott Morris, data journalist for The Economist and blogger of polls, elections, and political science. Happy Sunday! Here's my weekly newsletter with links to what I've been reading and writing that puts the news in context with public opinion polls, political science, other data (some "big," some small) and looks briefly at the week ahead. Let's jump right in! Feedback? Drop me a line or just respond to this email. 
This newsletter is supported by subscribers on Patreon. A special thanks to those who pledge the top two tiers is written in the endnotes. If you enjoy my personal newsletter and want it to continue, consider supporting it on Patreon for just $2.
---
Dear Reader,
This is the issue dated March 24th, 2019. I write to you today from a small ramen shop in London's Soho neighborhood. After digesting a large ramen with two scrumptious soft-boiled eggs and a beer from the northern region of Japan, I'm ready to write a first draft of my thoughts about the conclusion of Robert Mueller's investigation.
It has been just over 24 hours since the determinations from the special counsel's investigations were made partially public. I've included here my initial reactions broken down into four helpful categories. In exchange, you'll have to excuse the tardiness of my email. I just couldn't send out an email that didn't bring some data-driven analysis to the conversation surrounding these very important recent events.
Do read on after the big piece for a collection of the noteworthy data-driven stories I read last week. I'll note that it's an exciting time to be a data journalist. There's a lot of good stuff being produced these days.
Thanks for reading my weekly email,
Elliott
---
This Week's Big Question
What Matters About Mueller's Conclusions?
The Special Counsel appears to have concluded that there was no direct Russia-Trump collusion in 2018, but the situation is complex and muddied by a politicized Attorney General and hyper-active press.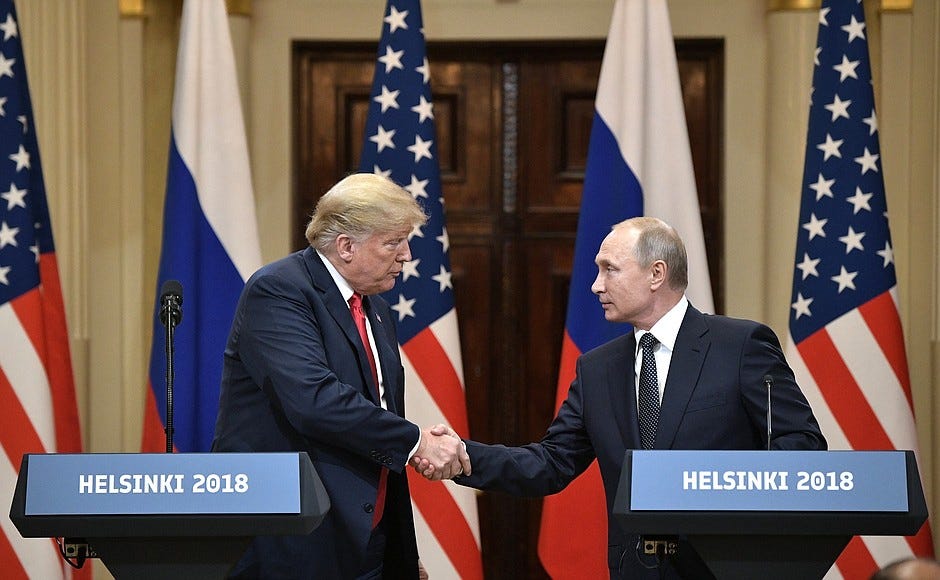 On Friday, Special Counsel Robert Mueller issued the long-awaited conclusions from his investigation into whether members of the 2016 Trump campaign actively and intentionally colluded with Russians to get a leg up over Hillary Clinton—and whether Trump obstructed that investigation. His conclusion on the matter of collusion was in the negative. US Attorney General Bill Barr also declined to pursue charges of obstruction of justice against President Trump, writing that Mueller left the case unresolved and gave the Justice Department discretion over the matter. In a line that is showing early signs of becoming the title for someone's book on the probe, Barr relayed Mueller's writing that he did convict the president of anything, but he also did not exonerate him—despite some claims otherwise:
But here's my question: what does it all matter? Relative to other issues, do voters put any significant weight on this? Do politicians? What can Trump now do that he couldn't otherwise? Does the press emerge beaten or resolved? Perhaps it is helpful to break down my initial reactions to the conclusion of Mueller's probe into four categories: the president, the parties, the press, and the public.
The President
In the simplest of terms, Mueller's report is a big win for the president. He won't have this investigation hanging over his head for the rest of his term(s) (though the spin-offs, such as the Southern District of New York's investigation into campaign finance violations, are still ongoing) and can perhaps be freer to pursue his political will.
I don't necessarily buy this line of thinking, though. The argument is built off of the necessary truths that the investigations somehow constrained President Trump until now, and I'm not sure we have evidence to this end. On the contrary, some of Trump's most prolific tirades came after big prosecutorial events, such as his 2 hour rant at the 2019 Conservative Political Action Conference, which occurred just a week after Michael Cohen's testimony to Congress. (Recall that in his testimony Cohen said president committed federal campaign finance violations, and was seeking a condo deal with Russia during the 2016 election, among other things.) You can often easily tell when the news about possible Russian collusion is getting under Trump's (arguably thin) skin. With this aggravator removed, will he now actually be a cooler-headed president? I think we'd be reading too much into the situation to say either way. I digress…
What we can say is that the president faces less a threat of impeachment now than he did yesterday. According to the traders on PredictIt, the implied odds of Trump being impeached in his first term have fallen to at least a 90-day low, down from 51 to 17%. That's nothing to scoff at.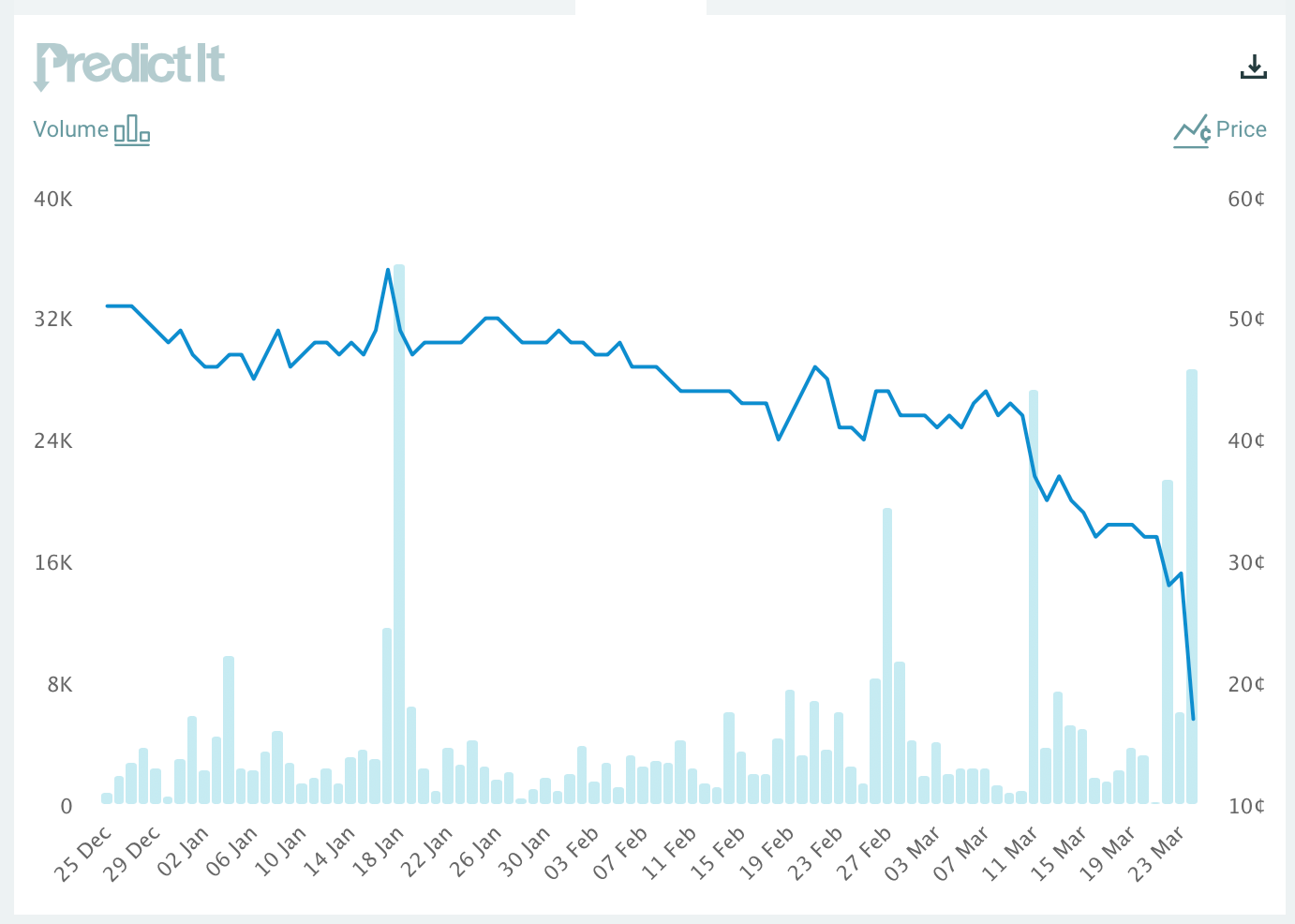 It's always foolish to bet on Trump's behavior, but I do bet he gloats about this win for some time to come. And I think the lack of Mueller-brought charges of impeachable offenses helps many in his administration sleep deeper this week. But there are other investigations ongoing—that's why the above odds are not zero—and the SDNY case in particular looks much worse for the president than did Mueller's, which always seemed to rely on finding a smoking gun that proved that the Trump campaign colluding actively and directly with Russian state actors to undermine the 2016 election. That was always a significant burden, and it seems significantly higher than the SDNYs burden.
The Parties
In some respects, this one is easy to solve. The parties have made clear for a while that they would continue with their current course of action unless Mueller directly concluded that Trump committed a crime. For Democrats, that means continuing on with their own investigations into Trump's legal misgivings. They have their own authority—their own subpoena power—and (importantly, and we'll get to this next) the will of their voters at their backs. According to The Economist's polling with YouGov, 82% of Democrats believe that Russia interfered in the 2016 presidential election, and nearly half of the party believes that Trump himself did something illegal during the campaign. They want to see indictments at the top, and they largely want to see the president removed from office. For good reason, they also simply want to see the full Mueller report for themselves.
Republicans believe the complete opposite, and post-Mueller really seem to be taking the "witch hunt" narrative to heart—by which I mean it sure looks like they are stirring up their own witch hunts. Trump on Monday vowed to investigate the people who did did "evil" and "treasonous things," (investigating a president is not treasonous, FWIW) and at least some Republicans are agreeing with him: Lindsey Graham today called for an investigation into the FBI.
The partisan lines on the issue were never hard to spot, and it doesn't seem like they're going away now. They remain steadfast, hardened and, well, partisan.
The Press
Primarily, I think it is evident that Republicans have a lot of ammo to justify their attacks on the mainstream media, and I wouldn't be surprised to see faith in the press fall even further among GOP voters. In many ways Mueller's report is just an affirmation of what Fox and Friends has been shouting about every morning for the past 2 years. I don't agree with these assertions, and I have long maintained that the view among Fox-watching Americans that the media is out to get them is wrongheaded, dangerous, and a product of Murdoch's well-oiled propaganda machine. However, I do agree with some commentators on the right that the media will likely face some backlash for how they treated the investigation—specifically, the conclusion of it, not the coverage of how it was being conducted.
The fact that WaPo, NYT, and CNN all ran with headlines today that covered only the Trump-appointed AG's writeup of an investigation into the president is… not ideal. That's because it lets the Administration's biased interpretation control the whole narrative, and gives maximum coverage to the "NO COLLUSION" takes. These takes that are delivered just as Americans are turning into the issue. Point being, voters will probably miss out on all the nuance that clearly makes Mueller's conclusions not a "Complete and Total EXONERATION." Some share of Americans will believe these lies because the issue isn't covered correctly. Of course, this is what gets the network good ratings, and it's not a complete falsehood, so on what grounds can we really attack it? Perhaps we can describe the moves as… wrong-headed? I'm not sure. But this brings me to the final point:
The Public
Theoretically in America, the public decides everything about their national government. They (indirectly) elect the president, who oversees the entire bureaucracy. They (super indirectly) elect the Supreme Court, which can check that ever-expanding bureaucracy. They elect their House and Senators via plurality vote, and in turn are supposed to reap the rewards of representation. But when voters are fed information which could bias their thinking, these crucial checks that voters provide against the oft-mitigated misfortunes of fate can be hindered. Arguably, that's how we got Trump (see: media coverage of the October 2016 Comey letter).
That is one argument for why the conclusions from, partisan interpretations of, and press coverage of Mueller's now-finished report are rather serious. But here's another case to be made: voters care about other things. Sure, those who obsessed over the Trump-Russia connection and staked some of their reputation on it have been dealt a blow, but consider this: in the 2018 midterm elections, half of the ads that Democrats ran were about health care. Not one popular category was about Mueller's investigation: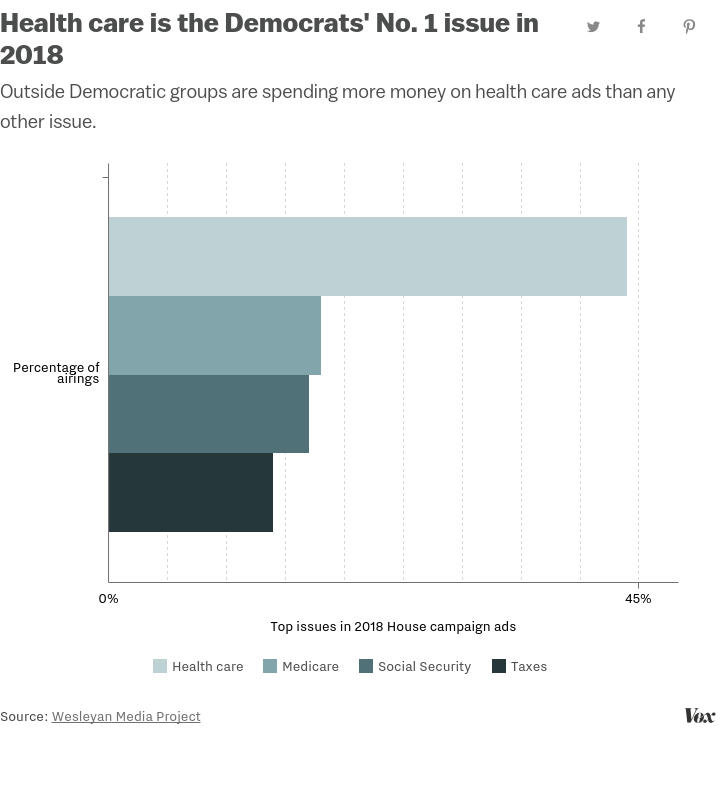 I think the simple facts are these: one, that voters on average simply craft their decision about collusion to reflect their opinion of Donald Trump. Like him? No collusion; Don't like him? Impeachable coordination with a foreign power. That's what theories about partisanship tell us to expect about most other policy issues. I don't see why Mueller's investigation is different enough to warrant a departure from those theories.
And two, voters just don't care about the investigation when other issues are at stake. The reality is that social spending and tax burdens are far more important to voters than a shadowy investigation into the president's possible law-breaking, especially if, like discussed earlier, many have already decided for themselves whether or not he did. It does seem a little clearer to me that there would have been real electoral impacts of an indictment of the president or someone close to him. It's less clear to me that a non-indictment has effects similar in magnitude (though opposite in direction).
…
If you're think that it seems hard for me to come away from the Mueller report thinking that today's politics will really change that much, you're right; I don't. I wouldn't be surprised if a noticeable shift happened in Washington's cigar clubs and politician-frequented bars, but out in real America (and I don't mean this in the way that conservative circles define "Middle America," but to mean "not Washington"), and among mainstream voters, I'm not sure it changes many people's minds about much of anything. And I'd be really, really surprised if the news changes their votes. If you were going to vote against Trump in 2020, you're likely still going to, because other factors have been placed on the table that keep you from walking away.
---
And now, the best stuff I read and wrote last week:
---
Political Data
The true quirkiness of the Electoral College comes from how states award their votes, not how many votes each state has: It's (largely) winner-take-all. This is the feature that defines the character of American presidential elections. A candidate who narrowly wins the tipping-point states will win the presidency, regardless of the margin of victory in the rest of the country. That means there's no incentive for candidates to campaign in any noncompetitive state, whether it's a populous one like California or the opposite, like North Dakota. The winner-take-all bias that elevates the battleground states overruns all of the other biases. If the big states were close and competitive, the big states would decide our elections — as they did until fairly recently. In 1888, another time there was a split between the popular vote and the Electoral College, the candidate who prevailed (Benjamin Harrison) swept the nation's largest states — including its largest, New York, by one percentage point.
To measure the media response to these campaign announcements,1 we again turned to the Internet Archive's Television News Archive, with the help of the GDELT project's television explorer. We used this data to figure out what share of the overall news coverage on CNN, Fox News and MSNBC mentioned a candidate in the days leading up to and after the campaign announcement. (For candidates whose campaigns have launched since Dec. 31, 2018.)2 We found that Bernie Sanders and Beto O'Rourke saw dramatic, mountainous peaks in mentions immediately following their announcements, and in some cases still days after. Cory Booker, Kamala Harris, Amy Klobuchar and Elizabeth Warren saw more modest bumps. And others — such as Pete Buttigieg, John Hickenlooper and Jay Inslee — saw molehills.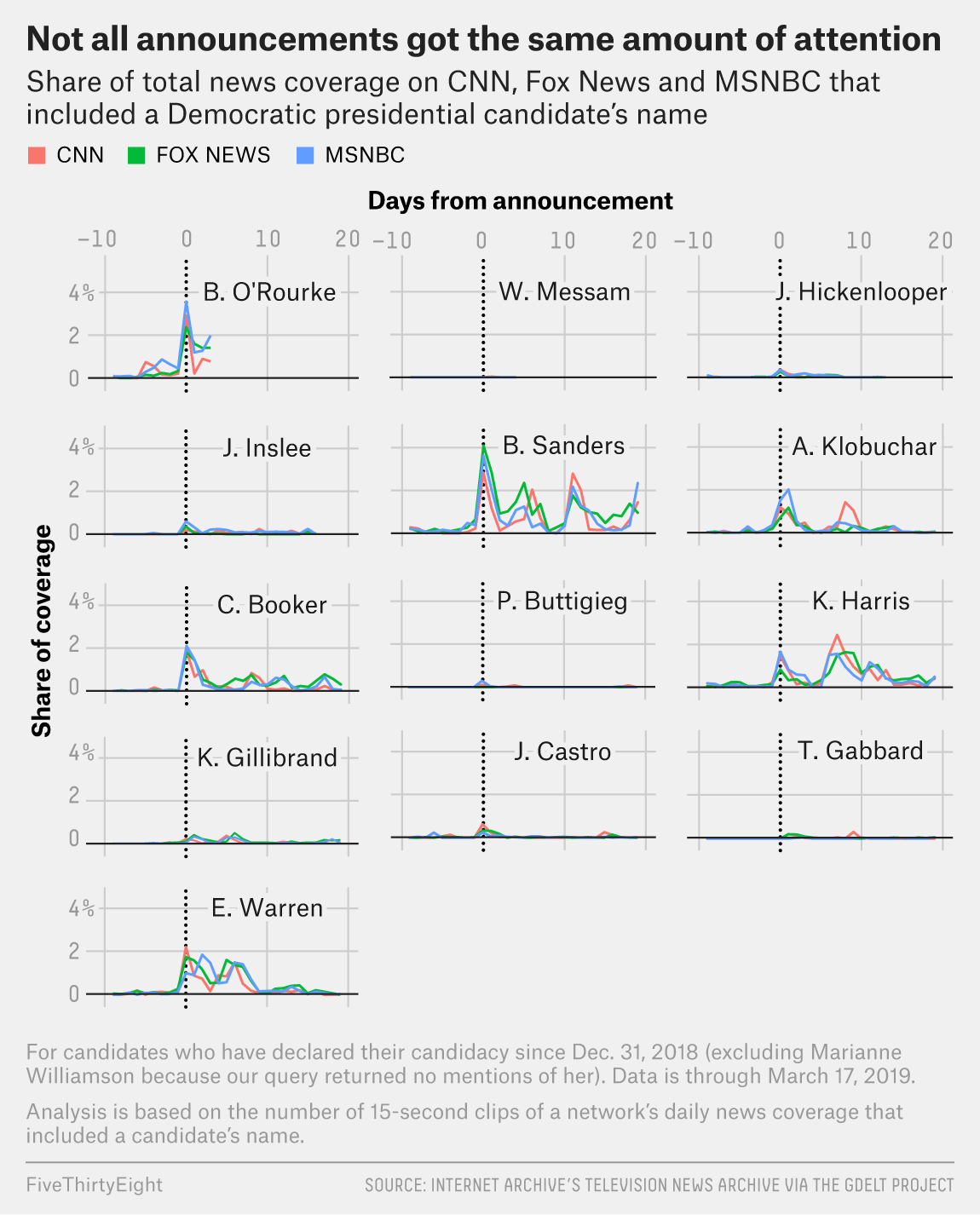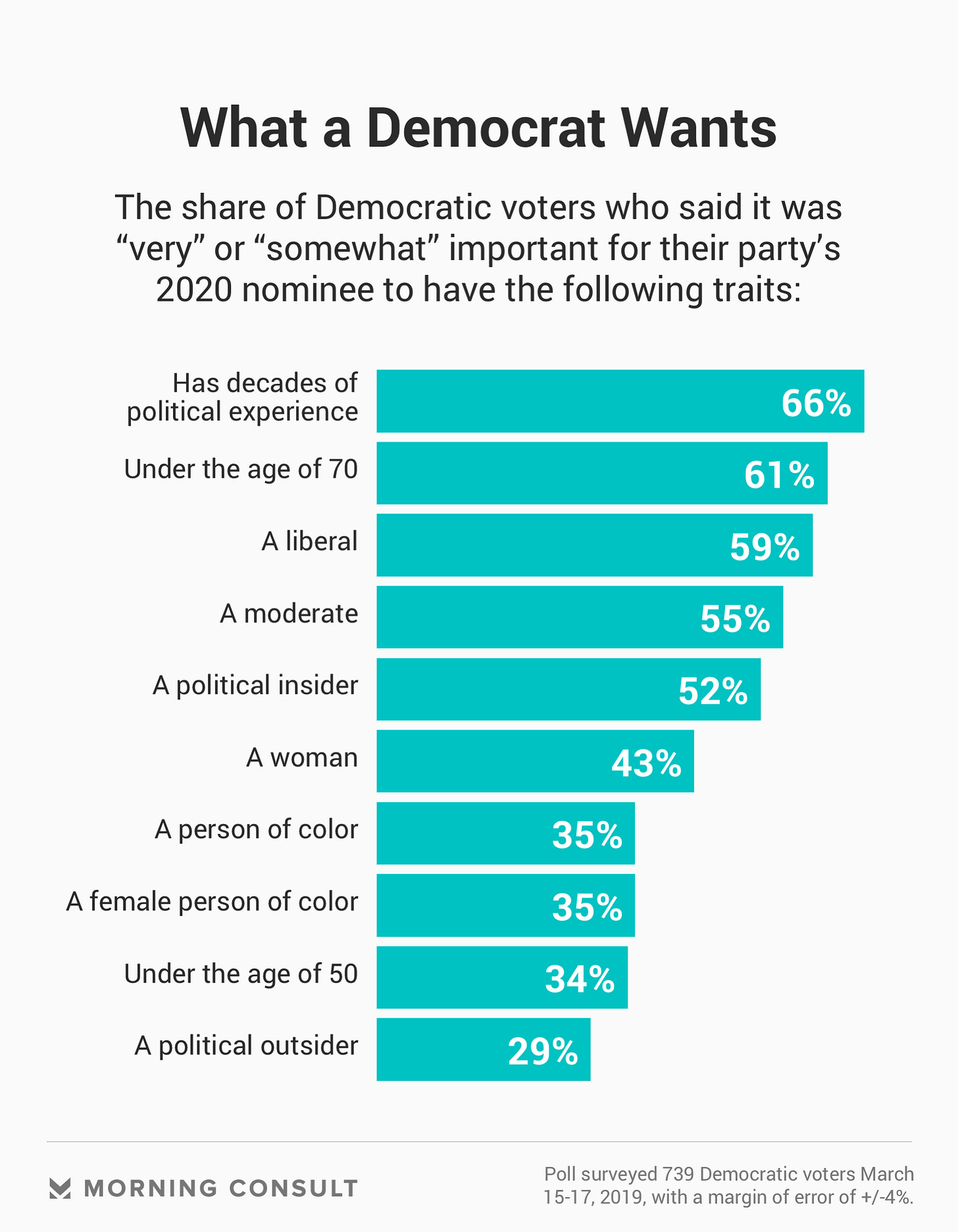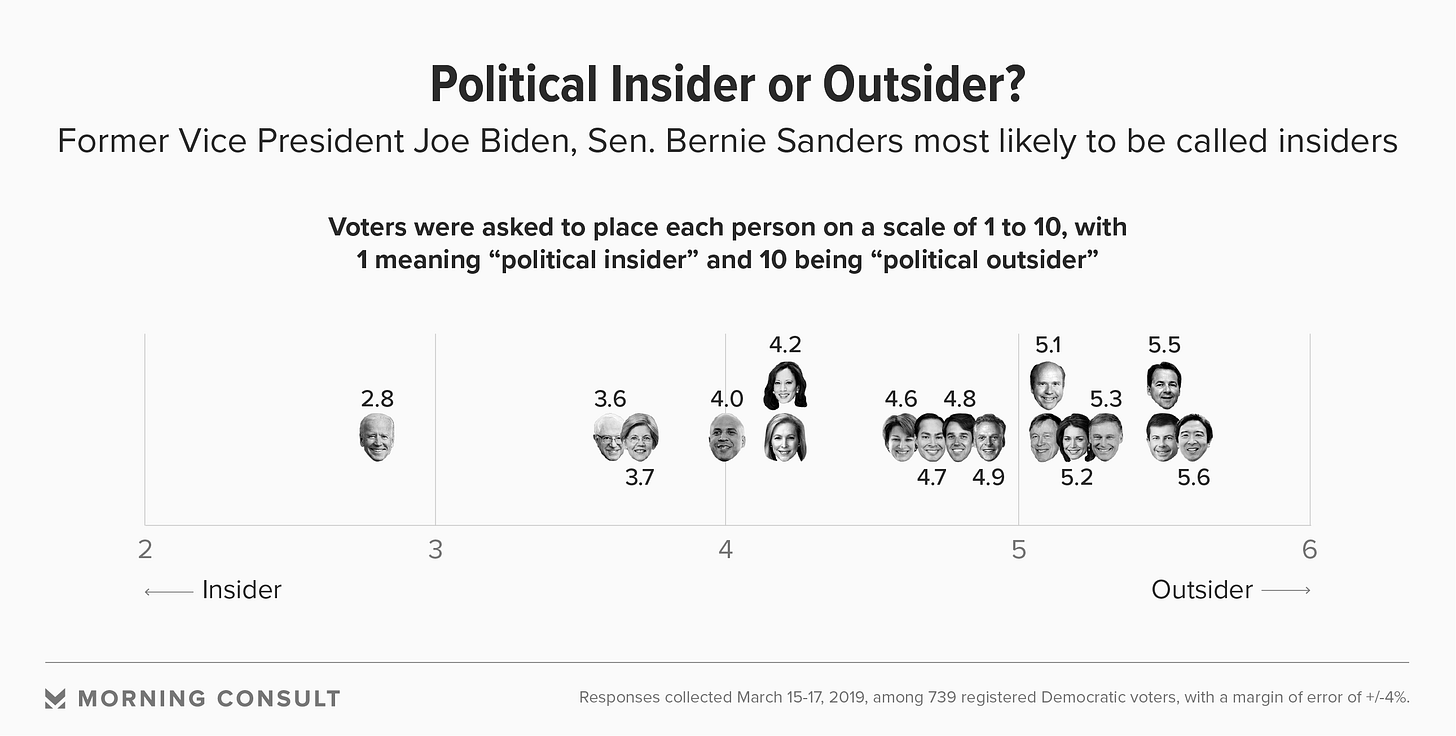 The survey, conducted by NORC at the University of Chicago, finds the share of adults who are not black blaming lack of motivation among blacks for racial disparities fell 10 percentage points to 35 percent over the same period. The 2018 survey marks the first time in four decades that more nonblack adults blamed discrimination than lack of motivation among blacks. A still-larger 49 percent of nonblacks faulted the racial gap on a lack of educational opportunities needed to rise out of poverty, a concern up nine points since 2014. The shifts parallel a rise in concern about racial equality in the years after the fatal police shooting of Michael Brown in 2014 in Ferguson, Mo., which sparked protests over police treatment of black Americans across the country. Last year Congress passed and President Trump signed a sweeping criminal justice law aimed in part at curtailing punishments that were criticized for disproportionately affecting black Americans, and Democratic presidential candidates have focused on combating racial inequality with some encouraging a discussion of reparations for slavery.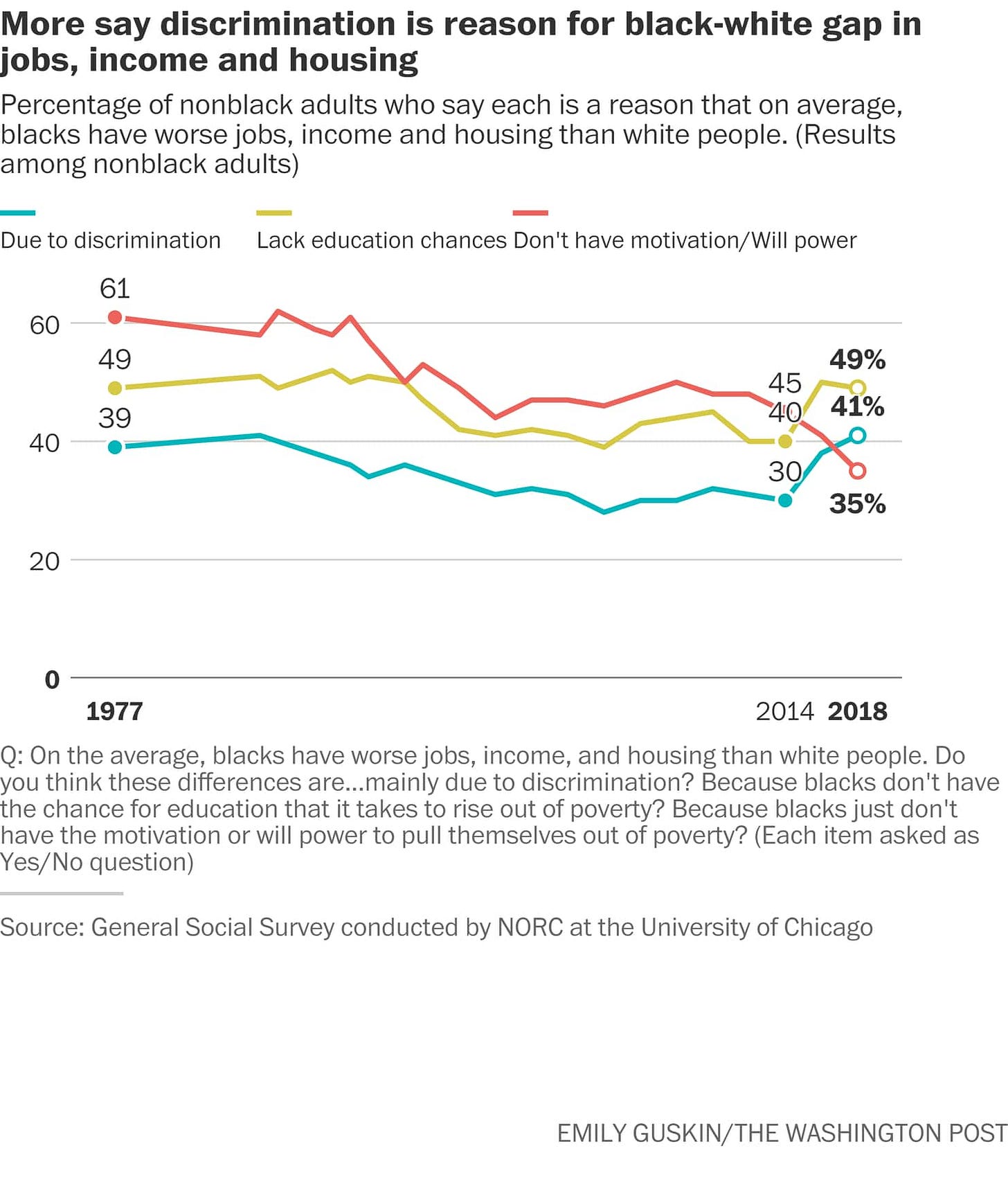 ---
Other Data and Cool Work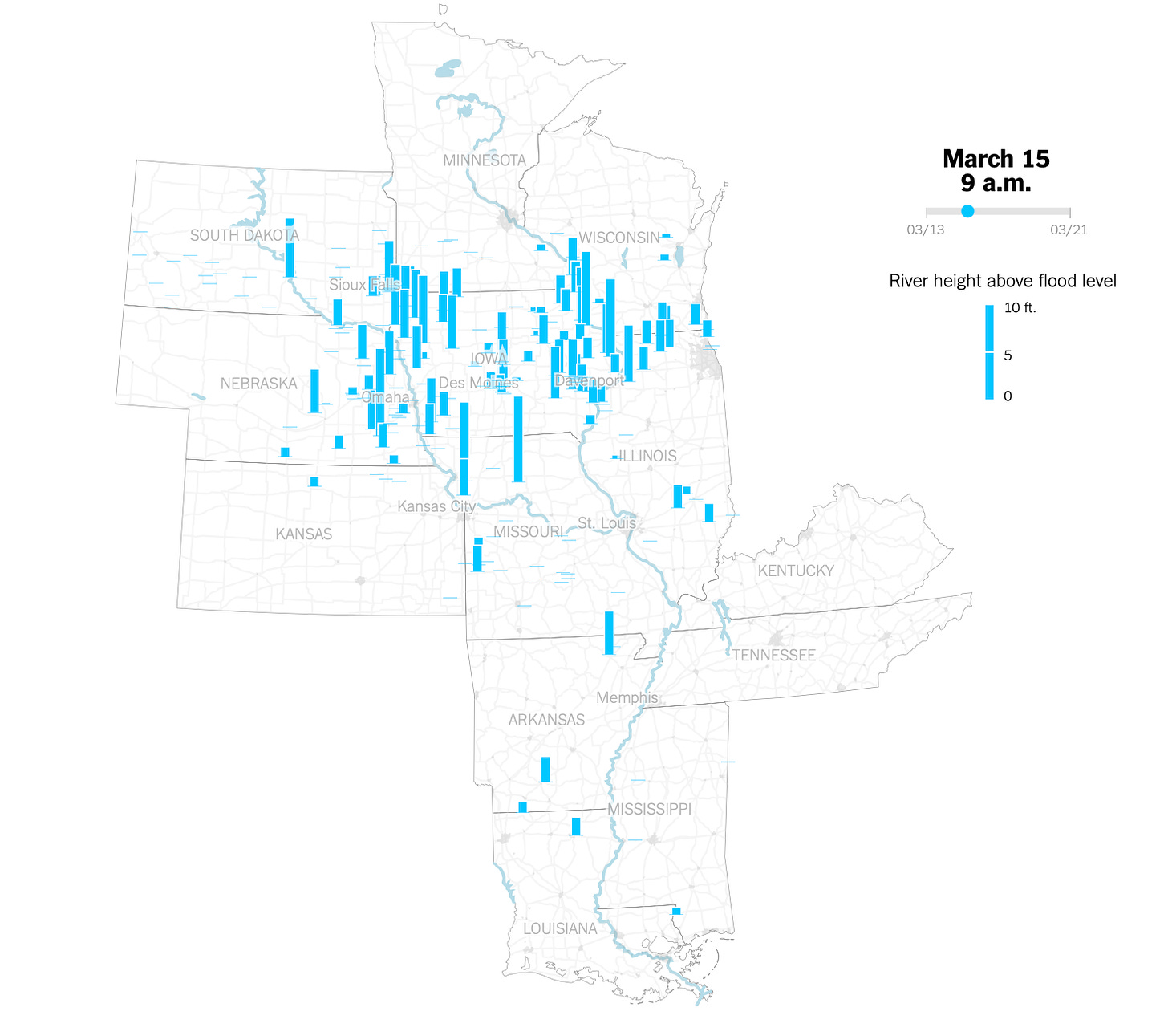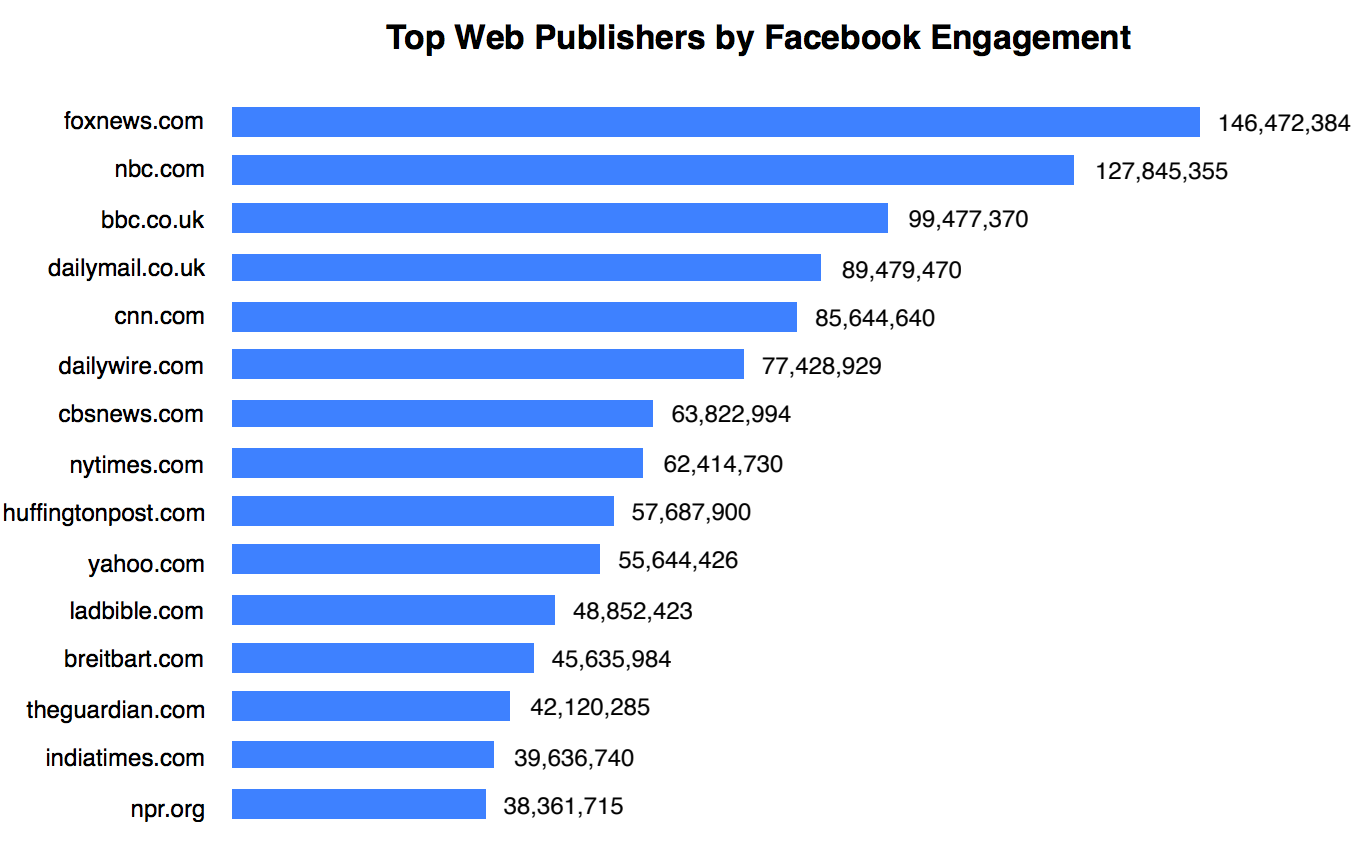 ---
Political Science, Survey Research, and Other Nerdy Things
President Donald Trump's supporters tend to get angry when they're accused of racism. To many liberals, their outrage is laughable: After all, they support a leader whose racist impulses are increasingly difficult to deny. In fact, though, there's an excellent chance that many of those supporters aren't technically racist, in that they don't reflexively hate minorities or consider them inherently inferior. Still, for many of these voters, being white is a central component of their personal identity, and they are invested in maintaining their race's status at the top of the national hierarchy. For some on the left, this is a distinction without a difference. But Duke University political scientist Ashley Jardina argues that this protect-our-own mindset is associated with a different set of assumptions and behaviors than pure prejudice. "Dislike for people who aren't like you, and the desire to protect your own group's dominant status, are both problematic," says the author of the new book White Identity Politics. "They just have different psychological underpinnings."
---
What I'm Reading and Working On
This week, I'm bringing you all some work on confidence in the press and a little bit on how GOP-controlled state legislatures are steamrolling the ballot initiatives that voters passed last November.
---
Thanks!
Thanks for reading. I'll be back in your inbox next Sunday. In the meantime, follow me online or reach out via email. I'd love to hear from you!
---
A Special Thank-you Note to Patrons
My weekly newsletter is supported by generous patrons who give monthly on Patreon, including these individuals who have pledged especially charitable contributions:
Alden, Ben, Calvin, Christina, Daniel, David, Joshua, Joshua, Katy, Kevin, Laura, Robert, Robert, Thomas, Christopher
Ben, Bob, Brett, Charles, Charlie, Chelle, Darcy, Darren, David, Erik, Fred, Gail, Greg, Guillermo, Hunter, Jay, Jon, Malcolm, Mark, Nik, Nils, Sarah, Steven, Tal, Uri
Like the newsletter and want to help keep it going? Subscribe today on Patreon for access to private posts and other perks.