Discover more from Elliott's notebook
Data-driven writing on politics, public opinion, and elections.
Over 6,000 subscribers
June 2, 2019 📊 The political mood still favors Democrats, but noisy signals abound
Plus, Millennials are going to get their revenge, and the sun is going to burn up your gardens
Welcome! I'm G. Elliott Morris, data journalist for The Economist and blogger of polls, elections, and political science. Happy Sunday! Here's my weekly email with links to what I've been reading and writing that puts the news in context with public opinion polls, political science, other data (some "big," some small) and looks briefly at the week ahead. Feedback? Drop me a line or just respond to this email. 
---
Dear Reader,
The data indicate that the Democrats are retaining much of the momentum they had heading into last year's mid-term elections, but anecdotes suggest that may not be painting the full picture. Though it is not currently an election season (though it is in my heart of hearts!) mobilization efforts seem to be wavering, or at best holding constant. This is especially true when compared to 2017. Let's review the evidence and discuss.
I also have links to recent work on name recognition in the 2020 primary, climate change, populism in Europe, and the effects of abortion on crime.
Thanks for reading my weekly email. Please consider sharing online and forwarding to a friend. And if you want posts that come more often than this weekly email, I publish subscribers-only content 1-3x a week. To access, click the button below to subscribe for $5/month (or $50 annually). You also get the ability to leave comments on posts, which is a fun place for discussion. Please note: For the last week, I've been publishing the paid posts for all my readers as a test run. That changes tomorrow; if you're not a subscriber, no soup for you.
My best!
—Elliott
---
This Week's Big Question
Are Democrats doing as well as they were in 2017-2018?
The plural of "anecdote" is not "data", but that's what special elections and the generic ballot are for. These numbers point to stability in the pro-Democratic political environment.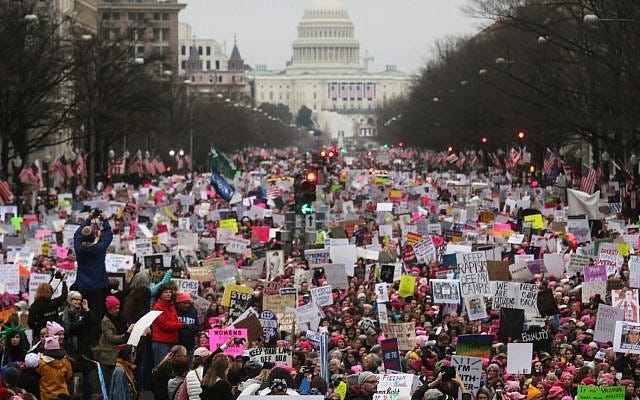 Image: The Guardian; Michael Reynolds/EPA
The 2017 Women's March was one of the largest mass-mobilizations in American history. It was estimated that as many as 5.6 million people marched nationwide in a show of solidarity with women and resistance to then-newly-inaugurated President Trump. That type of mobilization is hard to sustain, though, and it ~anecdotally~ seems like enthusiasm among Democrats has faltered. Matt Grossman, a political scientist, presented this take on Twitter:
Data on public opinion show a similar story, with a few notable exceptions.
The first datum from 2019 that we can compare to last year's figures is Democrats' margin in generic congressional ballot polling. A reminder: This is the survey question that asks voters how they would cast their ballot in the election for their congressional representative "if it were held today". In November 2019, the average poll put Democrats up about 8.7 percentage points. That number ended up being almost perfectly predictive; nationwide, Democrats won the House popular vote by 8.6.
This year, Democrats are hitting a similar benchmark. Though the absolute level of support for their party has waned—this is due to the tendency for voters to drift toward the "not sure" option after an election—so too has the level of support for Republicans, so Democrats' margin remains at roughly 9 points. Here are the crosstabs from The Economist's latest polling from YouGov.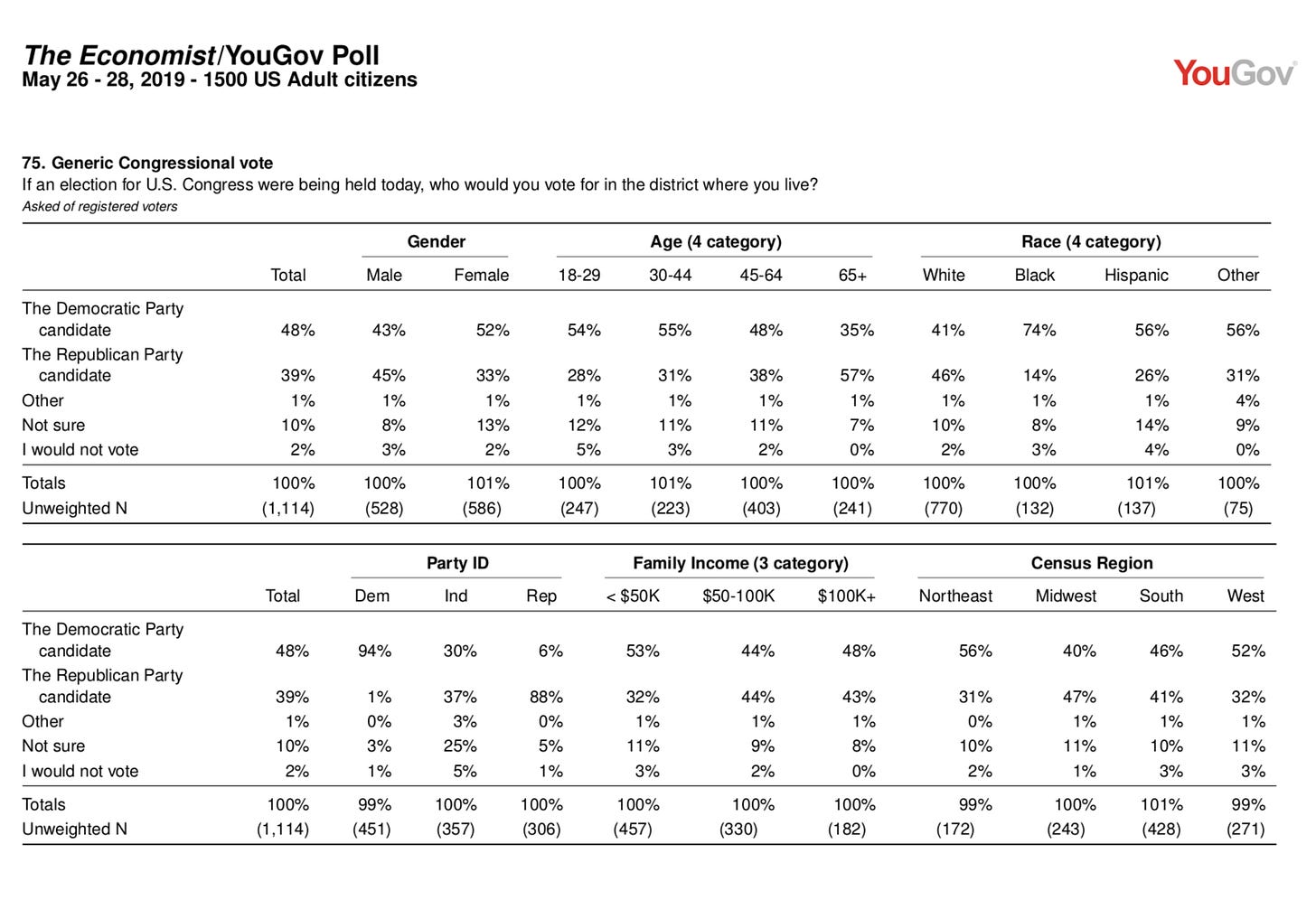 Note the pro-Democratic lean of every age group besides 65+ year-olds, and the only slightly-bad 2-point deficit among Males.
Democrats' margin on the generic ballot is the first point in support of the hypothesis that the national mood is about as liberal and pro-Democratic as it was in the run-up to the 2018 midterms.
The second datum I'd like to consider is Democrats' performance in special elections. If you recall, the swing from Democrats' lagged presidential performance in state and federal legislative districts to their off-year margin in special elections in those same districts has historically been highly predictive of the party's eventual House popular vote. Tracking these special elections from November 2016 to 2018, Daily Kos Elections found that Democratic candidates were running ahead of Hillary Clinton by about 11 percentage points. What is that number for special elections that have occurred since November 2018, you ask? A 7 percentage point swing to Democrats. That's high, but not *as* high, as last year. This suggests a modest shift back toward the political equilibrium—or, if I may, a reversion to the political mean.
Note the just 2-point swing from Obama's 2012 margin in those districts. Interesting. Will 2020 look more like 2012 than 2016? That, my friends, is the million-dollar question.
Combined, these data—a lack of comparable mass mobilization, the generic ballot, and leftward swings in special elections—indicate that the Democratic Party is performing slightly below their high-water mark in 2018. Of course, given how well they did last time, this slight decline still puts Democrats' margin high enough to win the House of Representatives again in 2020. Further, given the high correlation between presidential and congressional vote choice, this also suggests a poor showing for President Trump in November. But my mission here is not to predict what will happen 18 months from now. Instead, it's to point out the stability in America's political environment. The Caribbean-blue waters from the wave that washed Democrats to a House majority last year appear to have yet to recede.
---
And now, the most notable stuff I read and wrote over the last week.
---
Posts for subscribers:
Subscribe now for $5/month (or $50/year) and get access to these posts and more.
---
Political Data
The three younger generations – those ages 18 to 53 in 2018 – reported casting 62.2 million votes, compared with 60.1 million cast by Baby Boomers and older generations. It's not the first time the younger generations outvoted their elders: The same pattern occurred in the 2016 presidential election.

Higher turnout accounted for a significant portion of the increase. Millennials and Gen X together cast 21.9 million more votes in 2018 than in 2014. (The number of eligible voter Millennials and Gen Xers grew by 2.5 million over those four years, due to the number of naturalizations exceeding mortality.) And 4.5 million votes were cast by Gen Z voters, all of whom turned 18 since 2014.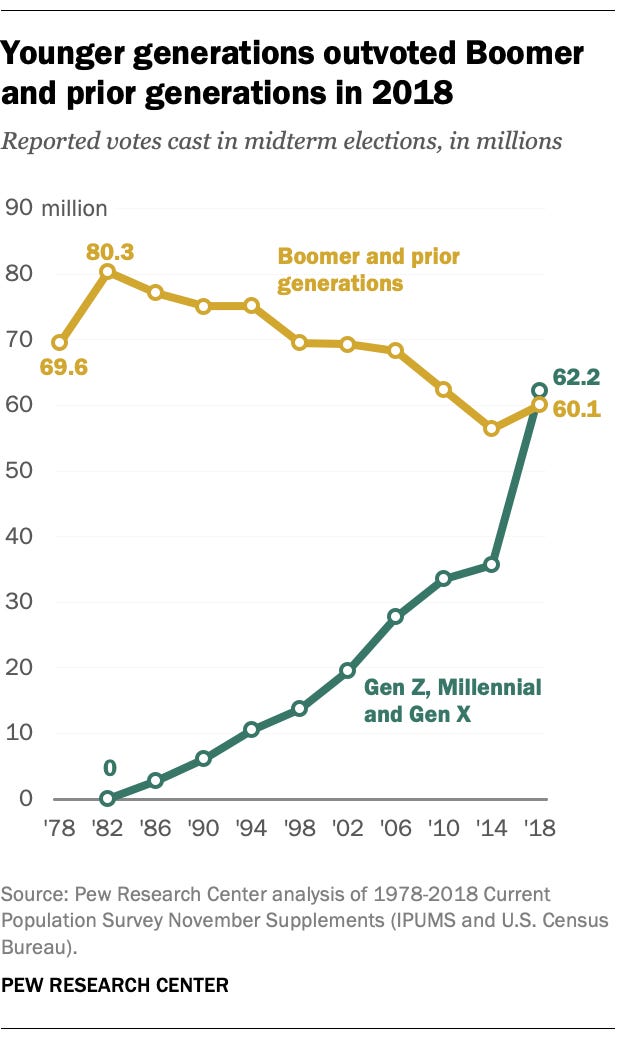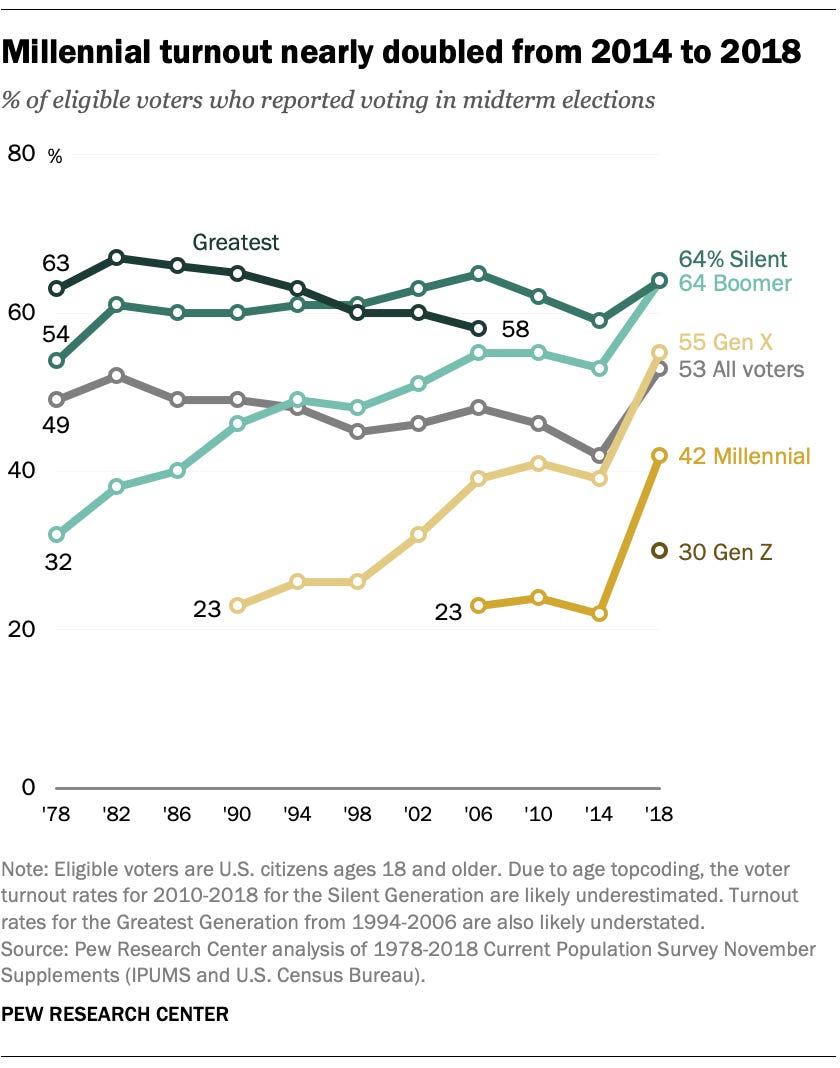 Since former Vice President Joe Biden formally announced his candidacy for the Democratic nomination last month, little has changed in the share of likely primary voters who have formed views about the other candidates — and most of them have seen little to no movement throughout the year, according to Morning Consult's weekly primary tracking.

No candidate has seen an increase in name recognition bigger than 3 percentage points since Biden's April 25 announcement, compared with larger upward swings earlier in the year.

…

South Bend Mayor Pete Buttigieg of Indiana has seen the biggest increase in name recognition, from 33 percent in early February to 65 percent in the latest survey. But even that quick rise slowed with Biden's formal entrance, and it places Buttigieg's name recognition in the same tier as candidates such as former Housing Secretary Julián Castro and New York City Mayor Bill de Blasio, who aren't garnering similar media attention on the campaign trail or drawing support as voters' first choice.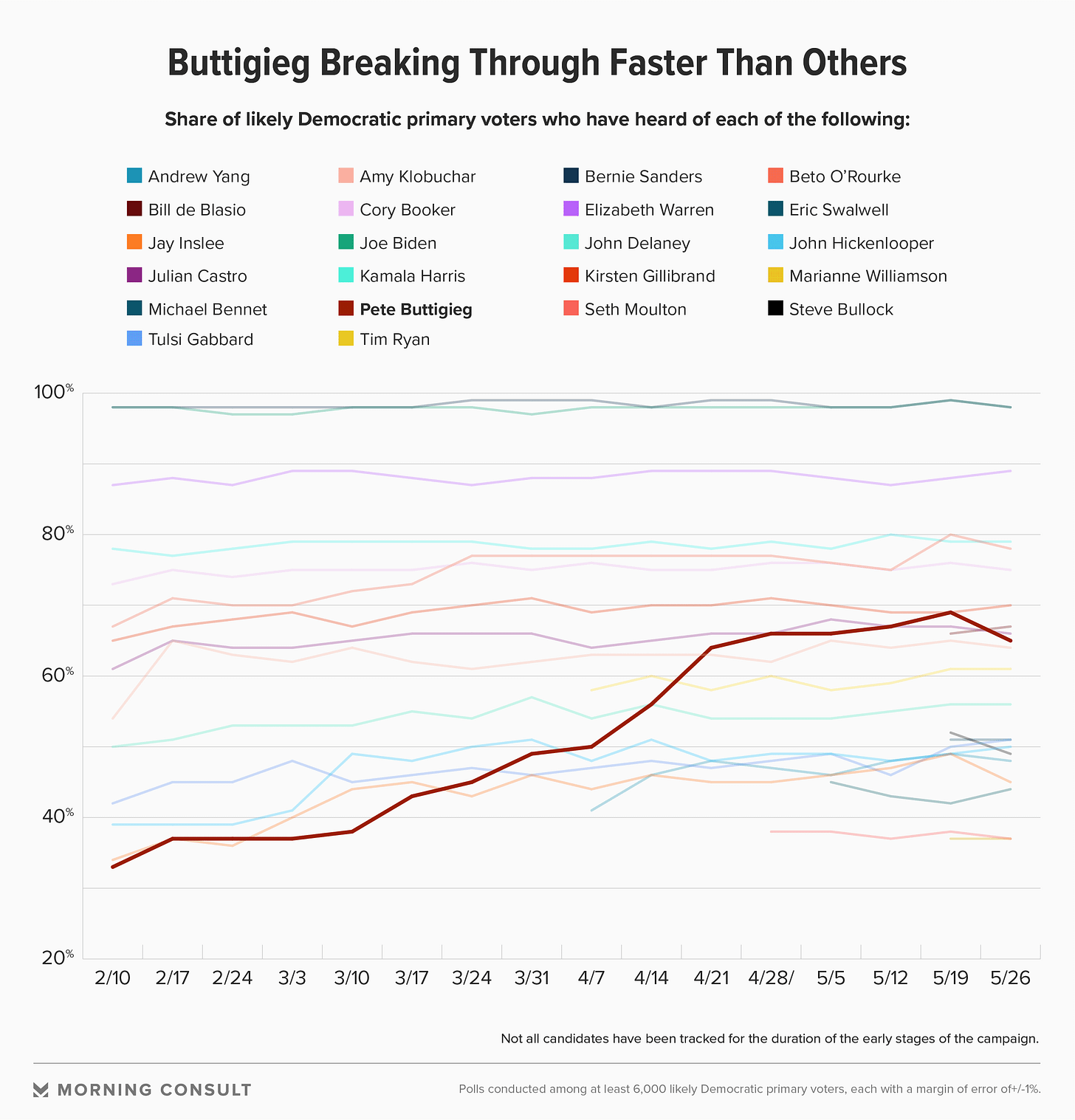 Democracies are, by design, competitive and thus often messy. But the kind of political fragmentation taking place in Europe today is pushing the boundaries of useful debate and deliberation. As voters become increasingly frustrated with a lack of results, they will look to "more effective" strongman models of the type embodied by Russia and China. As the competition between democracy and authoritarianism intensifies, democracies must be able to deliver. Unfortunately, populist-fueled fragmentation will make that harder. At the end of the day, people may be willing to forgo some of their freedoms in exchange for governments they view as capable of delivering results.
---
Other Data and Cool Work
Recent warming can be largely attributed to human emissions from fossil fuels, according to the National Climate Assessment.

Christopher Daly, a senior research professor at Oregon State University who helped develop the Agriculture Department's 2012 map, noted that, while growing zones may be gradually pushing northward, a single cold snap can still wipe out less-hardy plants. NOAA's hardiness maps capture how winter lows are warming on average, he said, but they don't tell us about potential changes in the year-to-year volatility of extreme cold.

Dr. Vose called the maps "a good place to start" when considering the effects of climate change on local vegetation.

Warming minimum temperatures "might mean I can safely grow things now that I didn't grow before, but by extension there may be some species that start to naturally grow where I live that didn't used to grow there," he said. "Hopefully they're not invasive species, like kudzu, but it's a possibility."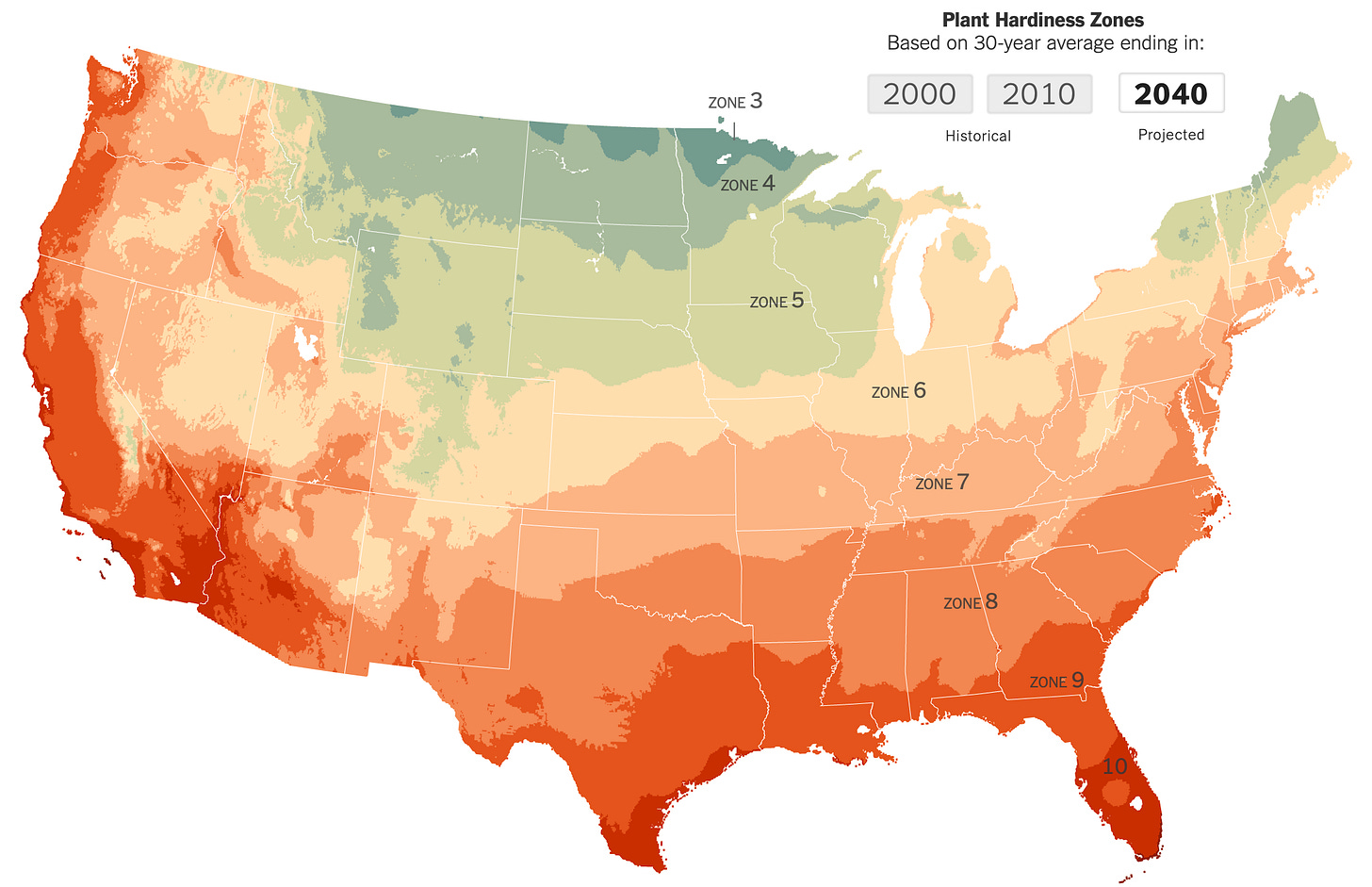 ---
Political Science, Survey Research, and Other Nerdy Things

---
What I'm Reading and Working On
If everything goes according to plan, I'll be writing on geographic polarization, Trump's immigration policy, and political realignment in the United Kingdom for The Economist's print version this week. That'll make me pretty busy, so don't be alarmed if you don't hear much from my end until the end of the week.
I've been reading Why Cities Lose: The Deep Roots of the Urban-Rural Political Divide by Stanford political scientist Jonathan Rodden. It's great and I urge you all to do the same and pick up a copy. It's simply fantastic.
---
Thanks!
Thanks for reading. I'll be back in your inbox next Sunday. In the meantime, follow me online or reach out via email. I'd love to hear from you!
As a reminder, I publish subscribers-only posts on Substack 1-3 additional times each week. Sign up today for $5/month (or $50/year) by clicking on the following button. Even if you don't want the extra posts, the funds go toward supporting the time spent writing this weekly free letter. Your support makes this all worth it!