July 7, 2019 📊 Do we actually know anything concrete (and data-driven) about the state of the 2020 Democratic primary candidates?
Plus, re-forecasting the 2016 election with different turnout scenarios, and partisan violence
Welcome! I'm G. Elliott Morris, data journalist for The Economist and blogger of polls, elections, and political science. Happy Sunday! Here's my weekly email with links to what I've been reading and writing that puts the news in context with public opinion polls, political science, other data (some "big," some small) and looks briefly at the week ahead. Feedback? Drop me a line or just respond to this email. 
---
Dear Reader,
There are times when the electoral horse race begins to swing wildly between candidates and the media rapidly changes its characterizations of who is "up" and who is "down." In these times it is crucial that we acknowledge the uncertainty in possible outcome. But focusing on the horse race can obscure these facts. The current moment in the 2020 Democratic primary is one of those times, so in my main article today I urge everyone to keep statistical uncertainty in mind when they read the polls.
I have a few links to some interesting articles I wrote or found this week. There was a lot of smart stuff out there. But you'll notice a general thinness of material compared to my average newsletter. Please accept my apologies for this; I've got a lot on my plate at the moment (that's done soon though).
Thanks for reading my weekly email. Please consider sharing online and/or forwarding to a friend. If you'd like to read more of my writing, I publish subscribers-only content 1-3x a week on this platform. Click the button below to subscribe for $5/month (or $50 annually). You also get the ability to leave comments on posts and join in on private threads, which are fun places for discussion!
My best!
—Elliott
---
This Week's Big Question
Do we actually know anything (data-driven) about the state of the 2020 Democratic candidates?
Kamala Harris is in second. Joe Biden is doomed. Elizabeth Warren is the most underrated. Or are they? Uncertainty is the only sure thing in the 2020 primary today.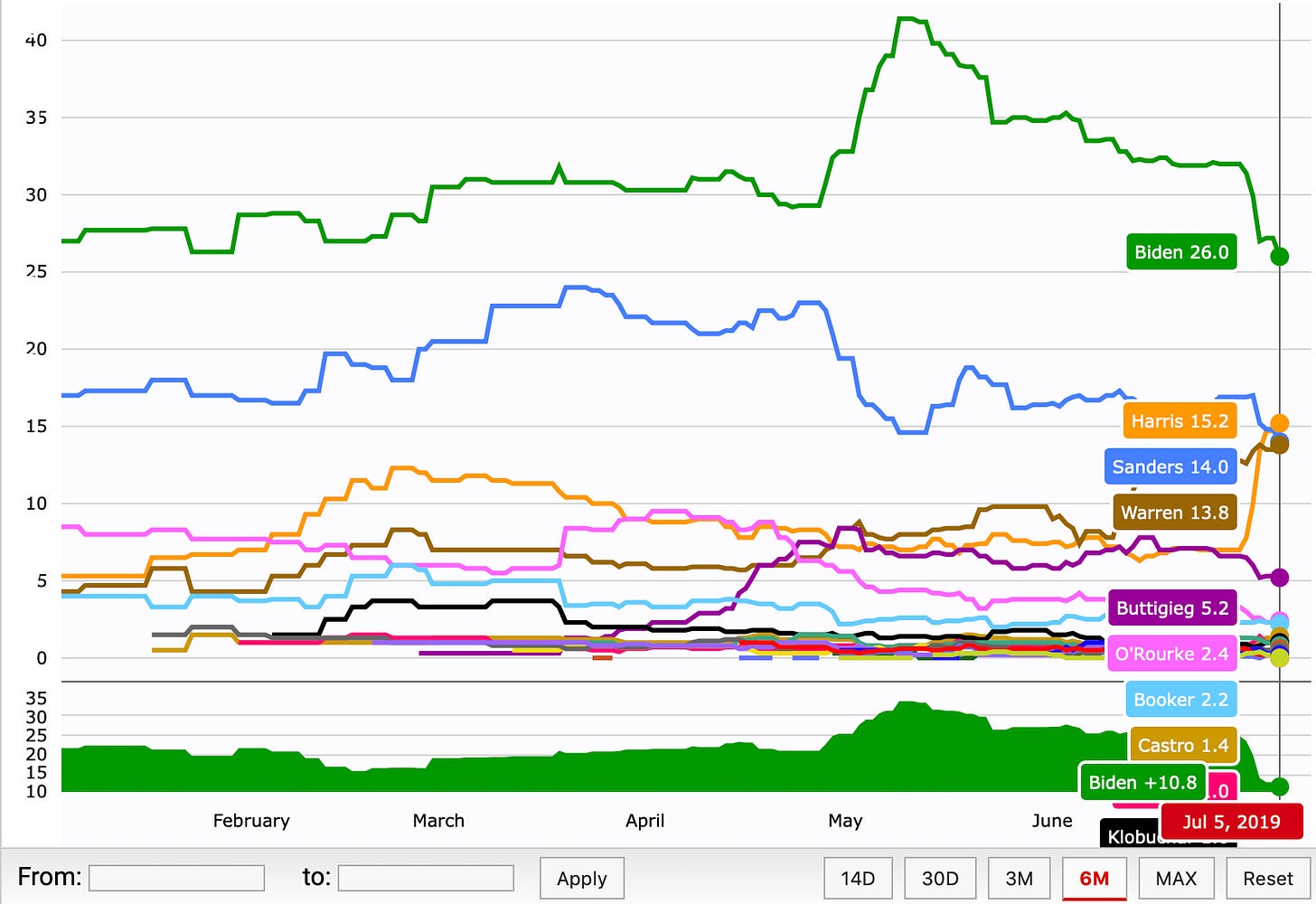 Image: RealClearPolitics.com
Note, I don't love the Real Clear Politics average. For one thing, it treats low-quality pollsters as the same as high-quality ones, which is just fuzzing out a signal with more noise. For another, it often seems to reactionary (such was the case throughout the 2018 midterm cycle). I've used their image above because it's the best time-series for the 2020 nomination that I have readily available and it substantiates the primary point of this post.
The 2020 Democratic Primary is today more shaken-up than it has been since January. Three candidates are tied for second and the share supporting the top dog is lower than it has ever been. It is fair to say that Joe Biden has lost substantial ground since the first primary debate two weeks ago. Kamala Harris has absorbed most of those supporters.
But while the media has focused a lot on how Ms Harris is "gaining steam" or how Biden is "blowing it"—and writing for The Economist this week I covered the implications of the primary's shifting tide—few have made clear just how little we actually know for sure about the state of the 2020 candidates.
Allow me to state the obvious. Given polls' margins of error (which are even higher when pollsters are questions to subgroups of the population, like Democrats) it is impossible to say today whether Kamala Harris, Elizabeth Warren or Bernie Sanders is in second place (although this does amount to a huge shift in polling from even a week ago). Today Kamala Harris could easily actually be at 20% or 10%. Same for Warren or Sanders. And Biden, for that matter, could also be as low as 20 or as high as 30%.
The 2020 primary today amounts basically to an enormous shrugging emoticon:
¯\_(ツ)_/¯
And yet, we do know some things about the primary. The 21 candidates polling at 5% or below are probably likely to stay there. It is clear anecdotally that some have better shots at defying these odds (like Pete Buttigieg) than others (like Marianne Williamson). But the data can't help us make these predictions.
Please take away this lesson from my short post this week: Today, the 2020 Democratic primary is more unpredictable than ever. Of course, such tends to be the case when one candidate becomes a breakout star, threatening the status of the presumed front-runner. But to really beat a dead horse, let me just say that it appears there are maybe 3 potential such starts in the primary today. Who could possible tell what will happen?
Keep statistical uncertainty in mind when you read the polls.
---
And now, the most notable stuff I read and wrote over the last week.
---
Posts for subscribers:
Hey everyone. I didn't send any extra newsletters this week as I have been slammed with projects at work—spending too many outside hours perfecting models, writing up data, etc. I will try to send out an extra email this coming week to make up for the gap. I would like to say that this won't happen again, but I cannot tell the future (as much as I do like to predict elections). Please forgive the lapse.
---
Political Data
RELATED: My long methodology post about how we did the math for this question
 What would change if America became the 22nd country to make voting mandatory? To estimate non-voters' views, The Economist used the Co-operative Congressional Election Study (cces), a 64,600-person poll led by Harvard University. The survey includes demographic data such as race and age, as well as participants' recollections of whom they voted for and verified records of whether they voted. In general, voters and non-voters from similar backgrounds had similar opinions. Using a method called "multilevel regression and post-stratification", the relationships between demography and vote choices can be used to project state-level election results—and to estimate what might have happened in the past under different rules.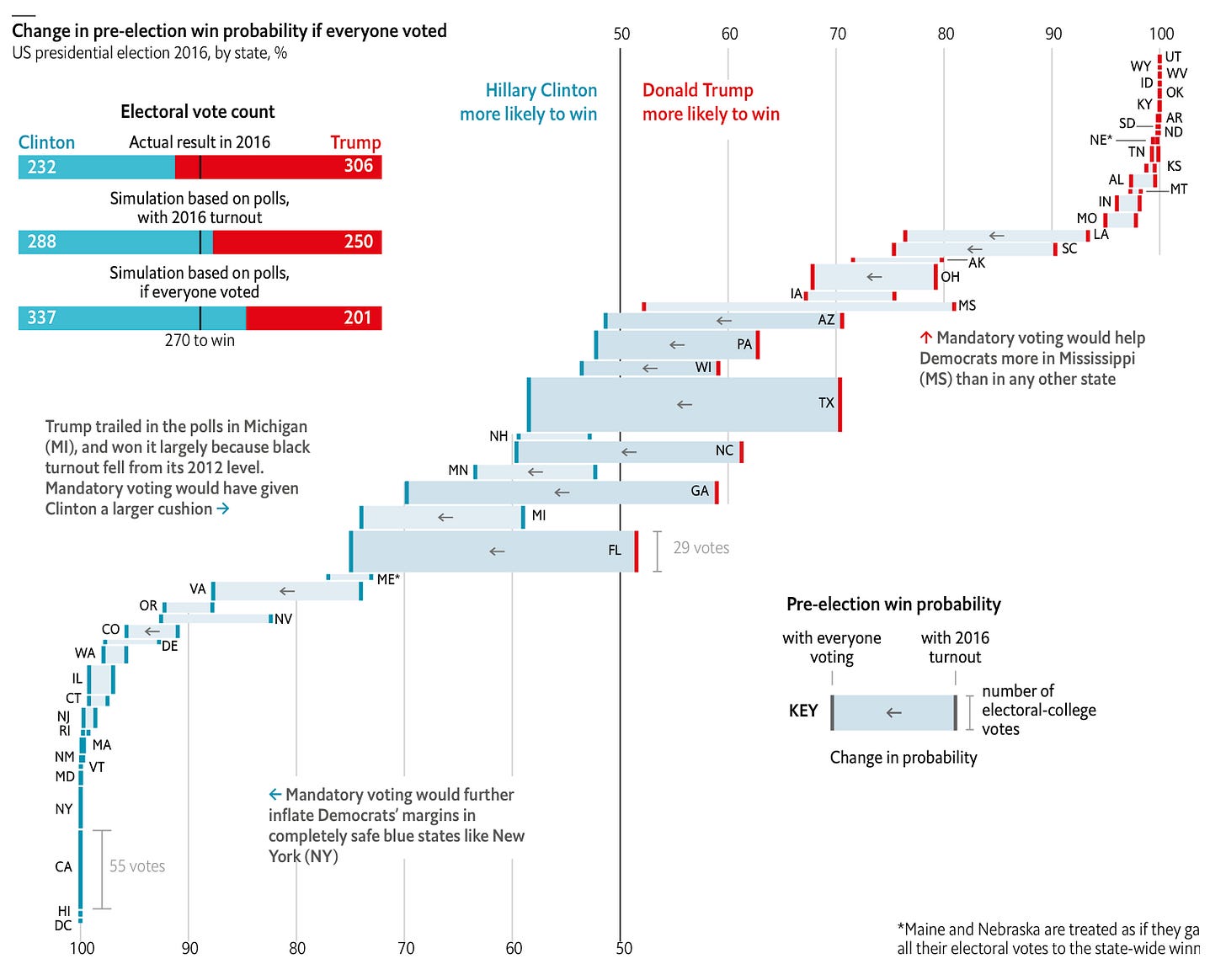 ---
Other Data and Cool Stuff:
By 2045, the U.S. as a whole is projected to become majority minority. And the changes are already underway: non-white Americans are now the majority of the population in four states, as well as in the most prosperous and powerful U.S. cities.

Why it matters: The U.S. faces two possible futures: a thriving nation that embraces its new demographic makeup, or an escalation of fighting, racism and xenophobia.

By the numbers: Since 2010, non-Hispanic white people have become the minority in 32 more U.S. counties — for a total of 372 counties, according to U.S. Census Bureau data. The trends are largely due to a rise in Hispanic and Asian immigrants as well as slightly higher birth rates among non-whites.

Next year, the entire under-18 population will be majority non-white, according to William Frey, a Brookings Institution demographer and author of "Diversity Explosion: How New Racial Demographics are Remaking America."

In less than a decade, the population under 30 will be majority non-white.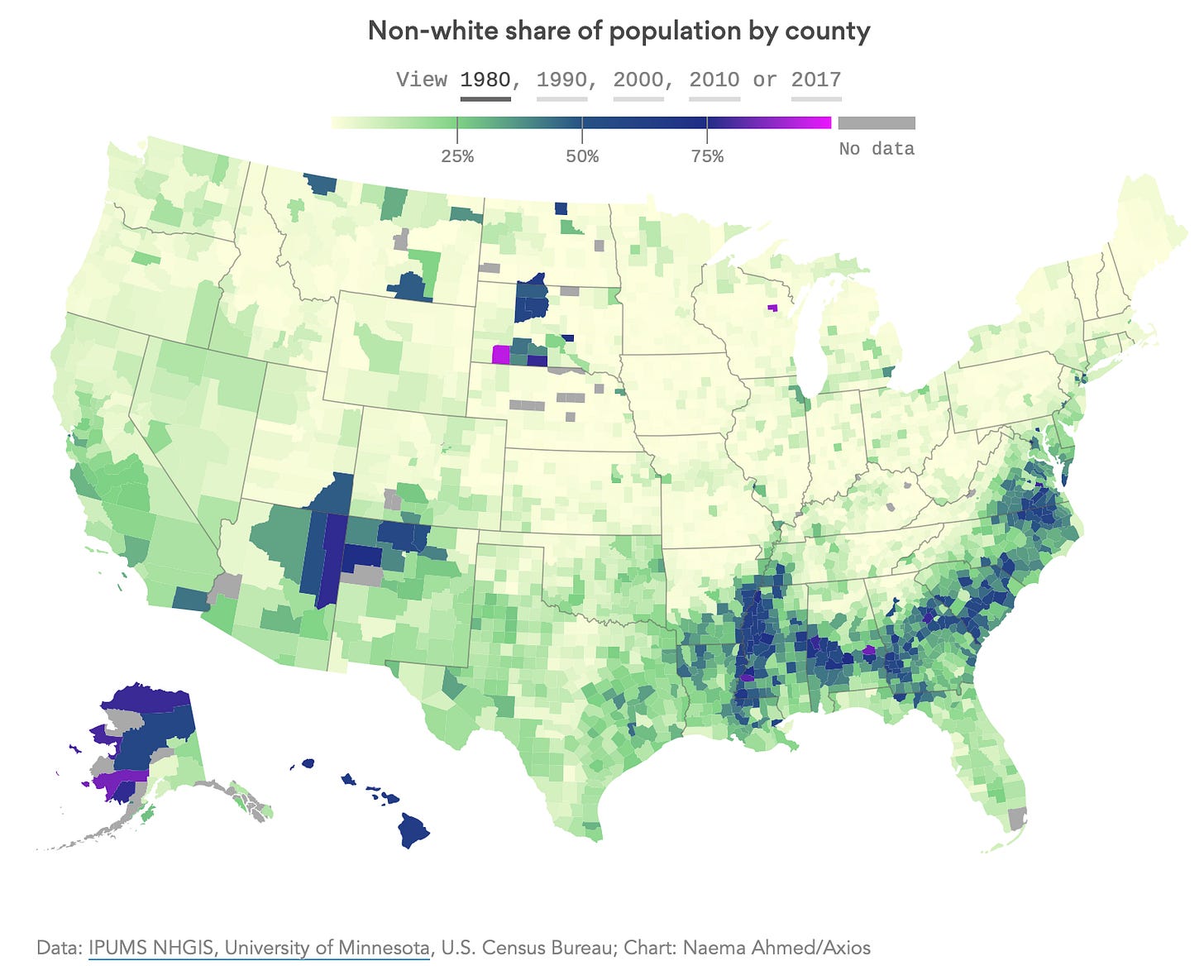 ---
Political Science, Survey Research, and Other Nerdy Things
---
What I'm Reading and Working On
I'm writing and researching this week about a few different topics, including about the history of health and longevity in Europe and structural reforms for America's political parties, especially as it relates to presidential nominating systems.
---
Thanks!
Thanks for reading. I'll be back in your inbox next Sunday. In the meantime, follow me online or reach out via email. I'd love to hear from you!
As a reminder, I publish subscribers-only posts on Substack 1-3 additional times each week. Sign up today for $5/month (or $50/year) by clicking on the following button. Even if you don't want the extra posts, the funds go toward supporting the time spent writing this free, weekly letter. Your support makes this all possible!